Upon landing on the website of the Instant Profit Sites system you're told a guy named Jake has created an online business for you & that after watching a "short video" you'll be given access to the business which will allegedly already be generating you profits…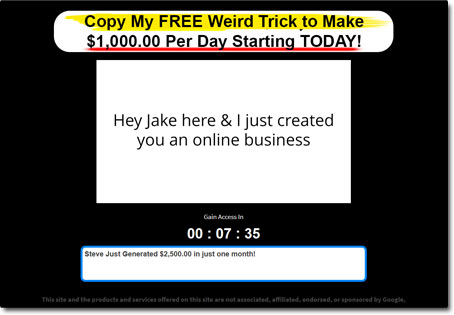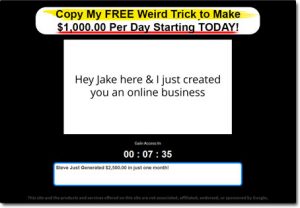 It might seem a little fishy but the website is literally packed with popups stating how much others are supposedly making which may have made you curious as to whether it actually works… So what's the truth, can you really make any money with it or will Instant Profit Sites scam you & end up costing you more than you ever make instead?
The good news is that you've landed in exactly the right place to find out as I myself have personally taken a closer look into the whole thing & in this honest Instant Profit Sites review I'll be uncovering how it all really works, if it's a scam & whether or not you'll truly be able to make any money at all.
What Is Instant Profit Sites?   |   How Does Instant Profit Sites Work?   |   The Truth   |   Is Instant Profit Sites a Scam?   |   A Better Alternative
What Is Instant Profit Sites?
The Instant Profit Sites claims to be a system that as the name suggests allegedly instantly sets you up with profit-making sites. The creator who's name you're told is Jake states that "it couldn't be easier" and that all you need to do is sign up to begin making money…
And Jake doesn't promise that you'll make just be making any old money either, oh no – instead Jake promises that his Instant Profit Sites system will see you earning well over $1,000 per day all on complete autopilot, right from the very same day you get started.

But obviously that's a pretty darn bold claim and there's a HUGE red-flag here in that in order to get access to the whole thing you're required to hand over some of your own hard earned cash first.
Jake's basically saying he'll be earning you $1,000 per day but he wants $97 of your money first… Why? If his system really worked as promised why doesn't he just take a commission of what you make?
The answer to that is easy, it's because his system DOESN'T work as promised. In actual fact the Instant Profit Sites system is nothing but a scam & the reason I can say that so confidently is because I've seen this exact scam several times before.
Previous names this scam has launched under include the following:
And if you click on those links you'll be taken to my reviews of those systems where you'll see that they're almost identical to the Instant Profits Scam except the design (and creator's names) have been tweaked a little.
In the instance of the Click Click Cash scam for example it looks almost identical to Instant Profit Sites except the creator claims to be named Josh not Jake. Despite the tweaks though the scam remains exactly the same.
So what actually is the scam? Well keep on reading & all that will be revealed below…
How Does Instant Profit Sites Work?
The concept with the whole thing is that the creator (Jake) will be providing you with a done-for-you affiliate website which will be ready to begin generating you commissions for the get-go, allegedly.
And just in case you don't already know, I'll point out here that affiliate marketing is actually a great way to make good money online. It's actually the same way I make most of my own income online.
It basically consists of you connecting people with the products they're looking for online & getting paid commissions in return (as highlighted below):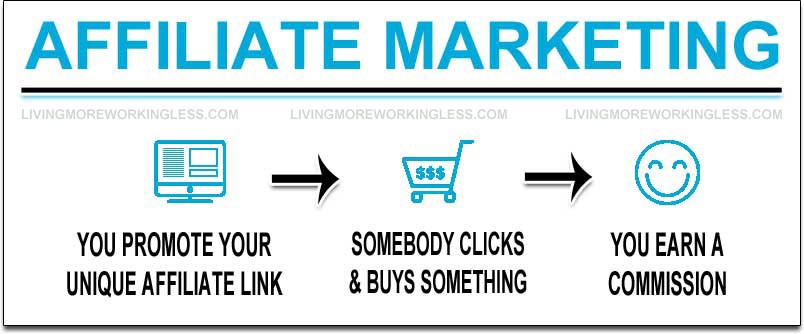 There are actually legitimate places like Wealthy Affiliate where you can begin with affiliate marketing for free, but in order to find success with it I'll also point out that it does take some work (and time).
The internet is certainly great but nothing is going to get you rich overnight & anything that promises it will (like Instant Profit Sites) is likely trying to scam you – which is exactly what IPS is doing.
Basically the creator of Instant Profit Sites claims to have taken all the work out of affiliate marketing so he wants you to believe that you can just sign up, use his done-for-you website & begin making money but I can tell you 100% it won't work.
There are several flaws with his problem & the only person making money from it will be the creator, at your expense.
You see after initially signing up for $97 (which I don't recommend doing) the first thing you're left to find out is that the $97 doesn't actually get you access to everything… It's basically just an entry fee.

Therefore as soon as you get inside you're bombarded with upsell after upsell with each one promising that if you purchase it you'll make more money & that you'll make money faster… But this is BS, the creator is just trying to get more money from you.
Anyway, past all the upsells you finally get access to the program and this is where you will find yourself VERY disappointed.
The reason I say that is because you basically just get a generic copy of a low-quality website which is the exact same website all of the other members of the Instant Profits Sites system will be getting, and then you're told that you'll need to sign up to an expensive hosting company to get it online.
It looks like the creator has chosen the most expensive company he can find due to the fact that he's making commissions here from any people he gets to sign up, but I can tell you that you can actually start a money-making website for free.
Let's humour the creator though & pretend you signed up to everything & launched the website… There's NO way it will make money & the reason for that is because since it's a duplicated low-quality website, search engines won't list it.
Search engines like Google, Yahoo & Bing are some of the best ways to get free visitors to your website (and you need visitors to make money) but at the same time they're not interested in duplicated or low quality sites. They won't list them!
You Might Also Like:
The Truth About Instant Profit Sites
After signing up to Instant Profit Sites for $97 (plus the cost of any additional upsells) you'll be told you need to get web-hosting, so let's say you get that too which will cost you anywhere between $100-$300… All you'll be left with is a crappy website that receives no visitors.
And you know what a website with no visitors means? No money!
The creator of the Instant Profit Sites scam though will tell you that you should use paid advertising to promote it, but he's just saying that because in reality the website you get provided with is built to promote his Instant Profit Sites system.
There's no doubt about it, if you run paid advertising to the site you're given you'll lose money – but if anybody happens to sign up to his system as a result of visiting the site then he'll make money.
The creator is basically just interested in himself, not you, and that's why the disclaimer at the bottom of the page reads the following:

Like I already mentioned above in this review though there's literally no need to waste money on this thing because you can actually setup a legitimate money-making website for free with the help of my guide.
I mean sure, my guide won't make you rich overnight but if you follow it & put in the work then you'll definitely be able to make good money in the long run & I can assure you that it'll be more than worth it.
There is literally NO way to get-rich-quick online, after working full-time online for several years I can say that for certain. If you keep on chasing this easy option (which doesn't exist) you will keep on losing money… You just need to stop & join a legitimate program like Wealthy Affiliate to see true success.
But anyway it should be clear by now that the Instant Profit Sites system is just a piece of junk which brings me onto…
Is Instant Profit Sites a Scam?
Yes, in my opinion Instant Profit Sites is a scam & the reason I say that (despite it actually partly living up to some of its promises) is because the sole intention of it is to trick you into parting with your cash so that the creator of it can make himself some money at your expense.
The truth is that whilst you indeed get a website provided to you in reality it's just a generic website, it's the same site that's getting provided to all of the other members of the system & there's no way you'll find yourself making money with it.
"Jake" or whoever the real creator of this thing actually is (Tim Marketing Inc 2019 according to the website's footer) is just selling you into the program on a bunch of complete lies & for that reason it should definitely be avoided.
Like I mentioned earlier in this Instant Profit Sites review though – if you truly want to make good money online legitimately then it is indeed possible through proven platforms like Wealthy Affiliate, it's just that you're going to have to be prepared to put in some work to make it happen.
There are also a whole bunch of other places you can make good money too which you can check out on this page here – but overall I just hope that my review here has helped you at least save some of your hard earned cash.
If you still do happen to have any further questions or comments though then don't hesitate to leave them below & I'll get back to you as quickly as I can.
A Better Alternative
The sad truth is that unfortunately most of the programs promising to help you make money online are scams. I can say that confidently after exposing over 500+ of them here on this blog.
But the good news is that even though most of them are indeed scams, there are actually some very good programs in amongst them - some programs that can truly help you to earn money.
And out of all of the legit programs I've seen, the one I would recommend the most to anybody looking to get started online is Commission Academy. In my own opinion, that's the best place to start.
At Commission Academy, you'll be provided with everything you need (including the training & tools) to begin earning real money by promoting products or services for companies like Amazon online.
The best part is that there's literally no limit on the amount you can earn with it & the process is pretty simple which means that it's absolutely perfect for people that don't have much experience.
Some wealthy affiliates even earn as much as 5-figures per month... Or more!

I mean don't get me wrong, that kind of money won't just fall into your lap without doing any work... But the harder you're willing to work at it, the more you stand to earn with it.
So if you're looking to get started but don't know which route you should go down or which program you should join (and don't want to waste money on bogus things that don't actually work), then I'd highly recommend checking out Commission Academy first. You can learn more about it here.