A newly launched website named the Cannabis Trader states that cannabis shares are going through the roof & that now is the best time to invest – but on top of this it also promises to provide you with a guaranteed way to make money if you happen to have $250 to try it out with…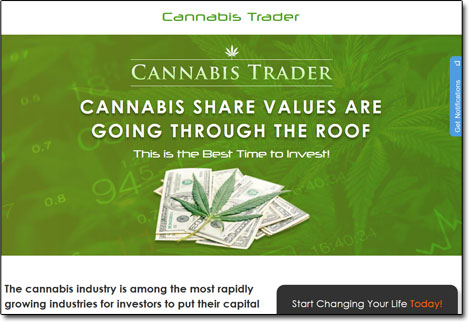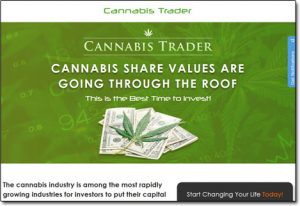 You're led to believe that you can simply sign up, deposit your money & follow some simple steps to profit – but is it really legit or will the Cannabis Trader scam you out of your hard earned cash instead?
Well thankfully you've landed in the right place to find out (and hopefully you haven't invested any money yet) as in this honest review I'm going to be uncovering the real truth about how it all works & whether or not you can truly make any profits with this Cannabis Trader app like the creator's claim you can.
What Is Cannabis Trader?   |   How Does Cannabis Trader Work?   |   The Trick That Catches Most People Out   |   Is Cannabis Trader a Scam?   |   A Better Alternative
What Is Cannabis Trader?
The Cannabis Trader website claims to have been setup with a sole focus on helping you (and others) to generate huge profits by investing in cannabis shares, stating that now is the best time to do it.
The whole website is filled with information showing how if you invest now, you will stand to make great profits – primarily down to legalization in Canada & an increase in medicinal uses… But is it just hype?
Well not necessarily – I mean some information on the Cannabis Trader website is indeed actually true. There are indeed some marijuana stocks that have dramatically grown in value in recent times, but what I can tell you is that despite that the Cannabis Trader app itself will NOT help you make money.
I know that sounds like a bold claim to make especially so soon into the review but the reason I can say that so confidently is because in reality the Cannabis Trader app is actually just what's known as a binary options scam.
This means that rather than being set out to help you make money like it claims, it's actually just set out to take money from you instead.
It's not the first binary options scam I've come across either, I've actually come across hundreds of them – like the Elite Entrepreneur Club & Profit Formula system, but it is the first one I've come across using the cannabis theme to draw people in.
And I'll admit it does come across as being pretty darn convincing… But it's NOT legit, as you will soon see for yourself below when I explain how it all really works…
How Does Cannabis Trader Work?
Okay so like I mentioned above in this review the Cannabis Trader website primarily focuses on getting you really hyped up about a potential opportunity of making lots of easy money by investing in cannabis shares…
However in reality there is absolutely no substance to the program whatsoever.
You're promised (as shown below) that you'll get free access, updated graphs, expert advice etc: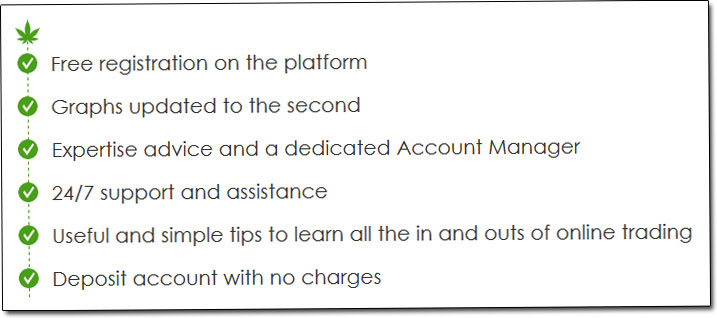 But none of that's really true – and instead after clicking the "Get Started" button on the Cannabis Trader website all that'll really happen is that you'll get redirected off to some third party binary options broker.
The reason for that is because the creator of the Cannabis Trader website has essentially affiliated himself with a binary options broker (like IQ Option) which means if he gets somebody to sign up & deposit with them, he gets paid a large commission.
So in order to get as many people to sign up & deposit with the broker as possible (so he can earn as much money as possible) he's created the Cannabis Trader website which is full of overly-hyped information.
He basically wants you to think that you'll be able to make money really easily & quickly, but that ain't gonna happen – not with binary options. In fact binary options trading is actually so risky that even Forbes published an article warning against it as shown below: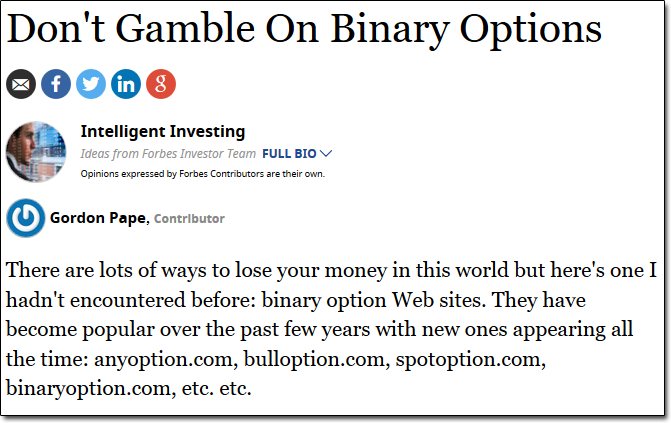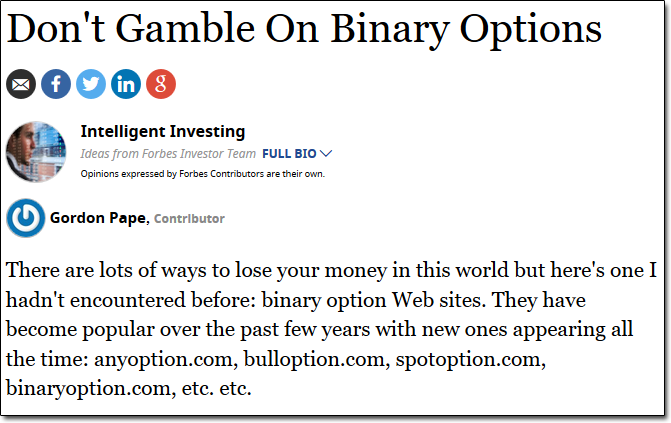 And there's something that 100% proves it's a scam, which is the fact that the brokers are actually paying him a commission in the first place. You see when it comes to binary options brokers due to the way they work they only make money when you lose money, so if you profit – it ends up costing them.
This means that there's NO way they would pay commissions to someone that was helping you generate profits.
The reason they're paying the creator of the Cannabis Trader app commissions is because they're in on it together & they know that if you deposit via that website then you're just going to lose your money.
So whilst it might seem convincing, it's certainly not legit.
You Might Also Like:
The Trick That Catches Most People Out
I recently read in a UK news article (as shown below) that over £87,000 per day is being lost to these types of binary options scams & the reason for that is primarily down to 1 simple little trick that they use:

The "trick" is that they make their visitors think that they can just "try out the software". They tell you that the system or app is going to be completely free & that all you need to do to access it is make a deposit with their so-called recommended broker (aka the broker they're affiliated with).
What they don't tell you though is that most of the brokers are unlicensed & as a result they make it next to impossible for you to get any of your money back. So any money you deposit will be pretty much gone for good.
There isn't really any "trying it out" like these guys claim…
But anyway, enough said – you probably get the idea which brings me right onto…
Is Cannabis Trader a Scam?
Yes it is, there's no doubt about it – the Cannabis Trader website has been setup with the sole goal of getting you to deposit some money into a rogue binary options broker so that the creator can merely make himself some money at your expense.
The truth is that the Cannabis Trader website completely over-hypes the opportunity & the chances of you really making money are slim to none – in fact in over 4 years I can say that I've never seen so much as a single person generate sustainable profits through binary options trading & for that reason I strongly advise against trying it.
It's therefore safe to say that I am not going to be recommending the Cannabis Trader app & instead I think you should steer clear of it because as far as I'm concerned it's nothing but bad news that'll result in you losing money.
The good news though is that whilst the Cannabis Trader app itself may not be legit, there are indeed legitimate places (like Commission Academy) where you can learn the proper ways to begin making good money online – without having to risk hefty investments.
So if you're still looking for a legitimate method then I highly recommend you check Wealthy Affiliate out or alternatively you check out some of the other legitimate methods that I've put on my top picks page.
But whatever you do though I just hope that my Cannabis Trader review here has given you a good insight into how the whole thing works & hopefully you can see why I believe it's something to be avoided. If you do happen to have any further questions or comments though then don't hesitate to leave them below & as always I'll do my best to respond as soon as possible.
A Better Alternative
The sad truth is that unfortunately most of the programs promising to help you make money online are scams. I can say that confidently after exposing over 500+ of them here on this blog.
But the good news is that even though most of them are indeed scams, there are actually some very good programs in amongst them - some programs that can truly help you to earn money.
And out of all of the legit programs I've seen, the one I would recommend the most to anybody looking to get started online is Commission Academy. In my own opinion, that's the best place to start.
At Commission Academy, you'll be provided with everything you need (including the training & tools) to begin earning real money by promoting products or services for companies like Amazon online.
The best part is that there's literally no limit on the amount you can earn with it & the process is pretty simple which means that it's absolutely perfect for people that don't have much experience.
Some wealthy affiliates even earn as much as 5-figures per month... Or more!


I mean don't get me wrong, that kind of money won't just fall into your lap without doing any work... But the harder you're willing to work at it, the more you stand to earn with it.
So if you're looking to get started but don't know which route you should go down or which program you should join (and don't want to waste money on bogus things that don't actually work), then I'd highly recommend checking out Commission Academy first. You can learn more about it here.