CB Wealth is a brand new website & it claims to provide you with access to a revolutionary money-making system which is apparently capable of generating you a whopping $25,000 in under 30 days all on complete autopilot…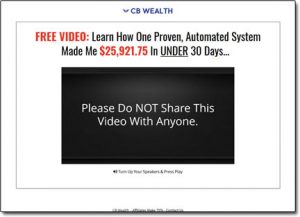 And if that alone didn't already sound good enough the creator James Robertson even promises that you can make money the very same day you get started… But is it really legit or is will CB Wealth scam you out of your hard earned cash instead?
Luckily you've landed in the right place to find out as I myself have personally taken a closer look into this system & in this honest review of the CB Wealth system I'll be uncovering the REAL truth about how it all works as well as outlining whether or not it's really possible to make any money with it.
What Is CB Wealth?   |   How Does CB Wealth Work?   |   The True Costs   |   Is CB Wealth a Scam?   |   A Better Alternative
What Is CB Wealth?
The CB Wealth system essentially portrays itself as being an entirely "done-for-you" money making system that you can just plug-into & begin making money… But as you'll soon see that's not quite so true.

The whole thing has allegedly been launched by a guy named James Robertson who claims to be a writer, research & online business expert. In the video promoting the system he says that just 2 short years ago he was broke, but that just before going bankrupt he stumbled across a method for making money online which in short took him from rags to riches in just a few short weeks.
He continues to talk about how grateful he was to have found the "secret" that enabled him to earn so much money in such a short space of time & he claims he's created the CB Wealth system to help others do it too…
It all sounds plausible on the surface (especially if it's the first time you've come across this sort of thing) but at the same time James doesn't give much away as to how any of it actually works & instead he just pushes the visitors to his website into paying $37 to find out more…
What I can tell you though is that such a tactic is a very common trait of a get-rich-quick scam. If something promises that you can make lots of money but asks for money before telling you what's actually involved then you should be very careful indeed as it's likely not going to be as great as you're led to believe.
I see similar system's all the time & have exposed several others just recently such as Voice Cash Pro, Fast Cash Club & so on. Despite all of the bold claims made on their sales pages these systems very rarely deliver on their promises after you actually hand over your cash so you should always do your due diligence before buying (and it's good to see you here doing exactly that).
But will CB Wealth be any different? Let's take a closer look into exactly how it works below to find out once & for all…
How Does CB Wealth Work?
In short the CB Wealth system is based around a legitimate method making money known as affiliate marketing however whilst the method itself is legit the training provided via CB Wealth is no where near good enough to actually help you get started.
With that being said it is VERY unlikely that you will go through the CB Wealth system & see similar results to any of those that were boasted in the sales video – in fact you'd be lucky to make so much as a single dollar let alone thousands.
It's quite clear to me that the creator has just exaggerated (or faked) the results in the video just to trick people into purchasing his program… There's no way people are making that kind of money via the CB Wealth system.
You see CB stands for ClickBank & ClickBank is a marketplace for digital products. Product owners can list their products on ClickBank & affiliates can sign up to promote them in return for commissions.
The problem though is that whilst ClickBank in itself is legitimate, it's known for hosting a LOT of scam & low quality programs. The CB Wealth program itself is also sold via ClickBank too (so I think that kinda says it all about the types of products you'll find on there)…
So if you sign up to CB Wealth the program will basically teach you to do the following:
Sign up to ClickBank as an affiliate
Find products to promote (you will be pushed into promoting CB Wealth)
Promote the products online
However whilst that may sound appealing at a glance, one of the biggest issues here is that whilst CB Wealth offers some fairly decent training in terms of the ClickBank side of things, it doesn't offer very good training on the promotional front…
And if you don't know how to effectively promote stuff then you won't earn a single penny…
To make money you need people actually clicking through your links – but more importantly you need targeted people clicking through your links – people who are actually going to make purchases & earn you commissions.
The CB Wealth system doesn't go over any of that… Nor does it give you any of the tools you need either.
So rather than waste money on the CB Wealth system, if you truly want to make good money through affiliate marketing I would just suggest you join Wealthy Affiliate instead which is actually free – plus there you'll get the tools you need as well.
Also at Commission Academy you'll learn how to generate affiliate commissions from ANY interest. So if you like dogs you'll learn how to make money from that – or if you like sports you'll learn how to make money from that.
The CB Wealth system primarily just focuses on getting you to promote the CB Wealth system to other people so if you do join that then you'll be kinda "tied in" to doing that which isn't very exciting (and likely won't earn you very many commissions).
You Might Also Like:
The True Costs (It's Not Just $37)
At the seemingly low price of $37 you might be reading this review of CB Wealth but think "oh what the heck, I'll try it out anyway" so I just want to point out that $37 isn't really the true cost of this system at all.
The reason I am able to tell you that is because at the very bottom of the CB Wealth website there is a link that says "Affiliates Make 75%" (as shown below) and after clicking that you're taken to their affiliate page:

Now on their affiliate page there's another line which reads "Make Up To $350 Per Sale" (again as shown below):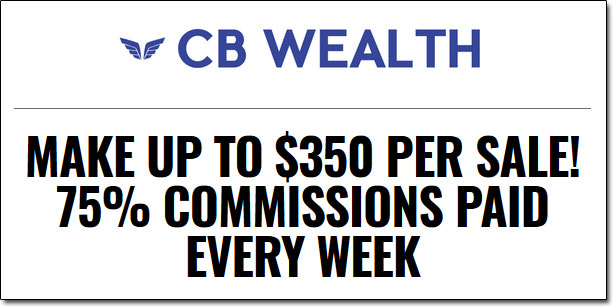 So if they're paying 75% commissions & affiliates can earn up to $350 per sale then that means the true cost of the program must be around $467.
That's certainly a heck of a lot more than $37!
But the worst part is that just like all of the other scammy ClickBank products I've exposed in the past the CB Wealth system isn't upfront about its true costs at all. Instead it lures you in with a seemingly low fee & then just hits you with upsell after upsell on the inside which is something I truly hate.
And Whilst We're On The Topic of Affiliates…
The creator of the CB Wealth system is PAYING people to promote the system – and not only that, but people are actually doing it…
So ask yourself this – why on earth would people waste their time promoting the CB Wealth system to others in the hope of earning commissions if it really worked as promised? Because surely if it worked as promised & really "generated profits on autopilot" it would be easier just to sign up to CB Wealth and make money with that instead…
I think this alone is proof enough that the system doesn't really work as promised & that the creator is actually just making money at the expense of others by tricking them into signing up (hence paying others to promote it) which brings me onto…
Is CB Wealth a Scam?
Given what I've just said above I'm going to say that yes, in my opinion the CB Wealth system is a scam because whilst you do get access to some training I believe the whole thing is extremely misleading & I believe it's just set out to part you with your cash as opposed to truly help you.
Plus like I also said towards the beginning of this CB Wealth review if you really want to earn good money with affiliate marketing there's no need to pay anything to get started as you could just sign up to Wealthy Affiliate for free.
Or alternatively to that you could just check out my free guide on setting up a profitable website from scratch (which even a beginner can do in around 5 to 10 minutes – and if you don't believe me then check it out).
But yeah back onto the CB Wealth system, there's just no way this thing is truly set out to help you like it claims it is. As far as I'm concerned it's true intention is just to part you with your cash so that its creator can earn at your expense.
So therefore it's safe to say that I won't be recommending the CB Wealth system to you because if you sign up & spend money on it I think you'll likely just find yourself disappointed at what you actually get. Instead be sure to check out these LEGIT methods before you go.
Hopefully though after reading my review here you can see why I've come to that conclusion & hopefully it's given you a good insight into how it all really works. If you do happen to have any further questions or comments though then don't hesitate to leave them below & I'll get back to you as soon as I can.
A Better Alternative
The sad truth is that unfortunately most of the programs promising to help you make money online are scams. I can say that confidently after exposing over 500+ of them here on this blog.
But the good news is that even though most of them are indeed scams, there are actually some very good programs in amongst them - some programs that can truly help you to earn money.
And out of all of the legit programs I've seen, the one I would recommend the most to anybody looking to get started online is Commission Academy. In my own opinion, that's the best place to start.
At Commission Academy, you'll be provided with everything you need (including the training & tools) to begin earning real money by promoting products or services for companies like Amazon online.
The best part is that there's literally no limit on the amount you can earn with it & the process is pretty simple which means that it's absolutely perfect for people that don't have much experience.
Some wealthy affiliates even earn as much as 5-figures per month... Or more!

I mean don't get me wrong, that kind of money won't just fall into your lap without doing any work... But the harder you're willing to work at it, the more you stand to earn with it.
So if you're looking to get started but don't know which route you should go down or which program you should join (and don't want to waste money on bogus things that don't actually work), then I'd highly recommend checking out Commission Academy first. You can learn more about it here.