Voice Cash Pro is a newly launched system that promises to provide its members with access to a so-called "little secret" that'll allegedly see them earning as much as $9,800 every week just by using their voice…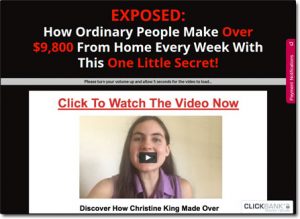 The system's creator who you're told is named Monica White claims that it's super easy & that anybody can do it even if they've never made so much as a single penny online in their life… But is it really legit or is Voice Cash Pro a scam to watch out for?
Thankfully you've landed in the right place to find out as I've personally taken a closer look into it to see exactly how it works & here in my Voice Cash Pro review I'll be uncovering the real truth as well as outlining whether or not there's really any money to be made with it.
What Is Voice Cash Pro?   |   How Does Voice Cash Pro Work?   |   The Truth   |   The Hidden Costs   |   Is Voice Cash Pro a Scam?   |   A Better Alternative
What Is Voice Cash Pro?
Monica White the system's founder claims that her Voice Cash Pro system is a life-changing system that'll allegedly super easily see you earning lots of money online in a really short space of time just by using your voice…

And if that alone didn't already sound good enough then she also promises that you can begin generating profits with her system the very same day that you get started.
However as you've probably noticed other than that she doesn't really go on to say a great deal about how her system actually works & instead she pushes you towards spending $37 of your own hard earned cash to find out more…
But let me point out here that that's a common tactic of a get-rich-quick scam.
If something promises that it's going to provide you with a great way to make loads of money really easily but doesn't give you all of the details about how it works until you hand over your cash, you can almost always assume it's going to be a scam.
After all if it truly worked as promised then the creator could just take a cut of your profits (or just tell you how it all worked upfront!)…
So right from the off I'm going to say that the Voice Cash Pro system is probably NOT what it seems – and I'm also pretty certain that it's going to be linked with the Income Magnet scam that I just literally exposed on this blog yesterday (which made very similar claims).
But obviously I won't just brush it off as a scam right away, after all I'm not one to pass up an opportunity where there's money to be made so instead let's take a deeper look into it to see exactly how it works (and IF it works at all)…
How Does Voice Cash Pro Work?
Well Monica White the system's so-called creator tells her story in the video on the sales page for this system. She says that she was really struggling in life & about to go broke after a divorce but then coincidently bumped into an old friend at the supermarket who shared a "3 step system" with her that could supposedly make her a ton of cash & turn her life around.

Monica says that was sceptical but decided to trust her friend & after giving it go she allegedly started pulling in thousands of dollars every single day from some so-called "secret websites" that her friend helped her setup.
And she claims that was so grateful that she decided to make it her mission to share the system with others which is how Voice Cash Pro was born…
So from the video you're led to believe that you'll be following 3 steps & generating profits from some secret websites just like Monica did herself – but what I can tell you right away is that's NOT how the whole thing actually works.
There is no "3 steps" and there is no "secret websites"…
The Truth About Voice Cash Pro
As I suspected right at the start of this review the Voice Cash Pro system is actually just a re-hashed version of the Income Magnet scam which I literally exposed on this blog yesterday.
Both systems claim to give you access to some sort of secret that'll see you earning thousands of dollars just by using your voice online but in reality there's no secret at all, they just share information that's actually quite easy to find elsewhere for free.
All they do is tell you that you can make money by doing freelance work as a voice-over artist online & they share with you some websites where you can get started (which are supposed to be the "secret" websites)…
What I can tell you though is that the websites aren't secret at all – they just link you to sites like Fiverr & Freelancer which are very well-known websites.
And whilst you can indeed make money as a voice-over artist it's not as easy nor as great as it seems. There's also certainly no way you'll see yourself earnings thousands of dollars from it when you're first getting started… It'd likely take years & years to get to that level of income with it.
The reason I know that is because I used to do freelancing myself…
I mean it can sure be fun at times & you can definitely make money from it, but because there are so many people looking to do it the marketplace is extremely competitive which means to get work you have to bid VERY low prices on jobs.
This means you'll see yourself working very long hours for very little money – at least until you build up your reputation over time, then you can gradually start increasing your prices to get more for your time.
But I Found That There Was a Better Way To Make Money
Like I say I used to freelance myself & it did have its perks but in my opinion it was pretty darn stressful due to having to work so much for so little money… However thankfully I discovered a better way to make money.
The better way was something called affiliate marketing – and the great thing about that is that I didn't have to work directly for money any more. I could do some work, and then even when I stopped the money would keep coming in.
Basically things were more passive & it allowed me to build up a much larger income whilst working a lot less hours…
I know that kinda sounds crazy but if you check out my guide on it here you'll see exactly what I mean. It's truly a great method for making money online & in my opinion it's definitely WAY better than freelancing.
Plus you can also get started for free with affiliate marketing at Wealthy Affiliate.
But anyway back onto the Voice Cash Pro system…
You Might Also Like:
It's possible that whilst reading this review you may still be pretty interested in making money as a voice-over artist & for the seemingly low cost of $37 you might be thinking what the heck, I'll check out Voice Cash Pro regardless…
What I want to tell you here though is that $37 is NOT the true cost of the program.
Basically (like with many of these types of get-rich-quick scams) they cost they advertise on the frontend is just an "entry fee" & then on the inside you're left to find out that there are many upsells you need to purchase to get the full thing.
So you should know that in order to get access to "all" of Voice Cash Pro you'll be required to spend hundreds of dollars – and then afterwards you'll be pushed into other offers where you'll be required to spend hundreds more.
But like I already mentioned the majority of the information inside of Voice Cash Pro can be found elsewhere online for free with a quick Google search – and if you really want to get started as a voice-over artist you could just sign up at Fiverr & start there.
Now with all that being said I think it's time for…
Is Voice Cash Pro a Scam?
Honestly, in my opinion yes the Voice Cash Pro system is a scam. I mean sure as promised you do indeed get access to some training inside the members area but ultimately the program just simply doesn't deliver on its promises & there's no way you'll see yourself earning the kind of claimed as quickly as Monica claims you will.
And like I also said earlier in this review of Voice Cash Pro, most of the information inside of the members area can actually be quite easily found elsewhere online for free so there's simply no need to pay for it.
Plus with that being said as far as I'm concerned the whole thing has just been setup to take cash from you to make the creator wealthy at your expense rather than actually being set out to truly help you like Monica claims it has.
So all in all there's simply no way I'll be recommending this program to you because I feel it just spells bad news & if you do happen to sign up to it you'll likely just find yourself disappointed at what you actually receive. Also like I previously mentioned there's a MUCH better way to make money online which you can get started with for free here at Wealthy Affiliate.
And on top of that there are also several other legitimate ways you can make money too – you can see those right here on this page.
Whatever you decide to do though I just hope that my review of Voice Cash Pro here has given you a good insight into how it truly works & hopefully you can now also see why it should be avoided. If you do happen to have any further questions or comments about it though then don't hesitate to leave them below & I'll get back to you as soon as I can.
A Better Alternative
The sad truth is that unfortunately most of the programs promising to help you make money online are scams. I can say that confidently after exposing over 500+ of them here on this blog.
But the good news is that even though most of them are indeed scams, there are actually some very good programs in amongst them - some programs that can truly help you to earn money.
And out of all of the legit programs I've seen, the one I would recommend the most to anybody looking to get started online is Commission Academy. In my own opinion, that's the best place to start.
At Commission Academy, you'll be provided with everything you need (including the training & tools) to begin earning real money by promoting products or services for companies like Amazon online.
The best part is that there's literally no limit on the amount you can earn with it & the process is pretty simple which means that it's absolutely perfect for people that don't have much experience.
Some wealthy affiliates even earn as much as 5-figures per month... Or more!


I mean don't get me wrong, that kind of money won't just fall into your lap without doing any work... But the harder you're willing to work at it, the more you stand to earn with it.
So if you're looking to get started but don't know which route you should go down or which program you should join (and don't want to waste money on bogus things that don't actually work), then I'd highly recommend checking out Commission Academy first. You can learn more about it here.