Coinonomy is the name of a relatively new program that has been launched by self-proclaimed "Dot Com Kid" Ron Singh & it essentially promises to provide you with what he calls a loophole in the cryptocurrency markets which you can supposedly profit from.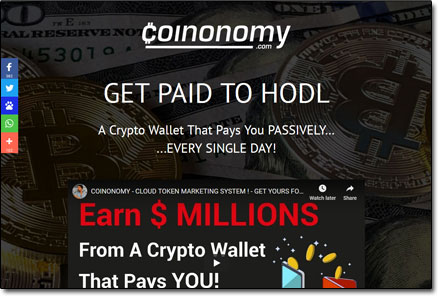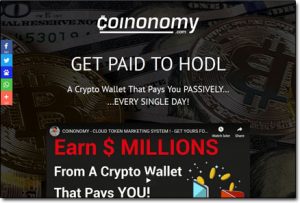 According to him by joining Cononomy you'll be getting access to a cryptocurrency wallet that pays you daily & you'll be getting access to the same "cryptocurrency hack" that is allegedly creating new millionaires every single day… All for free.
But is it really legit? And if it is legit then why on earth is Ron giving his "hack" away for free? Or is Coinonomy a scam that'll just see you ending up spending money as opposed to actually making it?
Well, you'll be glad that you came here to my Coinonomy review first before joining because the whole thing is certainly not quite what it seems & I personally am very sceptical as to what's going on behind the scenes.
What Is Coinonomy?   |   How Does Coinonomy Work?   |   Is Coinonomy a Scam?   |   A Better Alternative
What Is Coinonomy?
Coinonomy is the brainchild of a guy from the UK named Ron Singh who calls himself the "Dot Com Kid" on YouTube & it essentially promises to provide you with an easy way to earn lots of money from cryptocurrency investing – even if you're new.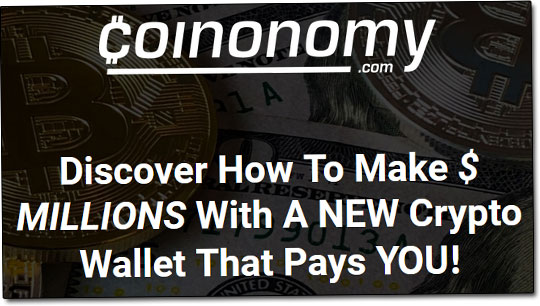 In his promotional material, Ron says that he has discovered a "loophole in the cryptocurrency markets" and that what he has found can be described as a "cryptocurrency hack".
According to him, the "hack" will enable you to get paid daily just for holding your funds inside of a cryptocurrency wallet (like CoinBase for example) and he claims that his "hack" is also creating new millionaires every day.
He claims that it's so powerful he's actually designed to name it as Bitcoin 2.0 because he believes that just like the original Bitcoin his new "hack" is going to create a wave of millionaires & potentially even billionaires.
But there's one pressing question… Is his "hack" legit? Is Coinonomy legit? And if it is then why aren't we hearing more people talking about this?
Why are people still working at jobs they dislike for less money if they can simply just plug-in to the Coinonomy system & earn an automated income every single day which could potentially make them a millionaire?
Well, the answer is because it's not quite as straight forward as it seems, and after digging deeper I discovered that the Coinonomy platform is actually associated with Cloud Token Wallet which is something I previously reviewed & determined to be "questionable" to say the least.
If you know about Cloud Token Wallet you'll likely know why I marked it as questionable, but if you don't then keep on reading & all will become clear below as I explain in greater detail how it works…
How Does Coinonomy Work?
Ron claims that the so-called "cryptocurrency loophole" he has discovered will enable you to earn daily income by simply holding your cryptocurrency in a wallet… And that leads you towards believing you'll be able to do it with any wallet, like a CoinBase wallet (one of the most well-known, trusted wallets) for example.
However what he fails to tell you is that his Coinonomy program only works with one wallet, the Cloud Token Wallet – a wallet which has caused a lot of controversy online due to it's (in my opinion) questionable nature.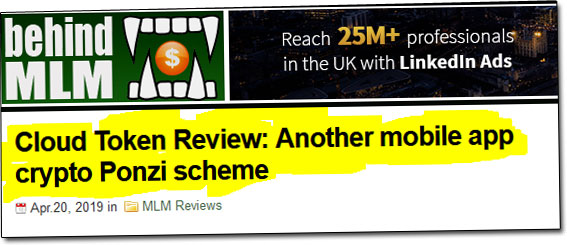 You see the creators of the Cloud Token Wallet have supposedly built something called the Jarvis AI bot which allegedly makes trades using your held cryptocurrency on your behalf… And these trades are supposedly guaranteed to be profitable.
So if you hold your money in the Cloud Token Wallet you receive a daily income & the creators claim that it's coming from the so-called Jarvis AI bot…
However, Cloud Token Wallet also run an affiliate program which means you're able to earn money by recruiting others into Cloud Token Wallet & this is where things get pretty sketchy because there's no solid "proof" of the Jarvis AI bot and many people believe the income being paid out is merely coming from the new members that are paying in.
The more people you recruit, the more you stand to earn…
But why would this be a problem, I hear you ask?
Well the reason it would be a problem is that if the money coming into a company is reliant solely upon new members investing it means that the business would be unsustainable & it would ultimately collapse, leaving those who've invested parted from their investments.
BitConnect, Supreme Power Coin & Davor Coin are a few examples of other cryptocurrency websites which claimed to pay out money from "automated trades" but later turned out to be recruitment schemes & collapsed.
So in short what I'm saying is that without SOLID proof of seeing what the "Jarvis AI bot" is doing, investing or holding money inside of Cloud Token Wallet is in my opinion risky to say the least.
Where Does Coinonomy Come Into All This?
Remember what I said above about the more people you recruit, the more you stand to earn? Well, basically the Coinonomy system is an MLM style recruitment system that has been built to primarily enable Ron Singh to get more people signing up to Cloud Token Wallet via his referral link.
So by becoming a member of Coinonomy what you'll essentially find yourself doing is signing up to Cloud Token Wallet, investing money, connecting your Cloud Token Wallet affiliate link to Coinonomy & then promoting Coinonomy to others.
But there isn't really any "loophole" at all… And if you don't know how to effectively promote things online then Coinonomy isn't really going to help you a great deal whatsoever. You'll just find yourself spinning your wheels.
If you do know how to promote things then ultimately Coinonomy is designed to give you more leverage with your promotions & that's through the use of an MLM style structure.
The idea is that you get people to sign up to Coinonomy, then you show them how they can get people to sign up, and you end up building a team and leveraging their efforts to help you get more referrals.
That's the idea in theory anyway but unfortunately, most people who join these types of things fail to get anybody to sign up at all. To highlight that, in a report that was put out by the FTC it was found that less than 99% of people who participated in MLM programs managed to make a profit.
They literally said that MLM made gambling look a safe bet in comparison, as shown below: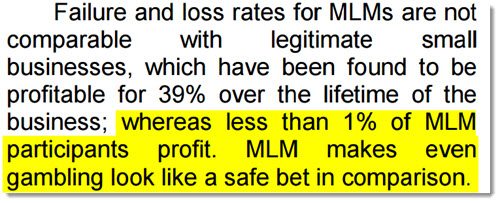 So with that in mind, I think it's time for…
Is Coinonomy a Scam?
Well no, it's not a scam… But for the average Joe, I don't really don't see much benefit of Coinonomy. In my opinion, it has been built with the primary motive of simply making Ron himself wealthier.
Plus there's also the questionable nature surrounding Cloud Token Wallet & if you want to participate in the Coinonomy opportunity then you're forced to invest via Cloud Token Wallet which means you'll have to take that risk on-board.
In my opinion in this particular instance, the risk far outweighs the potential rewards as I've seen a LOT of similar companies which have just literally disappeared overnight after regulatory action & left thousands parted from their investments.
Plus as far as I'm concerned there are better ways that you can make money online without risk.
One of those methods is something called affiliate marketing which is where you promote products (like products from Amazon) or services online in return for commissions. It's actually the same way I make most of my own money online.
The great thing about affiliate marketing is that your income is totally uncapped… The more you put in the more you can get out & you can even get started with it or learn more about it for free over at Commission Academy.
But whatever you decide to do I just sincerely hope that my review of Coinonomy here has given you a good insight into what to expect from the program & hopefully it's answered your questions. If you still do happen to have any questions or comments about it though then, of course, don't hesitate to leave them below. 🙂
A Better Alternative
The sad truth is that unfortunately most of the programs promising to help you make money online are scams. I can say that confidently after exposing over 500+ of them here on this blog.
But the good news is that even though most of them are indeed scams, there are actually some very good programs in amongst them - some programs that can truly help you to earn money.
And out of all of the legit programs I've seen, the one I would recommend the most to anybody looking to get started online is Commission Academy. In my own opinion, that's the best place to start.
At Commission Academy, you'll be provided with everything you need (including the training & tools) to begin earning real money by promoting products or services for companies like Amazon online.
The best part is that there's literally no limit on the amount you can earn with it & the process is pretty simple which means that it's absolutely perfect for people that don't have much experience.
Some wealthy affiliates even earn as much as 5-figures per month... Or more!

I mean don't get me wrong, that kind of money won't just fall into your lap without doing any work... But the harder you're willing to work at it, the more you stand to earn with it.
So if you're looking to get started but don't know which route you should go down or which program you should join (and don't want to waste money on bogus things that don't actually work), then I'd highly recommend checking out Commission Academy first. You can learn more about it here.