The Ecom Cash Crusher system has been attracting a LOT of attention online lately & it's hardly surprising as it claims to be providing its members with a life-changing money-making secret that will allegedly see them earning as much as $40,000 per month online with little to no work.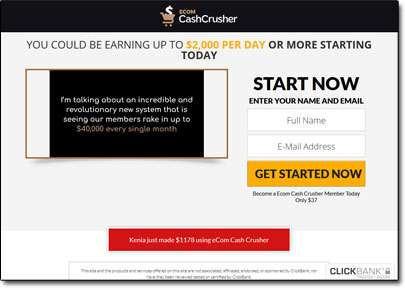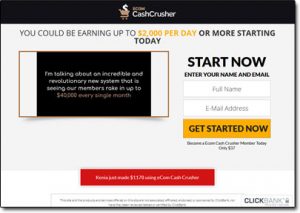 But can you really make that much money through a "done-for-you" system or is the Ecom Cash Crusher a scam? That seems to be the question on most people's minds & I'm glad they're asking it before jumping in because the Ecom Cash Crusher system is NOT what it seems.
In this honest review, I'll be uncovering the truth about how it all works & rest assured that unlike many of the other reviews I'm not affiliated with it meaning I have no interest in getting you to sign up.
What Is Ecom Cash Crusher?   |   How Does Ecom Cash Crusher Work?   |   Is Ecom Cash Crusher a Scam?   |   A Better Alternative
What Is Ecom Cash Crusher?
In typical get-rich-quick scam fashion, the website for the Ecom Cash Crusher system doesn't actually give much away about how the system is actually supposed to work. It certainly puts emphasis on how much money you'll allegedly be able to make but doesn't tell you what you'll be doing or exactly where the money will be coming from…
Instead, to find out more you're essentially pushed into handing over your hard-earned money & buying the system but this is a HUGE red flag. If something asks for your money before telling you what's involved or what you're actually getting you can almost always assume it's going to be a scam…
Couple that with the fact that this system claims you can get a secret for making $40,000 per month for $37 (which sounds absolutely ridiculous) & it's safe to say things don't look promising at all.

But thankfully because you've landed here at my Ecom Cash Crusher review you don't have to worry about handing over your cash to find out what's on the other side because I've already done the digging. ?
In short, it turns out that the Ecom Cash Crusher is just a re-hashed version of the Ecom Cash Code scam that launched around 3 weeks ago at the time of writing this review. It looks like the creator is simply trying to launch the system under as many names as possible in an attempt to escape all the negative reviews that expose it as being as a scam.
The reason he wants to do this is simply so he can continue parting as many people as possible with their hard-earned cash…
So the concept of it is that you'll be learning how to set up an online store (hence the name Ecom which is short for Ecommerce) & selling products online through a method known as dropshipping.
And whilst dropshipping is technically a legitimate method in that you can actually earn money from it, I'll point out right here that it's not as great as it seems and more often than not people actually end up losing money with it instead…
That's why I always recommend affiliate marketing instead (which is much better & easier to find success with, in my opinion) but you'll soon see for yourself what I mean when I explain exactly how it all works below.
How Does Ecom Cash Crusher Work?
To be honest the Ecom Cash Crusher system is pretty darn misleading. Right upon landing on the website you're told that you'll be getting access to "the biggest money-making secret" along with an "incredible & revolutionary system", however, none of those statements are true.

The method the Ecom Cash Crusher is based around is NOT a secret (it's far from it) and there isn't actually any system at all. If you spend your money on the Ecom Cash Crusher (which I definitely don't recommend) all you get access to is some training, not a system.
…and it's just pretty basic training that you can actually get elsewhere for free.
So like I mentioned in the previous section of this review what you'll be getting access to if you buy into the Ecom Cash Crusher "system" is some training on a method called dropshipping which involves selling products online.
Now dropshipping seems like a really attractive business model because the way it works is that you actually make sales before you purchase the products – so it seems on the surface like you can't lose.
But let me tell you when it comes to dropshipping you can (and most likely) will lose. It takes a LOT of work & in my opinion, is way too risky.
The reason for that is because essentially you've got to arrange deals with suppliers & then you list their products for sale on your website (so you've also got to build a website). Then when you make sales you contact the suppliers & have the items shipped directly from them to the customer, paying them the money that the customer paid you & keeping a profit for yourself.
Make sense? Seems pretty good at a glance, right?
However, you can run into big problems if the supplier ships a product late, if it gets damaged in transit or if the customer wants a refund. If this happens you could end up finding yourself having to spend your own money to reimburse the customer…
But this is assuming you actually manage to make sales, because whilst setting up the shop itself & contacting suppliers is pretty easy, marketing it is not & it generally requires a huge advertising budget.
And if you're not an expert in advertising you could find yourself burning through that advertising budget VERY quickly with no real profits to show for it at the end. Sadly that's what happens to most people who try dropshipping.
Again, that's why I always recommend affiliate marketing instead. With affiliate marketing you don't need to worry about handling products, talking to customers or dealing with refunds – all you need to focus on is connecting customers with the products they're looking for & you get paid commissions in return. Plus with affiliate marketing, you can get started for free at places like Wealthy Affiliate.
So yeah, dropshipping seems good but in my opinion, it's not.
You Might Also Like:
And Ecom Cash Crusher Is NOT A Good Place To Start
Finding success with dropshipping is pretty darn difficult & as a result, in order to stand any chance of success, you'll need to go through a LOT of learning. The decent dropshipping training programs like Amazing Selling Machine generally cost thousands of dollars & most only open their doors to new trainees for short periods each year…
The reality here is that the creator of the Ecom Cash Crusher system isn't actually interested in your success at all & that's why the program is only $37. The only thing he's interested in is making some money at your expense.
He makes the whole thing seem way easier than it actually is & he's put the price at a point which might make you think "what the heck, I'll try it out" – but on the other side the training is extremely basic & the chances of it helping you find success are extremely slim indeed.
On top of that, there are also several upsells on the other side too so if you think $37 is the true cost then think again. As soon as you enter the program you'll be bombarded with offer after offer with each one promising you quicker & bigger results but really they're just drawing you further into the scam by getting you to spend more money.
Even if you bought every single upsell on the inside, the training (in my opinion) is nowhere near good enough to help you see true success.
Then once you've gone right through the program it finally leads you into something called My Ecom Club which is yet another dropshipping program that costs thousands of dollars. Despite its cost though I don't feel the value in that course lives up to its price either, that's why I gave it a thumbs down in my review.
So yeah in short if you're truly stuck on the dropshipping method I'd still definitely steer clear of the Ecom Cash Crusher system because it's not a good place to get started with it. It'll just see you losing money & feeling disappointed.
Which brings me onto…
Is Ecom Cash Crusher a Scam?
I know this will probably be quite a controversial verdict since the product does actually provide some training but I am going to say that in my opinion, I do believe the Ecom Cash Crusher system to be a scam.
The reason I say that is because whilst it doesn't necessarily pull money from your bank account & give you nothing in return, I do feel it's way too hyped up & therefore what you get isn't really what you were sold.
You see if you hand over your cash to get access to the Ecom Cash Crusher program you're going to be expecting a done-for-you system that's almost immediately going to start generating you good money & that's not what you'll be getting. Instead, you'll just be getting some basic training on making money via E-commerce.
It's clear to me that the creator has just set it up purely so that he himself can earn some cash at your expense – he isn't really interested in helping you see success as he claims… He just wants to get as much money from you as possible.
So for that reason, I am not going to be recommending the Ecom Cash Crusher system & instead, if you truly want to learn how to make good money online then I highly recommend you check out affiliate marketing instead which in my opinion is a MUCH better & easier method.
Plus don't forget that there's also a whole bunch of other ways you can make money online too which you can check out here.
But whatever you decide to do I just hope that my review here has helped save you from being parted with your hard-earned cash & if you do happen to have any comments you'd like to add (or questions) then don't hesitate to leave them below. I always love hearing from my readers.
A Better Alternative
The sad truth is that unfortunately most of the programs promising to help you make money online are scams. I can say that confidently after exposing over 500+ of them here on this blog.
But the good news is that even though most of them are indeed scams, there are actually some very good programs in amongst them - some programs that can truly help you to earn money.
And out of all of the legit programs I've seen, the one I would recommend the most to anybody looking to get started online is Commission Academy. In my own opinion, that's the best place to start.
At Commission Academy, you'll be provided with everything you need (including the training & tools) to begin earning real money by promoting products or services for companies like Amazon online.
The best part is that there's literally no limit on the amount you can earn with it & the process is pretty simple which means that it's absolutely perfect for people that don't have much experience.
Some wealthy affiliates even earn as much as 5-figures per month... Or more!

I mean don't get me wrong, that kind of money won't just fall into your lap without doing any work... But the harder you're willing to work at it, the more you stand to earn with it.
So if you're looking to get started but don't know which route you should go down or which program you should join (and don't want to waste money on bogus things that don't actually work), then I'd highly recommend checking out Commission Academy first. You can learn more about it here.