The Ecom Cash Code (found at secretecomcode.com) has allegedly been put together by an "eccentric millionaire" named Teo Vee & it promises to share with you the secrets for earning thousands of dollars per day online by leveraging companies like Amazon.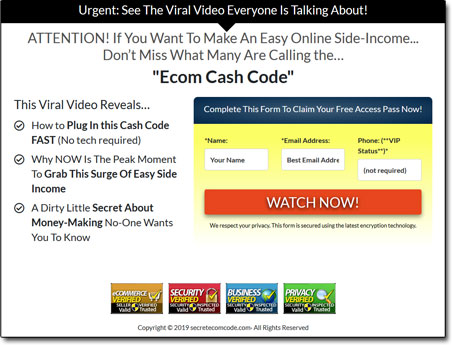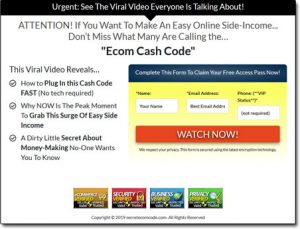 But other than hyping up the opportunity of making money it doesn't really give a great deal away as to what's involved & instead in order to find out you're required to hand over $97 of your hard-earned cash…
So what's the deal, is it really legit or is the Ecom Cash Code a scam that'll just end up robbing you instead?
The good news is that you've landed in the right place to find out as I've personally taken a closer look into the Ecom Cash Code system myself to see exactly how it all works & in this honest review I'll be uncovering everything you need to know.
What Is Ecom Cash Code?   |   How Does Ecom Cash Code Work?   |   Can You Make Money With It?   |   Is Ecom Cash Code a Scam?   |   A Better Alternative
What Is Ecom Cash Code?
Well the website promoting the Ecom Cash Code system claims that the whole thing will provide you with a way to "legally tap into the purchases from customers all over the world" through sites like Amazon and pocket some cash for yourself as a result.
A quote of that can be seen in the screenshot below:

And regardless as to whether Mr Teo Vee says that's legal or not, I can assure that "tapping into purchases" is definitely not legal!
But the truth is that statement is just total BS anyway because that's not what the system is about at all… Teo Vee has merely said that to make the whole thing sound a whole lot easier than it actually is…
You see in reality what you're getting is not a system or method for "tapping into purchases", the real product behind the whole thing is something called My Ecom Club which is a training program that shows people how to sell stuff on sites like Amazon & Shopify using a method called dropshipping.
The reason I know that is because just yesterday I reviewed another program named The Ecom Freedom Blueprint which is another site exactly like the Ecom Cash Code (but with a different spin) & this too has been created by Teo Vee…
Basically he's just creating a ton of different sites all with different spins & spiel to try & trick people into purchasing his extremely expensive e-commerce training program named My Ecom Club.
The Ecom Cash Code system is therefore just what I call a "doorway site", and alongside that & The Ecom Freedom Blueprint he has several more of these doorway sites such as:
It's not an "illegal" tactic to create such doorway sites, but if you browse through them you'll see that they're basically all full of lies because each one tells a different story of how you'll be making money (even though they're all promoting the same program!).
So, in my opinion, you're essentially being misled into purchasing his My Ecom Club program… But if you do buy into it can you really make any money with it? That's the real question at hand so let's find out…
How Does Ecom Cash Code Work?
Okay so as I mentioned above the Ecom Cash Code website itself is essentially just a doorway page that tricks you into purchasing the My Ecom Club program (which has been produced by Teo Vee) & that's why the order form makes no reference as to what you're actually purchasing as shown below: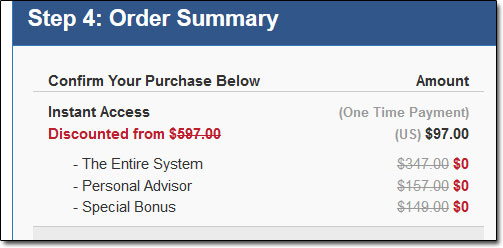 So yeah, once you hand over your $97 (which I absolutely don't recommend doing & you'll see why in a moment), you'll actually be buying into something called My Ecom Club, NOT the Ecom Cash Code…
And what the website doesn't tell you is that the $97 fee is essentially just a "teaser" of what's to come – because in order to actually progress forward with the program you'll be required to hand over $1,997 as shown below: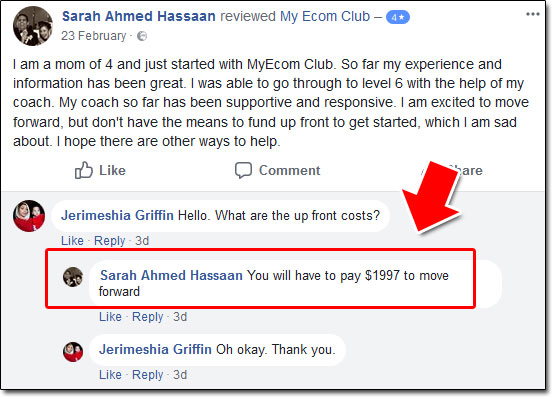 And whilst there are some e-commerce training programs (like the Amazing Selling Machine) which are potentially worth such a high price-tag, in my opinion, the My Ecom Club is NOT a program worth anywhere near that amount.
In fact, personally I believe that the whole My Ecom Club thing is more geared towards making Teo Vee money at your expense than it is towards helping you actually find success & that's likely why there are so many complaints – again, shown below: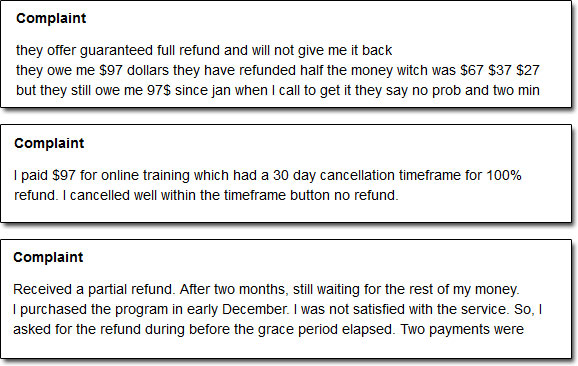 But Can You Make Any Money With It?
Ultimately the reason you were looking into the Ecom Cash Code program in the first place was that you were interested in the idea of making money online – so can you make ANY money with the My Ecom Club?
Well, the answer is technically yes because ultimately the whole thing is based around a legitimate concept known as dropshipping which is where you list products for sale online on sites such as Amazon & Shopify & then have them shipped directly from the supplier to the customer when (or if) you happen to make a sale.
The method itself can seem pretty good because you don't need to hold any stock & you don't need to purchase anything until you make sales – however, there are some major drawbacks with the dropshipping method.
Firstly it is nowhere near as easy as Teo Vee makes it out to be – finding success with dropshipping takes a LOT of work because not only do you have to handle promotions but you have to handle sales, shipping, suppliers & refunds too…
And because of the way it works in the instance of a refund or issue with the supplier you could actually find yourself ending up out of pocket as opposed to making money…
So do I recommend dropshipping? Not really – and I certainly don't recommend Teo Vee's program because I do not think the training he provides will truly help you to find success, and it, in my opinion, it is also way overpriced.
The much better alternative is something called affiliate marketing, which involves a LOT less risk, a LOT less work, and is something that you can actually get started with for free over at Wealthy Affiliate.
So why pay thousands for a course on the risky method of dropshipping when you can start the proven method of affiliate marketing for nothing?
And just in case you don't know – affiliate marketing basically involves you connecting people with the products they're looking for online & getting paid commissions in return for any sales you generate… This means you only have to focus on one thing & one thing only – promoting! And you don't need to worry about sales or refunds as that's handled by the companies you're promoting, not you.
Here's a visual rundown of how it works: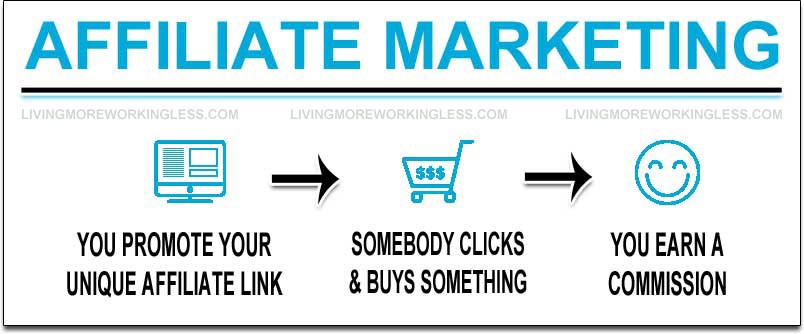 Anyway with all that being said I think you probably have a good idea of my stance on the whole thing so that brings me onto…
Is Ecom Cash Code a Scam?
Well like I mentioned previously it's based around a legitimate method known as dropshipping so some people might argue that it's not a scam, however in my opinion the sales pitch is extremely misleading & so, therefore, I am going to say that it IS a scam.
I mean yes sure, Teo Vee has put together some legitimate training on starting an e-commerce business through dropshipping, but it's extremely expensive, it's not transparent, it's hyped up & as far as I'm concerned it's more geared towards making Teo money than it is towards helping you see success.
So for those reasons I am not going to be recommending the Ecom Cash Code or the My Ecom Club programs to you because I just think they'll see you spending more money than you ever actually manage to make.
Instead, like I mentioned previously in this review if you really want to get a good start online then I suggest you check out affiliate marketing instead because as far as I'm concerned that's the best way to make money…
And on top of that, there are also several other ways you can make good money online too.
But whatever you decide to do I just hope that my review here has given you a good insight into how this program really works & hopefully you can see why I've come to the decision to not recommend it. If you do still happen to have any further questions or comments though then don't hesitate to leave them below & I'll get back to you as soon as I can.
A Better Alternative
The sad truth is that unfortunately most of the programs promising to help you make money online are scams. I can say that confidently after exposing over 500+ of them here on this blog.
But the good news is that even though most of them are indeed scams, there are actually some very good programs in amongst them - some programs that can truly help you to earn money.
And out of all of the legit programs I've seen, the one I would recommend the most to anybody looking to get started online is Commission Academy. In my own opinion, that's the best place to start.
At Commission Academy, you'll be provided with everything you need (including the training & tools) to begin earning real money by promoting products or services for companies like Amazon online.
The best part is that there's literally no limit on the amount you can earn with it & the process is pretty simple which means that it's absolutely perfect for people that don't have much experience.
Some wealthy affiliates even earn as much as 5-figures per month... Or more!

I mean don't get me wrong, that kind of money won't just fall into your lap without doing any work... But the harder you're willing to work at it, the more you stand to earn with it.
So if you're looking to get started but don't know which route you should go down or which program you should join (and don't want to waste money on bogus things that don't actually work), then I'd highly recommend checking out Commission Academy first. You can learn more about it here.