The Find a Job Now website (found at find-a-job-now.com) claims to provide you with access to a so-called "private system" that can allegedly see you generating profits online of up to $10,000 per day all on complete auto-pilot.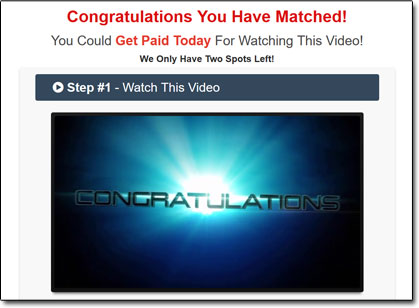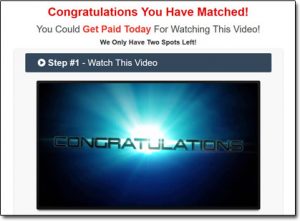 You're led to believe that all you need to do is sign up & that you can start making money right away… But you're probably a little sceptical about it all (and I don't blame you)… So what's the deal?
Is it actually legit or is Find a Job Now a scam that's just going to end up costing you money rather than actually helping you make it?
Thankfully you've landed in exactly the right place to find out because I've taken a closer look into it all & in this review I'm going to be uncovering everything you need to know including how it all really works & most importantly whether or not you can make any money with it.
What Is Find a Job Now?   |   How Does Find a Job Now Work?   |   The Red Flags   |   Is Find a Job Now a Scam?   |   A Better Alternative
What Is Find a Job Now?
As I briefly touched on above the Find a Job Now website promises to provide you with access to some sort of "private system" that will enable you to passively earn as much as $10,000 per day online… Which I think you'll agree is a pretty darn bold claim.
And whilst the bold claim itself is a major red flag, another red flag I spotted after landing on the website was that the video you're presented with is actually the same video that was used on the website of the Online Cash Bonanza scam.
The video tells you that you're allegedly "number 68 out of 70" and that you've found a way to easily make a life-changing amount of income… Then from there it then starts showing you "testimonials" from people who are supposedly generating thousands with the system…
The problem though is that everything you're told in the video (and on the website) is a lie.
The reason I can say that so confidently is because if you simply refresh the page & load it again surprise surprise you will still be "number 68 out of 70″… And if you do it again the next day you'll still see the exact same message. It's just a scarcity tactic designed to rush you into signing up without thinking – a trick that's commonly associated with scams.
And the other reason I can say it so confidently is because the so-called "members" you're shown who are boasting about how much income they've made from the system are merely paid actors from Fiverr.
Take a look here for proof of that:

So you really can't trust a word you're told through the Find a Job Now website & when I show you how it all really works in a moment you'll soon see why this whole thing is just a total load of BS.
How Does Find a Job Now Work?
Well, the simple truth is that it doesn't work – everything you're told is just BS & the whole thing has merely been set up with the intention of making the creator wealthy at your expense… He or she (whoever is behind it) doesn't really care whether you make money or not.
And I can tell you that you will NOT make money by going through the Find a Job Now system – instead you'll just end up losing money.
I know that because in reality there is no Find a Job Now system at all. Instead, the website just randomly redirects you through to different scammy online business opportunities.
So basically the creator of the Find a Job Now website has affiliated himself (or herself) with a whole bunch of different bogus make-money-online programs. This essentially means he or she will get paid commissions if you happen to sign up to them.
Don't get me wrong there's no problem with affiliating yourself with something & earning money by recommending it (it's called affiliate marketing & it's a legit way to make money) but the problem here is that the programs the person behind Find a Job Now recommends are all scams.
FYI let me just point out affiliate marketing is the same way I personally make money online (and it's a VERY good way to make money) so if you'd like too you can learn how to get started with it yourself for free then be sure to check out Commission Academy.
But anyway the only reason they've created the Find a Job Now website is to increase the amount of money they can earn. Through this site they basically make it seem like you can make money really quickly & easily, and they get you really hyped up about the potential opportunity of earning money to convince you to sign up.
They know that by telling lies they can trick you into signing up & that's exactly what they've set out to do.
You see as soon as you click the button that says "Continue To The Next Step" you're taken to a 3rd party website (one they're affiliated with) and if you sign up at that website than the Find a Job Now website owner will earn some money at your expense.
And you'll just be left to find out that you've been scammed because like I say all of the opportunities they recommend are totally bogus. It redirects you through to sites like Automated Daily Income which is a known scam that I've previously exposed right here on this blog.
You Might Also Like:
The Red Flags
I know when I expose programs/systems like this that often many people who read my reviews don't really want to believe what I'm saying is true because they are in desperate situations & still want to hope that the systems will work for them…
But sadly the truth is the Find a Job Now system will not work for you & instead it will only end up leaving you even worse off – so for that reason I want to give you some hard proof that it's a scam.
For the proof, firstly take a look at the image below: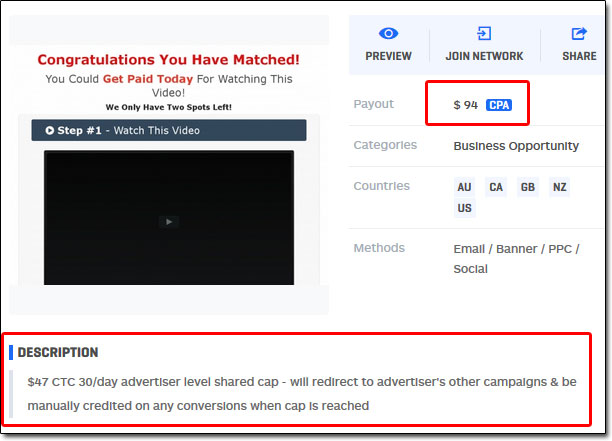 Basically I found the Find a Job Now system listed on an affiliate network under the name of the Millionaire Edge System (but you can see from the thumbnail in the image it's the exact same website).
Anyway, you'll see in the image above that I've highlighted "$94 CPA" – basically this means the creator of the Find a Job Now website is paying affiliates $94 for every person they can get to sign up…
And then further down the image, you'll see that the creator states visitors will be redirected to advertisers other campaigns…
So essentially the reason the creator of this system is paying affiliates $94 for getting people (like you) to sign up to the Find a Job Now system is because he or she is ultimately expecting to earn more than this by pushing you through to various advertisers (aka make-money scams).
One of the sites you might be redirected through to is something called MOBE & that could potentially end up costing you over $50k! So like I say the whole thing has just been set up to make the creator wealthy, not you… And the creator will just be getting wealthy at your expense.
That's why the whole thing should definitely be avoided.
Which brings me right onto…
Is Find a Job Now a Scam?
The answer to that, in my opinion, is yes it is, because it's clear to me that rather than helping you make money like it claims it will the whole thing, in reality, has just been set up to make the creator wealthy at your expense instead.
Ultimately if you sign up to it you will just end up spending money rather than making it & you'll likely end up in a much worse off position than the one you were in before you got started with it which is why in my opinion it should be avoided.
Like I mentioned above in this review if you really want to make good money online then you can do so through something called affiliate marketing & you can get started with that for free through Commission Academy… There is no need to splash the cash on bogus systems like Find a Job Now.
So overall as you can likely imagine I am not going to be recommending the Find a Job Now system & instead if you want to learn how to make money online the REAL way then I will suggest you check out my Wealthy Affiliate review here.
Anyway, that's all I've got to say on this but hopefully, this review provided you with the insight you were looking for into this particular program & of course if you do happen to have any further questions or comments then don't hesitate to leave them below. I'll always do my best to get back to you as quickly as possible.
A Better Alternative
The sad truth is that unfortunately most of the programs promising to help you make money online are scams. I can say that confidently after exposing over 500+ of them here on this blog.
But the good news is that even though most of them are indeed scams, there are actually some very good programs in amongst them - some programs that can truly help you to earn money.
And out of all of the legit programs I've seen, the one I would recommend the most to anybody looking to get started online is Commission Academy. In my own opinion, that's the best place to start.
At Commission Academy, you'll be provided with everything you need (including the training & tools) to begin earning real money by promoting products or services for companies like Amazon online.
The best part is that there's literally no limit on the amount you can earn with it & the process is pretty simple which means that it's absolutely perfect for people that don't have much experience.
Some wealthy affiliates even earn as much as 5-figures per month... Or more!

I mean don't get me wrong, that kind of money won't just fall into your lap without doing any work... But the harder you're willing to work at it, the more you stand to earn with it.
So if you're looking to get started but don't know which route you should go down or which program you should join (and don't want to waste money on bogus things that don't actually work), then I'd highly recommend checking out Commission Academy first. You can learn more about it here.