The Freedom Circle software has supposedly been created by a guy named Kyle Stanford & it's claimed to be able to generate its members guaranteed profits of $5,000 per day through automated online binary options trading…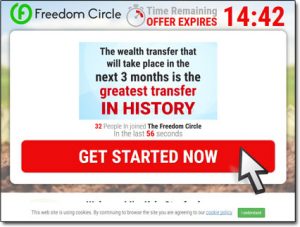 Kyle essentially states on the website that you can just sign up as a member of the Freedom Circle, get access to the software & begin making money right away.
But is it really that easy & does it actually work? Or is the Freedom Circle a scam that in reality is just set out to part you with your cash?
At a glance, my suspicions definitely lean towards the latter of those 2 however rest assured you've landed in the right place to find out for certain as I've personally taken a closer look into it & in this honest review I'll be uncovering the full truth about how it all actually works.
What Is Freedom Circle?   |   How Does Freedom Circle Work?   |   Is Freedom Circle a Scam?   |   A Better Alternative
What Is Freedom Circle?
The Freedom Circle software claims to have been designed to help people achieve both time & freedom as it allegedly automatically makes profitable trades on the member's behalf with 99.8% accuracy, allowing them to earn money whilst only having to work 30 minutes per day.
Kyle Stanford the CEO & founder (according to the website) pretty much leads you towards believing that you'll just be able to sign up to it, deposit some money & begin earning profits right away – even if you have absolutely no previous experience with trading whatsoever…

But I can tell you right from the off that's a lie, the truth is that there'll only be one person making money from the Freedom Circle software & that's Kyle himself – and he'll be doing it at your expense.
You see in reality the whole thing is actually nothing other than a typical get-rich-quick scam and the reason I can say that so confidently right from the off is that I've seen (and exposed) this exact same scam numerous times before when it was launched under various different names.
The Bitcoin Focus Group, Bitcoin Evolution & 30K In 30 Days are all previous versions of this scam… However despite it being the exact same scam the statistics & creators name change as well as the websites name too… That's because they're all made up.
For example, right now the Freedom Circle software claims to have been created by Kyle Stanford & claims to have 99.8% accuracy, yet back when it was named 30K In 30 Days visitors were told it had been created by a guy named Joey Altair & that it had 99.% accuracy.
They just keep changing the name & tweaking the design/content in an attempt to escape all of the negative reviews that expose it as a scam so that they can continue conning people out of their hard-earned cash.
However obviously if you've come across the Freedom Circle software I don't expect you to just take my word for all that as I appreciate that you might have been really hoping it was going to work for you – so instead let me show you how it really works below so that you can see for yourself what's going on…
How Does Freedom Circle Work?
Okay so in short just in case you happened to have skipped straight down to this part of the review without reading the section above, the Freedom Circle software does NOT work as promised (sorry to burst the bubble). The truth is it's nothing but a scam – and it's what's known as a binary options scam.
So how does the Freedom Circle scam you? Well, basically the whole thing is just a ploy that's been put together to trick you into signing up & depositing some funds with a binary options broker… And the reason the creator of the Freedom Circle software wants to get you to do this is that he's affiliated with the broker, which means they'll pay him a commission for getting you to sign up.
The person behind the Freedom Circle software isn't really interested in helping you to make money at all – he's just interested in earning himself some commissions at the expense of others by tricking them into signing up to some "dodgy" binary options brokers like IQ Option.
And the worst part is that you're led to believe it's all risk-free but in actual fact, it's far from it. The creator wants you to think that you'll just be able to sign up, deposit some funds, try it out & then withdraw them if it doesn't turn out to work out like you were told…
And that's how it should work, but as I mentioned above the brokers that are recommended through the Freedom Circle system are dodgy brokers – they're essentially scammers too, and they have many hidden clauses that make withdrawals almost impossible.
For example, many require you to trade with a certain amount before you can withdraw (knowing that you'll lose it, this is just a trick to get you to deposit more) or many offer bonuses which if you take, mean you can't make withdrawals until the bonus is fully used (again another trick to get you to deposit more & lose it).
I previously wrote a blog post on here exposing the true face of these binary options scammers & I would never ever recommend anybody to sign up to a binary options trading company no matter how good or legit it looked. It's bad news! According to one article (shown below) around £87,000 is lost per day to binary options scams:

And even Forbes published an article on their website warning about the dangers of trading binary options (also shown below):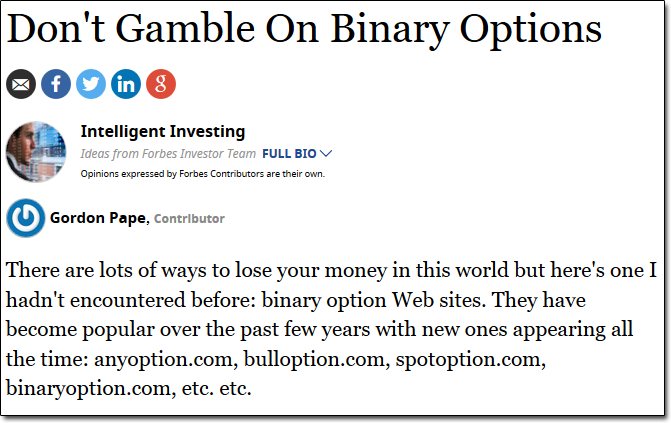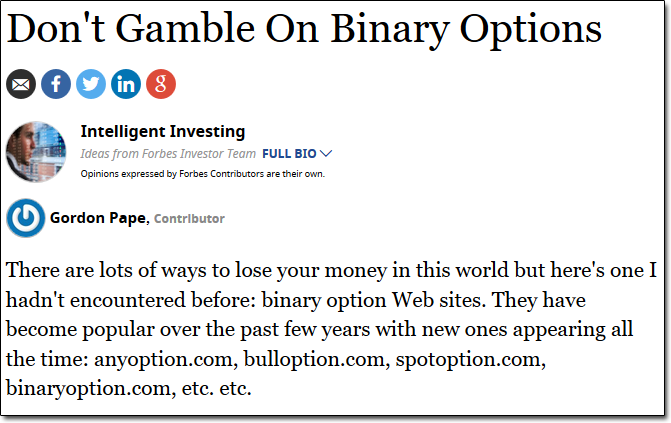 So if ever you come across something that mentions it is to do with binary options then I advise you to just steer clear of it because more than likely it is just going to be set out to scam you.
But The Scam Is Now Evolving…
As I mentioned at the start of this Freedom Circle review I've reviewed literally hundreds of these binary options scams over the years, but now not only are people becoming wise to them but many governments/regulatory bodies are cracking down on them heavily.
However when it comes to scammers this very rarely stops them, they just evolve their scams & sadly it now seems that they have taken their trading scams to Instagram as recently I also wrote a post on here exposing how youngsters are suckering people into Forex trading scams.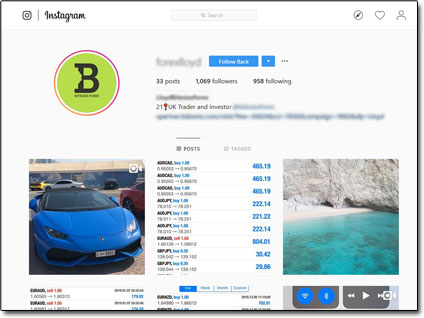 Sadly it seems that because this "new wave" of the scam is targeting much younger people (under the age of 25) a lot more people are getting caught out by it because they have less financial experience.
They see the lifestyles being boasted by these scammers on Instagram & "try it out", depositing $250+ to the brokers recommended by these so-called "professional Forex traders" only to then later realize that in the same way the Freedom Circle scam works, they too have been scammed.
So not only should you watch out for binary options scams but you should also watch out for these so-called Forex traders on Instagram too. I mean I don't want to tar them all with the same brush as there are indeed some people who trade legitimately, but if they're putting pressure on you to sign up to a broker & deposit money "via their link" or "with their code" then you can often more than likely assume it's a scam for them to earn at your expense.
In short, there is NO way to make lots of money quickly online with ease & anything that promises it is a get-rich-quick scam. There are indeed many legitimate ways to make good money online but to succeed with them you must be prepared to put in time/work.
It's like anything in life, if you want it you've got to work for it – just like if you want a great body you've got to go to the gym or diet. You can't just drink a magic drink and look great overnight – the same applies in business.
Is Freedom Circle a Scam?
There's absolutely no doubt about it, the answer is yes – the Freedom Circle software IS indeed a scam. There is no "social movement" as Kyle Stanford claims & there is no profit-on-demand software either… Kyle himself is also a phoney too!
The truth is that like I've mentioned throughout this review the whole thing hasn't really been set up to help you make money at all – it's just been built upon lies to trick you into depositing with a scam binary options broker that the creator of the whole thing is affiliated with so that he can earn some money at your expense.
You're led to believe that it'll be risk-free & that you can just try it out then get your money back if it doesn't turn out to work as promised however the reality is much different. The brokers associated with it will make sure that any money you deposit will be gone for good, so for that reason, I recommend steering well clear of the Freedom Circle scam & checking out a legitimate way to make money here instead.
One of my all-time favourite ways for making good money online (and the same way I personally make money this very day) is something called affiliate marketing. It's one of the best, easiest & most powerful methods in my opinion & you can learn more or get started with it for free over at Wealthy Affiliate.
But either way, whatever you decide to do I just hope that my review of the Freedom Circle software here has given you a better insight into how it really works & I also hope that it's helped you to save your money too rather than losing it to the crooks that are behind the whole thing.
If of course you do happen to have any further questions or comments though then don't hesitate to leave them below & I'll get back to you ASAP.
A Better Alternative
The sad truth is that unfortunately most of the programs promising to help you make money online are scams. I can say that confidently after exposing over 500+ of them here on this blog.
But the good news is that even though most of them are indeed scams, there are actually some very good programs in amongst them - some programs that can truly help you to earn money.
And out of all of the legit programs I've seen, the one I would recommend the most to anybody looking to get started online is Commission Academy. In my own opinion, that's the best place to start.
At Commission Academy, you'll be provided with everything you need (including the training & tools) to begin earning real money by promoting products or services for companies like Amazon online.
The best part is that there's literally no limit on the amount you can earn with it & the process is pretty simple which means that it's absolutely perfect for people that don't have much experience.
Some wealthy affiliates even earn as much as 5-figures per month... Or more!

I mean don't get me wrong, that kind of money won't just fall into your lap without doing any work... But the harder you're willing to work at it, the more you stand to earn with it.
So if you're looking to get started but don't know which route you should go down or which program you should join (and don't want to waste money on bogus things that don't actually work), then I'd highly recommend checking out Commission Academy first. You can learn more about it here.