The Freedom Secret is a system that claims it can enable its members to generate around $10,000 per week online even if they have no prior experience & haven't made a single penny online before.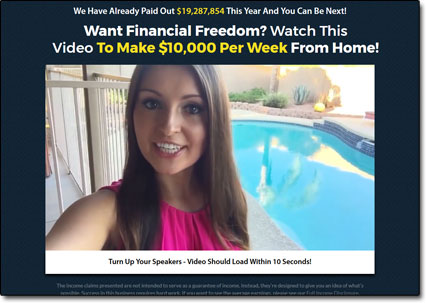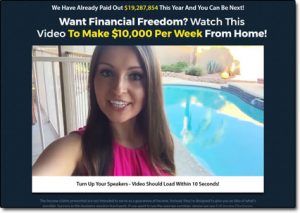 You're led to believe that after watching the video & signing up you can almost immediately start making money, but is it actually legit? Or is The Freedom Secret a scam that's set to part you with your cash?
I've taken a closer look & in this review, I'm going to share my findings.
What Is The Freedom Secret?   |   Is Digital Altitude Legit?   |   What You Need To Know   |   Is The Freedom Secret a Scam?   |   A Better Alternative
What Is The Freedom Secret?
The Freedom Secret system basically claims to provide you with your own "done-for-you" style internet marketing business & therefore supposedly after handing over "just" $37 you'll have everything you need to begin making money online.
However in reality that's not quite the case – The Freedom Secret system in itself is not actually a system at all, it's just a sales funnel that's been put together by somebody who is trying to get you to buy into an entirely different business opportunity named Digital Altitude.
Digital Altitude is a program that sells various training courses teaching people how to make money online but it's what's known as a high-ticket opportunity which means the majority of their products cost several thousands of dollars – in fact, the total product line combined could set you back over $50k.
But on top of just teaching people how to make money online, Digital Altitude also gives people the opportunity to resell the training onto others & earn commissions for doing so.
Since the majority of Digital Altitude's products are so expensive a lot of people have started promoting the program online because it means that they can earn quite large commissions on any of the sales they make.
And that's why The Freedom Secret system exists because basically one of the marketers promoting Digital Altitude has decided to put his (or her) own spin on things to try & increase the number of people that they can get to sign up to the opportunity – so that they can earn more money.
The Freedom Secret isn't actually the first, there's been several more similar systems that have launched over the past couple of months with the most popular one probably being the 7 Figure Breakthrough or Aspire Today website.
Ultimately though despite all their different spins they're all doing the same thing, they're all trying to get you to sign up to the Digital Altitude program.
So, Is Digital Altitude Legit?
Well yes & no, however in my Digital Altitude review I came to the conclusion not to recommend it because I simply don't feel that it's the best starting point for somebody looking to make money online.
There are a couple of reasons why I came to that decision but the main one was because the Digital Altitude program requires a heck of a lot of investment which in my opinion just introduces way too much risk as there's no guarantee you'll make any money back so you could potentially lose a lot of money.
The other thing that I didn't really like about it was the fact that it's a pay-to-play program which means if you want to promote the opportunity & earn commissions then you must personally own all of the products that you're promoting.
This means that you literally can't make any money without making at least some sort of investment, so even if you don't necessarily want or need the products you'll still be required to buy them.
Don't get me wrong though technically Digital Altitude is a legitimate program in the sense that if you do invest, you do promote it & you do make sales then they will pay you commissions as a result… It's not a scam in the sense that they'll just take your money & run…
However, sadly I feel that a lot of people are misled into the opportunity as several of the sales funnels (like the 7 Figure Breakthrough system for example) make it seem like earning money will be an awful lot easier than it actually is.
But then unfortunately after investing a whole bunch of money & trying it out you'll find out the hard way that whilst it's possible to make money with Digital Altitude it's nowhere near as easy as it was made out to be.
This isn't all necessarily Digital Altitude's fault, a lot of it lies on the shoulders of the people who are creating the 3rd party sales funnels like The Freedom Secret system but ultimately it's an issue that is associated with DA & that's why I thought I'd bring to your attention.
Here's What You Need To Know…
At the end of the day like I said above I don't personally recommend opportunities like Digital Altitude because I just feel like they're way too risky & that there are better starting points for newbies, but if you're dead set on joining then there are a few things you should know.
Those things are…
That Digital Altitude will require heavy investment (potentially around $50k)
That it is possible to make money with Digital Altitude but a lot of effort will be required
That you won't earn any commissions on sales made on the products you don't personally own
So essentially what I'm saying is that whilst yes you can make money with Digital Altitude if you really want to make a go of it & get the most out of the program you will be required to spend a lot of money & work extremely hard.
You cannot just buy into Digital Altitude & expect to receive an automated system that makes money fall into your lap because sadly there is no such thing (despite what many of the sales funnel lead you into believing).
If there was such a thing then nobody would be working a job.
You Might Also Like:
Is The Freedom Secret a Scam?
The answer to this is yes & no, but I know one thing for sure & that is that I certainly won't be recommending it because ultimately whilst you can make money with it I believe the chances of you finding success through this program is actually very slim.
The likelihood is that as a result of buying into Digital Altitude (which you're sold into by The Freedom Secret system) you'll probably see yourself spending a whole load more cash than you ever manage to make.
Don't get me wrong there are some people who are genuinely making a lot of money through this program but it's only a small minority out of the hundreds of thousands who've joined & those that are making the real good money are mostly all gurus who've had previous experience.
In my opinion, it's just certainly not a newbie friendly program, in fact, I actually feel like it's been kinda designed to specifically take advantage of newbies & that's why I have decided not to recommend it.
And the fee of $37 is just the starting point – from there you will be pushed into spending more & more money as you progress through the program. You could potentially see yourself spending around a whopping $50k in total.
So overall it's not a scam in the sense that it will take your money & run, but I think the reality is that there's only a very small chance you'll find success with it & there's a much bigger chance that you'll lose money.
A Better Alternative
The sad truth is that unfortunately most of the programs promising to help you make money online are scams. I can say that confidently after exposing over 500+ of them here on this blog.
But the good news is that even though most of them are indeed scams, there are actually some very good programs in amongst them - some programs that can truly help you to earn money.
And out of all of the legit programs I've seen, the one I would recommend the most to anybody looking to get started online is Commission Academy. In my own opinion, that's the best place to start.
At Commission Academy, you'll be provided with everything you need (including the training & tools) to begin earning real money by promoting products or services for companies like Amazon online.
The best part is that there's literally no limit on the amount you can earn with it & the process is pretty simple which means that it's absolutely perfect for people that don't have much experience.
Some wealthy affiliates even earn as much as 5-figures per month... Or more!

I mean don't get me wrong, that kind of money won't just fall into your lap without doing any work... But the harder you're willing to work at it, the more you stand to earn with it.
So if you're looking to get started but don't know which route you should go down or which program you should join (and don't want to waste money on bogus things that don't actually work), then I'd highly recommend checking out Commission Academy first. You can learn more about it here.