Home Biz Now is a system that claims to be able to help you make lots of money quickly & easily online. It even says that a whopping $10 million in commissions have been paid out to over 23,350 of their members worldwide.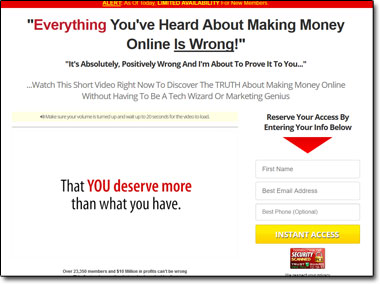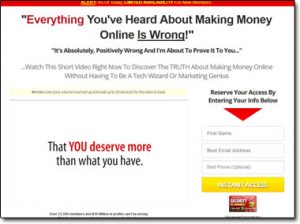 Allegedly, you can even make money with their system if you're not a tech wizard or marketing genius (their words, not mine).
But is it actually legit? Or is Home Biz Now a scam that's just out to take your cash?
I've taken a closer look into it & in this Home Biz Now review I'll be sharing what I've found.
What Is Home Biz Now?   |   What Is MOBE?   |   The Problem With This   |   Is Home Biz Now a Scam?   |   A Better Alternative
What Is Home Biz Now?
Home Biz Now makes out to be some kind of standalone money-making system that you can just "plug into" & start profiting but in reality that's not quite the case.
It's actually not a system at all – it's just a sales funnel that's been put together with the intention of getting you to buy into a completely separate online business opportunity named MOBE.
I'll talk more about MOBE in a moment but basically, it's a business that sells products that teach people how to make money online but it also gives people the opportunity to make money by reselling these products onto other people.
So if you're a member of MOBE you can make money by getting other members to sign up to MOBE, that's pretty much what it's all about.
Anyway, it looks like an affiliate of MOBE (somebody who is promoting it to earn money) has created this Home Biz Now system in an attempt to get more people to sign up to it so that they can make more cash.
And this isn't actually the first third party sales funnel I've seen launch either, I've actually seen quite a few so chances are this affiliate has been busy & created a whole bunch.
Some of the other ones include The Money Academy, the $500 Cash Club & My Millionaire Mentor – it's possible that you might have also seen those systems getting promoted online but basically, they're all built with the same intention – to get you to buy into MOBE.
So, What Is MOBE?
I briefly touched on the MOBE opportunity above but I'll explain it in a little more detail here since chances are you're now probably interested in finding out whether MOBE itself is legit or not.
MOBE is what's known as a high-ticket network marketing opportunity & it specializes in selling products that claim to help people start their own online businesses.
The "high-ticket" part basically means that the products are pretty expensive, but they give you the opportunity to make money by reselling the products onto other people – so whilst they are initially expensive to buy they will provide much larger commissions than typical products if you were to resell them onto other people.
And being a network marketing company this means that as well as being able to earn from your own efforts they also give you the ability to earn from the efforts of other people you recruit into the business too.
That's the reason many of the gurus boast about making millions with MOBE because they've been able to recruit thousands of people into the program who are all also selling the MOBE products.
But the biggest problem, in my opinion, is the fact that it's a pay-to-play program which means that if you want to make money through the MOBE opportunity by reselling the products then you must first purchase them yourself in order to be eligible to earn commissions.
If you don't purchase them then you won't earn anything even if you make sales of the products, this means that the MOBE program requires quite a high level of investment before you can get the ball rolling.
That's why I personally didn't recommend it in my MOBE review.
The Real Problem With This
Whilst MOBE itself is technically legit (but expensive) the problem is the way you are sold into MOBE by the Home Biz Now program – essentially you're sold into it on a complete pack of lies.
You're led to believe that you can simply buy into the program & start making money almost immediately through some sort of "done-for-you" business but in reality that couldn't be further from the truth.
Sure, you can make money from MOBE as I mentioned above however, this will not come without hard work & lots of it. At the end of the day, MOBE is a business opportunity & the key word is business – there is no guarantee of success so whilst they do give you some material to help you get started essentially when it comes to making money the ball is completely in your court.
You will be required to go through all of the training, implement what you learn, invest money into the products, promote the opportunity online & to do this effectively it will require quite a lot of your time.
The Home Biz Now system doesn't tell you any of that & it doesn't mention anything about the high level of investment required either, it's pretty much just selling you in on some sort of dream…
I mean who wouldn't want an automated business that they could just plug-into & start making money? Everyone would, that's what the creators are playing on but sadly the fact is they don't exist.
You Might Also Like:
Is Home Biz Now a Scam?
I'm going to come straight out & say that yes I believe it is a scam because whilst it's selling you into a fairly legitimate but expensive opportunity, it's selling you into it on a complete pack of lies.
I'm therefore confident that if you handed the money over & bought into the Home Biz Now system that you would find yourself disappointed at the program you actually received because it's nothing like what was promised.
It's clear to me that this system has been launched with the sole intention of making the creator rich at the expense of others and the person behind this program doesn't really seem to be bothered about providing you with value, they just want you to sign up so they can earn themselves a commission.
So overall whilst the program that are you being sold into (which is MOBE) is kind of legit I am going to say that yes, the Home Biz Now system is a scam & I certainly won't be recommending it to you because it's just full of lies & false hype.
A Better Alternative
The sad truth is that unfortunately most of the programs promising to help you make money online are scams. I can say that confidently after exposing over 500+ of them here on this blog.
But the good news is that even though most of them are indeed scams, there are actually some very good programs in amongst them - some programs that can truly help you to earn money.
And out of all of the legit programs I've seen, the one I would recommend the most to anybody looking to get started online is Commission Academy. In my own opinion, that's the best place to start.
At Commission Academy, you'll be provided with everything you need (including the training & tools) to begin earning real money by promoting products or services for companies like Amazon online.
The best part is that there's literally no limit on the amount you can earn with it & the process is pretty simple which means that it's absolutely perfect for people that don't have much experience.
Some wealthy affiliates even earn as much as 5-figures per month... Or more!

I mean don't get me wrong, that kind of money won't just fall into your lap without doing any work... But the harder you're willing to work at it, the more you stand to earn with it.
So if you're looking to get started but don't know which route you should go down or which program you should join (and don't want to waste money on bogus things that don't actually work), then I'd highly recommend checking out Commission Academy first. You can learn more about it here.