The ICO Money Maker system claims it can enable you to earn upwards of $5,000 per week through cryptocurrency ICO's (Initial Coin Offerings) all on complete auto-pilot, even if you've never made a penny through cryptocurrency trading before.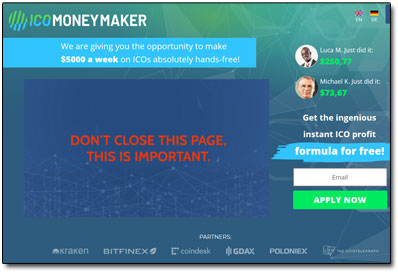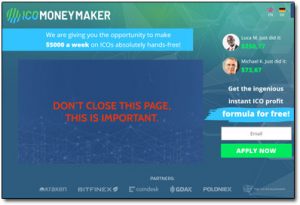 But I think you'll agree with me when I say that that's a pretty bold claim to make, so what's the deal here?
Is the system actually legit & can you really make money with it or is the ICO Money Maker a scam that'll just part you with your cash?
I've done the digging & in this review, I'm going to be uncovering everything there is that you need to know – I'll also be exposing exactly how this system really works, so if you're thinking about trying it out then you definitely need to read this page.
What Is The ICO Money Maker?   |   How Does The ICO Money Maker Work?   |   The Trick   |   Is The ICO Money Maker a Scam?   |   A Better Alternative
What Is The ICO Money Maker?
The ICO Money Maker is a system that claims it can enable you to generate automated profits through something known as ICO's. You're led to believe that you can simply sign up & start making money without any real effort at all…
So firstly what are ICO's?
Well ICO stands for Initial Coin Offering & basically these are the early releases of new cryptocurrencies like Bitcoin. New crypto companies pitch their ideas & investors decide whether or not they think it will be profitable… If they think it will be then they can buy coin tokens during the ICO period in the hope that their worth will increase when the cryptocurrency is launched…
Many people are focusing on ICO's now because the price of Bitcoin has become so high that the opportunity to make solid profits has become "out of reach" for a lot of people. During an ICO coins are sold super cheap & this means that if they do go up then there is the chance of substantial increases…
However whilst some ICO's have gone up, many of them have completely flopped meaning it's still a huge risk. I've actually reviewed several ICO's right here on this blog such as Starbase, Papyrus & PayPie.
Anyway back onto the ICO Money Maker…
This system claims that it's been built on an algorithm that can automatically detect which ICO will be profitable & it will then automatically make trades with these ICO's on your behalf. Essentially it claims to be a completely automated money-maker & it reckons it can generate you upwards of $5,000 per week…
But it all sounds a little too good to be true right?
Sadly that's because it is.
The ICO Money Maker is actually just a binary options scam that has been designed to part you with your cash. It's actually just a re-hashed version of a scam I've seen before named the Crypto Money Maker.
The reason it's changed its name is likely to avoid all of the negative reviews that were published about it so that they can continue scamming people out of their hard-earned cash. Sad but true.
How Does The ICO Money Maker Work?
Well, the first thing I want to stress here is that the ICO Money Maker doesn't actually work – at least not how it claims it does anyway. I can assure you that you will not make any money through this system because it has been purely designed to make you LOSE money – that's what I'll explain here.
So if you want to see how to ICO Money Maker scam works keep reading…
The first thing you need to understand is that this particular system has been built around binary options trading & you also need to understand that binary options trading is very, very bad news.
It's such bad news that the USA put a complete ban on it because so many people were losing money to it. The reason many people were losing so much money is that binary trading is designed to make you think like you have control over whether or not you win, but in reality, it's just a gamble – and one with the odds in the favor of the brokers.
You actually have more chance of guessing the flip of a coin than you do winning a trade through binary options, that's how bad it is.
Anyway because many people became more aware as to how risky it actually is they stopped trading. Obviously some people likely will still trade, but honestly, the numbers reduced drastically (thankfully).
This, however, meant that the brokers were now struggling to make money because now nobody was depositing & trading. So they came up with a plan & that was to launch affiliate programs…
Through these affiliate programs, the brokers offered people the opportunity to earn hundreds of dollars for getting people to sign up with them & deposit funds. The reason they offered such high amounts for this was that they were so confident they could make so much money from the unsuspecting victims that deposited…
Anyway, some clever (or should I say cunning) affiliates came up with the idea of creating systems like the ICO Money Maker & the Bitcoin Code. These systems have been designed to make you think that you can profit in an effort to get you to deposit.
After all, if you think you are going to make money then the likelihood of you depositing is quite high… This is what the creators of these systems want.
All these guys care about is earning those big fat commissions offered by the brokers so they're willing to say & do anything to get you to deposit (like creating fake systems that claim to guarantee you profits). Then once you do deposit (which I absolutely don't recommend you do) you're left to find out that the system doesn't work as promised.
The whole thing is just a ploy to get you to part you with your cash. The brokers are happy because they got your money, the affiliates are happy because they got paid by the brokers & you, well you will be left feeling angry because you will have been conned out of your money.
Like I said these things are bad news.
You Might Also Like:
They Just Want You To "Try It"
The reason these binary options scams catch so many people out is that they make you think like it is safe just to try it. They want you to think that you can deposit funds & simply withdraw them if it doesn't work out, but in reality, it doesn't happen like this.
What you have to realize is that the brokers are in on the scam too. If you think they will give you your money back then think again, even if you still have some left in your account that you haven't traded with they will still make it nearly impossible for you to get it back.
Basically any money you deposit into one of these binary options scams is as good as gone from the moment you transfer it.
Is The ICO Money Maker a Scam?
Yes, in my opinion, it is a complete scam. Despite trying to use the ICO concept to seem more convincing this particular system is no different to any of the other binary options scams that have come before it & I strongly advise you to avoid it.
Basically this system has just been created with the sole intention of making the creators rich at your expense. The website is full of lies & it's obvious they're just saying anything they can to part you with your cash.
As I say you definitely want to avoid this because it will only see you losing money. There are many legitimate ways to make money online but this is certainly not one of them. If you have any further questions or comments about it feel free to leave them below but hopefully this review helped save you from losing your cash.
A Better Alternative
The sad truth is that unfortunately most of the programs promising to help you make money online are scams. I can say that confidently after exposing over 500+ of them here on this blog.
But the good news is that even though most of them are indeed scams, there are actually some very good programs in amongst them - some programs that can truly help you to earn money.
And out of all of the legit programs I've seen, the one I would recommend the most to anybody looking to get started online is Commission Academy. In my own opinion, that's the best place to start.
At Commission Academy, you'll be provided with everything you need (including the training & tools) to begin earning real money by promoting products or services for companies like Amazon online.
The best part is that there's literally no limit on the amount you can earn with it & the process is pretty simple which means that it's absolutely perfect for people that don't have much experience.
Some wealthy affiliates even earn as much as 5-figures per month... Or more!

I mean don't get me wrong, that kind of money won't just fall into your lap without doing any work... But the harder you're willing to work at it, the more you stand to earn with it.
So if you're looking to get started but don't know which route you should go down or which program you should join (and don't want to waste money on bogus things that don't actually work), then I'd highly recommend checking out Commission Academy first. You can learn more about it here.