As I recently mentioned in my Papyrus review, I've been spending a lot of time looking into various new ICO's (Initial Coin Offerings) & cryptocurrency opportunities lately.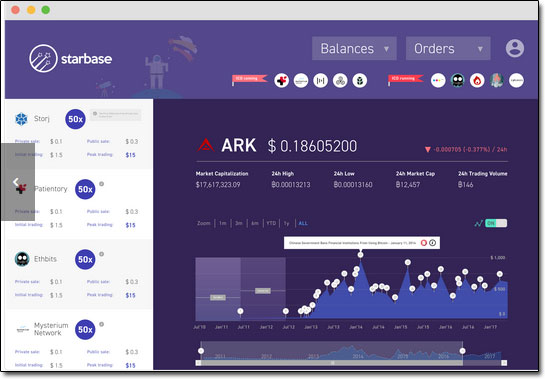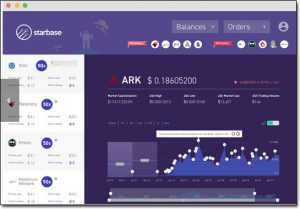 So today, I'm going to continue that trend & I'm going to be taking a look into something named Starbase which in a nutshell is a new & kind of exciting cryptocurrency crowdfunding style site.
I'm going to be outlining exactly what it is, how it works and whether there's any truth behind the Starbase scam rumours that you've possibly circulating the web. I'll also be determining whether or not I deem it to be a worthwhile investment.
What Is Starbase?   |   What's Unique About It?   |   Is Starbase a Scam?   |   The Bottom Line   |   A Better Alternative
What Is Starbase?
As I briefly touched on above the idea behind Starbase is that it will basically be a crowdfunding site built purely on blockchain technology, so essentially people will be able to pitch their ideas through the site & received crowdfunded investments to pursue them.
Projects posted on Starbase will be able to receive funding through their platform by utilizing the likes of Bitcoin, Ethereum & various other major cryptocurrencies. Starbase will also be releasing their own coin which is currently known as the STAR Token in its ICO stage.
The value of the STAR Tokens will increase & decrease depending on the profitability of the Starbase platform, so therefore it's vital for Starbase to be successful if you wish to see a return on your money by investing in the company.
Ideally, when looking for a profitable ICO you want to find something unique in the company as this is what will generally see the value of the coins increasing – like the company PayPie for example which is a company that's intending on bringing the first-ever risk score assessment to the crypto-world. Papyrus is another good example as that's a company intending on launching the worlds first decentralized digital marketing advertising platform…
But of course whilst uniqueness is good to look for in an ICO, that alone doesn't always guarantee profitability…
So, What's Unique About Starbase?
Well for one, I've looked at several ICO's over the past few months and as far as I'm concerned Starbase is the first & only blockchain-powered crowdfunding site that I've come across so far.
Of course though if that truly is the case then it likely won't be long before another jumps on the bandwagon to rival it – so what particular qualities does Starbase have that could shun off its potential competitors?
Sadly in my personal opinion… Not a great deal! I mean don't get me wrong the Starbase platform itself does look pretty impressive from what I've seen on their website in the sense that it's easy for investors to manage investments & that it's easy for budding entrepreneurs to submit projects… But ultimately as an idea it's pretty easily duplicatable.
Here's a screenshot of the Starbase platform: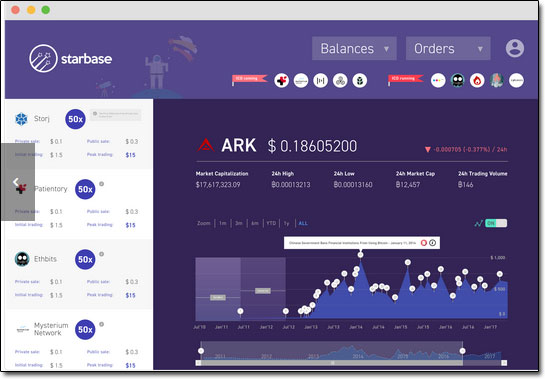 I agree that often the first companies to make the go-for-it generally then go on to be the leaders, however, I've seen many occasions when competitors let somebody else go first then build off of their mistakes & launch something bigger & better themselves…
So realistically so far I don't feel a great attraction to the Starbase ICO opportunity – it's not really anything exciting or groundbreaking, it's just a re-hash of what we've already seen in the "real world" (like Funding Circle) but built off blockchain technology instead.
Is Starbase a Scam?
I'll admit that I have actually seen quite a few Starbase scam rumours circulating around on the web, but after personally taking a closer look at the company myself I do feel in my opinion that it presents a legitimate opportunity (but keep in mind as of yet I am no expert on these ICO's).
I feel that the Starbase scam rumours I came across have likely been started by people who either don't know a great deal about these new cryptocurrency ICO's or by competitors who are potentially slamming them on purpose to divert people away.
Regardless though I can see why you would ask the question & it's always a good idea to do so, especially when it comes to cryptocurrency investments because over the past few months I've come across countless scams. Due to the fact that most cryptocurrency transactions aren't traceable many of them like Bitcoin Mentor Club & Bitcoins Wealth Club don't even seem bothered about hiding the fact they're flat out Ponzi's.
So yeah, on that note here's a couple of important pointers:
When it comes to investing only ever invest money you can afford to lose (because there's often huge risk involved)
When it comes to investing always do your due diligence (from multiple sources), even more so when it's a cryptocurrency investment
The one promising thing I can see about Starbase is that they don't shy away from sharing details about the team & company behind it with you. Many of the scam cryptocurrency opportunities (like Crypto Wealth) tend to shy away from sharing any details about the owners – this is so that when their scheme collapses they can simply then go on to launch another under a different name straight after.
The Bottom Line
I'll be honest & say that I don't personally find Starbase that much of an exciting ICO & as a result I won't be investing any money into it. To date, I haven't actually invested any money in an ICO, but I will say that one of the most interesting ones I have come across is a company named DragonChain & if I was too invest money, I would likely lean towards that one.
However as I mentioned above I am still on a learning curve when it comes to ICO's & I am certainly no expert so if you are thinking about actually investing money then I would very strongly recommend that you do solid due diligence beforehand, I'm literally just sharing my own personal thoughts on the companies.
So overall I'd say that as far as I'm concerned Starbase does appear to be a legit ICO & not a scam, but it's not one I'm going to be investing in as I don't really see anything groundbreaking about the company – not at least anything that catches my eye anyway.
A Better Alternative
The sad truth is that unfortunately most of the programs promising to help you make money online are scams. I can say that confidently after exposing over 500+ of them here on this blog.
But the good news is that even though most of them are indeed scams, there are actually some very good programs in amongst them - some programs that can truly help you to earn money.
And out of all of the legit programs I've seen, the one I would recommend the most to anybody looking to get started online is Commission Academy. In my own opinion, that's the best place to start.
At Commission Academy, you'll be provided with everything you need (including the training & tools) to begin earning real money by promoting products or services for companies like Amazon online.
The best part is that there's literally no limit on the amount you can earn with it & the process is pretty simple which means that it's absolutely perfect for people that don't have much experience.
Some wealthy affiliates even earn as much as 5-figures per month... Or more!

I mean don't get me wrong, that kind of money won't just fall into your lap without doing any work... But the harder you're willing to work at it, the more you stand to earn with it.
So if you're looking to get started but don't know which route you should go down or which program you should join (and don't want to waste money on bogus things that don't actually work), then I'd highly recommend checking out Commission Academy first. You can learn more about it here.