The Internet Careers Online website claims it can fix you up with high paying jobs working for major companies like Apple, Dell, Microsoft & so on… You're led to believe that all you need to do is sign up, post links for the companies & that you can start getting paid almost right away from the comfort of your own home.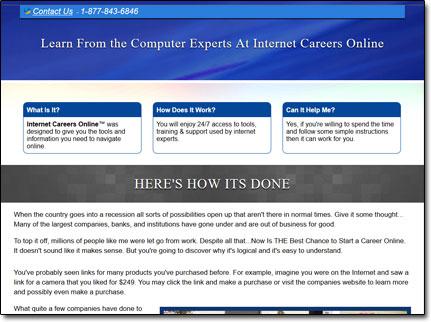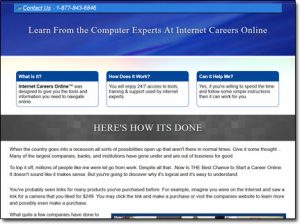 At a glance, it seems like the dream opportunity, but when you find out it costs $97 just to get started you might be a little suspicious about the whole thing… So what's the truth about it?
Is it actually legit, or is Internet Careers Online a scam that'll just see you spending more than you ever make?
Thankfully you've landed in exactly the right place to find out because I've taken a closer look into it & in this review, I'll be uncovering everything there is you need to know, including how it really works & whether or not you can make any money with it.
What Is Internet Careers Online?   |   How Does Internet Careers Online Work?   |   The Refund Policy   |   Is Internet Careers Online a Scam?   |   A Better Alternative
What Is Internet Careers Online?
Well, the Internet Careers Online website makes out as if it is going to connect you with lots of high-paying jobs for major companies such as Dell, Microsoft, Apple, Cannon & Best Buy etc…
It says that these companies need people to post links for them online to market their products & that it's cheaper for them to hire remote workers (like you) than it is to physically employ people in their offices.
This might initially sound fairly plausible, but it's completely untrue.
The reason I know that right from the off is that I've seen this program several times before launched under different (but similar) names. The whole thing is just a bogus get-rich-quick scam.
A couple of other names it's launched under include Computer Experts Online & Cash In On That Passion.
Here's a screenshot of the Computer Experts Online scam that I previously exposed on this blog, you'll see the website is identical to that of the Internet Careers Online program (because it's exactly the same thing):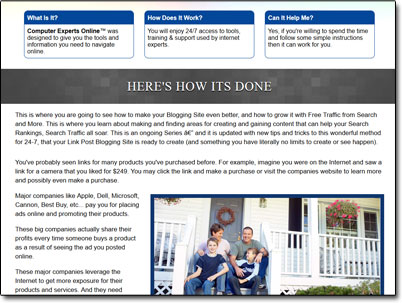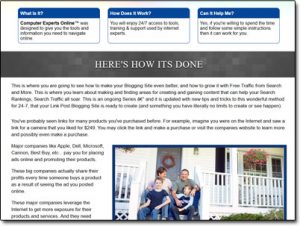 The reason this program keeps changing its name & re-launching is to try & escape the negative reviews that surface so that it continue parting people with their hard-earned cash… Sad but true.
Anyway, you might have been pretty interested in this program & hoping it would work so I won't just expect you to take my word for it being a scam, instead I'll show you exactly how it works so you can see for yourself.
How Does Internet Careers Online Work?
Well as I mentioned above the Internet Careers Online program makes out like it's going to fix you up with high-paying online jobs through which you'll be promoting products for various companies.
It leads you into believing that you'll be doing work for these companies and getting paid… Just like you would at a traditional job.

The problem is none of that's true – if you actually sign up to the Internet Careers Online website & hand over $97 to them (which I don't recommend you do) all you'll get in return is some bogus affiliate marketing training.
Now I just want to take a second to point out here that affiliate marketing in itself is a legitimate method to make money, it's actually a VERY good method to make money – but the training provided by Internet Careers Online is not so good… And when I say not so good I mean it's some of the worst training I've ever seen, especially for $97.
Affiliate marketing is basically where you promote products or services for third party companies online & you earn commissions if somebody clicks through your links & makes a purchase.
I appreciate it sounds similar to what Internet Careers Online are offering, but Internet Careers Online are fooling you into thinking it's some kind of job where you'll be paid for each & every link you post… It's not, you'll only be paid if you make sales – and without proper training you won't know how to make sales.
So there's really next to no chance of you making money as a result of going through the Internet Careers Online program, whereas if you went through a legitimate program like Commission Academy for example you could actually learn how to make good money with this method.
Some affiliate marketers (myself included) generate over $10k per month from affiliate marketing. I'm obviously not saying that to brag, but just wanting to highlight the potential of the method itself to you here.
Basically the Internet Careers Online sucks, but affiliate marketing in general rocks. That's one of the main reasons I hate these types of scam programs because it puts a bad name on affiliate marketing… People sign up to them & think affiliate marketing, in general, is a scam, it's not, it's just these stupid fake work from home scam sites putting a bad name to it.
You Might Also Like:
Don't Trust The Refund Policy
Often lot's of people get caught out by these scams because despite being suspicious of them they get drawn in by the promised money-back guarantees, which sadly never end up holding true.
The Internet Careers Online program promises you that you'll be able to try out the program for a full 60 days & that if you don't like it you can get your money back, no questions asked… The problem is this is a lie.
Firstly, if they were so confident in their program then why won't they let you try it out without paying?
Anyway, in order to try it out, you're required to pay $97 which is promised to be paid back to you immediately if you decide you don't like it. However, take one look at their terms & conditions and you'll come across a typical get-out clause…

They state that in order to qualify for the guarantee you'll need to put in an honest effort for the first 30 days… There are 2 problems with this… Firstly, what if you decide after purchasing the program you decide it's not at all for you? Secondly, how can you prove you put in an "honest effort"…?
You can't, because no matter how honest of an effort you put in they'll simply claim you didn't do enough… It's a typical trick… It's like the company MOBE, for example, they promise people can sign up & if they don't make money they'll pay them $500 profit, but this has yet to happen because they always claim the people who didn't make money didn't put in enough effort LOL.
Be careful of these tricks… Just know that if it sounds too good to be true, it generally is.
Is Internet Careers Online a Scam?
Yes it is, I mean you do get something in return for your money so I'll say it's not the worst scam I've seen in the world, but ultimately it misleads you because what you are being sold on & what you are actually getting are 2 entirely different things.
Like I say, you're led to believe you're going to be getting access to a high-paying job where you'll be paid in return for just posting links but that's not the case. Instead, you'll get some low-quality affiliate marketing training which yes, will see you posting links, but you'll only be getting paid if you actually make sales… And the training given to you through this program will honestly not help you make sales.
So overall I will not be recommending this program, there is just no way, in my opinion, the training provided is worth $97 and I don't like the way they completely mislead you into purchasing it. If you want to make good money online through affiliate marketing then you should stick with a proven program like Commission Academy, which is actually the same program I personally use (because in my opinion, it's the best).
Anyway, I just hope you came to this review before you handed over your cash – but if you do happen to have any further questions or comments about this program then don't hesitate to leave them below.
A Better Alternative
The sad truth is that unfortunately most of the programs promising to help you make money online are scams. I can say that confidently after exposing over 500+ of them here on this blog.
But the good news is that even though most of them are indeed scams, there are actually some very good programs in amongst them - some programs that can truly help you to earn money.
And out of all of the legit programs I've seen, the one I would recommend the most to anybody looking to get started online is Commission Academy. In my own opinion, that's the best place to start.
At Commission Academy, you'll be provided with everything you need (including the training & tools) to begin earning real money by promoting products or services for companies like Amazon online.
The best part is that there's literally no limit on the amount you can earn with it & the process is pretty simple which means that it's absolutely perfect for people that don't have much experience.
Some wealthy affiliates even earn as much as 5-figures per month... Or more!

I mean don't get me wrong, that kind of money won't just fall into your lap without doing any work... But the harder you're willing to work at it, the more you stand to earn with it.
So if you're looking to get started but don't know which route you should go down or which program you should join (and don't want to waste money on bogus things that don't actually work), then I'd highly recommend checking out Commission Academy first. You can learn more about it here.