Legit Guide is the name of the latest creation from the internet marketing expert Jamie Lewis & it's a program in which Jamie essentially promises to "take you by the hand" and help you to build a full-time income online in the following 30-60 days, even if you're brand new.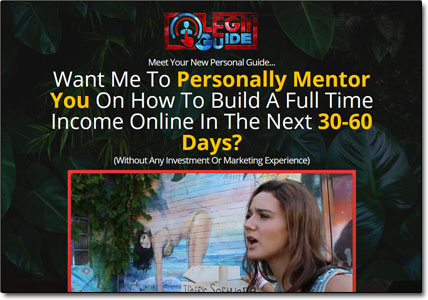 But is it really possible to build a full-time income in just a mere 30-60 days, even with expert help?
And if it is, then is Jamie Lewis' Legit Guide program going to be the program that'll help you do it or is it just a scam to avoid?
Well, you've landed in the right place to find out because I've already taken a closer look into his new program & in this honest Legit Guide review I'm going to be uncovering the REAL truth about what it really entails & whether or not it can really help you like he claims.
What Is Legit Guide?   |   How Does Legit Guide Work?   |   Is Legit Guide a Scam?   |   A Better Alternative
What Is Legit Guide?
Legit Guide as I briefly touched on above is one of the latest programs released by the internet marketing expert Jamie Lewis… However, unfortunately, Jamie hasn't really built up a strong reputation of releasing high-quality products… In fact, it's actually been quite the opposite.
I mean don't get me wrong, Jamie's products do certainly contain a lot more value than most of the other junk out there… However sadly they're often overly hyped-up, contain a lot of hidden upsells & don't really live up to their promises.
In fact, out of all of the products of his I've personally reviewed so far such as Bank Ramp, Profit 365, Wealthy Agency, Income League etc, I haven't actually been able to recommend a single one of them.
Instead, I advised people avoided them & joined Commission Academy instead because in my opinion Commission Academy provided better training & give people the opportunity to also get started & check it all out for free.
But in his latest program Legit Guide, he's gone one step further, because in this program he promises to literally "hold you by the hand" and give you one-to-one training in order to create a full-time income in just 30-60 days.
Is that realistic though? Could you really build up such a large income so quickly?
I mean I'd say as an expert who already knows exactly what they're doing, it could be possible, but I think as a newcomer – even with the help of an expert it is still a tall order & in my opinion, it is unrealistic.
Either way to make it happen one thing is for sure & that's the fact that you'd have to put in a LOT of work. I mean to go from nothing to building a full-time income online in such a short period you'd be talking about working 18+ hour days.
That kind of income isn't just gonna fall in your lap, with expert help or not…
But does Jamie Lewis really provide the 1-on-1 expert help he promises through his program? I mean if he's letting everybody buy into his program for just $27 and promising to offer 1-on-1 mentorship to all of them then how's he finding the time?
Let's take a closer look into how it works & find out what you're really getting…
How Does Legit Guide Work?
Essentially despite it being hyped up as a 1-on-1 training program, the Legit Guide program isn't massively different from any of Jamie's previous ventures… And the one-on-one training is actually an extra cost (and still potentially not even 1-on-1). You'll see what I mean in a moment…
But one of the biggest problems I have with the Legit Guide program is that it throws so many different directions at you. It's not just "one proven path", which in my opinion it should be… It's just a bunch of different training videos all on various different methods.
Some of it talks about leveraging other peoples videos to market things, some of it talks about product creation, some of it talks about flipping domain names… Talk about total information overload!
There's no way you could even decide which path to take in 30-60 days let alone build a full-time income in that period.
And the 1-on-1 training? Well yeah, that's kinda hype too…
You see there are actually 2 Legit Guide memberships, a Basic one and a Premium one (both of which cost money). The problem though is not only is the 1-on-1 training just a weekly group training class, but it's also limited in the Basic version.
As far as I'm aware you only get access to ONE session on the basic membership & in order to access the weekly training access every week you're forced to upgrade to Premium which as you can imagine is much more expensive.
I mean don't get me wrong, the program costs $27 and I guess in return for that amount of money you do access to a decent amount of training videos which may give you some good insight into various methods of making money… But in my opinion, it'll just provide more of a pass-time.
I highly doubt that anybody will find themselves actually making a full-time income in a mere 30-60 days with his program, and to be honest with his training & tools alone I doubt they'll end up making it all.
As far as I'm concerned it provides a fairly decent insight (in return for the money) but that's about it… And you're just going to be heavily pressured into purchasing the additional upsells etc because that's where Jamie's making his money.
In my opinion, I would stick with a proven & legitimate program like Commission Academy instead which has a solid reputation of helping people find success & has a community of over a million members.
The Legit Guide program seems to be another product consisting of more hype than substance, which brings me onto…
Is Legit Guide a Scam?
Well no, it's not a scam, it is as its name suggests "legit"… However what I will say is that in my opinion it is just yet another overly hyped-up program & I believe it's unlikely anyone joining it will make any money at all, let alone a full-time income in just 30-60 days.
I mean don't get me wrong it is indeed possible to make a full-time income online but I don't believe the Legit Guide program is the right program to help you do it. I think it's more geared to making Jamie Lewis wealthy overall.
The reason I say that is mainly down to the reason that the whole program is just packed with "random" training modules rather than providing you with access to just one solid blueprint that's proven to work like Commission Academy is. I believe that'll just cause you to get frustrated & leave you suffering from information overload since it's hard to pick a direction to go with.
So yeah, if you spend $27 on it then you might not be entirely disappointed… The videos will likely provide for a bit of an entertaining pass-time but that's about it, and just be aware that you'll be heavily pushed into spending more money to upgrade. I'd personally just give it a miss.
Instead, if you want to make good money with affiliate marketing just join a legitimate & proven program like Commission Academy.
Or alternatively, check out these other cool ways to make good money online.
But whatever you decide to do I just hope that my honest review of Legit Guide here has given you a good insight into how it really works & hopefully it's helped you to decide if it's really right for you or not. If you still happen to have any questions or comments then don't hesitate to leave them below. 🙂
A Better Alternative
The sad truth is that unfortunately most of the programs promising to help you make money online are scams. I can say that confidently after exposing over 500+ of them here on this blog.
But the good news is that even though most of them are indeed scams, there are actually some very good programs in amongst them - some programs that can truly help you to earn money.
And out of all of the legit programs I've seen, the one I would recommend the most to anybody looking to get started online is Commission Academy. In my own opinion, that's the best place to start.
At Commission Academy, you'll be provided with everything you need (including the training & tools) to begin earning real money by promoting products or services for companies like Amazon online.
The best part is that there's literally no limit on the amount you can earn with it & the process is pretty simple which means that it's absolutely perfect for people that don't have much experience.
Some wealthy affiliates even earn as much as 5-figures per month... Or more!

I mean don't get me wrong, that kind of money won't just fall into your lap without doing any work... But the harder you're willing to work at it, the more you stand to earn with it.
So if you're looking to get started but don't know which route you should go down or which program you should join (and don't want to waste money on bogus things that don't actually work), then I'd highly recommend checking out Commission Academy first. You can learn more about it here.