The Wealthy Agency system is a brand new creation from the fairly well-known internet marketer Jamie Lewis & it promises to provide you with an easy method for finding massive success online by posting ads for virtual services…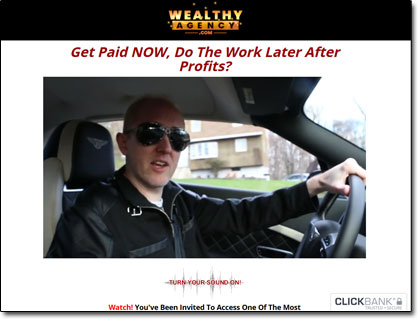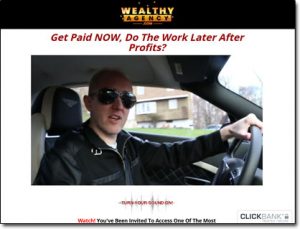 Jamie claims that this is his most powerful method to date & that it's the same method he himself has personally been using to make his own money online… But is he really telling the truth & is it legit? Or is Wealthy Agency a scam that'll just end up costing you more than you ever actually make?
Thankfully you've landed in the right place as I've taken a closer look into his new system myself to see exactly how it all works & in this honest Wealthy Agency review I'll be uncovering the real truth about it as well as outlining whether or not you can really make any money with it like you're promised.
What Is Wealthy Agency?   |   How Does Wealthy Agency Work?   |   The Method   |   The Catch   |   Is Wealthy Agency a Scam?   |   A Better Alternative
What Is Wealthy Agency?
The Wealthy Agency system as mentioned above is a brand new creation from Jamie Lewis & it's one of the first money-making products I've seen that claims that you can actually get paid first, then do the work later…

But whilst this might make for a nice catchy headline to lure you in I can actually tell you right from the off that it's not quite as great as it sounds… By "getting paid now & doing the work later" Jamie's actually just referring to the fact that you'll be selling services online then after you receive the money you'll be fulfilling the order…
You'll see exactly what I mean with regards to that in a few moments when I dig deeper into how it all works but basically the reason I say it's not as good as it sounds is that in order to get paid for the service you're first told to place advertisements – most of which cost money, so before you get paid you've still gotta spend a bunch of your cash on ads (with the risk of not actually earning anything back).
The truth is that Jamie Lewis is kinda renowned for creating overly hyped-up & catchy sales pitches for his products (and you can see a good example of that with his Profit Injector system) but the good news is that whilst you be unlikely to achieve the "extreme" results Jamie often pushes in his videos, generally he does actually still put some fairly decent substance into his programs which could help you make "some" money at least…
So it might not be as great as it's made out to be, but in the same breath at least his systems aren't complete flat-out scams that just disappear with your cash without giving you anything in return (like many of the scam money-making systems out there).
I'll point out though that the method the Wealthy Agency system is built around is actually a pretty sound method (if done right) and it's even a method I myself personally "kind of" blogged about many years ago.
So how does it work? Let's take a look…
How Does Wealthy Agency Work?
As I briefly touched on above the whole concept the Wealthy Agency program is based around is selling virtual services online – hence the name "agency" in the title as that's essentially what you'll be setting up.
So after handing over the $29 "one-time fee" to get started you'll be provided with access to the Wealthy Agency members area which is where you'll be presented with a bunch of training videos like those shown below: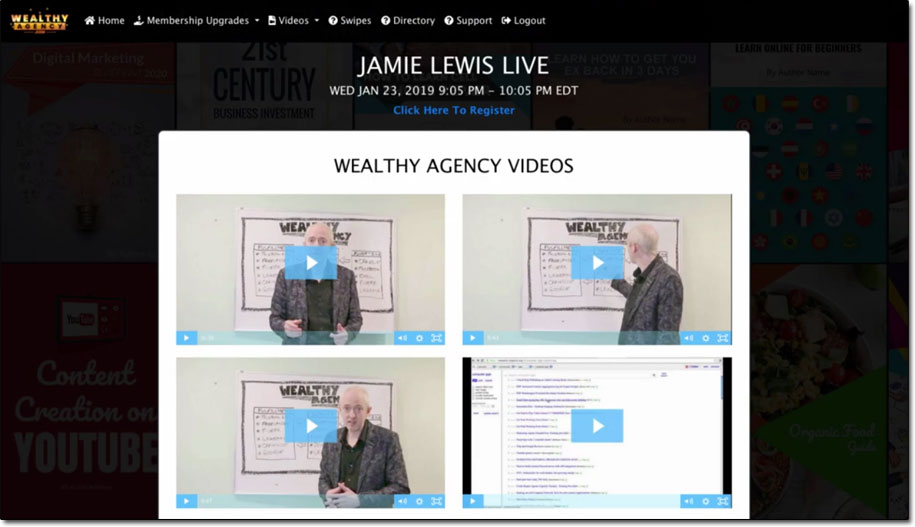 And in short the method you're taught through all of these videos is to do the following:
Post adverts online (some free methods but they're less effective so there's a push on paid methods)
Promote a service such as graphic design, advertising etc..
Use sites like Fiverr or Freelancer to fulfil the service
So essentially you've created an "agency" because you're advertising a service & then you're hiring workers from various different websites to complete it for you.
Now I can tell you personally that this method does indeed work because many moons ago I did once set up my own marketing agency & due to demand I ended up having to hire freelancers to help fulfil orders…
However there are a few problems with the method, and specifically a big one with the Wealthy Agency approach.
One of the first problems is with the actual method itself – and it's the fact that whilst the whole thing sounds good in theory, as I found out when I did it myself years ago you can quite easily run into complications.
For example, the virtual service market is pretty darn competitive so in order to attract customers, you need to keep your prices to a minimum… This means that there's often very small profit margin between the amount you're getting paid & the amount you're paying the freelancers to carry out the work.
If everything goes to plan then this isn't a problem as obviously you're still making money even if it is only small – however when things don't go to plan & you have to go back to the freelancers to get them to alter work or make changes then this can end up actually costing you money (if you want to keep your customers happy which you will need to if you wish to see success).
Also in the instances where freelancers don't deliver the work to you on time or disappear completely (which surprisingly happens a LOT), it's going to be you that's taking the hit as you were the one that told the customer you were going to fulfil their order… This means you'll likely end up with negative feedback & if that happens you'll then struggle to get future clients.
But the second problem is with Wealthy Agency itself, because whilst the Wealthy Agency system does indeed teach some free methods (such as posting ads on Craiglist & LinkedIn) it's primary push is on paid advertising – and paid advertising especially if you're new to it can be very risky.
You see when I started out my agency I was pretty lucky in that I knew a lot of methods for getting free traffic, but if you don't have that advantage then you'll find yourself down the route of paid advertising & I can tell you first hand that it's a route which involves a LOT of trial & error.
I've seen people literally burn through tens of thousands of dollars in paid ads without ever seeing any profitable return on their investment.
You Might Also Like:
But The Method Itself Is Indeed Sound
Sure, Jamie Lewis has massively hyped his Wealthy Agency program up to lure people in & the chances are you'll never make the insane riches he talks about in the promotional video but I will point out that as far as I'm concerned the method taught via his program is indeed sound.
It's a working method & if you do work hard then it's a method you could most certainly make money from.
However, if you've been led to believe by the video that it's some sort of method which is just going to make you rich with little to no work then honestly I just want to point out that that's not going to be the case.
Like I mentioned above if you want to see any chance of making profits with the Wealthy Agency program then you should know that you'll be responsible for posting & managing advertising, closing sales & organising freelancers to deliver the work.
If that sounds like too much hassle to you though then FYI there are some easier ways to make good money online which you can see here.
There's Also Another Little "Catch"…
On the homepage of the Wealthy Agency system, you're told that you'll be getting access to the program for just a low one-time fee of $29 but ultimately this is only half true as there are further costs on the inside.
I mean don't get me wrong I'm not entirely against upsells & stuff but it's a bit of a kick in the teeth when you're expecting to have bought the full program only to then find out there's then more to spend once you get inside…
I prefer transparency & I don't believe the Wealthy Agency program is as transparent as it could be on that front…
As you can see from the screenshot below there are 3 upsells (known as "Membership Upgrades") – these are the "Outsourcing Suite", the "Business In a Box" & the "Weekly Webinar Registrations"…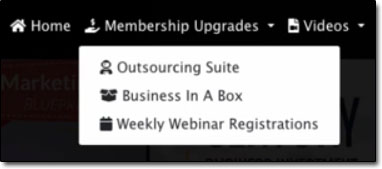 Like I say it's not the worst thing in the world & the pressure on purchasing the upsells is a little less than many of the other programs I've seen recently but again I'd just much have preferred transparency from the outset.
Anyway on that note that brings me onto…
Is Wealthy Agency a Scam?
Well, in my opinion, the program is certainly overhyped & I find it very unlikely that you'll end up earning the amount of income talked above in the promo video but in the same breath, I definitely wouldn't say it's a scam.
Jamie has put together some pretty good training videos inside of the Wealthy Agency program & as I mentioned throughout this review the method itself that it's based around is actually sound & possible to make money with. It's also very similar to the method that's taught in Tai Lopez's Social Media Marketing Agency program too.
Tai's program only really discusses social media marketing as a service though whereas Jamie's program goes over a bunch of different other alternative services that you can also profit from as well. Plus Tai's program is way more expensive!
So yeah, for the fee of $29 if you're interested in the concept of learning how you could make money by advertising services & fulfilling them online then I guess you'd find it fairly insightful… However, if you're expecting to "get rich" from it then sadly you'll likely find yourself disappointed.
For the latter reason, I won't be personally recommending the program – though I might have done if the sales pitch was a little more honest/less-hyped. The truth is after trying this method a long time ago in the past I came to believe that there are many better ways to make money online.
And one of my all-time favourite ways of making money online is something called affiliate marketing (which is much less stressful than trying to run an agency) and if that's something you're interested in too then you can get started with it for free over at Wealthy Affiliate.
But anyway whatever avenue you decide to choose I just hope that my review here has been insightful & hopefully it has helped you decide whether or not the Wealthy Agency program is truly a good fit for you… Plus if you happen to have any further questions or comments don't hesitate to leave them below & I'll get back to you as soon as I can.
A Better Alternative
The sad truth is that unfortunately most of the programs promising to help you make money online are scams. I can say that confidently after exposing over 500+ of them here on this blog.
But the good news is that even though most of them are indeed scams, there are actually some very good programs in amongst them - some programs that can truly help you to earn money.
And out of all of the legit programs I've seen, the one I would recommend the most to anybody looking to get started online is Commission Academy. In my own opinion, that's the best place to start.
At Commission Academy, you'll be provided with everything you need (including the training & tools) to begin earning real money by promoting products or services for companies like Amazon online.
The best part is that there's literally no limit on the amount you can earn with it & the process is pretty simple which means that it's absolutely perfect for people that don't have much experience.
Some wealthy affiliates even earn as much as 5-figures per month... Or more!

I mean don't get me wrong, that kind of money won't just fall into your lap without doing any work... But the harder you're willing to work at it, the more you stand to earn with it.
So if you're looking to get started but don't know which route you should go down or which program you should join (and don't want to waste money on bogus things that don't actually work), then I'd highly recommend checking out Commission Academy first. You can learn more about it here.