Have you come across Jamie Lewis' new Bank Ramp system?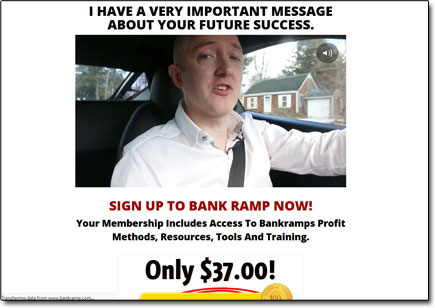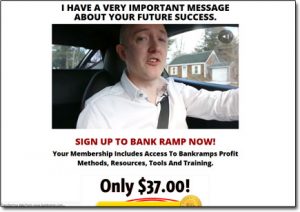 Are you wondering if it's actually legit & if you can really make the good money with it that Jamie claims you can?
Well I've got good news for you – you're in the right place because those are exactly the things that I'm going to be uncovering here in this honest Bank Ramp review… Along with some important things that Jamie Lewis failed to state in his sales video.
What Is Bank Ramp?   |   How Does Bank Ramp Work?   |   Who Is Jamie Lewis?   |   Can You Make Any Money With Bank Ramp?   |   Is Bank Ramp a Scam?   |   A Better Alternative
What Is Bank Ramp?
"I have a very important message about your future success" – that's how Jamie Lewis introduces his new Bank Ramp system & he claims that you can get results from it right away after just a mere 15 minutes spent setting it up…
But can you really trust him?
After all he's released many similar products/systems already such as Profit 365, Wealthy Agency, Profit Injector & none of them have really lived up to their promises.
Instead they just made similar hyped-up claims & then let people down…
Will the Bank Ramp system do the same thing? Or is there actually some substance to this program at last?
Well what I will say is that yes, there is indeed "some" substance to it… However once again this is just another program where the phrase "too good to be true" applies, because yes you can potentially make money – but it is nowhere near as easy as you're led to believe.
In fact the truth is that most people who sign up to the Bank Ramp system will just lose money instead. You'll see why that's the case as I explain how it all works in greater detail below…
How Does Bank Ramp Work?
The truth is that Bank Ramp doesn't work like Jamie Lewis makes out it does in his sales video. He essentially portrays it as being some kind of done-for-you automated money-making machine but that's far from the case…
You see in reality the Bank Ramp program is actually just a training course on something known as dropshipping.
And whilst you can potentially make money with dropshipping, it is pretty difficult work & there are several downsides. In my opinion it is much better to pursue affiliate marketing as opposed to dropshipping as you'll be much more likely to achieve success.
Why? Well affiliate marketing is free to do as it simply involves you connecting people with the products that they're looking for online & getting paid commissions by the sellers in return. Affiliate marketing also enables you to leverage the trust of big name brands like Amazon to make sales easier…
Dropshipping on the other hand generally requires you to invest a lot of money into paid advertising & it requires you to do all of the hard work of setting up your own store, sourcing products, dealing with customers & handling returns/refunds…
There's a LOT that can go wrong with dropshipping – and it's a LOT of work to manage by yourself.
So unless you've got tens of thousands of dollars that you're willing to invest & launch a dropshipping business properly, I wouldn't bother. Instead like I mentioned I would just pursue affiliate marketing instead… That way there's much less risk.
Plus with affiliate marketing there is no need to be concerned about customer support, refunds or sourcing products because that is all handled by the companies that you are promoting as an affiliate. Instead when you are an affiliate there are only 2 things you need to think about, which are promoting & earning money.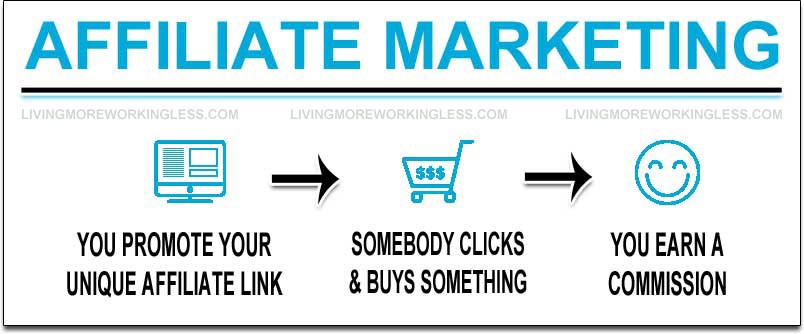 But has Jamie Lewis put some "secret sauce" into his Bank Ramp program that will actually enable you to see good money from dropshipping? Is there any "trick" inside of his program that'll see you earning on autopilot with little effort like he claims?
Well in short no, there isn't. He's just hyped up the sales pitch to get you to hand over your cash… Something that's quite typical of a ClickBank product.
If you do hand over your cash you won't be getting access to anything magical or wonderful, you'll just be getting access to some training on how to set up a Shopify store & how to use Amazon & eBay for dropshipping.
You can actually get the information elsewhere online for free if you just do a little bit of searching… There are plenty of freely available excellent guides on dropshipping if that's something you're dead set on doing.
But anyway, let's take a quick look at the guy who's actually behind this course…
Who Is Jamie Lewis?
Jamie Lewis, that's the name of the guy that's behind the Bank Ramp program & that's the guy who claims he can help you to earn a small fortune through dropshipping almost on complete autopilot…
But who is he? And why should you listen to him?
Well Jamie is a guy that I'd say is mostly known for creating digital products on ClickBank – particularly products in the make money online space.
He's created several so far, such as the following:
And all of his products come with really bold claims of how you'll be able to make money quickly & easily, but like I mentioned at the beginning of this review none of them ever really actually hold true.
I mean don't get me wrong, his products do come with some good information – but often the information can be found elsewhere for free with a little bit of searching – and often it is not information that is actually going to make you rich with ease like he promised.
What's more though is that I have only ever known about Jamie Lewis producing income as an affiliate & as a product creator… He is definitely successful at those 2 things, but I have never heard about him making money from dropshipping… And I don't see any evidence of it.
So why should you buy a course about dropshipping from somebody who hasn't even proved he has a successful dropshipping business?
If you really, really wanted a dropshipping course then you should look for courses created by people who are already successful in the business. A course like the Amazing Selling Machine X for example.
But I know there may be a question still lingering around in your mind…
You Might Also Like:
Can You Make Any Money With It?
I'll be completely honest here and tell you that yes, it is indeed possible to make money with the dropshipping method – however the problem is that not only is it quite difficult, but I personally don't believe the Bank Ramp program will help you get there.
So yes, you could technically find yourself making money as a result of purchasing the Bank Ramp program by Jamie Lewis, however I think that the reality is that you will be much more likely to end up losing money than actually making it.
The reason for that is because in my opinion the Bank Ramp program has been setup to make Jamie wealthy, not you, and whilst he does offer "some" training I believe it's only put there to make his program "legit" to prevent you from getting refunds.
And like I already mentioned in this review, whilst you can make money with dropshipping there is an alternative method named affiliate marketing which I believe is WAY better – and it certainly involves much less risk.
Affiliate marketing is the same way I personally make most of my own money online & I would recommend it to anybody looking to get started.
But anyway, that brings me onto…
Is Bank Ramp a Scam?
Well the Bank Ramp program is not a scam, I think that would be a pretty harsh verdict to arrive at – however in the same breath I do believe that the program is pretty darn misleading.
You're led to believe by the sales page that you'll be getting access to a system that will begin making you lots of money after just spending 15 minutes of your time setting it up but that is far from the truth.
To stand any chance of seeing success with dropshipping (the method taught by Bank Ramp) you'll need to put in a LOT of work & you'll also need to have several thousands of dollars that you can afford to invest & risk.
Plus it isn't just a case of "setting it up" – you will have to put in continuous work & this could see you sitting behind the computer for 10+ hours per day as you will be responsible for sourcing products, listing them, dealing with support, refunds etc…
In my opinion you should just stick with affiliate marketing instead. You can earn the same (even more) money with affiliate marketing and I believe that it is much easier, especially for beginners. Plus you can get started with affiliate marketing for free at Commission Academy.
Or alternatively you can browse all of these other great ways to make money online.
But I just personally don't believe the Bank Ramp program provides any "real" value and instead I think that if you happen to sign up to it you will just find yourself disappointed at what you actually receive.
Hopefully though after reading this review you can see that now, and if you have anything extra to add then please don't hesitate to leave a comment below. 🙂
A Better Alternative
The sad truth is that unfortunately most of the programs promising to help you make money online are scams. I can say that confidently after exposing over 500+ of them here on this blog.
But the good news is that even though most of them are indeed scams, there are actually some very good programs in amongst them - some programs that can truly help you to earn money.
And out of all of the legit programs I've seen, the one I would recommend the most to anybody looking to get started online is Commission Academy. In my own opinion, that's the best place to start.
At Commission Academy, you'll be provided with everything you need (including the training & tools) to begin earning real money by promoting products or services for companies like Amazon online.
The best part is that there's literally no limit on the amount you can earn with it & the process is pretty simple which means that it's absolutely perfect for people that don't have much experience.
Some wealthy affiliates even earn as much as 5-figures per month... Or more!


I mean don't get me wrong, that kind of money won't just fall into your lap without doing any work... But the harder you're willing to work at it, the more you stand to earn with it.
So if you're looking to get started but don't know which route you should go down or which program you should join (and don't want to waste money on bogus things that don't actually work), then I'd highly recommend checking out Commission Academy first. You can learn more about it here.