The My Survey Jobs website (found at MySurveyJobs.com) promises that you can make lot's of money online by simply filling in quick & easy surveys. You're led to believe that you can actually earn as much as $500 per survey…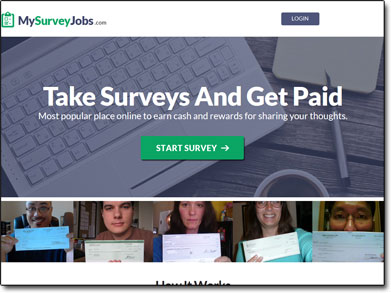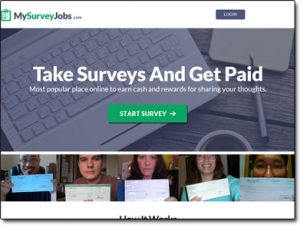 But I think you'll agree with me when I say that's a pretty bold claim since typically paid survey sites only pay out around $2 or so per survey at most… So what's the deal here? Is it actually legit or is My Survey Jobs a scam that'll see you losing money rather than making it?
Thankfully if you've been thinking about trying it out then you've landed in exactly the right place to find out because I've taken a closer look at it & in this review, I'm going to be uncovering everything there is that you need to know.
What Is My Survey Jobs?   |   How Does My Survey Jobs Work?   |   The Truth   |   Is My Survey Jobs a Scam?   |   A Better Alternative
What Is My Survey Jobs?
My Survey Jobs isn't actually a paid survey site, it's a website that claims to link you up with "secret" high-paying sites through which you can earn lot's more money than you can at traditional paid survey sites.
They claim that some of their surveys pay up to as much as $500, whilst most of them pay around $3 to $45 – even still though in terms of paid surveys the latter amounts are still an awful lot of money… After all these surveys are said to only take around a couple of minutes or so.
However surprise surprise, in order to get access to these super high-paying survey sites you'll have to pay My Survey Jobs a $34.95 fee & this is where it all starts getting a bit suspicious.
You should never be required to pay money upfront to get access to any sort of job like this and when you couple that with the fact that the whole thing sounds too good to be true anyway you've got to question what's really going on…
I previously exposed a scam on this blog named Take Surveys For Cash & right from the off it seems like the My Survey Jobs website is very similar to it. I wouldn't be surprised if it had just merely re-launched under a new name (as that happens a lot with scams).
But I won't brush it off too quickly, instead we'll take a look at how it all works…
How Does My Survey Jobs Work?
Okay so after digging into it a little further I found that My Survey Jobs do actually offer a free account alongside their paid membership, however it's very difficult to access since throughout the whole registration process the paid version is repeatedly pushed on you instead.
But anyway yeah, I decided to create myself a free account to check it out (which took a while because I was forced to watch a 6 minute video through the process too) – and after finding what I did I don't recommend you do the same.
So what did I find that was so bad?
Well, inside the members it was initially looking fairly okay… My Survey Jobs did indeed recommend a few legitimate survey companies – but I'll admit these were by no means exclusive, and many of them I actually listed myself on my list of paid survey companies that I posted on this blog.
But after spending just a few moments digging around I found out that this company has been setup to lead you into various make-money scams. From within the members area you're suggested some additional work from home opportunities, two of them being the Home Job Position & $500 Cash Club programs – My Survey Jobs claim that they recommend these programs but I exposed them both as scams.

And that's when it dawned on me, the members area of the My Survey Jobs website was actually exactly the same as that of the My Home Job Connection program – another scam I previously exposed.
So basically the My Home Job Connection program has just re-launched under this new name of My Survey Jobs in an attempt to keep scamming people out of their hard earned cash (like after I exposed them).
Here's How The Whole Thing Really Works…
Basically My Survey Jobs is a scam, as I originally suspected. The whole thing has been built purely in an attempt to squeeze as much cash out of you as possible to make the creator wealthy at your expense.
Honestly there are no "secret" high-paying survey companies like these websites make out, that's just how they try to lure you in. There's also no need to sign up to any websites just to access survey companies either – you can find a free list of them right here on this blog (without needing to sign up).
But yeah the creators of the My Survey Jobs website are just trying to draw you in with all this non-sense… They just want to lead you into believing that you will be able to make money quickly & easily…
Then once you're inside that's when it's easy to see that the whole thing has been setup to make the creator money, not you. The programs listed are all programs that the creator is affiliated with – this means that if you sign up to any of them he or she earns a commission.
Some of the sites are free and legitimate so it's not too bad, but the problem is that many of them aren't – and many of them could see you spending lot's of money.
Not to mention the fact that you're even pushed into paying $34.95 directly to these guys too for access to "VIP Paid Surveys", which by the way is just more nonsense & will just see you losing even more money.
Anyway it's clear to see what's really going on here so time to wrap it up…
You Might Also Like:
Is My Survey Jobs a Scam?
Yes, ultimately it is. Whilst some of the paid survey companies that are recommended through the site are indeed legitimate, many of them aren't – and the ones that are legitimate can be accessed elsewhere for free whilst these guys are trying to charge you $34.95 for access instead.
Overall it's clear to me that this program has been setup with the intention of making the creator wealthy, not the members. Whoever is behind this program is just trying to get you to sign up to as many things as they can so that they can earn themselves as much money as possible…
The problem is that they don't care what they're getting you to sign up to as long as it makes them money – this means that the likelihood is if you go through the My Survey Jobs program you'll probably end up losing money rather than making it.
So as you can imagine I certainly won't be recommending this program, instead I'll be doing the opposite & advising that you avoid it. There are many legitimate ways to make money online but this simply isn't one of them.
Do feel free to leave any further comments or questions you might have below – but hopefully this review was able to help prevent you from losing any cash to this My Survey Jobs scam.
A Better Alternative
The sad truth is that unfortunately most of the programs promising to help you make money online are scams. I can say that confidently after exposing over 500+ of them here on this blog.
But the good news is that even though most of them are indeed scams, there are actually some very good programs in amongst them - some programs that can truly help you to earn money.
And out of all of the legit programs I've seen, the one I would recommend the most to anybody looking to get started online is Commission Academy. In my own opinion, that's the best place to start.
At Commission Academy, you'll be provided with everything you need (including the training & tools) to begin earning real money by promoting products or services for companies like Amazon online.
The best part is that there's literally no limit on the amount you can earn with it & the process is pretty simple which means that it's absolutely perfect for people that don't have much experience.
Some wealthy affiliates even earn as much as 5-figures per month... Or more!

I mean don't get me wrong, that kind of money won't just fall into your lap without doing any work... But the harder you're willing to work at it, the more you stand to earn with it.
So if you're looking to get started but don't know which route you should go down or which program you should join (and don't want to waste money on bogus things that don't actually work), then I'd highly recommend checking out Commission Academy first. You can learn more about it here.