The Passive Paychecks system (found at passivepaychex.com) claims to provide you with a "free" video that will supposedly show you how you can start generating an automated income online in a super short period of time.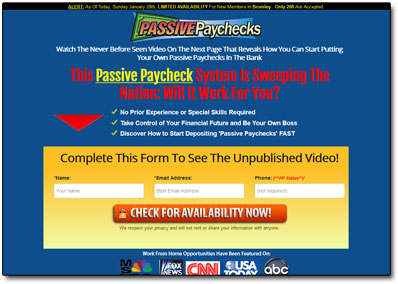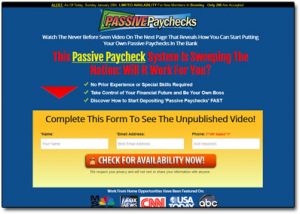 However like me, you'll probably think that such a claim is a little bit suspicious, so what's the deal – is it actually legit or is the Passive Paychecks system a scam that'll just see you losing money rather than making it?
Well, thankfully you've landed in the right place to find out because in this Passive Paychecks review I'm going to be outlining everything there is you need to know & most importantly determining whether or not you can really make money with it.
So without further ado let's jump right in & see what it's all about.
What Is Passive Paychecks?   |   How Does Passive Paychecks Work?   |   Is Passive Paychecks a Scam?   |   A Better Alternative
What Is Passive Paychecks?
As I briefly touched on above the Passive Paychecks system is a new make-money-online program that claims it can enable you to generate a completely automated income, and not just any old income – an income so large that it could potentially see you quitting your job.
Plus if that didn't already sound good enough on its own the Passive Paychecks system also claims that you can generate this super large automated income really quickly, in fact, you're led to believe that you can start earning almost immediately…
But again as I said above it all sounds a little suspicious. I've reviewed hundreds of make-money systems over the years & everyone that made similar claims turned out to be a scam. You see whilst the internet provides you with plenty of ways to make money sadly it's not magical & therefore it can't provide you with a way to make a ton of money without actually doing anything…
I mean sure if you're willing to put in the work then you can make good money online through legitimate things like affiliate marketing (like I do personally), but anything that claims you can make money without doing anything should really start ringing alarm bells as it's likely some sort of scam.
That's not the only red flag here with the Passive Paychecks system though, there's actually several – let me point a few of them out…
Red Flag #1
The website presents you with a banner which states that there is limited availability & that only 200 people from your area are going to be accepted into the program. I can tell you that this banner is 100% fake.

Whilst some websites will indeed display genuine limited availability banners (for time-sensitive offers and such) in this instance it is nothing more than a gimmick. They have simply put that banner on the website to create a sense of urgency, to make you rush into signing up so that you don't go checking for reviews first… And the reason they don't want you checking for reviews is that they know you'll find out it's a scam.
Red Flag #2
The Passive Paychecks website displays several logos of popular news channels on their homepage such as Fox News, CNN & USA Today. At a glance, you might assume that this means the system has been featured on those channels which means it must be legit, but that's exactly what they want you to think…

However, if you take a closer look you'll see in small print above those logos that it says "work from home opportunities have been featured on…", this is their get-out clause. They make it look like their system has been featured on those channels but it hasn't – work from home opportunities, in general, have been covered by them (because there are some legit ones), but the Passive Paychecks system has not.
A quick Google search proves that because it returns absolutely no results for Passive Paychecks being featured on any of those channels as shown below (using CNN as an example):

Red Flag #3
The Passive Paychecks website makes everything sound super easy and this is 100% the common trait of a scam. They just want to make everything seem so simple so that you'll hand over your cash, then you'll be left to find out that it's not quite as it seems & you'll struggle to get a refund.
Making money online is certainly possible but it's definitely not as "push-button easy" as the Passive Paychecks system makes out – it takes effort & dedication to really pull it off (but with proper training anybody can definitely do it).
How Does Passive Paychecks Work?
Well in terms of making you money I can say confidently that the Passive Paychecks system does not work as it's merely a rehashed version of a work from home scam I've seen before named Massive Internet Profits, however, what I'll do here is explain how the actual scam itself works to prove to you the system is useless.
And you'll probably be shocked because honestly this scam isn't really elaborate at all, it's actually quite simple…
Basically the Passive Paychecks website is just a "funnel". It's designed to get you hyped up about the opportunity of making money online & it's also designed to make it seem really easy.
Initially, you'll be asked to provide them with your email address & phone number to "get access", then you'll be taken to a page with a video which basically does nothing other than boast about the dream lifestyle you can obtain from generating an income online.
After you finish watching the video you'll then be presented with a button which you can click to "get started", but the reality is that all this button does is send you off to some expensive make-money program that the creator of the Passive Paychecks system is affiliated with. The chances are you'll probably sign up (because you're now hyped up about the potential opportunity) and as a result, the creator of the Passive Paychecks system will earn a commission at your expense.
Now some of the programs that you're recommended too will be complete scams themselves, but with others like Digital Altitude & MOBE which are often recommended you can potentially make money, only you'll find out that it's much more difficult than you were led to believe.
The other big problem is that the programs recommended by these "funnel" style websites are generally very expensive (because the creators want to make as much money as possible from you). So programs like Digital Altitude & MOBE could see you spending thousands before you even get round to learning how to actually make money.
In my opinion, there's just absolutely no need to spend anywhere near that amount of cash especially when there are other legitimate (and in my opinion better) alternatives you can join for free such as Commission Academy.
So ultimately the creator of the Passive Paychecks website does not care about your success & is feeding you with a bunch of lies merely to earn himself (or herself) a nice big fat commission at your expense. They basically just want you to sign up and spend money, that's all.
Is Passive Paychecks a Scam?
I know some people will argue that Passive Paychecks is not a scam because some of the opportunities it recommends are technically legit, but in my opinion, I do believe it is a scam because of the way that it promotes these opportunities to you.
Essentially it promotes them to you by lying to you & making it seem like generating an income is much easier than it actually is to trick you into signing up so that they can earn themselves a commission at your expense… In my opinion, that's what I'd call a scam, regardless as to whether or not the programs it recommends are "technically legit".
The other big problem is that as I said above those "technically legit" programs that it recommends are also super expensive & you could see yourself spending thousands before you even learn how to make money. It's therefore clear to me that this whole Passive Paychecks system is just totally geared towards squeezing as much money out of you as possible & for that reason I absolutely do not recommend it.
Don't be disheartened though, making money online is definitely possible & there are many legitimate ways to go about it – it's just not going to be as easy to generate such a large income as the Passive Paychecks system makes out you can.
So yeah, overall I don't recommend the Passive Paychecks system but if you are still looking for ways to generate an income then be sure to check out my ultimate guide to making money online for some free tips on how you can get started. Also if you have any questions or further comments don't hesitate to leave them below.
A Better Alternative
The sad truth is that unfortunately most of the programs promising to help you make money online are scams. I can say that confidently after exposing over 500+ of them here on this blog.
But the good news is that even though most of them are indeed scams, there are actually some very good programs in amongst them - some programs that can truly help you to earn money.
And out of all of the legit programs I've seen, the one I would recommend the most to anybody looking to get started online is Commission Academy. In my own opinion, that's the best place to start.
At Commission Academy, you'll be provided with everything you need (including the training & tools) to begin earning real money by promoting products or services for companies like Amazon online.
The best part is that there's literally no limit on the amount you can earn with it & the process is pretty simple which means that it's absolutely perfect for people that don't have much experience.
Some wealthy affiliates even earn as much as 5-figures per month... Or more!

I mean don't get me wrong, that kind of money won't just fall into your lap without doing any work... But the harder you're willing to work at it, the more you stand to earn with it.
So if you're looking to get started but don't know which route you should go down or which program you should join (and don't want to waste money on bogus things that don't actually work), then I'd highly recommend checking out Commission Academy first. You can learn more about it here.