Earlier today I came across a brand new system named the Personal Computer work from home system which claims to allegedly be the "#1 choice for success online" & has been put together by a lady named Naomi Reed.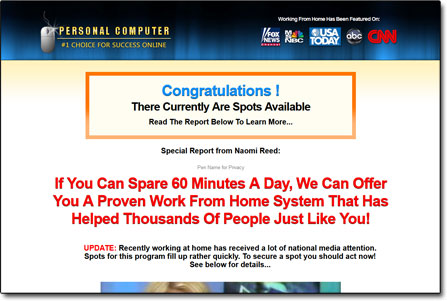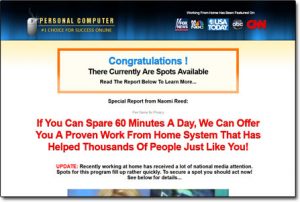 The website for the system leads you to believe that if you have just a mere 60 minutes to spare per day you'll be able to get access to a method that'll supposedly see you being able to earn hundreds of dollars per day with ease, even if you're brand new.
But could it really be true? Could you really earn so much money so easily with such little time being invested or is the Personal Computer system a scam that you should just avoid?
Well, you'll be glad that you came to this Personal Computer review before signing up because I can tell you right from the off that the whole Personal Computer work from home thing is far from what it seems.
What Is Personal Computer?   |   How Does It Work?   |   Is Personal Computer a Scam?   |   A Better Alternative
What Is The Personal Computer Work From Home System?
The Personal Computer work from home system is something that's allegedly been put together by a lady Naomi Reed (more on that in a moment) and it leads you towards believing that it will provide you with access to a very easy way to make good money from home.
Naomi who you're told is behind it claims that you only need to spare a mere 60 minutes per day & that if you can then her system could see you being able to generate a full-time income right from the comfort of your own home.

But it's a little bit hard to trust Naomi since Naomi Reed isn't even her real name which she admits herself on her Personal Computer system website.
According to her, Naomi Reed is just a pen name that she's using because apparently the internet can be a "crazy place"… And she also admits that the photo of her isn't real either – it's from a stock photo website.
The testimonials featured on her website too are also quite clearly fake as there is a hard-to-read disclaimer beneath them which reads "Stock Photos/Pen Names for Privacy" which is pretty concerning.
So what's the deal? Is it actually legit & can you trust the Personal Computer work from home website or is the whole thing just full of complete trickery in an attempt to get you to part with your cash?
Well, unfortunately, I can confirm right from the off that the whole thing is indeed just full of trickery & I can say that with absolute confidence because not only have I exposed this scam several times before, but I've also personally purchased the program to see what it really entails.
Some of its previous names include Personal Computer Success, Computer Technical Guys & The Computer Geeks.
Take it from me, there is NO way you will find yourself earning money with the Personal Computer work from home program & I'll show you why below as I explain in greater detail how it all actually works…
How Does Personal Computer Work?
As you've probably already noticed the Personal Computer website itself doesn't really give a great deal away as to how the whole thing actually works. Instead, it just forces you into handing over your money to find out more.
The one thing it does mention, however, is link posting – and you're led to believe that you'll just be posting links around the web & earning money as a result, as if you're getting paid to do it by somebody… But that's not quite true.
You see in reality the whole thing is loosely based around something called affiliate marketing which is where you promote products or services online in return for commissions.
Now don't get me wrong here, affiliate marketing is indeed a legitimate way to make good money online & it's actually the same way I personally make most of my own money online… But the Personal Computer work from home website is making it seem WAY easier than it actually is.
The reason for that is because they just want to make it seem super simple so that you'll sign up & hand them your cash.
And to be honest that wouldn't be the end of the world if they actually gave you some good training once you handed over your money (like the amazing training found over at Commission Academy), but they don't…
Instead this is literally as "in depth" as their training gets:

The reason I know that is because I actually handed over $99 of my own hard earned cash to see what was on the other side & it's literally nothing but more hype. The reason for that is because the fee of $99 is just the entry into the scam…
From there you're then told that you need a schedule a call with a "mentor" to get your business setup but in reality the mentor is just a salesperson & they're there to try and get you to whip out your credit card & spend even more money.
They'll once again tell you that it'll all be really easy & that you'll be making money in no time but as you can imagine it's all BS. They don't really care about your success, they just want to squeeze as much money from you as possible.
To prove that, take a look at a comment that was left on one of my previous reviews by somebody who actually phoned up the so-called "mentor" back when it was called The Computer Geeks system:

Alan bought into the system on the "discounted" rate of $67 and just like me he got access to some very basic information which was purely provided just to get you more "hyped up" about the potential opportunity.
From there he called up the "mentor" and was told he would need to invest either $5,000, $7,500 or $10,000 to proceed which is just absolutely crazy.
There should never be any reason as to why you would possibly need to spend so much money to get started with affiliate marketing because there are already programs like Commission Academy where you can get started with it for free.
I think it's therefore quite clear to see that the Personal Computer work from home program doesn't really have your best interests at heart and instead the person behind it is just set out to make money at your expense rather than to actually help you.
And that brings me onto…
Is Personal Computer a Scam?
Yes there's absolutely no doubt about it, the Personal Computer work from home system by Naomi Reed is definitely a scam & I can say that with absolute confidence because I've already exposed the same scam several times before.
Like I mentioned towards the beginning of this review the exact same system has already launched under different names such as Personal Computer Success, Computer Technical Guys & The Computer Geeks.
Rather than being set out to help you the whole thing is just set out to trick you into thinking that you'll be able to make money really easily so that the people behind it can just make themselves rich at your expense.
The truth is that yes you can indeed make good money online but in order to do so you must be prepared to put in some work to make it happen. There is no way you are going to make so much money as easily as the Personal Computer system claims you will.
The good news though is that if you are prepared to put in the work then there are legitimate places where you can get started like Commission Academy.
Or alternatively you can also check out these other good ways to make money online as well.
But whatever you decide to do I just sincerely hope that my review of the Personal Computer work from home system here has given you a good insight into how it really works & hopefully it has helped you to save losing your money.
If you still have any further questions or comments though then don't hesitate to leave them below. 🙂
A Better Alternative
The sad truth is that unfortunately most of the programs promising to help you make money online are scams. I can say that confidently after exposing over 500+ of them here on this blog.
But the good news is that even though most of them are indeed scams, there are actually some very good programs in amongst them - some programs that can truly help you to earn money.
And out of all of the legit programs I've seen, the one I would recommend the most to anybody looking to get started online is Commission Academy. In my own opinion, that's the best place to start.
At Commission Academy, you'll be provided with everything you need (including the training & tools) to begin earning real money by promoting products or services for companies like Amazon online.
The best part is that there's literally no limit on the amount you can earn with it & the process is pretty simple which means that it's absolutely perfect for people that don't have much experience.
Some wealthy affiliates even earn as much as 5-figures per month... Or more!

I mean don't get me wrong, that kind of money won't just fall into your lap without doing any work... But the harder you're willing to work at it, the more you stand to earn with it.
So if you're looking to get started but don't know which route you should go down or which program you should join (and don't want to waste money on bogus things that don't actually work), then I'd highly recommend checking out Commission Academy first. You can learn more about it here.