There's a new website that's just launched, it's called Personal Computer Success & it promises to provide its visitors with access to the #1 work from home program which could allegedly see you earning hundreds of dollars within just 5 minutes of signing up… Even if you have no experience of working online.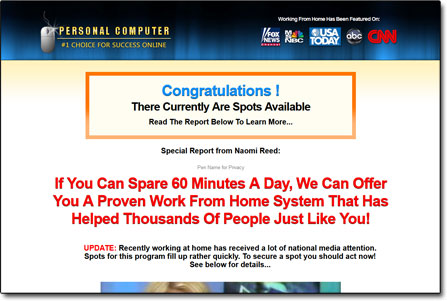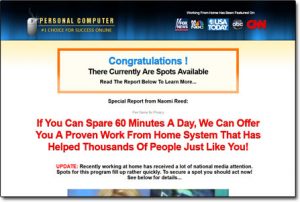 The website states that you can start immediately, that you can choose your own hours & that you can effectively work as your own boss…
But is it real? Or is the Personal Computer Success program a scam that'll just end up costing you more than you ever actually make?
Thankfully you've landed in the right place to find out as I've taken a closer look into this new so-called "work from home program" and in this honest review, I'll be uncovering the real truth about how it all works, as well as outlining whether or not you can really make any money with it. 🙂
What Is Personal Computer Success?   |   How Does Personal Computer Success Work?   |   Fake News Features   |   Is Personal Computer Success a Scam?   |   A Better Alternative
What Is Personal Computer Success?
No doubt this is the first thing you're wondering about the whole thing since the website for the program (despite hyping up the potential opportunity of making money) doesn't give a great deal away as to what any of it actually involves.
Upon landing on the website for the Personal Computer Success program you're merely told that you'll be able to "change your life", and that "within 5 minutes you'll be working from home" as shown below:

However to find out any more about the program you're required to enter your name, email and phone number – something which you're likely not quite willing to do… Especially since the website looks pretty "shady" to say the least.
For all you know after submitting your details they could just bombard you with spam – and you don't want that… So instead, to save you the hassle I decided to enter my own details (fake ones of course!) to find out what's really going on… And what's on "the other side". ?
Unfortunately though after doing so my suspicions were quickly confirmed as I came to realize that this is just one of the same scams I've seen several times before. I call it the work from home kit scam, and I've seen it launched under several different names in the past such as:
If you click on any of those links above & check out my reviews of those programs you'll quickly see that the websites are almost identical. They've literally just changed the names & a little bit of the wording, but that's all.
Basically this is just a typical "churn and burn" type of scam operation. They launch a website under 1 name, trick a whole bunch of people into parting with their cash – then they shortly after close it down & launch it under a new name in an attempt to escape the negative reviews (like this one) that expose them so that they can continue parting more people with their hard-earned cash.
One thing that most of them do have in common though is that they are all often associated with somebody named Cynthia Sprinter, which is a fake alias the scammers creating these programs use to hide behind.
What I do appreciate though is the fact that this program makes some pretty bold promises & as a result, you might not just be willing to "take my word for it" when I say it's a scam… You might have been really excited about the potential opportunity of making money & want to try it out anyway… So for that reason keep on reading and I'll show you exactly why it DOESN'T work as promised…
…(and yes, I am sorry to be the one to burst the bubble – but a burst bubble is better than getting scammed).
How Does Personal Computer Success Work?
Okay so essentially the reason I call these types of scams a work from home kit scam is because the promise to provide you with an opportunity to make money by posting links online – and they claim that in order to get started with it all you have to do is place an order for their "work from home kit"…
However, what they're really doing is just putting a spin on something called affiliate marketing – which is free to do.
You see affiliate marketing in itself is as I say a free, but also legitimate way to make money – however, making money with it does not come quite as simple as just "posting links and getting paid" like the Personal Computer Success program makes out it does.
They're just tricking you into thinking it's super-easy so that you'll hand over some cash to get started (for their work from home kit) and then all they do is provide you with some bogus training on how to get started which won't help you one bit.
If you really want to get started with affiliate marketing properly (and actually make money with it) then you need a proven program like Wealthy Affiliate – which is free to join.
There's simply no need to pay for hyped-up fake "work from home kits". The people behind the Personal Computer Success program are literally just scammers & the whole thing has been built on lies & misinformation.
But as I say affiliate marketing in itself is actually a legitimate (and very good) way to make money online. It's also the exact same way that I make most of my own money online so I highly recommend it – I just don't recommend this particular Personal Computer Success program. That's BS!
You Might Also Like:
Also, It Hasn't Been Featured In The News
A common trait of these work from home scam sites is that they all want you to believe that they've been featured on the news, because they know if they can get you to believe that then you'll likely think it's legit…
After all if something has been featured on the news it probably is (but not always) legit…
However NONE of these fake work from home sites have ever been featured on the news like they claim. Instead they just use a "technicality" to be able to claim they have (and get away with it)…
You see if you actually take a closer look at these sites you'll see that rather than saying "this program has been featured on", they actually say "working from home has been featured on"…

And of course, it has – working from home itself is legit. Many people work from home – and thanks to programs like Wealthy Affiliate many new people every single day are making the decision to work from home.
But the scammy programs like Personal Computer Success themselves have never been featured on the news – and a program like that would never really be able to help you to start working from home.
Which brings me onto…
Is Personal Computer Success a Scam?
The answer to that question is a massive YES! There's absolutely no doubt about it, the Personal Computer Success program is a total scam & there is absolutely no way that it's going to help you or anybody else to make money.
In reality, the only people who'll actually be profiting from it are the creators who are behind the whole thing & the marketers that they're paying commissions to for getting people to sign up.
It's clear to me that the whole thing has built upon complete lies in an attempt to trick you into signing up for a bogus work from home course, and as I mentioned earlier in this review I've already exposed this scam before under several different names such as My Home Success Plan & Online Jobs Now.
But anyway hopefully my review here helped you save your cash because at the time of writing this review (December) I can safely say that this is definitely NOT the time of year you want to be losing money to a scam…
And don't forget, if you are still looking for a legitimate way to make money from affiliate marketing online properly the be sure to check out the Wealthy Affiliate program which is totally free to get started with.
A Better Alternative
The sad truth is that unfortunately most of the programs promising to help you make money online are scams. I can say that confidently after exposing over 500+ of them here on this blog.
But the good news is that even though most of them are indeed scams, there are actually some very good programs in amongst them - some programs that can truly help you to earn money.
And out of all of the legit programs I've seen, the one I would recommend the most to anybody looking to get started online is Commission Academy. In my own opinion, that's the best place to start.
At Commission Academy, you'll be provided with everything you need (including the training & tools) to begin earning real money by promoting products or services for companies like Amazon online.
The best part is that there's literally no limit on the amount you can earn with it & the process is pretty simple which means that it's absolutely perfect for people that don't have much experience.
Some wealthy affiliates even earn as much as 5-figures per month... Or more!

I mean don't get me wrong, that kind of money won't just fall into your lap without doing any work... But the harder you're willing to work at it, the more you stand to earn with it.
So if you're looking to get started but don't know which route you should go down or which program you should join (and don't want to waste money on bogus things that don't actually work), then I'd highly recommend checking out Commission Academy first. You can learn more about it here.