Private Cash Sites is a brand new money-making website that's allegedly been launched by a guy named Steven & it promises to provide you with a method for "legally stealing 3 businesses that easily generate 3 to 7 checks per week".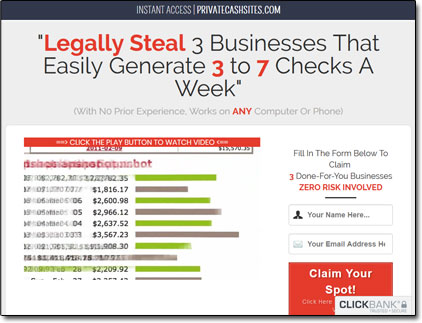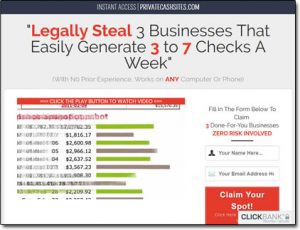 So basically, in short, you're essentially led to believe that you'll be able to sign up & begin making money right away through a "done-for-you" approach.
But is it really legit or is Private Cash Sites just another scam that's set out to part you with your hard-earned cash?
Thankfully you've landed in the right place to find out as I just recently decided to take a look at it myself to see what it's all about & whether or not it really works & in this honest review I'll be uncovering literally everything there is that you need to know.
What Is Private Cash Sites?   |   How Does Private Cash Sites Work?   |   Why You Won't Make Money   |   The Red Flags   |   Is Private Cash Sites a Scam?   |   A Better Alternative
What Is Private Cash Sites?
Private Cash Sites is a new program that's just been launched through the infamous ClickBank network & it promises to provide its visitors with a super-easy way for making lots of money online even if they've got absolutely no experience whatsoever…
The headline of the site literally states that you'll be "legally stealing 3 businesses that easily generate 3 to 7 checks per week" so it makes out like as soon as you sign up you'll be able to begin making money… But surprise surprise signing up isn't free.

Instead, in order to find out more about how the whole thing actually works & to get access to the so-called "system", you're required to hand over $47 of your hard-earned cash – and I can tell you that this is a very common trait of a typical get-rich-quick scam.
Couple that with the fact that the creator of the Private Cash Sites system doesn't give any other information about himself other than calling himself "Josh" – things don't look too good with regards to this system's legitimacy.
So does it really work & can you really make any money with it at all? Let's see…
How Does Private Cash Sites Work?
So the concept is that after handing over your $47 to buy into the Private Cash Sites program you'll be getting provided with 3 done-for-you businesses created by Josh that'll be set up ready to make you money.
These are 3 online affiliate marketing businesses which are basically websites that promote 3rd party products in return for commissions…
And this is where I'll point out that affiliate marketing itself IS legit – however the Private Cash Sites program is NOT. The real truth is that instead of being set out to help you make money like it claims to be, the whole Private Cash Sites thing has just been set up to take money from you instead.
You see you can't just copy or "steal" online businesses like Josh claims you can, and if you could then everybody would be doing it…
I mean don't get me wrong you can indeed make very good money online through affiliate marketing but in order to do so you have to set things up for yourself – though there are legitimate places like Commission Academy which show you exactly how to do this (and show you how to actually get started properly).
In fact, in return for $47 the Private Cash Sites system doesn't even give you access to the promised businesses – instead all you get access to is some "taster" information & to get the done-for-you sites you have to pay even more…
But the sites you're provided with are firstly very basic & secondly they're the exact same sites that ALL of the people signing up to the Private Cash Sites scam are getting provided with, which brings me onto my next point…
Why You Won't Make Any Money With Private Cash Sites…
These days pretty much anybody can build a professional website online in a matter of seconds (and with my guide they can even do it for free) however simply having a website is not enough to begin making money…
In order to make money, you need visitors to the website & that's the main component that's missing from the Private Cash Sites program…
Sure, they provide you with some done-for-you sites containing affiliate products as promised however as I mentioned the sites they give to all of their members are all exactly the same, meaning they're duplicates.
The bad news here is that search engines like Google, Yahoo & Bing do not list duplicate websites. It doesn't make sense for them to do so as they'd just be repeating the results within their listings… And it's these search engines that provide most webmasters with the majority of their visitors.
So you'll be getting "done-for-you" sites from Private Cash Sites but they won't be getting listed in the search engines so you won't find yourself making any dosh. Instead, you'll be told to use paid advertising to promote them, but as a newcomer, this is VERY risky business.
Paid advertising can be very tricky to turn a profit with & for all the while you're not turning a profit you'll be losing money whilst you try & figure things out with a trial & error approach. I've seen people lose tens of thousands in paid ads whilst never turning a profit, so free search engine traffic is a much better approach (especially for newbies) in my honest opinion…
Sadly though free search engine traffic is what you won't get with the Private Cash Sites program…
But there is some good news – like I mentioned previously in this review there is a legitimate place called Wealthy Affiliate where you can actually get a free website & learn how to get free visitors from search engines which can, in turn, make you money. If you truly want to make good money online then that's the place I recommend you join instead of Private Cash Sites.
You Might Also Like:
There Are Also More Red-Flags
Whenever I come across a potential money-making opportunity like Private Cash Sites one of the first things I always do is scroll to the bottom of the page to see if they have an income disclaimer as this is where you usually find out the real truth about the program…
And let's just say when checking out the Private Cash Sites income disclaimer I found out some pretty alarming stuff.
Firstly on the homepage of the Private Cash Sites program, the income disclaimer at the bottom of the page refers to the program as Explode My Payday – and that was another scam which I previously exposed on this blog.

But it doesn't stop there as after actually clicking on the disclaimer link the website is then referenced as Your Freedom Mentor which once again is yet another scam that I exposed on this blog.

So it seems that whoever is really behind the Private Cash Sites program is also the same person that's behind all of these other make money online scams – and just yesterday I exposed another system named Click Click Cash which shares major similarities to PCS, so in my opinion, it's likely that they're also behind that one too.
Basically, whoever they are I would not trust any of their programs (including PCS) as the links between all of these different scams makes things seem very suspicious indeed.
But on top of that, there is another major red-flag, which is the fact that they promise you can make a full-time income online starting instantly after getting started…
I can tell you with all of my years' experience at working online that this is hands-down not possible. I mean sure, like I mentioned several times throughout this review it's certainly possible to make money online however the internet is not magical & you're not going to start earning large sums of money overnight.
The only money you could earn "quickly" is minuscule amounts from the likes of paid surveys & such, but that'll only earn you a couple of dollars per day – it won't get you anywhere near a full-time income.
Instead, if you want to earn a full-time income online you must be prepared to put in some hard work & not expect to earn anything for at least a couple of weeks or even months… That's just how the game goes.
If it was so easy then everybody would be doing it & they're not – but all I can say is that the rewards of owning a successful online business definitely make it worth it so you just have to make the decision…
Would you be prepared to commit yourself to work for a few weeks or months with no income to later be able to earn passively & to work from anywhere in the world on your own terms? If the answer is yes then you need to check out Wealthy Affiliate.
But anyway, regarding the Private Cash Sites program, it's time for…
Is Private Cash Sites a Scam?
Ultimately this depends on your definition on a scam, but in my personal opinion yes it is a scam. The reason I say that is because whilst it might not "steal" money from you, it is very misleading & what you end up purchasing is not going to live up its promises.
To be completely honest I would be very surprised if so much as one single person that buys into the Private Cash Sites program ends up making money because as far as I'm concerned it's just purely geared towards making its own creators wealthy at the members' expense.
The sales page is jam-packed full of lies, the opportunity is totally hyped up & everything is made out to be much easier than it actually is. Sadly it's only after parting with your cash that you're left to discover the truth & that's why in my opinion I believe it to be a scam.
If you really want to get started online & make good money then you can actually do it for free. I've even put together a guide on starting a profitable website for free right here on this blog which you can check out here.
And on top of that, there are also several other excellent ways to make good money online.
But regardless as to what you decide to do I just hope that my review here has given you a good insight into how the system really works & hopefully you can now see why it should be avoided. If you do still happen to have any further questions or comments though then don't hesitate to leave them below & I'll get back to you as soon as I can.
A Better Alternative
The sad truth is that unfortunately most of the programs promising to help you make money online are scams. I can say that confidently after exposing over 500+ of them here on this blog.
But the good news is that even though most of them are indeed scams, there are actually some very good programs in amongst them - some programs that can truly help you to earn money.
And out of all of the legit programs I've seen, the one I would recommend the most to anybody looking to get started online is Commission Academy. In my own opinion, that's the best place to start.
At Commission Academy, you'll be provided with everything you need (including the training & tools) to begin earning real money by promoting products or services for companies like Amazon online.
The best part is that there's literally no limit on the amount you can earn with it & the process is pretty simple which means that it's absolutely perfect for people that don't have much experience.
Some wealthy affiliates even earn as much as 5-figures per month... Or more!

I mean don't get me wrong, that kind of money won't just fall into your lap without doing any work... But the harder you're willing to work at it, the more you stand to earn with it.
So if you're looking to get started but don't know which route you should go down or which program you should join (and don't want to waste money on bogus things that don't actually work), then I'd highly recommend checking out Commission Academy first. You can learn more about it here.