"Work at home" is the new norm around the world. Millions of people search for work at home job opportunities every single day. Some of them are looking for side gigs while others wish to earn their entire living through this mode of work.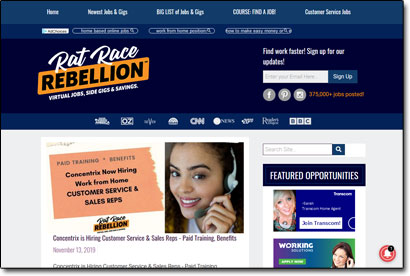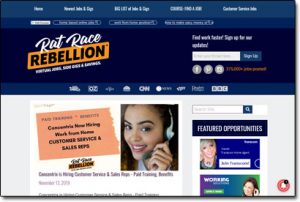 The increase in demand for home-based work has increased both demand and supply of online recruitment marketplaces too, such as the Rat Race Rebellion.
Rat Race Rebellion has been in business for a long time. It is a website that helps home-based remote workers to find jobs per their requirements. The website claims to have helped thousands of people; however, can you really trust the claims?
The questions about the legitimacy and effectiveness of this website must be asked. We decided to find all the answers for ourselves and put together this honest, impartial & in-depth Rat Race Rebellion review.
What Is Rat Race Rebellion?   |   How Does It Work?   |   What Kind of Gigs Can You Find?   |   Can You Trust It?   |   Is Rat Race Rebellion a Scam?   |   A Better Alternative
What Exactly Is Rat Race Rebellion?
Rat Race rebellion is a web portal that helps people find home-based work opportunities. It is a very old venture started by Christine Durst and Michael Haaren during the early years of the internet and e-commerce. Yup, that's right! It was established back in 1999 and has existed since then.
Rat Race Rebellion is not only old but very highly profiled. It has earned mentions on national television as well. Going back, you can find a program featuring this web portal on Good Morning America and other popular shows.
Below is a screenshot of the clip in which co-founder Christine Durst talks about Rat Race Rebellion on Good Morning America: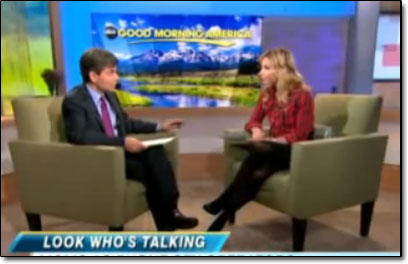 Many fake work from home opportunities I come across (such as Green Gold & AI Stock Profits) lie about being featured on the news in order to gain trust so it can be hard to know if the claims are real or false, but in this instance, Rat Race Rebellion really has been featured in various news publications.
Word has it that the founders of this online job marketplace dedicated to helping people find work-from-home gigs have actually done quite some work on the national level too. It is said that they have worked with the US State Department as well as the Armed Forces on some virtual career training programs.
They have a very impressive profile, to say the least. However, the real question is if the Rat Race Rebellion would work for a layman or not? Keep on reading as that's exactly what I'll be getting into next as I take a closer look into how it all works…
How Does Rat Race Rebellion Work?
Rat Race Rebellion has a standard setup. All you need to do is to sign up on the website and register for free. They post job listings for work from home opportunities. You can find all kinds of jobs here and apply directly to them from your account on the website.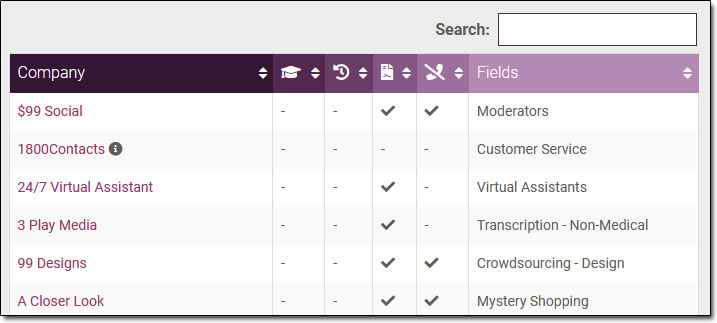 Every job listing tells you where and what position is being offered. A comprehensive job description along with protocols, eligibility criteria (if applicable) and requirements are clearly specified. You can scout the offers that suit you and apply instantly. Pay rates are generally on per-hour-basis.
Rat Race Rebellion has a very active system. They update listings on a daily basis. You can sign for their newsletter as well. Signing up for the newsletter lets you have the updated job lists send right to your email inbox.
What Kinds of Gigs Can You Find?
Rat Race Rebellion has been there for two decades now. They have a huge network. You may find some really good names listed in offers on this website, including the global names like the United Nations.
There are full-time, part-time and even freelance gigs listed on Rate Race Rebellion. You can find jobs from any field, ranging from tutoring, driving, chat hosting, virtual call centre, graphic designing, animation, software and web development, writing, proofreading, transcription and much more.
All you need to know is what you want and you can hunt it down on this website. This web portal is for everyone who wants to sidestep the monotonous 9 to 5 work routines or make some extra money.
What's worth pointing out here too is that the jobs offered via Rat Race Rebellion are mainly all real jobs through which you are paid directly in return for the amount of time that you spend working.
The reason I stress that is because there are many websites that promise to offer people with access to "jobs", such as link posting jobs & then leave people to find out that they're not really "jobs" where they get paid for their time, they're just sales based gigs where they only get paid if they make sales.
So whilst there are good gigs that pay in return for generating sales (such as affiliate marketing) the good news is that over at Rat Race Rebellion there is something for everybody, even if they don't to (or don't know how to) market things online.
But that brings me onto the next point…
You Might Also Like:
Can You Trust Rat Race Rebellion?
You definitely can! Rat race Rebellion claims to have posted over 375,000 work from home job opportunities over the years and we don't doubt that. Their job listings are as frequently updated as you would like them to be.
They have a very active Facebook page as well. Not only do they post regularly but there is a very good level of community engagement as well. Engagement with the community is the biggest plus point about any such service. It's very easy to assess the legitimacy of a forum and get some real user feedback too.
However, you must play smart while you are at it. There are job listings that are easy to assess. It takes only basic research to trace everything about them. It's only wise to work with someone with a good repute.
For listings like, get paid to fill surveys or for taking photos on your phone type of gigs, you should make a complete assessment on your own. Don't just jump onto the offer because it was listed on Rat Race Rebellion and you needed some extra cash. Being smart is important!
And that brings me onto…
My Verdict – Is Rat Race Rebellion a Scam?
No, it isn't! Rat Race Rebellion is NOT a scam. There is nothing about this website that can make you think of it as a scam. If offers diverse job opportunities for people who wish to work from home. And it has been there for a very long time and is still actively updated.
As stated above in our Rat Race Rebellion review, one can trust this website for its legitimacy but must be smart with the offers you chose to take up as some of them may see you working a lot of hours for very little in return (such as the paid surveys gigs).
Also I would like to point out that whilst jobs are good in the sense that you can get paid directly in return for your time, they generally don't provide the overall "best" way to make money online because you only have so many hours you can work in a day.
For example, if a job pays $5 per hour & you can only work 10 hours, you are only going to earn $50 per day… Whereas with something else like affiliate marketing, for example, you don't have to work directly for your money & instead you can build up a larger income.
The reason for that is because affiliate marketing is sales-based, so once you post your links online & people start buying things through them then you will start earning commissions – and you can simply keep on publishing more links to increase your income.
That's the "basics" of it anyway but as you can imagine there is a little more to it – if you're interested in learning more about it though & getting started with it then you can do so for free over at Commission Academy.
You could do it as an addition alongside your job & then once you build up a good income with it you could potentially even take it full-time.
On top of that, there are also these other great ways to earn online as well.
But whatever you decide to do I simply hope that my review of Rat Race Rebellion here has given you a good insight into the company & what you can expect & I hope it's also given you some good alternatives to try as well.
If you still happen to have any further questions or comments though then, of course, don't hesitate to leave them below. 🙂
A Better Alternative
The sad truth is that unfortunately most of the programs promising to help you make money online are scams. I can say that confidently after exposing over 500+ of them here on this blog.
But the good news is that even though most of them are indeed scams, there are actually some very good programs in amongst them - some programs that can truly help you to earn money.
And out of all of the legit programs I've seen, the one I would recommend the most to anybody looking to get started online is Commission Academy. In my own opinion, that's the best place to start.
At Commission Academy, you'll be provided with everything you need (including the training & tools) to begin earning real money by promoting products or services for companies like Amazon online.
The best part is that there's literally no limit on the amount you can earn with it & the process is pretty simple which means that it's absolutely perfect for people that don't have much experience.
Some wealthy affiliates even earn as much as 5-figures per month... Or more!

I mean don't get me wrong, that kind of money won't just fall into your lap without doing any work... But the harder you're willing to work at it, the more you stand to earn with it.
So if you're looking to get started but don't know which route you should go down or which program you should join (and don't want to waste money on bogus things that don't actually work), then I'd highly recommend checking out Commission Academy first. You can learn more about it here.