The Renegade Crypto Club is a newly launched ClickBank product that's been allegedly put together by a guy named Adam Neill & it claims that it can enable you to begin earning thousands of dollars per day from cryptocurrencies.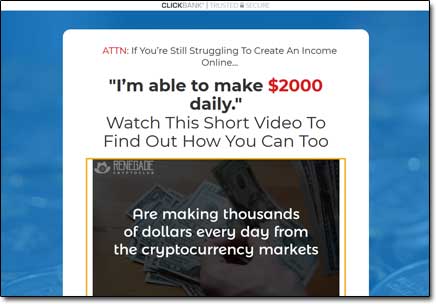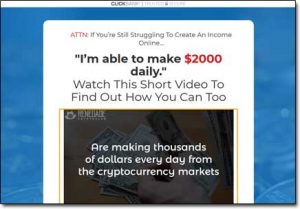 You're led to believe that if you have just a mere $5 you can get started & begin making money right away…
But is it actually legit & is Adam Neill even a real person? Or will the Renegade Crypto Club scam you instead?
Thankfully if that's what you've been trying to find out you've landed in the right place as I've taken a closer look into how it all works & in this honest review, I'll be uncovering the truth – as well as outlining whether or not you can actually make any money with it.
What Is Renegade Crypto Club?   |   How Does Renegade Crypto Club Work?   |   It's NOT Risk-Free   |   Is Renegade Crypto Club a Scam?   |   A Better Alternative
What Is Renegade Crypto Club?
As I briefly touched on above the Renegade Crypto Club system has allegedly been put together by a guy named Adam Neill & access to it is currently being sold through a 3rd party network named ClickBank.
Whilst ClickBank as a company themselves are legit, sadly a lot of scams appear on their network & so as a result you often have to be extra careful when looking into a product sold via them. This past month alone I've exposed several "suspect" systems from ClickBank such as the Digital Formula system & the Click 4 Surveys program. Despite portraying themselves as legit money makers I came to the conclusion that in reality they were just set out to take your cash not to help you make it…
Will the Renegade Crypto Club be any different? Well, to be honest with its extremely bold claims I'm not too confident that it will be. It also shares several other traits with those scams I've previously exposed too.
I mean Adam Neill, the creator states that with just a $5 investment his program will show you how you can immediately build a $2,000 per day income – even if you're totally brand new to cryptocurrency.

To be honest, if somebody told you that they could turn $5 into an income of $2,000 per day through some other means you'd probably just laugh it off… But because the magic word "cryptocurrency" is involved you might be thinking that it could potentially be legit…
After all no doubt you've probably heard the stories of all the "overnight Bitcoin millionaires" right?… So maybe you can make lot's of money FAST from crypto??

Well sadly the first thing I want to point out is that the whole Bitcoin thing was a very, very exceptional case – and in the grand scheme of things there weren't actually a huge amount of people that went on to profit from it. In fact, after it's recent decline many people have actually LOST money with Bitcoin.
And since Bitcoin despite thousands of other cryptocurrencies launching none of them have gone on to scale as quickly as BTC.
But what I've noticed is that despite the Bitcoin wave halting, there's been an increase in the number of "crypto money maker" programs… One reason for that is because crypto has gained a lot of interest – but unfortunately another reason is that many of the creators of these programs are looking to take advantage of people & part them with their cash.
The bad news is that the Renegade Crypto Club is one of them. It's totally overhyped & when I explain how it works below you'll see why there's absolutely no way that you'll be able to make the promised money from it…
Adam Neill the guy behind it is also a phoney too. The name is fictitious & has just been used to hide the true identity of the real person that's actually behind it – because he (or she) is just out to con you.
How Does Renegade Crypto Club Work?
In short the whole thing simply does not work as promised & in reality is nothing but a trick to get you to hand over your cash so that the creator of the whole thing can earn some $$ at your expense. Harsh, but true!
So basically upon landing on the Renegade Crypto Club you're told by Adam Neill that you're going to get access to some super-powerful method for generating tons of money from cryptocurrencies. The method involves trading something called Alt Coins.
Alt Coins, as the name suggests are alternative coins – so basically they consist of all of the other coins than the mainstream coins. As an example you'll have the biggies like Bitcoin, Ethereum & Ripple which you might have already heard of… Then all of the rest that launch are what's referred to as the Altcoins.
Some example Altcoins that I've reviewed on this blog include the likes of DragonChain (the Disney coin), DasCoin & Giracoin. Not all are legitimate though – instead, some, like DasCoin are just Ponzi scheme cover-ups. Rather than the coin serving a legitimate purpose, the whole thing is just a scheme being used to pass money about through a pyramid-like structure.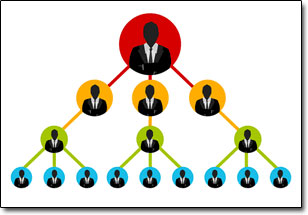 But the idea is that Altcoins are more accessible, and have the potential to grow much more quickly. The reason for this is because they're cheap since they're new to the market, whereas coins like Bitcoin cost thousands of dollars (making them out of reach for most).
It's an interesting theory – and it can seem like a great deal. After all if you invest $0.01 in something and it rises like Bitcoin does you'd stand to make millions… The problem though is that like I mentioned earlier in this review since Bitcoin this has never happened.
So the truth is that whilst you could stand to make money – the likelihood is you won't. Instead you'll be much more likely to end up losing money as you spread investments out in coins that just totally flop (like most Alt Coins do).
And even if you do find an Altcoin that goes on to increase in value, don't expect it to happen fast. Most coins take years to rise in value by a few cents so to see any chance of a speedy profit you'd have to have a lot of money invested which again introduces more risk.
You Might Also Like:
100% Risk-Free – Simply Not True
As I mentioned in the previous section of this review trading cryptocurrencies is risky business. The faster you wish to profit, the more risk you put your money under, the more you want to profit… Once again the more risk you put your money under.
And it's not just cryptocurrency trading that carries risk – ALL trading carries risk. Heck if there was a way we could trade without any risk we'd all be trading… Nobody would be left working a job!
Sadly it's simply not true, yet despite that our guy Adam Neill claims his Renegade Crypto Club system is 100% risk-free which is just flat-out BS. That's just proof the system is based on lies & deceit.

Which brings me swiftly onto…
Is Renegade Crypto Club a Scam?
It's a hard one – I can't really call the Renegade Crypto Club a scam as such because you do actually get provided with some training on trading cryptocurrencies in return for your money… But there is simply no way it will help you make the amounts of money that you're promised via the website prior to signing up.
In fact, the training that you're given likely won't help you make any money at all because as I mentioned trading Alt Coins is tricky business & it's nowhere near as straight forward as Adam Neill makes out.
The other disappointing thing you'll find out is that you can actually find the training that's provided to you elsewhere online for free. There's nothing "secret" or special, the person behind the Renegade Crypto Club has just repurposed free cryptocurrency training that's already been published at various other places on the web.
So overall it's clear for me to see that the person behind the whole thing is just set out to make money at your expense rather than help you make it & for that reason I won't be recommending it to you.
Instead if you really want to learn how to make money online I suggest you just check out a proven & legitimate program such as Commission Academy instead which is actually completely free to get started with.
It's at a place like that where you'll get the proper tools & training you need to find success – and even if that particular program doesn't take your fancy there are still plenty of other legitimate ways to make money online that you could try.
But whatever you decide to do I just hope my review of the Renegade Crypto Club here has given you the information that you were looking for & has helped you save some cash. If you do still have any further questions then don't hesitate to leave them below & I'll get back to you ASAP.
A Better Alternative
The sad truth is that unfortunately most of the programs promising to help you make money online are scams. I can say that confidently after exposing over 500+ of them here on this blog.
But the good news is that even though most of them are indeed scams, there are actually some very good programs in amongst them - some programs that can truly help you to earn money.
And out of all of the legit programs I've seen, the one I would recommend the most to anybody looking to get started online is Commission Academy. In my own opinion, that's the best place to start.
At Commission Academy, you'll be provided with everything you need (including the training & tools) to begin earning real money by promoting products or services for companies like Amazon online.
The best part is that there's literally no limit on the amount you can earn with it & the process is pretty simple which means that it's absolutely perfect for people that don't have much experience.
Some wealthy affiliates even earn as much as 5-figures per month... Or more!


I mean don't get me wrong, that kind of money won't just fall into your lap without doing any work... But the harder you're willing to work at it, the more you stand to earn with it.
So if you're looking to get started but don't know which route you should go down or which program you should join (and don't want to waste money on bogus things that don't actually work), then I'd highly recommend checking out Commission Academy first. You can learn more about it here.