The Secret Income Club is a website that presents you with a new money-making opportunity each time you refresh the page & each of the opportunities promises you the ability to achieve easy online riches, even if you're brand new.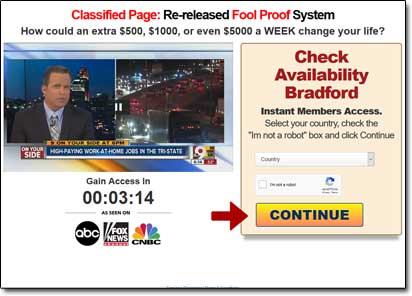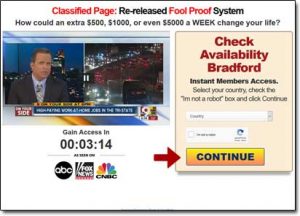 Some of the systems presented to you through the Secret Income Club claim to "foolproof" and complete "done-for-you"…
But are they actually legit?
Or is the Secret Income Club a scam that'll just end up parting you with your cash instead?
Thankfully if that's what you've been trying to find out you can rest assured you've landed in the right place as I've taken a closer look into how it all works & in this review I'm going to be uncovering the truth about what's really going on.
What Is The Secret Income Club?   |   How Does The Secret Income Club Work?   |   Is The Secret Income Club a Scam?   |   A Better Alternative
What Is The Secret Income Club?
The Secret Income Club has recently been getting heavily promoted through email marketing campaigns & social media sites such as Facebook but if you've visited the website yourself you'll probably have noticed that it's a little peculiar.
The reason I say it's peculiar is that upon landing on the Secret Income Club website you're presented with a seemingly amazing money-making opportunity, but after refreshing the page you're presented with yet another different one, again which also seems amazing.


And this keeps on happening literally every single time you refresh the page. Some of the sites I have personally seen getting promoted through it include the Money Sucking Websites system & the AZ Formula but there are many more than that altogether.
So I've had a lot of people reaching out to me and asking me about it. Are any of the opportunities promoted via it actually legit? Or are they just scams that are set out to take your money?
Well sadly since I've already exposed several of the programs that the Secret Income Club promotes (like the Amazon Cash Websites system) I can tell you right from the off that it is indeed a scam – but keep on reading & I'll explain exactly what's going on.
How Does The Secret Income Club Work?
So the Secret Income Club is getting promoted as a website that provides people with access to great opportunities that can enable them to make money quickly as easily & it leads you into believing that you can just sign up to any of the opportunities it recommends to start making money almost right away…
In the promotions, the creator makes out as if he has scoured the web and found the best or "secret" ways to make money that nobody knows about and that he's giving you access to them through his club…
But that's all just total BS.
The truth is there's only 1 person that will be making money from the Secret Income Club & that's the creator himself. He's set the whole thing up just as a con to make money at other people's expense.
You see the guy behind it all is what's known as a rogue affiliate marketer. Affiliate marketing itself is a legitimate way to earn money online & it's actually a very good way to do so. You just promote products from 3rd party companies & you earn commissions on any sales that you manage to generate.
Many people (including myself) earn a living from affiliate marketing & if you're personally interested in learning more about it or getting started with it yourself then you can do so for free over at Wealthy Affiliate.
But basically there are some affiliates out there who are earning their commissions by pushing people into scams – and this is exactly what the creator of the Secret Income Club program is doing.
Rather than promoting products from legitimate websites to earn his commissions (like Amazon for example) – he's promoting known scams or get-rich-quick schemes from sites like ClickBank.
The reason he's doing that is that he'll be getting paid big commissions but the problem is that these commissions are coming out of the pockets of the people who are getting scammed by the programs.
You Might Also Like:
Here's a Breakdown of What He's Doing:
The creator of the Secret Income Club has affiliated himself with various get-rich-quick scams
This means he has the ability to earn commissions by getting people to sign up & invest in them
He's created the Secret Income Club which redirects people to one of the scams (via his affiliate link)
He promotes his Secret Income Club website on social media & lures people in
He cashes in when they invest, whilst the members are left to find out the systems don't really work as promised
Hopefully that all makes sense, but basically the short story is that NONE of the programs promoted via the Secret Income Club website work as they say they do & instead of helping you make money all they'll really do is make you lose money.
Which brings me onto…
Is The Secret Income Club a Scam?
Well the Secret Income Club itself technically isn't a scam since it's just a website that redirects you through to a whole bunch of other different places, but the places that it does redirect you through to are all scams.
So it's safe to say that I won't be recommending the Secret Income Club to you because as far as I'm concerned it's nothing but bad news & there's no way you'll make money by going through any of those programs. I've already exposed most of them right here on this blog, such as the 5 Minute Profit Sites & Tube Crusher (both of which are pushed via the Secret Income Club).
Ultimately like I say it's just set out to make its creator wealthy at your expense – it's not actually set out to help you at all & therefore if you join anything via it you'll just find yourself disappointed.
But if you do really want to learn how to properly make money online then don't forget to check out Commission Academy the program that I mentioned earlier in this review. It's there that you'll get the proper training & tools you need to really get started & the process there is proven to work.
If of course though you do still happen to have any questions or comments about this particular system then don't hesitate to leave them below & as always I'll get back to you ASAP. Hopefully, though my review here helped you save some cash.
A Better Alternative
The sad truth is that unfortunately most of the programs promising to help you make money online are scams. I can say that confidently after exposing over 500+ of them here on this blog.
But the good news is that even though most of them are indeed scams, there are actually some very good programs in amongst them - some programs that can truly help you to earn money.
And out of all of the legit programs I've seen, the one I would recommend the most to anybody looking to get started online is Commission Academy. In my own opinion, that's the best place to start.
At Commission Academy, you'll be provided with everything you need (including the training & tools) to begin earning real money by promoting products or services for companies like Amazon online.
The best part is that there's literally no limit on the amount you can earn with it & the process is pretty simple which means that it's absolutely perfect for people that don't have much experience.
Some wealthy affiliates even earn as much as 5-figures per month... Or more!

I mean don't get me wrong, that kind of money won't just fall into your lap without doing any work... But the harder you're willing to work at it, the more you stand to earn with it.
So if you're looking to get started but don't know which route you should go down or which program you should join (and don't want to waste money on bogus things that don't actually work), then I'd highly recommend checking out Commission Academy first. You can learn more about it here.