The Secret Millionaire Bot system has allegedly been put together by a man named Charles Allen & it promises to provide its visitors with a way to access a so-called "secret" method for generating as much as $2,479 per day, all on complete auto-pilot…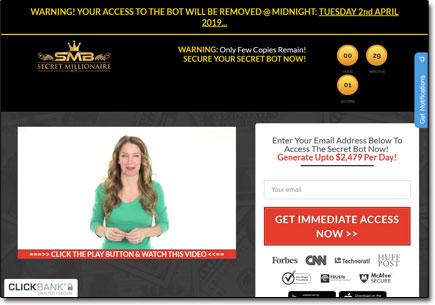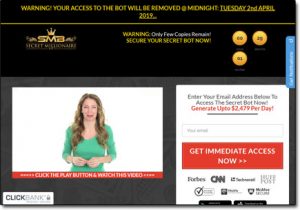 You're led to believe that even if you're brand new to making money online that you can still profit with this system, but frankly that just sounds way too good to be true… So what's the truth? Is it really legit & can you really make any money with it or is the Secret Millionaire Bot a scam that's purely set out to rob you of your cash?
Thankfully you've landed in the right place to find out for certain as I've personally taken a closer look into it to see exactly how it all works & in this honest review I'll be uncovering the REAL truth – including of course whether or not you'll actually find yourself earning anything with it. So keep reading to find out everything you need to know.
What Is The Secret Millionaire Bot?   |   How Does The Secret Millionaire Bot Work?   |   Proof It Doesn't Really Work   |   Is The Secret Millionaire Bot a Scam?   |   A Better Alternative
What Is The Secret Millionaire Bot?
Ultimately the Secret Millionaire Bot claims to be some "robot" system that most millionaires apparently use to make their millions… But according to Charles Allen (the guy you're told has created it) most millionaires that use it also want to keep it a secret…
However Charles being a "good guy" (as he claims) has decided to reveal it to the world, and give ordinary people access to it…
So you're basically led to believe that you'll be able to simply sign up to his system through his website, activate the so-called Secret Millionaire Bot & then begin earning as much as $2,479 per day all on complete auto-pilot… Even if you've never earned so much as a single penny online before.

The problem though is that it's all complete lies…
In reality the Secret Millionaire Bot is nothing but a scam that's set out to take your cash in order to make its creator wealthy at your expense – and I can tell you that the real creator likely isn't really named Charles Allen.
I've seen many similar scams launch before & generally the real creators of these things tend to hide behind fake aliases. As you'll also soon see the girl presenting the video (who claims to have made money from the system) is also a phony too.
But to be honest I'll admit I had my suspicions about this thing right from the off literally right after hearing the words "secret" and "millionaire" bundled together because I've exposed MANY a "secret millionaire" scam in the past, such as…
…and the list goes on, but I imagine you probably get the idea… However don't worry as I don't just expect you to take my word for it when I say it's a scam, after all I appreciate that you might have been hoping it was going to actually work for you…
So instead continue reading & I'll show you exactly how it really works below so that you can see first-hand for yourself what's actually going on (and why the whole thing won't work as promised)…
How Does The Secret Millionaire Bot Work?
Well in short the Secret Millionaire Bot doesn't actually exist – and if you happen to hand over your cash (which I don't recommend doing) you'll simply be left to discover the hard way that there is no "bot" after all.
Instead all of the content on the homepage (aka the sales page) of the Secret Millionaire Bot is just hype & it's been put together to trick you into paying some money so that the creator can cash-in at your expense.
What you actually get after handing over your money is something totally different, it's some extremely basic training on a method called affiliate marketing – and this is where things get a little confusing because affiliate marketing in itself is actually legit.
In fact affiliate marketing is actually the exact same way that I personally generate most of my own income online.
The problem though is that whilst affiliate marketing is legit, the training provided via the Secret Millionaire Bot system is just BS. It literally just discusses the basics & doesn't really help you get started.
But I know what you might be thinking right now – what the heck is affiliate marketing anyway?
Well affiliate marketing is basically where you connect people with the products that they're looking for online & get paid commissions in return for doing so. So for example you could sign up as an affiliate of Amazon, promote products from their website & earn money if anybody happens to click on your links & make a purchase.
Here's a visual example to hopefully make things easier to understand: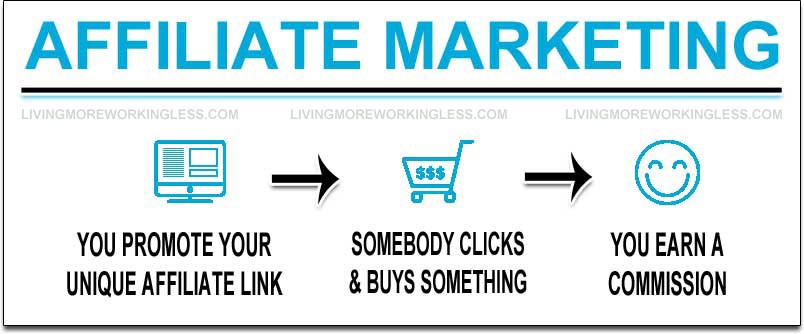 Like I said above affiliate marketing itself is a legit & actually very good way to make money – and there are legitimate places such as Wealthy Affiliate where you can properly learn how to achieve success with it.
But basically the Secret Millionaire Bot system is not really interested in helping you seeing success – it's just interested in getting you to spend as much money as possible instead which is why it's so hyped up.
There is NO way you could earn so much money so quickly & easily – if there was, everybody would be doing it.
And come on, if the system really worked as promised then why on earth would the creator be charging $9 for people to access it? People would easily pay hundreds of thousands for a system that could generate them millions per year… So it would either be given away for free, or come with a fee that's out of reach for most non-millionaires anyway.
It should be quite clear here that this proof the creator is just trying to cash in through lies & deceit… But just in case it isn't…
You Might Also Like:
More Solid Proof That It Doesn't Work
The main way these systems manage to sucker so many people in is by setting seemingly low "entry fees" that make people want to try it out anyway… The creator wants you to think "what the heck, it's only $9″…
However what they don't tell you about is all of the upsells on the inside, and they don't tell you that they are 1-click upsells either. This basically means that after handing over your card details to the Secret Millionaire Bot system you could find yourself getting hit with additional charges every single time you click.
So people get in to "try it out for $9", but then find themselves being charged hundreds of dollars in extra fees as highlighted below:

The image above is taken from the ClickBank marketplace & it's the affiliate listing created by the owners of the Secret Millionaire Bot which explains to affiliates how much they can make by promoting it.
Take note that they claim to be paying $400 per sale (and they'll still be making a profit for themselves on top of that) so clearly the whole thing is going to end up costing you a LOT more than a mere $9.
But I don't want you to get lured in by their seemingly small fee of $9 so instead I want to give you the hard proof below so that you can see for yourself it 100% doesn't work without having to put your money at risk…
1. The Fact They're Paying Affiliates To Promote It
The fact that they're paying affiliates to promote their program alone says that it clearly doesn't work as promised – because if it did, and if could generate people so much money so easily then they wouldn't need to pay anybody to promote it… It'd quickly promote itself through word of mouth.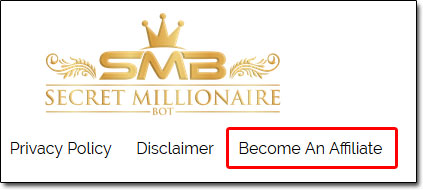 Furthermore, why would they go to the effort to pay affiliates to promote it? What are they getting out of it? Hint: they're cashing in at the expense of every single person that signs up!
And on top of all that, if it really did work as promise then why on earth would affiliates waste their time promoting it in the first place? Surely it'd be easier to just sign up to the Secret Millionaire Bot & make $2,479 per day without doing anything than to try to sucker other people into it & earn measly commissions at their expense.
I think this alone quite clearly shouts out "it doesn't work!".
2. The Website Is Full of False Scarcity
Admittedly some websites do use genuine countdown timers and stuff, for example in the instance of offering a Black Friday deal or something like that… But a lot of these scam systems also use them in an attempt to rush you into purchasing.
The timers these scam systems use though are all fake. For example the Secret Millionaire Bot states that only a few copies remain & that access to the bot will be revoked at midnight etc… But none of this is true.

They just don't want you to feel like you have time to search for reviews of the Secret Millionaire Bot because they know that if you do, you'll almost certainly find out hat it's actually just a big fat scam.
3. Paid Actors Claiming To Have Made Money
If a system was really able to generate people thousands of dollars per day all on complete auto-pilot then do you really think the creators of it would have to pay people to say good things about it? I sure as heck don't think so…
So then why on earth have they paid the girl in the video to claim she has been making money with it, when she quite clearly hasn't?
Yep that's right – the girl pictured below says in the video that she has made $221,000 in just 2 months through the system, yet despite that she is selling acting services for $5 a piece on the website Fiverr.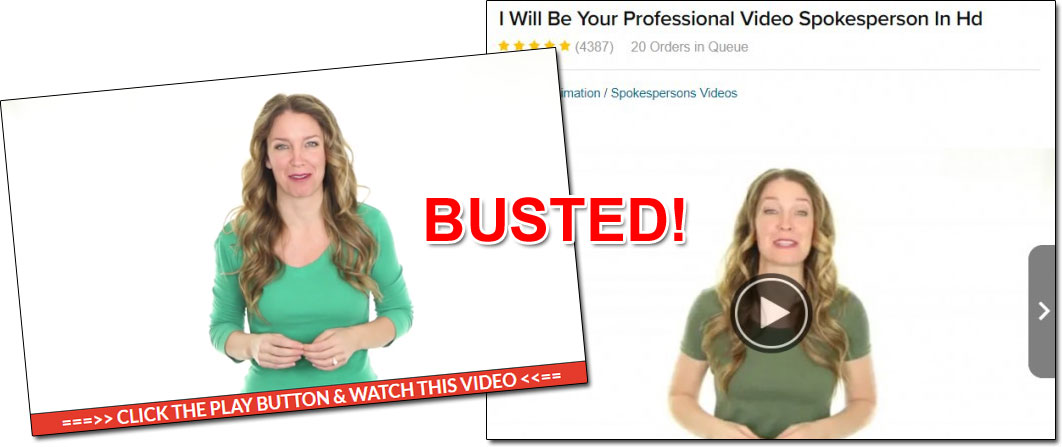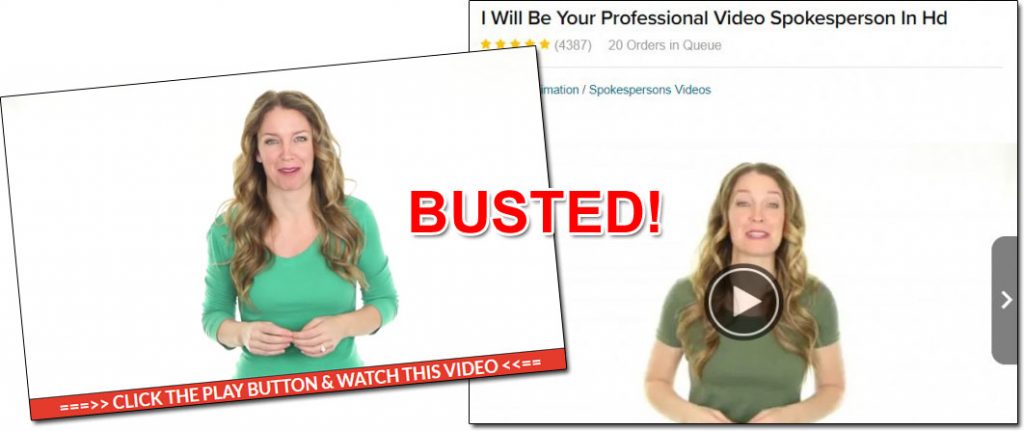 Would somebody earning $221,000 every 2 months really need to work tirelessly producing videos for random people online in order to earn a few extra $5 here and there? I highly doubt it…
And that all brings me nicely onto…
Is The Secret Millionaire Bot a Scam?
In my opinion yes, the Secret Millionaire Bot is indeed a scam. I mean don't get me wrong as I mentioned towards the start of this review you do indeed get access to "some" training on affiliate marketing inside, but that's totally different to what you were promised which is why I've come to the verdict of calling it a scam.
As far as I'm concerned it is misleading, deceitful & built upon lies. The reality is that it's not really set out to help you like it claims – instead it's just set out to take money from you so that the creator can cash-in at your expense.
The "entry-fee" has been set at an extremely low $9 on purpose to make you feel like trying it out but as soon as you do (which I don't recommend) you will be hit with several additional charges that bill you with just 1 click. This means you could find yourself being charged hundreds of dollars when in reality all you were actually willing to spend was just $9.
So for all of those reasons I am going to be strongly advising that you steer clear of the Secret Millionaire Bot & instead if you really want to build an income online then stay safe & stick with my list of legitimate top picks.
Or alternatively go straight to my number 1 recommended platform Wealthy Affiliate where you will get all of the tools and training you need to build a full-time income & thriving business through affiliate marketing.
But whatever you decide to do I just sincerely hope that my Secret Millionaire Bot review here has helped you to dodge it & save some cash. If of course though you still have any further questions or comments then don't hesitate to leave them below & I'll get back to you as soon as I can. 🙂
A Better Alternative
The sad truth is that unfortunately most of the programs promising to help you make money online are scams. I can say that confidently after exposing over 500+ of them here on this blog.
But the good news is that even though most of them are indeed scams, there are actually some very good programs in amongst them - some programs that can truly help you to earn money.
And out of all of the legit programs I've seen, the one I would recommend the most to anybody looking to get started online is Commission Academy. In my own opinion, that's the best place to start.
At Commission Academy, you'll be provided with everything you need (including the training & tools) to begin earning real money by promoting products or services for companies like Amazon online.
The best part is that there's literally no limit on the amount you can earn with it & the process is pretty simple which means that it's absolutely perfect for people that don't have much experience.
Some wealthy affiliates even earn as much as 5-figures per month... Or more!

I mean don't get me wrong, that kind of money won't just fall into your lap without doing any work... But the harder you're willing to work at it, the more you stand to earn with it.
So if you're looking to get started but don't know which route you should go down or which program you should join (and don't want to waste money on bogus things that don't actually work), then I'd highly recommend checking out Commission Academy first. You can learn more about it here.