I came to know about Survey Freedom via an email from a follower just a few days ago and decided to investigate this website. The term freedom is deliberately used in the name as the website claims that this platform offers you extended freedom of taking surveys, sharing your opinion, and earning as much as you like.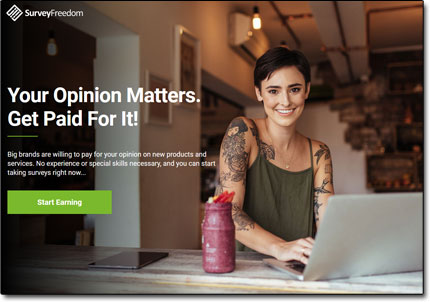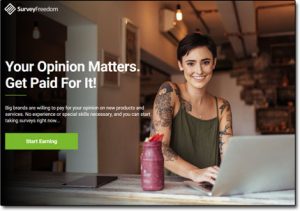 Well, these are the claims we come across daily but most of them turn out to be fake. During the process of investigation for Survey Freedom review, I found various strange things I want to share with my readership.
This Survey Freedom scam review is going to lift the curtain behind which something malicious is taking place. Here, you will come to know what exactly this website does and how it attracts you by making lucrative claims.
What Is Survey Freedom?   |   How Does Survey Freedom Work?   |   How Much Can You Earn?   |   Is Survey Freedom a Scam?   |   A Better Alternative
What Is Survey Freedom?
Survey Freedom is no different than other survey websites promising various ways to win gifts and earn money. The level of hype is similar to what you experience with most of the scams. This platform promises the provision of high-paying surveys ranging from $5 to $15… Which is just outrageous.
Most of the survey websites – though they are also exaggerating – don't dare to push things to anything above $5 but in this case, Survey Freedom is starting its claims from $5. That is interesting, so even if you come across surveys paying $5, you are probably going to earn at least $100 a day.
Realistically speaking, most of the legitimate surveys require at least 10 minutes of your time and they hardly pay anything above $2. Plus there is the issue of frequency as most survey sites only provide 1 or 2 surveys per day at most.
So whilst at a glance paid surveys can seem like a relatively easy way to make money online, they generally don't really provide much value in return for your time & are unlikely to see you earning a full-time income.
In my opinion there are many better legitimate alternatives, but in case you are specifically interested in paid surveys let's take a closer look into Survey Freedom to see if it really lives up to its high-paying claims…
How Does Survey Freedom Work?
Sometimes, even the readers start to find justifications. The mail I received actually mentioned that this website is bringing in surveys from big names, YourSurvey and Toluna, etc. but they are not!
Survey Freedom is basically relying on affiliate commissions. This website redirects you to different survey-providers. Well, it might not trigger suspicion in the minds of many but I am starting to take it seriously at this point.
Any website that redirects you to a third-party page can be malicious for various reasons. Here we are talking about surveys, and most of them are after your personal information.
The worst part is that each new link generally asks you to register. You have to go through the registration process over and over again which is frustrating. I've found that Survey Freedom is promoting InboxDollars, i-Say, and Survey Junkie – at least supporting them if not promoting these platform.
Whatever you earn, Survey Freedom gets a cut and there is nothing bad in earning commissions as they are facilitating you with an opportunity to earn something during your free time.
It is important to mention that Survey Freedom is a free platform. You don't have to purchase a plan or pay any registration fee.
Signing Up
They simply ask you to fill a form providing basic information about you, including your gender and the amount you want to earn. They actually present you with a list of income slots starting from $500 to $5k (as shown below):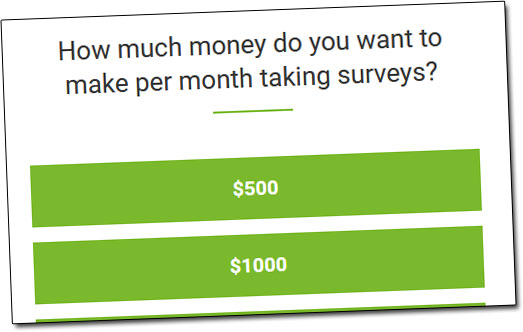 Well, tell me if you know someone earning at least $500 a month only by participating in online surveys, because I sure as heck don't!
The Harsh Truth…
Don't forget that survey sites don't give you the freedom of participating in any survey you like. Most of the times you click on an opportunity only to know that you don't qualify for that particular survey.
Survey Freedom, however, greets you with a message announcing that you qualify for over 3k surveys. There is no need to get excited though. They just show you this message to encourage you to provide your name and email address to the links they take you to…
Then they ask you to join those 3 platforms inviting you to participate in over 3000 online surveys. Then, each of these sites sends you different emails containing various instructions about payouts and earning. Yes, these websites are legitimate but can you really earn $500 a month, at least?
How Much Can You Earn With Survey Freedom?
To be honest, you don't earn anyway near $500 a month from these surveys. They classify surveys according to age, gender, location, and various other things. Before it takes you to the survey, first you have to fill a form to know if you qualify or not. It takes a couple of minutes and you have to go through this routine every time before taking a survey.
Why don't they save your information once? We don't have an answer!
You can make up to $50 a month, realistically speaking! But still, it is going to take a lot of time in front of the screen. This certainly isn't worth your time in my opinion as there are many better paying alternatives available as far as I'm concerned.
Which brings me onto…
Is Survey Freedom a Scam?
I'd like to conclude this Survey Freedom scam review by saying that you need to avoid such websites. It is not a scam but you are not going to make even 10th of what they claim. They are earning affiliate commissions so they don't have to sit in front of the screen for hours to earn something which could buy you a burger.
Secondly, most of the advertising agencies are running such websites with a primary objective of extracting your personal information which they sell repeatedly to different companies. Are you ready to reveal your personal information to anyone for just $2? It's your call!
So with that being said I am not going to be recommending Survey Freedom & to be honest as I mentioned throughout this review I do not really recommend paid surveys in general as I believe there are better alternatives available.
One of the best alternatives in my opinion is something called affiliate marketing which is actually the same way that I personally make most of my own money online & the amount you can earn with it is totally uncapped.
With affiliate marketing you just have to connect people with products/services online & you get paid commissions in return by the companies that you're promoting. It's very straightforward & you can even learn how to get started with it for free over at Commission Academy.
So if you're looking for something higher paying than paid surveys I'd definitely recommend you check out Wealthy Affiliate before you leave, or at least one of these other alternatives from my top picks page.
Whatever you decide to do though I just sincerely hope that my honest review of Survey Freedom here has given you a good insight into how the company really works & hopefully you can now see that their claims are wildly exaggerated. Feel free to leave any comments or questions below. 🙂
A Better Alternative
The sad truth is that unfortunately most of the programs promising to help you make money online are scams. I can say that confidently after exposing over 500+ of them here on this blog.
But the good news is that even though most of them are indeed scams, there are actually some very good programs in amongst them - some programs that can truly help you to earn money.
And out of all of the legit programs I've seen, the one I would recommend the most to anybody looking to get started online is Commission Academy. In my own opinion, that's the best place to start.
At Commission Academy, you'll be provided with everything you need (including the training & tools) to begin earning real money by promoting products or services for companies like Amazon online.
The best part is that there's literally no limit on the amount you can earn with it & the process is pretty simple which means that it's absolutely perfect for people that don't have much experience.
Some wealthy affiliates even earn as much as 5-figures per month... Or more!


I mean don't get me wrong, that kind of money won't just fall into your lap without doing any work... But the harder you're willing to work at it, the more you stand to earn with it.
So if you're looking to get started but don't know which route you should go down or which program you should join (and don't want to waste money on bogus things that don't actually work), then I'd highly recommend checking out Commission Academy first. You can learn more about it here.