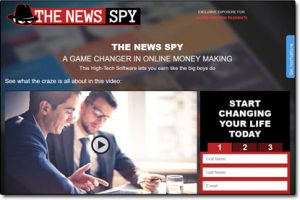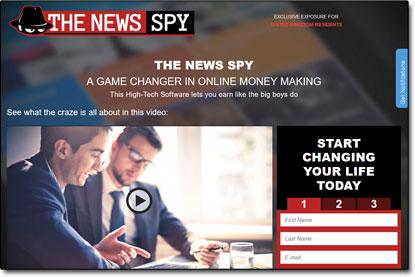 Earlier today I came across a website named The News Spy which was promoting a trading app that could allegedly (according to its own claims) enable you to "earn like the big boys do"…
The website led you to believe that The News Spy trading app was a piece of high-tech software that could scan news sources 24/7 & predict trends to enable you to generate guaranteed profits on autopilot from online trading…
But it also claimed that members earn an average of $1,500 per day from the system which just sounds WAY too good to be true… So I decided to take a closer look into it & in this honest review of The News Spy trading app I'll be uncovering everything there is you need to know. 🙂
Firstly though I'll point out that it didn't top my existing number 1 recommendation (and you'll see why in a moment) so if you just want to go straight to my number 1 recommendation instead then you can do so via the link below:
Go here to see my no.1 recommendation for making money online
(This 100% free training shares my exact strategy for making 5-figures per month)
Click Here To See My #1 Recommendation For Making Money
Or keep reading for all the details…
What Exactly Is The News Spy Trading App?
The News Spy trading app is an app that claims to leverage high-tech software to be able to detect upcoming trends in the markets by monitoring relevant news sources 24 hours, 7 days a week.
You're led to believe that through the app you'll be able to make guaranteed profits of over $1,500 per day as the app will allegedly make automated trades on your behalf based on the so-called upcoming trends that it detects.

And what's more? The creator of it (who remains anonymous) claims that you can even access the app for free…
He claims that all you need to do is sign up, make a small deposit & then hit "trade" to begin making money entirely on autopilot… But there's one big problem with that, which is the fact that it sounds WAY too good to be true.
I mean if this thing were real then why isn't everybody using it? Why are people still working at jobs they dislike for less money if they can just "activate" The News Spy trading app & begin making millions on autopilot?
Well the answer is because it's 100% fake. Sadly The News Spy trading app is nothing but a scam & I can say that with absolute confidence because I've already exposed it before back when it was named the Bitcoin News Trader.
The creator of it has simply changed the name in an attempt to escape the negative reviews that surfaced so that he can continue tricking people into signing up to it in order to earn some money for himself at their expense.
But you don't have to just take my word for that, instead keep on reading & I'll explain exactly how it works (or should I say doesn't work) so that you can see first-hand for yourself what's actually going on…
How Does The News Spy Work?
So the concept is that you install the app, it monitors trends in the news, makes automated trades on your behalf & in turn provides you with an automated income… But what I can tell you is that that's complete BS.
The app doesn't really work like that – in fact there isn't even really an "app".
You see the whole thing is actually just a ploy to trick you into depositing with an unregulated binary options broker. A broker that'll then pretend that you're making money just to get you to deposit even more…
That is until you're left to find out the hard way that your winnings are fake & that the broker will never actually pay you.
Sadly I've seen these types of scams time & time again, but they keep appearing because they're so cunning. They lead you towards believing that it's risk-free & that you can simply deposit, try it out & then withdraw your cash if it doesn't really work.
What they don't tell you though is that the creator of The News Spy trading app is affiliated with the broker that you're "recommended" which means that if you sign up & make a deposit, he gets paid a big fat commission at your expense.
Then what do you get? You just get access to a fake trading system which isn't even connected to the markets. The system makes it seem like you're profiting to lure you into depositing even more cash, but eventually you'll be left to discover that it's not possible to make withdrawals.
The whole thing is a scam.
And there's one easy way to PROVE it's a scam – which is to tell you that binary options brokers only make money when you lose money. Unlike other brokers they don't add fees to their trades, which means if you win, they lose…
So how does that prove it's a scam?
Well think about it, if the binary options broker lost money every time somebody won then why on earth would they affiliate themselves & pay commissions to the person behind a system that can supposedly generate automated profits?
They wouldn't, no way – because it'd put them out of business. The real reason they've affiliated themselves with the person behind The News Spy system is because they actually know that the system is going to make you LOSE, not win.
But that's not the only way to prove it's a scam, there are actually several other red-flags too…
A Look At The Red-Flags
The first red-flag is the obvious one, the fact that it simply sounds way too good to be true… And as you likely know "if something sounds too good to be true then it generally is". In this instance it definitely is.
But there's also the fact that The News Spy trading app website fails to give any details away as to who's actually behind the whole thing. No company name, registered office address or anything…
And what's more important that's missing is a license, because to offer investment/trading related products (which The News Spy website does) they are required by law to have & display a license, which they don't.
You should NEVER invest via an unlicensed website regardless as to how good it appears to be because it is very likely a fraud. I even checked the regulatory databases for any records relating to "The News Spy" and there were none, so the website is definitely unlicensed.
On top of that though there's also the fact that the people shown in the video who claim to have made money from the app are all actually just paid actors that have been hired from the website Fiverr as shown below: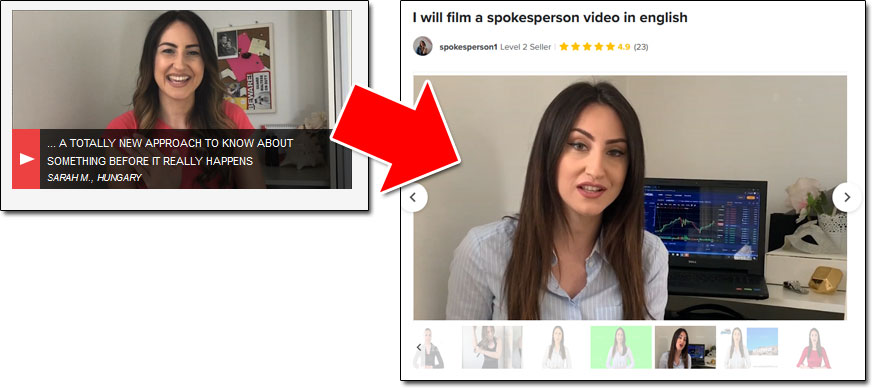 Which brings me onto…
My Verdict – Is The News Spy a Scam?
Yes 100%, The News Spy trading app is definitely a scam because the whole thing has been built on lies & deceit purely to trick you into depositing with an unregulated binary options broker so that the person behind it can earn commissions at your expense.
The "app" itself doesn't even exist & instead after depositing (which I don't recommend doing) you're just given access to a fake website which isn't even connected to any real markets. Your profits are then faked to trick you into depositing even more money…
The problem though is that whilst you're led to believe that you're winning, you're not & you'll never actually be able to withdraw any of the money that you've allegedly accrued. It's all just a big con.
Therefore it comes without saying that I do NOT recommend The News Spy, you should steer well clear of it & instead if you really want to make good money online you should stick with one of my proven top picks.
Or alternatively you could run with the same method that I personally use to generate most of my own income online which is something called affiliate marketing. It's easy to get started with & you can scale your income as large as you want (providing you put in the work).
The best part is that you can get started for free with it (or learn more) over at Wealthy Affiliate.
Whatever you decide to do though I just sincerely hope that my review of The News Spy trading app has given you a good insight into how it really works & hopefully it has helped you to save your money. Feel free to leave any further questions or comments below if you happen to have any. 🙂