WriteAppReviews.com promises to provide you with an easy way to make money by testing apps on your mobile phone or tablet & then sharing reviews of your experience online.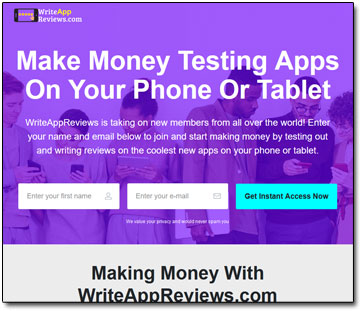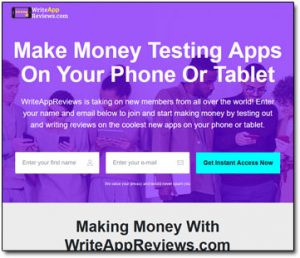 They claim that the process is "as easy as 1,2,3" & you're led to believe that you'll be able to begin earning money almost right away… But is the opportunity really as good as it seems?
Or is WriteAppReviews.com a scam to avoid?
Well, the good news is that you've landed in exactly the right place because in this honest review of WriteAppReviews.com I am going to be uncovering everything you need to know.
And I can tell you right from the off, WriteAppReviews.com is certainly NOT what it seems.
What Is WriteAppReviews?   |   How Does WriteAppReviews Work?   |   What Are The Costs?   |   The Red Flags   |   Fake Reviews   |   Can You Really Make Money?   |   Is WriteAppReviews a Scam?   |   A Better Alternative
What Is WriteAppReviews?
WriteAppReviews is a website that promises to provide you with access to an easy way for you to begin making money by simply downloading apps, trying them out & then publishing reviews online.
And naturally, it's gained a lot of attention – especially as it claims that members can join from anywhere in the world & that they could potentially make hundreds of dollars per day.
You're led to believe that all you need to do is;
Choose an app to test
Write about it
Make money
And I think you'll agree, that sounds like a pretty good deal.
But sadly, I can tell you right from the off that WriteAppReviews is not really as good a deal as it seems. In fact, it is actually just a rehashed version of something that was previously known as App Coiner.
And as far as I'm concerned, it's borderline a scam.
I appreciate that's a pretty bold claim to make but you'll see why I arrived at that conclusion as I explain exactly how it all works in the next section of this review below.
How Does WriteAppReviews Work?
Well, the official WriteAppReviews.com website leads you towards believing that you'll be getting access to some sort of "job" through which you'll be paid directly in return for the reviews you write.
But sadly that's not the case.
In fact, the reality is that you may not actually make any money with WriteAppReviews at all.
You see, WriteAppReviews doesn't really pay you for writing reviews. Instead, they just provide you with access to your own "done-for-you" website on which you can start publishing app reviews.
The idea is that you'll publish reviews on the website, the reviews will then get listed in search engines (such as Google), people will start visiting the website & then you'll be able to earn money from advertisements.
But as you've probably guessed, it's not quite as easy as they make it out to be.
I mean don't get me wrong here, you can certainly make money (and very good money) by creating content, getting it listed in search engines & promoting products to people as an affiliate…
It's literally the same way that I make money online myself.
But it's not going to happen with a duplicated, "done-for-you" website like the one that WriteAppReviews supplies you with… And especially not with the lack of training they supply you with either.
You see, getting content listed in search engines like Google is pretty easy… But in order to actually get visitors clicking through to your content, you need to get it ranked high within the listings & that's where it gets more difficult.
But WriteAppReviews doesn't mention that. Nor does it provide you with the training that shows you how to do it.
So you may get a done-for-you website & you may fill it with reviews, but you still won't find yourself making any money. Instead, it'll just be the creators who are making money & they'll be making it at your expense.
This is the reason they charge you to get access.
And whilst we're talking about charges…
What Are The Costs?
Whilst you're initially led to believe that WriteAppReviews is free, entering your email address to "get started" reveals that the program actually requires you to pay $27 to get access.
And for a mere $27 you may be tempted to try it.
But hold up before you do because $27 isn't actually the real cost of the program.
You see, immediately after handing over the $27 to get started you're presented with an additional upsell costing $97 & this supposedly gets you access to the "Express Pass VIP Area".
Without this upsell you're led to believe that you'll earn 10x less… So although they claim it's "optional", they stress that you'll need to buy it to stand any chance of seeing success.
This means the initial cost of $27 has now quickly escalated to $124 & it doesn't stop there because after the $97 upsell you're immediately presented with yet another 2 upsells.
These upsells attempt to get you to join Paid Social Media Jobs & Paid Online Writing Jobs for "extra profits" but I can tell you that both of those programs are actually just flat-out scams.
The reason I know that is because I've already reviewed them here on this blog.
So not only does WriteAppReviews try to immediately squeeze more money out of you but it also recommends that you sign up for various other make-money scams.
That's not a good sign, to say the least.
The Red Flags
The initial red flag I noticed after discovering WriteAppReviews is the fact that they give very little information away with regards to how it all actually works.
Yes, they briefly mention that you'll be downloading apps, reviewing them & getting paid but they go into no detail on exactly how the process works, how much you'll earn or how you'll be getting paid.
They certainly make NO mention of the fact that it involves affiliate marketing. Instead, they try to lead you towards believing that you'll be getting access to some sort of online job.
But that couldn't be further from the truth.
Through affiliate marketing you are building a business & whilst it makes for a fantastic way to earn money, it could take several weeks (or months) for you to begin earning your first commissions.
WriteAppReviews, of course, doesn't tell you about that.
Then, alongside that, there's also the fact that the WriteAppReviews.com website displays absolutely no ownership information whatsoever. What person or what company is behind the website?
There's no way of telling.
This means that paying $27 to WriteAppReviews would be as good as handing $27 to a stranger in the street. They could disappear at any moment without a trace, along with your money.
Not good!
But it seems that the creators of WriteAppReviews have a trick up their sleeves when it comes to convincing people into thinking that it's legit & getting them to sign up for their program…
Fake Reviews
One of the main reasons so many people have been getting caught out by the WriteAppReviews.com scam is because the creators have made a major effort to flood the search engine with fake reviews.
So this means that if you search for something like "WriteAppReviews review", "is WriteAppReviews.com legit?" & "WriteAppReviews scam" in Google, then you'll be confronted with fake positive reviews.
Of course, the chances are that as an unsuspecting victim of the WriteAppReviews scam you won't know they are fake & so naturally, you'll go right ahead & sign up to give it a try.
Then bam, they've got you. You've been duped by the scam.
For example, I searched for "WriteAppReviews scam" & here is the first result I was shown:

As you can see, it claims that there's no doubt the platform is legit but if we take a look at some real WriteAppReviews reviews on TrustPilot we can see that they tell a very different story indeed: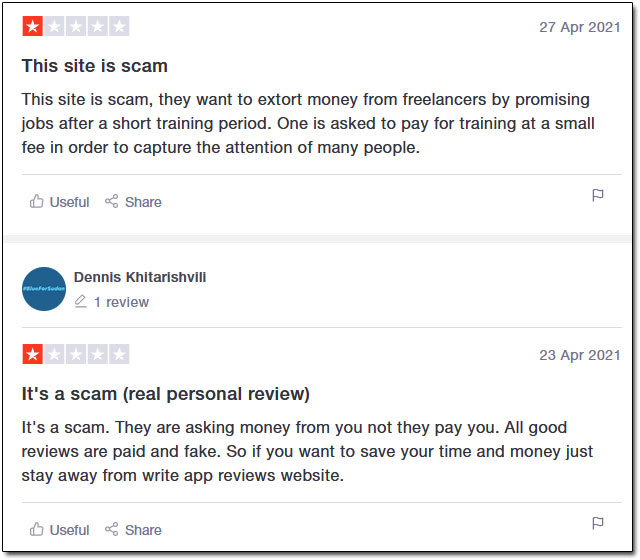 Can You Really Make Money With WriteAppReviews?
From a technical standpoint, it's possible.
From a realistic standpoint, it's just not going to happen.
You see, you can indeed earn money by publishing reviews on a website, getting them listed in search engines & promoting products to the visitors as an affiliate…
But in order to find success with that method you need proper training on how to actually get your content to rank high within the search engines because if it doesn't, it'll just be a waste of time.
And that's exactly what WriteAppReviews will be – a waste of time (and money).
I mean, I won't lie – it's a shame really because with just a little bit more effort the creators of the WriteAppReviews program could have actually made a decent little program.
But unfortunately, they've decided to build it with themselves in mind, rather than the users. So they're just more interested in getting you to spend than they are with helping you to earn.
This means that if you do decide to sign up to WriteAppReviews then you will likely just find yourself feeling frustrated because you'll be working hard writing reviews but getting nothing back in return.
And the reason for that is because as I say, nobody will be finding the reviews meaning nobody will be viewing your website & if nobody is viewing your website, you won't be able to make any money.
But the good news is that with some proper training (like with my free Commission Academy course) you can actually learn how to really make money by publishing reviews online.
You Might Also Like:
Is WriteAppReviews a Scam?
In my opinion, yes, WriteAppReviews is a scam & the reason I say that is because the creators of it know fine well that you are not really going to actually find success with it.
The reality is that they've created WriteAppReviews to make themselves money, not you.
And then as I mentioned earlier in this review there's also the fact that upon signing up to WriteAppReviews you're also pushed into joining 2 other well known money-making scams.
So it's easy to see that the WriteAppReviews program should be best avoided.
But the good news is that if you are still looking to earn money online then there is a legitimate way that you can actually earn money by writing reviews for products or services online.
If you'd like to learn more about it, be sure to check out my Commission Academy course.
Either way, whatever you decide to do I just hope that you found my review of WriteAppReviews.com here useful & most importantly I hope it helped you to save some of your hard-earned cash.
Feel free to leave any questions or comments below.
A Better Alternative
The sad truth is that unfortunately most of the programs promising to help you make money online are scams. I can say that confidently after exposing over 500+ of them here on this blog.
But the good news is that even though most of them are indeed scams, there are actually some very good programs in amongst them - some programs that can truly help you to earn money.
And out of all of the legit programs I've seen, the one I would recommend the most to anybody looking to get started online is Commission Academy. In my own opinion, that's the best place to start.
At Commission Academy, you'll be provided with everything you need (including the training & tools) to begin earning real money by promoting products or services for companies like Amazon online.
The best part is that there's literally no limit on the amount you can earn with it & the process is pretty simple which means that it's absolutely perfect for people that don't have much experience.
Some wealthy affiliates even earn as much as 5-figures per month... Or more!

I mean don't get me wrong, that kind of money won't just fall into your lap without doing any work... But the harder you're willing to work at it, the more you stand to earn with it.
So if you're looking to get started but don't know which route you should go down or which program you should join (and don't want to waste money on bogus things that don't actually work), then I'd highly recommend checking out Commission Academy first. You can learn more about it here.