Zendyx is the name of a new ClickBank program & it promises to reveal the "shocking truth" of how to make up to $1,000 per day online through affiliate marketing, even if you're brand new…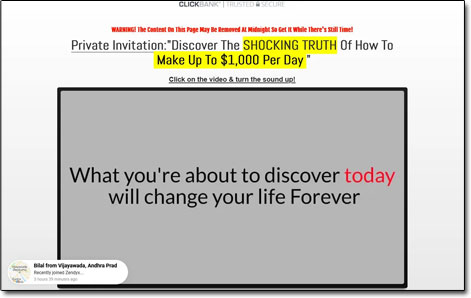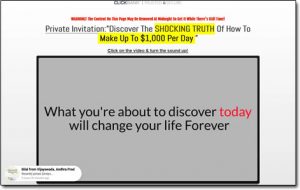 You're led to believe that the system has been built around some sort of secret shortcut & that it'll see you making money quicker & easier than anything else.
The problem though is that in order to find out more about how it actually works you're pushed into handing over some of your own hard-earned cash.
So what's the truth? Does it really work? Or is Zendyx a scam that you should just avoid?
Well, the good news is that you've landed in exactly the right place to find out as I myself have personally taken a closer look into it & in this honest Zendyx review I'll be uncovering the full truth about how it all really works.
What Is Zendyx?   |   How Does It Work?   |   The Costs   |   Is Zendyx a Scam?   |   A Better Alternative
What Exactly Is Zendyx?
Zendyx is a new program that has been launched on the ClickBank marketplace & it essentially promises to provide people with a really easy way to earn as much as $1,000 per day from what they call "ClickBank affiliate marketing".

So what exactly is ClickBank affiliate marketing?
Well, basically it involves promoting digital products from the ClickBank marketplace online in return for commissions. So you'll be sharing links to products, then if people click on your links & make a purchase, you'll earn a commission.
But there are some big problems that I can point out right from the off…
The first one is the fact that whilst ClickBank does indeed contain a handful of legitimate products, the majority of the products found in their marketplace are either nothing but flat-out scams or extremely poor value for money.
Some examples of ClickBank scams/low-quality programs that I've recently exposed include the Instant Success Site program, One Minute Free Traffic & the Cash Grab system.
And the second problem is that despite the creator of Zendyx claiming that you can easily earn $1,000+ per day with his system, I noticed that when he shared his income proof, he himself hadn't even made $1,000 per day as shown below: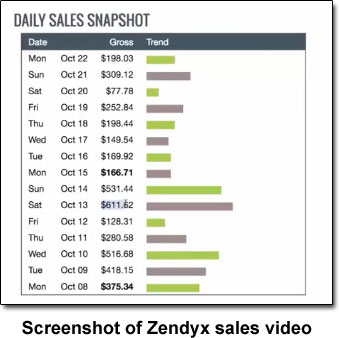 Now don't get me wrong, I want to make it very clear here before I continue that affiliate marketing itself is actually a legitimate way to make money and that you can definitely make money by promoting ClickBank products…
In fact, affiliate marketing is actually the same way that I personally make most of my own money online.
However because ClickBank is such a low-quality marketplace most "proper" affiliate marketers avoid it, so whenever I see a program mentioning that you promote products from ClickBank I'm always extremely sceptical.
And I'm even more sceptical when the program pushes you into handing over your money before telling you exactly what it all involves, just like the Zendyx program does… That's a huge red-flag which is commonly associated with get-rich-quick scams.
So does Zendyx really work and should you hand over your money to try it out?
Well in short, no – it doesn't. Unfortunately, Zendyx is no different to any of the other hyped-up ClickBank programs that have came before it & you'll soon see why as I explain in finer detail below exactly how it all really works…
How Does Zendyx Work?
So as I briefly mentioned in the previous section of this Zendyx review, the whole thing is supposed to be geared around teaching you how to make money by promoting products from ClickBank.
However, the truth is that Zendyx is actually more geared towards simply teaching you how to promote Zendyx itself to others…
This means that basically, Zendyx promises to teach you an easy way to make money with ClickBank but then leaves you to discover that the way you actually make money with it is by trying to get others to buy it just like you did.
And the training inside is VERY basic, so whilst it claims to be great for newbies, take it from me – it's not…
The steps inside are basically as follows:
Sign up to Zendyx
Sign up to ClickFunnels
Promote Zendyx via your WordPress website/funnels
Advertise your website using paid advertising
Now I can tell you that yes, it is certainly possible to make money using those steps – if you are already an expert… But if you are not already an expert, you'll just end up wasting a LOT of money on paid advertising.
The reason I say that is because paid advertising involves a lot of trial & error & all of that trial & error costs real money… I've even seen experts spending tens of thousands before finding a profitable campaign.
Basically paid advertising is NOT the right place to start as a newbie. Instead, you should learn the ropes of free methods of promotion first, then once you're confident you can later consider paid advertising.
The only reason the creators of Zendyx are suggesting you use paid advertising is because they're just basically getting you to advertise their program for them. You sign up, pay for advertising to promote it, then more people sign up & do the same…
You won't make a profit, but the creators of Zendyx will.
You Might Also Like:
And Then There's The Cost…
On the surface, Zendyx only appears to cost a mere $39 but as with most ClickBank programs the advertised cost isn't the true cost that's actually involved – instead, the rest comes in the form of upsells.
The seemingly small fee of $39 is just there to lure you in, then once they've got your credit card details on file they'll hit you with a bunch of 1-click-billing upsells to the tune of over $400 in total.
And that's just for the program itself, that doesn't include any of the other stuff you have to buy in order to complete the steps they tell you to do.
If you include everything, such as the web hosting, ClickFunnels & paid advertising then the true cost will quickly rise to over $2,000+…
And would you really want to spend that much money on a program that has hired paid actors from the website Fiverr to produce fake testimonials? Here's the proof of that below:


I'd hope not, which brings me onto…
My Verdict – Is Zendyx a Scam?
Well from a technical point of view I guess it's not a scam because they do actually provide you with some training in return for your money, however, in my personal opinion it IS a scam because it's extremely misleading.
As far as I'm concerned Zendyx isn't really set out to help you make money at all, it's just set out to trick you into handing over your cash so that its creator (who remains anonymous) can earn at your expense.
For that reason, I won't be recommending Zendyx to you & instead, if you truly want to learn how to make good money with affiliate marketing the right way then I would urge you to check out Commission Academy.
Commission Academy is, in my opinion, the absolute best place to learn affiliate marketing & it is a very honest program that gives you everything you need to get started (rather than leaving you to find out you need to purchase more things).
But of course whilst affiliate marketing is my favourite way to earn online it's certainly not the only way, in fact, that there are actually many other ways which you can discover on my top picks page right here.
Whatever you decide to do though I just hope that my review of Zendyx here has given you a good insight into how it all really works & most importantly I hope it's helped you to save your hard-earned cash.
If you still happen to have any further questions or comments then don't hesitate to leave them below & I'll get back to you ASAP. 🙂
A Better Alternative
The sad truth is that unfortunately most of the programs promising to help you make money online are scams. I can say that confidently after exposing over 500+ of them here on this blog.
But the good news is that even though most of them are indeed scams, there are actually some very good programs in amongst them - some programs that can truly help you to earn money.
And out of all of the legit programs I've seen, the one I would recommend the most to anybody looking to get started online is Commission Academy. In my own opinion, that's the best place to start.
At Commission Academy, you'll be provided with everything you need (including the training & tools) to begin earning real money by promoting products or services for companies like Amazon online.
The best part is that there's literally no limit on the amount you can earn with it & the process is pretty simple which means that it's absolutely perfect for people that don't have much experience.
Some wealthy affiliates even earn as much as 5-figures per month... Or more!

I mean don't get me wrong, that kind of money won't just fall into your lap without doing any work... But the harder you're willing to work at it, the more you stand to earn with it.
So if you're looking to get started but don't know which route you should go down or which program you should join (and don't want to waste money on bogus things that don't actually work), then I'd highly recommend checking out Commission Academy first. You can learn more about it here.