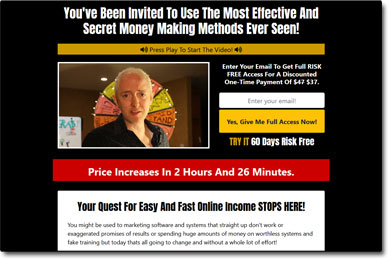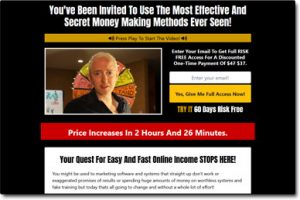 Chances are you've landed at this review because you've heard about the brand new Cash Grab system which is a possible income-generating scheme introduced by an online marketer named Jamie Lewis.
But is this really the road to financial freedom?
Some of our readers asked for an honest Cash Grab review and here we are ready after completing the investigation process. Today we are going to reveal the true secret behind Jamie Lewis' Cash Grab program.
After reading our Cash Grab review you will be better able to make the right decision because we are going to tell you what this scheme actually is, how exactly it works and whether if it is intended to benefit the subscribers or if it is simply designed to make Jamie Lewis richer than before at their expense.
What Is Cash Grab?   |   How Does Cash Grab Work?   |   The Costs   |   Is Cash Grab a Scam?   |   A Better Alternative
What Is Cash Grab?
Jamie Lewis (the founder of the Cash Grab system) mostly promotes his products via email marketing and currently, he is promoting Cash Grab. Jamie is a well-known online marketer and his previous products of his include Legit Guide, Bank Ramp, and Profit 365.
This time, Jamie is telling you that everyone has to think about starting generating online income. According to him, people need multiple income streams to make both ends meet. But as you progress, the online income quickly becomes the major contributor to your overall income.
The problem with Jamie is that he is fond of introducing a new product after just a few months of releasing a previous one. He called Profit 365, the ultimate income-generating scheme but now he is saying the same about Cash Grab…
If Profit 365 was the ultimate scheme then why Jamie had to change the name? We can easily anticipate the Cash Grab could well a reproduction of Jamie's previous products, or that it is just yet another with little to no real overall value.
Jamie claims that Cash Grab is free from MLM or Pyramid structures and also tries to convince you that this scheme doesn't involve digital products. This is confusing – if there are no digital products involved in this program then how does it manage to generate income?
In addition, the price of Cash Grab is $37 and it also features upsells. Even the beginners know that upsells are suggestive of an MLM model. In addition, we have investigated Jamie's history as a marketer and he generates most of his online income through affiliate sales.
Nevertheless, though we'll take a closer look into the program to see exactly how it all works & to determine if there's actually any chance we can generate an income with it as easily as Jamie claims…
How Does Cash Grab Work?
The truth is, Cash Grab is not going to redirect money to your way in a short period of time like you're led to believe it will. The business model that he teaches you does work but it needs time and effort. For instance, he teaches you domain flipping, affiliate marketing, freelancing, etc. None of these methods generates thousands of dollars from the word go.
Yes, it's possible to make money with those methods (and good money too!) but it will take time in order to do so. I think Jamie's marketing with regards to that is a little bit misleading… Plus there are already proven platforms where you can get started with those methods, such as Commission Academy.
The Cash Grab members' area offers a calculator that helps you to prepare in a better way about the time required to generate a certain profit. For instance, if you aim to make $100/day online the calculator might tell you that you need 3 hours of preparation. And if you want to generate $5000 a day, you might need 15 hours of preparation etc…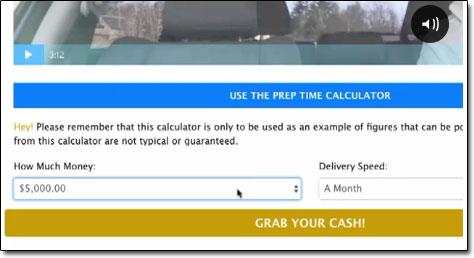 Does it make sense? I don't know, I don't believe so – this calculator simply ignores the experience level, skill set and expertise. People at different levels need different amounts of preparation. Jamie avoids discussing the "hard part" because he wants to make things look pretty simple and easy to convert more and more visitors into subscribers so that he can earn more money for himself.
Online marketing is a promising income-generating strategy but it involves too many things. You not only have to pay for different tools and promotions but you also have to invest too much time. It almost becomes a full-time engagement.
Unless of course, you go through a program like Commission Academy which includes your training, tools AND support…
You Might Also Like:
Cash Grab Costs
The price is set at $37 but obviously, nobody is going to enable you to generate thousands of dollars for a negligible return. Actually, this $37 is only the license to enter the members' area. Then you will be introduced to upsells. They are different products and tools you need for proper online marketing. This is where the real deal begins.
There is another trick involved. When subscribing for $37, your payment method is already there and when they upsell a product, they only show a button that reads Buy. Generally, when you try this button on other sites, it takes you to the confirmation page. But here, as soon as you hit Buy it automatically debits money from your card. This is the worst thing we have noticed ever since we have been reviewing income-generating programs.
Cash Grab lacks legal pages and policies. They don't share any rules and regulations whatsoever. This is what leads us to believe that Cash Grab is playing some dirty tricks. If it is really backed by ClickBank, there must be legal pages, terms & conditions, and privacy policy. But there is no such thing.
And that brings me onto…
Is Cash Grab a Scam?
Our Cash Grab scam review concludes with a warning. It seems that Jamie is playing some dirty tricks. He is avoiding legality and policies. He is taking out money by breaking the convention of confirmation before processing the transaction. These are the things that force us to alarm you against Cash Grab.
Regardless as to whether it will help you to generate income or not – it is based on false claims and malicious practices & for that reason, I will not be recommending the Cash Grab program to you.
Instead, if you really want to learn how to make good money with affiliate marketing I will simply suggest that you join Commission Academy as that program has been around for over a decade & is backed by a plethora of success stories.
Plus when it comes to Cash Grab you literally only get training, whereas over at Commission Academy you get the training AND the tools… This means that you don't have to pay anything extra, unlike Jamie's program which will tell you to purchase several additional things just to get started.
But it's also worth pointing out here too that there are actually several other ways you can make money aside from affiliate marketing.
I mean don't get me wrong I do believe affiliate marketing is the best way to make money (especially since I make over $10k per month with it by doing this) but I just thought I'd give you a heads up about the other methods all the same.
Whatever you decide to do though I just sincerely hope that my review of Cash Grab here has given you a good insight into what you can expect & hopefully it has helped you better decide if it is really right for you or not.
If you still happen to have any further questions or comments though then don't hesitate to leave them below. 🙂
A Better Alternative
The sad truth is that unfortunately most of the programs promising to help you make money online are scams. I can say that confidently after exposing over 500+ of them here on this blog.
But the good news is that even though most of them are indeed scams, there are actually some very good programs in amongst them - some programs that can truly help you to earn money.
And out of all of the legit programs I've seen, the one I would recommend the most to anybody looking to get started online is Commission Academy. In my own opinion, that's the best place to start.
At Commission Academy, you'll be provided with everything you need (including the training & tools) to begin earning real money by promoting products or services for companies like Amazon online.
The best part is that there's literally no limit on the amount you can earn with it & the process is pretty simple which means that it's absolutely perfect for people that don't have much experience.
Some wealthy affiliates even earn as much as 5-figures per month... Or more!


I mean don't get me wrong, that kind of money won't just fall into your lap without doing any work... But the harder you're willing to work at it, the more you stand to earn with it.
So if you're looking to get started but don't know which route you should go down or which program you should join (and don't want to waste money on bogus things that don't actually work), then I'd highly recommend checking out Commission Academy first. You can learn more about it here.