In this review, I'm going to be taking a closer look at the 1G Profit System which is something that literally claims to be able to generate you daily profits of $1,000 through binary options trades on complete autopilot.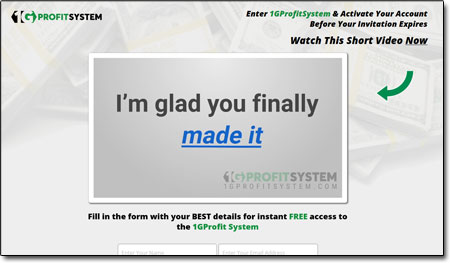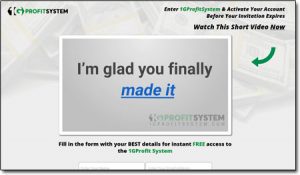 I think you'll agree that's an extremely bold claim, so is it really legit or is the 1G Profit System a scam that's out to part you with your cash? And if it is legit then can you really make $1,000 per day?
Those are the exact questions I'll be answering right here in this 1G Profit System review so if you've been thinking about trying it out then you can rest assured that you've landed in the right place to find out everything you need to know about it before you do – and don't worry, I'm NOT affiliated with it (meaning I have no interest in getting you to sign up).
What Is The 1G Profit System?   |   How Does The 1G Profit System Work?   |   The Truth   |   Is The 1G Profit System a Scam?   |   A Better Alternative
What Is The 1G Profit System?
The 1G Profit System is an automated binary options trading system that's supposedly been created by a guy named Adam Williams who claims that it's been designed to follow a "secret" algorithm which will enable you to generate profits of $1,000 per day, or sometimes even more without you having to do anything.
Adam, the creator of the system, claims that he's only opened the system up to a select private group of people & that if you've managed to access the page then you're lucky enough to be one of only 12 people that will be given the opportunity to make huge profits through his system (his words, not mine).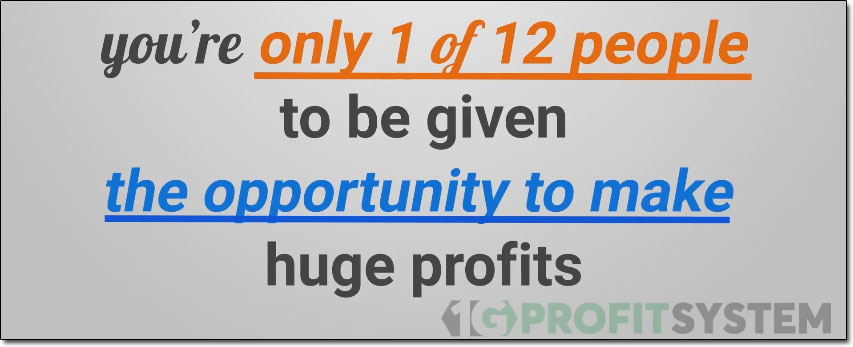 However that's clearly BS because the website is open to the public so literally anybody could access it & sign up if they wanted to – it's certainly not restricted to invitation only like he makes out in the video.
It's actually just a marketing ploy that's being used in an attempt to rush you through the sign up process which sadly is a common trait of a scam. They do this so you that you feel like you don't have enough time to look around the web for reviews because they know that if you do go & look for reviews that the chances are you'll find out the real truth about the system.
And to be honest binary options trading systems, especially these supposedly free & automated ones already have a bad enough reputation as it is. This week alone I've already exposed the Bitcoin Code & Ethereum Code systems & I've exposed hundreds in total before that. In fact there were so many I even put a dedicated post together helping people get their money back.
So it's safe to say that off the bat it's not looking promising for the 1G Profit System…
How Does The 1G Profit System Work?
Adam Williams (the creator) claims that the system is completely hands-off & that it's really easy to use meaning anybody can profit from it regardless as to whether or not they have previous trading experience.
He even claims that you don't even need to know how trading works in order to make money from it & that all you need to do is literally sign up, deposit funds with his recommended broker & hit the "start trading" button.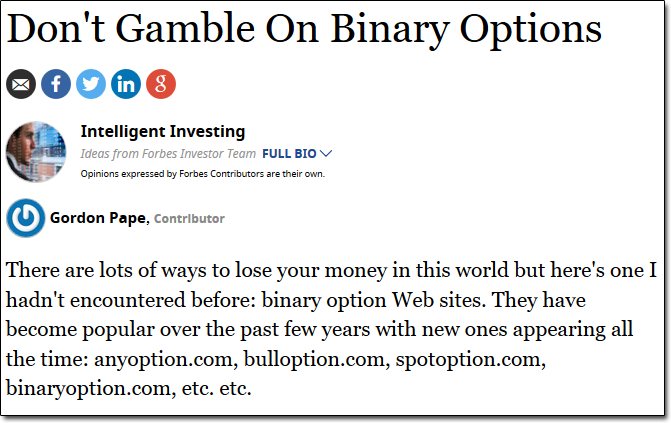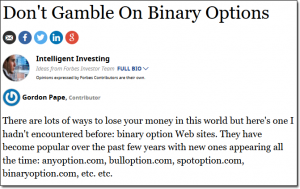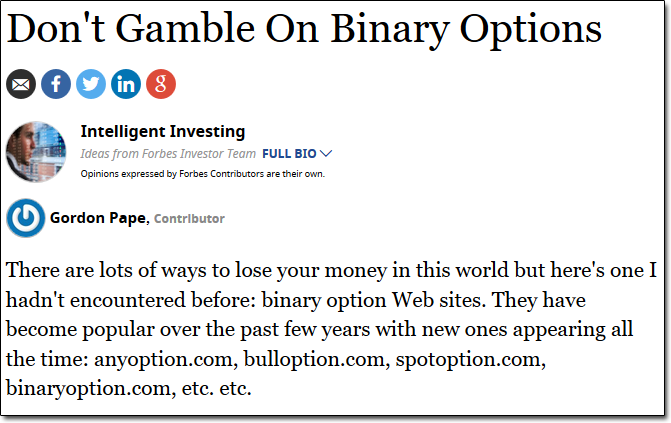 But for those of you reading this post who don't know how binary option trading works let me first point out that it's something that's renowned for being extremely risky, and generally most people avoid it.
Binary options trading is not like traditional trading where you hold shares & sell them when the value increases, binary options is basically where you place a bet on whether the stock will go up or down.
Therefore when it comes to binary options you only really have a 50/50 chance of winning or losing, so rather than trading it's more like gambling. Essentially it's just like flipping a coin for money.
But the problem is that binary options has been designed in a way to make you think that you're in control of whether you win or lose, whereas in reality there is no guessing which way the stock price is going to go because binary options trades are based on such short periods of time, usually around a minute or hour.
Regardless the 1G Profit System claims to have been built using an algorithm that can effectively determine whether the trade price is going to go up or down & that's how it's supposed to generate you guaranteed profits.
But Here's How It Really Works…
Sadly despite what you're led to believe the 1G Profit System doesn't actually work as promised, in fact it's actually no different to any of the other binary scams that have came before it.
The guy that's supposed created it, Adam Williams, doesn't exist – the system has actually been put together by an internet marketer that's set out to part you with your hard earned cash.
Basically the marketer behind this system has affiliated himself with various binary options brokers & they are in agreement that if he refers new people to them & gets them to deposit funds then they'll pay him a commission in return – and a pretty hefty commission at that.
Now the first thing you need to understand is that binary options brokers aren't like traditional brokers, they don't add fees to your trades, they actually make their money when you lose by keeping the funds that you bet.
So it would never be in a binary option brokers interest to help you to win, because for all the time that you're winning they're not making any money from you – in fact they're actually technically losing money.
Yet the marketer behind the 1G Profit System (who remains anonymous) is getting paid huge commissions for referring you to his "recommended" brokers through his system, so don't you think that it's a little odd that the brokers are paying him commissions when he's helping people win money through his guaranteed system?
The reason it's odd is because it's completely fake – his system isn't built to help people make money at all, it's just built so that he can get more people to sign up & deposit funds with the binary brokers that hes affiliated with so that he can earn commissions at other peoples expense.
But the problem is that you're only left to find this out after you've deposited your money with the broker & by that point it's too late – your cash is already gone & the brokers will make it nearly impossible for you to get it back.
You Might Also Like:
Is The 1G Profit System a Scam?
The 1G Profit System is definitely a scam – you're fed nothing but lies in an effort to get you to sign up & deposit with their recommended broker so that they can earn themselves a commission at your expense.
It's no different to any of the other binary options scams that have came before it and to be honest it looks very similar to the 50K A Week system so I wouldn't be surprised if it was just the same scam under a different name.
The system makes out like it's free to lull you into a false sense of security but in reality the broker is in with the scam & the moment you make your deposit with them is the moment you get scammed.
But the big problem is that it doesn't end there – the broker will then reach out to you via phone & try to get you to deposit even more funds, claiming that you have found yourself a guaranteed way to make money.
And whilst you might not think this is a trick you'd fall for, unfortunately these guys are professionals & can be very convincing. I've seen many people lose their life savings to systems like these.
However ultimately it is what it is – a scam, and as you can probably guess this system will be getting a huge thumbs down from me. I certainly won't be recommending it as something for you to join & I'd advise you avoid it altogether.
A Better Alternative
The sad truth is that unfortunately most of the programs promising to help you make money online are scams. I can say that confidently after exposing over 500+ of them here on this blog.
But the good news is that even though most of them are indeed scams, there are actually some very good programs in amongst them - some programs that can truly help you to earn money.
And out of all of the legit programs I've seen, the one I would recommend the most to anybody looking to get started online is Commission Academy. In my own opinion, that's the best place to start.
At Commission Academy, you'll be provided with everything you need (including the training & tools) to begin earning real money by promoting products or services for companies like Amazon online.
The best part is that there's literally no limit on the amount you can earn with it & the process is pretty simple which means that it's absolutely perfect for people that don't have much experience.
Some wealthy affiliates even earn as much as 5-figures per month... Or more!

I mean don't get me wrong, that kind of money won't just fall into your lap without doing any work... But the harder you're willing to work at it, the more you stand to earn with it.
So if you're looking to get started but don't know which route you should go down or which program you should join (and don't want to waste money on bogus things that don't actually work), then I'd highly recommend checking out Commission Academy first. You can learn more about it here.