In this review, I'm going to be taking a closer look at The 67 Steps program which is something that's been put together by Tai Lopez who claims it can help you get anything you want out of life in the forms of health, wealth, love & happiness.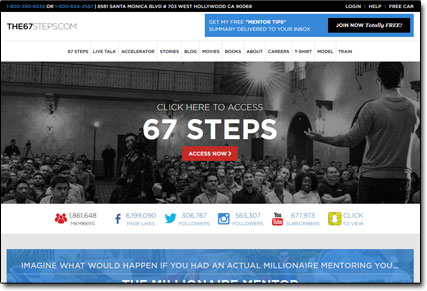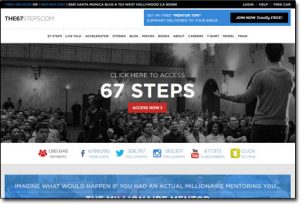 He also claims that the 67 steps are the exact same steps that enabled him to go from being broke to building several massively successful businesses that then later enabled him to buy himself a Lamborghini.
The program has become pretty popular with over 200,000 members to date but is it actually legit? Or is The 67 Steps a scam that's just going to leave you with a thinner wallet & in no better position than you were when you started out?
Well, you've landed in the right place to find out because in this review of the 67 Steps program I'm going to be uncovering everything you need to know.
What Is The 67 Steps Program?   |   Who Is Tai Lopez?   |   What Will You Learn?   |   Who Is It For?   |   How Much Does It Cost?   |   Is The 67 Steps a Scam?   |   A Better Alternative
What Is The 67 Steps Program?
As I touched on above The 67 Steps program is a program that's been put together by a guy named Tai Lopez who is a well-known entrepreneur, investor, online marketer & speaker (among other things).
Tai claims that the program will enable you to get literally anything you want out of life in the forms of health, wealth, love & happiness – he says that The 67 Steps basically share the secret to obtaining what he calls "The Good Life".
He actually has a range of self-help products, many of which also claim to help you achieve The Good Life as he puts it. Another I recently reviewed was The Entrepreneur Starter Kit, but it's clear with over 200,000 members to date that his 67 Steps program is without a doubt his most popular & most "accessible" (more on that in a moment).
Who Is Tai Lopez?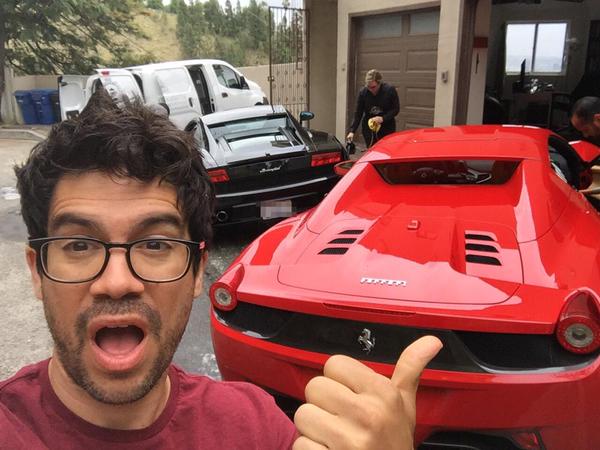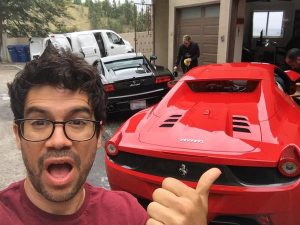 Tai Lopez is a guy that "rose to fame" on YouTube where he published videos of himself standing in his garage in front of luxury cars giving out some kind of motivational speech then pitching people into various offers that he was promoting.
He's well known for the phrase "here in my garage"…
Initially when he first started promoting himself a lot of Tai Lopez scam rumours started circulating the web with people claiming that the cars/houses were rented & that he was just out to take peoples money…
However since then, we've been able to find out a bit more about Tai Lopez & it turns out he is in fact the real deal – he's a successful entrepreneur, investor, online marketer, speaker (among other things) & he's also renowned for reading 1 book every single day, which is why it seems he's got so much motivation to share.
Now Tai Lopez advertises himself & his programs on various platforms so chances are as opposed to YouTube you might have seen him on Facebook, Instagram, Twitter – or to be honest ANYWHERE on the web. As I mentioned he's an online marketer & a darn good one too – once you've seen him once you literally end up seeing him everywhere you go online.
So yeah the main takeaway here is that Tai Lopez is indeed the real deal & he certainly knows his stuff. He's even got several celebrity connections & has advised some of the world's billionaires on how to manage their money.
But Back To The 67 Steps…
Tai puts a strong emphasis on the importance of finding a mentor & he attributes the majority of his success to having amazing mentors over the years that knew their stuff & were able to show him the way.
So The 67 Steps program is basically a combination of all of the top-tips that he feels he was taught by both his personal mentors & by the authors of the books he has read over the years.
Along with some of his own tips & teachings of course…
The idea of the program is that by going through The 67 Steps you can massively cut down your learning curve, so the program is targeted to those who value their time & essentially want to take a shortcut to success by learning from the mistakes of others in an effort to avoid making the same mistakes themselves.
And you might be wondering why there are specifically 67 Steps, but there's actually good reason – he specifically picked 67 because studies have shown that new habits can supposedly be formed over 66 days, so he came up with 66 steps & then added an extra one for, as he put it, good luck.
Therefore the idea is that after 67 days you will have been moulded into a new-you as the teachings will have essentially become habits that you begin practising every day without even thinking about them.
Whilst a lot of the wisdom throughout the course comes directly from Tai's own experiences, there are teachings from other successful people included too including Bill Gates, Warren Buffett, Donald Trump & various others.
What Will You Learn Through The 67 Steps?
Well, the concept is that you'll be able how to have good health, wealth, love & happiness – but in my personal opinion, I feel the course has a strong focus on starting a business & building wealth.
That's not necessarily a bad thing though because a successful business could certainly bring you towards achieving the other 3, after all as a business owner you will eventually have more time & freedom to pursue "The Good Life" as Tai Lopez puts it.
Now obviously I can't run you through the full 67 Steps as I'm sure Tai wouldn't be best pleased that I'm giving all his content away for free, but as an example to what you'll find inside here's a few that I've plucked out:
1) Be Worth a Damn
2) Be Adaptable
7) Escape The Salary Mentality
14) Adopt The Investor Mentality
20) Prioritize
And of course, Tai goes into quite in-depth detail on each individual step, for example on the first one "Be Worth a Damn" he talks about how most people are delusional & that they think they deserve success without even having to put in any of the work to get there. The step then goes on to talk about how you need to take responsibility for your own life & that you can't just expect things to happen, so you're provided with a list of essential habits that you should begin to increase your chances of achieving the life you desire.
The good thing is that the steps each come with actionable takeaways so you can easily see how you can implement in your own life – something that I personally find many other self-help courses to be lacking.
Basically rather than just being told what to do you're told how you can do it – and best of all you're shown how you can gradually introduce it into your life so that it becomes a habit rather than a sudden change.
Who Is The 67 Steps Program For?
The 67 Steps is a program that's designed for true entrepreneurs or people who are aspiring to be true entrepreneurs and understand that it takes personal development to build a successful business.
It's also for people who understand that things don't happen overnight & that you need to work on them over time through habitual changes – so if you're expecting that The 67 Steps program will teach you how to make a bunch of money overnight then it's probably not the program for you (and Tai Lopez himself actually kinda puts a strong emphasis on this too).
Ultimately it's a self-help program that is designed to bring you to the point where you are at the top of your game mindset wise which will show throughout all aspects of your life – hence bringing you good health, wealth, love & happiness – because you'll see that those 4 things themselves aren't the problem, it's the way you look at them that is & The 67 Steps is designed to help you change that.
You Might Also Like:
How Much Does The 67 Steps Cost?
At the start of this 67 Steps review, I mentioned that this program of Tai Lopez's was much more accessible than the rest & that's mainly due to the price. You see quite often Tai's products are priced fairly high – sometimes into the thousands of dollars, whereas you can actually get access in The 67 Steps program for just $67.
I think you'll agree that this opens up the product to an awful lot more people which is something I appreciate – with the $67 level of membership you'll get access to all the videos within the program which will walk you through Tai's 67 Steps.
On top of that, there is a VIP upgrade but this is totally optional & you'll get 14 days access to the VIP membership for free when you purchase the $67 "normal" package. The VIP membership gives you added benefits like:
Bi-monthly coaching calls
Book of the day summary (audio & video)
Investment secrets
Access to Tai's Speed Reading Wizardry course
Access to the private Facebook group
Tai's recommended app list
If you choose to upgrade to the VIP membership after your 14-day trial expires then it will cost you $69.99.
The good thing is that there's no more upsells (though you might be pushed into Tai's other products) & there's also a money-back guarantee through which Tai claims that if you feel your life hasn't changed after going through the course then he'll refund the money you paid… Sounds like a pretty sweet deal.
Is The 67 Steps a Scam?
No, it's definitely not a scam – in fact, in my opinion, it's actually a darn good training course that provides a reasonably priced way for you to build a better-you & get more out of your life with an improved mindset.
And as I touched on above Tai Lopez is a guy that certainly knows his stuff, so combine that with the fact that you're not only learning from him but your learning from the other millionaires that have mentored him it's safe to say that there's plenty of golden nuggets throughout this course that could potentially lead to your "aha moment".
Working on my mindset is something I neglected for several years, but then later after attending an event & meeting several entrepreneurs in person I realised that your mindset is really the most important thing. Since I started actually taking action on working on it I've noticed positive changes in both my life & business so I'm confident that The 67 Steps program will indeed show you how you can live a more fulfilled life.
Therefore overall it's a thumbs up from me for this program & I do recommend you check it out – it's something that may not be everybody's cup of tea but I believe those that are serious about building or scaling a business will find massive value in it & that it will certainly give them the motivational boost needed throughout the journey.
A Better Alternative
The sad truth is that unfortunately most of the programs promising to help you make money online are scams. I can say that confidently after exposing over 500+ of them here on this blog.
But the good news is that even though most of them are indeed scams, there are actually some very good programs in amongst them - some programs that can truly help you to earn money.
And out of all of the legit programs I've seen, the one I would recommend the most to anybody looking to get started online is Commission Academy. In my own opinion, that's the best place to start.
At Commission Academy, you'll be provided with everything you need (including the training & tools) to begin earning real money by promoting products or services for companies like Amazon online.
The best part is that there's literally no limit on the amount you can earn with it & the process is pretty simple which means that it's absolutely perfect for people that don't have much experience.
Some wealthy affiliates even earn as much as 5-figures per month... Or more!


I mean don't get me wrong, that kind of money won't just fall into your lap without doing any work... But the harder you're willing to work at it, the more you stand to earn with it.
So if you're looking to get started but don't know which route you should go down or which program you should join (and don't want to waste money on bogus things that don't actually work), then I'd highly recommend checking out Commission Academy first. You can learn more about it here.