Best Money Search is the name of a website I recently came across which promises to provide people with a way to easily find unclaimed money for themselves & their families in the United States.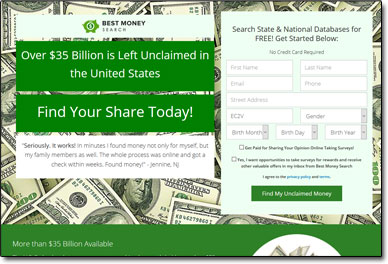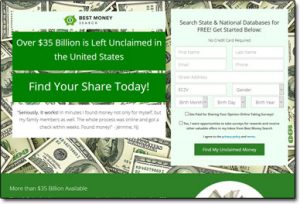 They claim that a whopping $35 billion of unclaimed money exists in the USA & they also claim that within just minutes you could get access to money that you allegedly should be rightfully owed (and may not even know about).
But is it actually legit? Or is Best Money Search a scam?
Well, I'm glad that you came here to this Best Money Search review first because I can tell you right from the off that the whole Best Money Search thing is NOT what it seems. It's actually all just a trick.
What Is Best Money Search?   |   How Does Best Money Search Work?   |   The Trickery   |   Is Best Money Search a Scam?   |   A Better Alternative
What Is Best Money Search?
As I briefly touched on above, Best Money Search is a new website which claims that it can provide you with a way to easily get access to a slice of 35 billion dollars worth of unclaimed money in the USA.

They claim that through their website you'll be able to search state & national databases & find unclaimed money which you or your family may be owed… And then if you find it, they claim that you'll receive a check for it within just a matter of weeks.
The unclaimed money supposedly exists due to things like deaths, forgotten about bank accounts or overpayments to governments, etc…
And I'll admit that at a glance the whole thing seems darn legit. It could be easy to get fooled by this thing.
The problem though as you'll see in a moment is that it's NOT legit.
Best Money Search is actually just a scam.
I mean don't get me wrong, it's true that there are indeed legitimate registers that you can search to try & track down unclaimed money… But Best Money Search isn't really in the business of helping you do that.
They're just in the business of taking money from you instead… And the reason I can say that so confidently is because I've actually seen this exact same scam before launched under various different names.
Some of its previous names include Money Finder USA, UBA Tracers & Federal Account Recovery… Whoever is behind it simply keeps changing its name in an attempt to escape the negative reviews that tell the truth (like this one) to continue tricking people into signing up.
But how does the scam work? How do they get money from you? Well, keep on reading because that's exactly what I'll be explaining next…
How Does Best Money Search Work?
So as I mentioned in the previous section of this review, the "concept" is that by signing up to Best Money Search you'll get access to national registers through which you can search for & reclaim lost funds.
However, this is only partially true… Because yes, there are indeed actual legitimate websites through which you can search for unclaimed funds – such as Missing Money which is endorsed by the Unclaimed Property Authority.
But the true intention of Best Money Search isn't to help you reclaim that money… Instead, their intention is to simply take money from you & they do that by making you pay for "money request forms".
So this, in short, is how the Best Money Search scam works;
They provide links to databases where you can search for money
You find unclaimed money
They claim that if you process the money request, you can take a cut
To process the request you must pay for "money request forms"
The forms may or may not arrive, but the money never does
You realize you've been scammed
And yes, the Best Money Search scam may not part you with hundreds or thousands of dollars, but what they're are doing is parting thousands or hundreds of thousands of people with small amounts of cash.
These types of scams work on the premise that if they only scam people out of small amounts (such as $5 to $25) then people will be less likely to report them so that they can keep their operation running for longer.
However, if they take $5 from 100,000 then that's a whopping $500,000 they'll accrue through the scam…
You Might Also Like:
And The Trickery Doesn't Stop There…
If you take careful notice of the Best Money Search website then you'll see that beneath their registration form they have some additional fine print which claims that you can "get paid for sharing your opinion by taking surveys" as shown below:

They also have another box which asks if you want to receive "valuable offers in your inbox" as you can see in that screenshot too… But the reality is that these checkboxes basically just give them permission to send you spam.
So if you happen to sign up to Best Money Search (which I absolutely don't recommend) and you tick those boxes, then you'll likely find yourself bombarded with spam & what's worse is that the spam will likely be promoting more scams.
The reason I say that is because many people reported that after signing up to UBA Tracers & Federal Account Recovery they began getting unsolicited promotions trying to get them to join Take Surveys For Cash, Paid Surveys At Home & Paid Social Media Jobs… 3 known dangerous scams.
Which brings me onto…
Is Best Money Search a Scam?
Yes it is, and not only is it a scam but it's also totally unnecessary because there are already legitimate websites through which you can search for unclaimed money which have been endorsed by the Unclaimed Property Authority such as Missing Money.
The reality is that Best Money Search is just set out to trick you into handing over small amounts of cash for "money request forms" so that they can earn at your expense – and they're doing this to potentially hundreds of thousands of people.
On top of that, they're also trying to get your details (hence the lengthy registration form before you can access the "registers") so that they can bombard you with spam which could potentially see you getting pushed into further scams like Take Surveys For Cash.
So with all that being said it's safe to say that I 100% won't be recommending Best Money Search & instead I'll strongly advise that you avoid it.
If you really want to make good money online legitimately then you would be best sticking with one of these legitimate methods that are proven to work… Or you could even do the same thing I do to make money, affiliate marketing.
I think affiliate marketing is great because it's very beginner-friendly & the amount you can earn with it is totally uncapped… Plus there are step by step programs like Commission Academy which show you exactly how to get started.
But whatever you decide to do I just sincerely hope that my review of Best Money Search here has given you a good insight into how it really works & I hope that it has helped you to avoid it. If you still happen to have any further questions or comments though then don't hesitate to leave them below. 🙂
A Better Alternative
The sad truth is that unfortunately most of the programs promising to help you make money online are scams. I can say that confidently after exposing over 500+ of them here on this blog.
But the good news is that even though most of them are indeed scams, there are actually some very good programs in amongst them - some programs that can truly help you to earn money.
And out of all of the legit programs I've seen, the one I would recommend the most to anybody looking to get started online is Commission Academy. In my own opinion, that's the best place to start.
At Commission Academy, you'll be provided with everything you need (including the training & tools) to begin earning real money by promoting products or services for companies like Amazon online.
The best part is that there's literally no limit on the amount you can earn with it & the process is pretty simple which means that it's absolutely perfect for people that don't have much experience.
Some wealthy affiliates even earn as much as 5-figures per month... Or more!

I mean don't get me wrong, that kind of money won't just fall into your lap without doing any work... But the harder you're willing to work at it, the more you stand to earn with it.
So if you're looking to get started but don't know which route you should go down or which program you should join (and don't want to waste money on bogus things that don't actually work), then I'd highly recommend checking out Commission Academy first. You can learn more about it here.