The Cannabis Software website stresses that cannabis stocks are the next big investment opportunity & it claims to be able to provide both beginners & experts with an easy way to cash-in on them all on complete auto-pilot…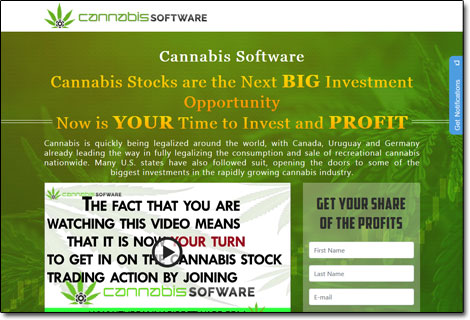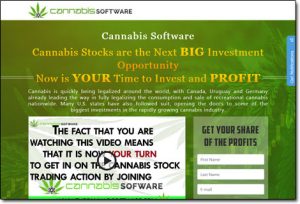 You're led to believe that the software will essentially run on your behalf & generate you guaranteed profits by making tactical trades – but is it really legit or is the Cannabis Software a scam that'll just end up losing you cash rather than actually making you it?
Well thankfully you've landed in the right place to find out as I've personally taken a look into it myself & in this honest Cannabis Software review I'll be uncovering the real truth about exactly how it works & I'll also be figuring out if you can really make any money with it like its creator's claim…
What Is The Cannabis Software?   |   How Does The Cananbis Software Work?   |   The Trick That Catches People Out   |   Proof It Doesn't Work   |   Is The Cannabis Software a Scam?   |   A Better Alternative
What Is The Cannabis Software?
The website for the whole thing portrays the Cannabis Software as being an entirely free piece of software that can supposedly generate you as much as $7,000 through automated trades on cannabis stocks.

But obviously that sounds like a pretty darn bold claim, I'm sure you'll agree… After all if such a piece of software could really make people such high profits without them having to do anything or without them having to have experience of trading then why on earth isn't everybody doing it?
Well I can tell you the reason right from the off & I can also say it's not good – the reason everybody ISN'T doing it is because in actual fact the whole Cannabis Software thing is just another get-rich-quick scam.
There won't be anybody making money from the Cannabis Software other than the creators who are behind the whole thing & the only way they'll be making money is by taking the money from the unsuspecting victims they lure in.
How do I know that? The reason I know that is because this new Cannabis Software website is actually just a re-hashed version of another scam that I recently exposed which was coincidently named the Cannabis Trader app.
Basically the scammers behind the whole thing have just created multiple websites under different names in an attempt to part as many people as possible with their hard earned cash. Each site has slightly different tweaks to target a different audience, but ultimately it's all the same scam.

So what's the scam? Well keep on reading & I'll show you exactly how it all works – or should I say doesn't work…
How Does The Cannabis Software Work?
In short like I mentioned above it simply doesn't work – I just thought I'd point that out again in case you happened to jump straight down to this section of the review – but basically it's what's known as a binary options scam.
You see what the creator of the whole thing doesn't tell you is that he's affiliated with a binary options broker, like IQ Option – which means if you sign up & deposit via his link, he gets paid.
So essentially the whole Cannabis Software website is just a big ploy to trick you into depositing with a broker that he "recommends" so that he can earn himself a commission at your expense.
That's why you're forced to make a deposit before you can get access to the software (which doesn't actually exist) and that's why you're also forced to deposit again with a new broker even if you already have an account somewhere else.
But what he also fails to tell you is that binary options trading is VERY risky – in fact I myself believe the whole thing is just a big scam because over years of exposing hundreds of systems I've never seen so much as a single person manage to make a sustainable profit.
The odds are totally stacked in the brokers favour & that's why (as shown below) a UK news website recently reported that as much as £87,000 is being lost to binary options scams every single day:

Many of the brokers portray themselves as being legitimate & to the untrained eye it could be quite easy to believe they are actually indeed legit – but closer inspection often reveals that they don't hold licenses or that they're employing dodgy tactics like blocking withdrawals.
Just take a look at what this binary options scam did to a single mum & her kids if you don't believe me.
But There's a Big Trick That Catches People Out…
The people behind these fake systems like the Cannabis Software system know exactly how to catch people out & that's by making them think that the whole thing is going to be entirely risk-free (but it's not).
They promise that you'll be getting access to their system completely free of charge & that all you need to do is deposit with the broker – but like I mentioned above what they don't tell you is that they're affiliated with the broker.
So when you make that deposit (which I definitely don't recommend doing) you'll just be left to find out the hard way that there isn't really any software or that it doesn't work as promised, and you'll also be left to find out that the broker will likely block any withdrawals you try to make.
Therefore basically rather than being risk-free it's 100% risk – and any money you deposit will likely end up disappearing for good, unless you run a chargeback.
You Might Also Like:
And There's Solid Proof It Doesn't Work!
Even despite my warnings I still see people go ahead & try out these systems, then they lose money. It's sad to see but unfortunately it happens a heck of a lot so I want to give you solid proof it doesn't work.
The way I'll do that is by telling you how binary options brokers work. They don't run fees or commissions on their trades & instead they simply make their money when you lose money – so if you win, it actually costs them instead.
This means a binary options broker would NEVER want anybody to win, because it costs them money (if you keep winning).
So tell me this – why would a binary options broker pay the creator of a "guaranteed profitable system" commissions for getting new members to sign up & try out his system? They wouldn't, no way!
This means it's clear to see that the brokers are in on it & that they know it doesn't work as promised.
It's literally just hype, that's all – there's no substance to these things. They just promise you the world to trick you into trying them out & then just leave you to find out the hard way you've been scammed, which brings me onto…
Is The Cannabis Software a Scam?
Yep, there's no doubt about it – the Cannabis Software website is definitely a scam. The sole reason it's been setup is to trick you into depositing with a rogue binary options broker that will simply go on to steal your money.
The owner of the website doesn't care about that though, he's affiliated with the broker & all he wants to do is make himself some commissions at your expense. With that being said there's no way I'll be recommending the Cannabis Software to you, instead you should definitely steer clear of it.
The truth is though there are actually many legitimate ways to make good money online, it's just sad that fake systems like this give the whole "make money online" a bad reputation which makes people avoid it.
I myself have been making a living online for several years now & I can tell you that it brings new levels of freedom – I'm so glad I got started & I know that you too with the right legitimate program could also see the same success.
Obviously I'm not saying that to brag or boast or anything like that, I just truly want to share the amazing opportunity the internet can bring with others having experienced it myself… But anyway, it's up to you what you decide to do… I just sincerely hope that my review here has helped you save some of your hard earned cash at least & if you have any further questions or comments then don't hesitate to leave them below.
A Better Alternative
The sad truth is that unfortunately most of the programs promising to help you make money online are scams. I can say that confidently after exposing over 500+ of them here on this blog.
But the good news is that even though most of them are indeed scams, there are actually some very good programs in amongst them - some programs that can truly help you to earn money.
And out of all of the legit programs I've seen, the one I would recommend the most to anybody looking to get started online is Commission Academy. In my own opinion, that's the best place to start.
At Commission Academy, you'll be provided with everything you need (including the training & tools) to begin earning real money by promoting products or services for companies like Amazon online.
The best part is that there's literally no limit on the amount you can earn with it & the process is pretty simple which means that it's absolutely perfect for people that don't have much experience.
Some wealthy affiliates even earn as much as 5-figures per month... Or more!

I mean don't get me wrong, that kind of money won't just fall into your lap without doing any work... But the harder you're willing to work at it, the more you stand to earn with it.
So if you're looking to get started but don't know which route you should go down or which program you should join (and don't want to waste money on bogus things that don't actually work), then I'd highly recommend checking out Commission Academy first. You can learn more about it here.