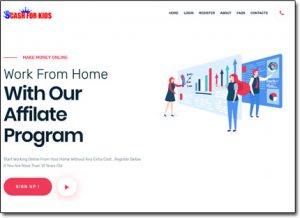 Have you across the newly launched Cash For Kids Club website?
They claim to be hiring everyone to work online & providing you're over the age of 13 they claim that through their affiliate program you'll be able to earn hundreds of dollars per day with ease, even if you've never made a single penny online before…
But is it really true? Is Cash For Kids Club legit? Or is it just a scam to avoid?
Well the good news is that you've landed in exactly the right place to find out as I myself have personally taken a closer look into it to see what's going on & whether or not they really pay, and in this Cash For Kids Club review I'll be uncovering everything you need to know. 🙂
Spoiler: Cash For Kids Club is NOT what it seems & no members have actually been paid, so if you just want to go straight to my number 1 recommendation instead (that actually pays) then be sure to check it out below – or keep reading for my full review:
Go here to see my no.1 recommendation for making money online
(This 100% free training shares my exact strategy for making 5-figures per month)
Click Here To See My #1 Recommendation For Making Money
Quick Navigation
Came here looking for something specific? Use the links below to navigate quickly through my detailed review:
What Is Cash For Kids Club?
Cash For Kids Club is a new website that has just launched promising to provide (primarily kids) with a way to easily earn lots of money online. It states that all you need to do is sign up and share your referral link, and that you'll get $1 per click & $20 per member that signs up.
But obviously that's a heck of a lot of money for such a simple task…
$1 per click?
And a whopping $20 for every member that signs up via your link?
If everybody is joining Cash For Kids Club for free & just sharing links to get others to join then how on earth are the creators of it able to pay all of this money out? Where the heck is the money supposed to be coming from?
It sounds extremely suspicious – and that's because it is.
I can tell you here right from the off that the Cash For Kids Club website is indeed a scam & nobody who signs up will ever get paid. The reason I can say that so confidently is because I've previously seen the exact same scam launched under several different names, such as MVPBucks, CloutPay & so on…
But I hear ya – if it's free then how can it be a scam? What are they getting out of it?
Well keep on reading & that's exactly what you'll find out as I explain how it all really works below…
How Does Cash For Kids Club Work?
Okay so the concept of Cash For Kids Club is that you sign up, then share your referral link & get others to sign up just like you did. Cash For Kids Club then claim they'll pay you $1 for each click on your link & a whopping $20 for each sign-up you get too.
The problem though is that's all lies.
Cash For Kids Club claim that by referring people to their website you're generating them traffic (visitors) which in turn increases the amount of money they make from the adverts on their website…
But there is no adverts on their website!

And as a marketer myself even if there was adverts on their website I can tell you that through such a method there'd still be no way they could afford to pay out such high amounts to their members.
Instead the offer of money is completely fake, and they're just doing it to trick you into signing up & promoting their website because what they're actually doing is operating something known as a dangerous data-harvesting scam.
This means that they're basically trying to collect as much data from people as possible (such as emails, names, passwords etc) and they're basically tricking you into helping them by pretending to pay you money.
The problem here though is that whilst it might appear like you're actually making money (since they've set your account balance to increase accordingly) you'll never be able to actually withdraw any of it.
Instead when you get to the withdrawal limit & actually submit a withdrawal request they'll just claim that you made "fraudulent clicks" & they'll refuse the request. That's why they've set the limit so high.
Legitimate Get-Paid-To websites (which pay much much less than what Cash For Kids Club promises) typically have super low withdrawal limits of around $10 or less & if a site has an unusually high withdrawal limit then you should immediately be pretty sceptical.
But what if you've already signed up? What should you do? Let's take a look…

How To Protect Yourself If You've Signed Up
As I mentioned in the previous section of this Cash For Kids Club review, the whole thing is actually something known as a data-harvesting scam & this can be a pretty dangerous type of scam.
The reason for that is because they're basically trying to collect as much data from people as possible, such as names, emails, passwords etc – and then they'll attempt to use to data for illicit purposes.
As an example it has been known that people behind similar data-harvesting scams have used the information that they have gathered to break into people's PayPal accounts or bank accounts & steal money…
The same could be going on here with Cash For Kids Club & so it's therefore important that you protect yourself if you've already signed up.
But how do you do that? How do you protect yourself?
Well the answer to that is simple – if you have signed up to Cash For Kids Club using the same details that you use elsewhere you should go straight to those accounts & change your details as soon as you can.
It's true that most people use the same username/email/password combination for most websites they visit and that's what the scammers behind Cash For Kids are essentially preying on.
But also on top of that you shouldn't stop there – if you have already shared Cash For Kids Club with other people then you should also share this Cash For Kids Club review with them as well so that they can learn the truth about it & protect their own accounts too.

My Verdict – Is Cash For Kids Club a Scam?
Yes there is absolutely no doubt about it – the Cash For Kids Club website is definitely a scam & none of the members will ever be getting paid. I can say that with confidence after already exposing it several times before when it was launched under different names.
Instead the members who join it will just be wasting their time & they will be also be putting their accounts at risk of being broken into if they happen to sign up to Cash For Kids Club using the same details that they use elsewhere.
So it comes without saying that you should NOT sign up to Cash For Kids Club if you haven't done so already. Instead you should just simply share this post to spread the word about how dangerous it actually is.
Oh and just for some added proof that it is all lies – remember the so-called "members" shown on the Cash For Kids Club website who claim to be making real good money from the website (as shown below):

Well a quick Google search (using the Reverse Image Search tool) revealed that all 3 of those images have just been pulled from a stock photo website, meaning they are actually NOT real members at all – it is just another additional to the lies dished out by Cash For Kids Club.
Don't be fooled by their tactics – AVOID Cash For Kids Club & don't waste your time.
Instead if you really want to make good money online just check out something legitimate from my top picks page here.
Or alternatively check out my number 1 recommended place to get started (Wealthy Affiliate) which is where you'll learn step-by-step for free how you can actually build a full-time income online. 🙂