The Crypto VIP Club claims it can enable you to unleash the power of crypto & start generating yourself automated profits of over $17,000 every single week through online cryptocurrency trading.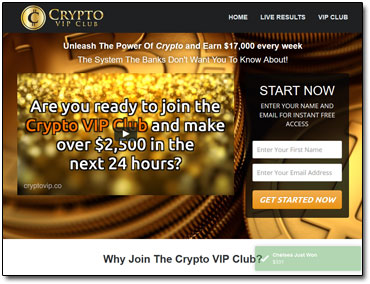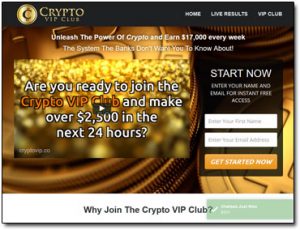 But I think you'll agree with me when I say that that's a pretty bold claim to make, so what's the deal here?
Is the software actually legit or is Crypto VIP Club a scam that's just set out to part you with your cash?
Thankfully if you've been thinking about trying it out you've landed in the right place to find out because I've done the digging & in this review, I'm going to be sharing everything there is that you need to know.
What Is Crypto VIP Club?   |   How Does Crypto VIP Club Work?   |   Is Crypto VIP Club a Scam?   |   A Better Alternative
What Is Crypto VIP Club?
Crypto VIP Club is a so-called automated trading software that claims to have been built around Andrew King's exact trading strategy. The algorithm the software uses can supposedly generate you automated daily profits of $2,500, or $17,000 per week… At least so they say.
You're led to believe that in order to make money from this thing all you need to do is sign up, deposit some funds & hit the "start trading" button. They claim that the system will do the rest & that you can begin making money with it even if you have absolutely no idea about trading or cryptocurrencies at all.
It almost sounds like a dream come true… I mean who wouldn't want to generate $17,000 per week on complete autopilot?
Sadly though it is just a dream… The Crypto VIP Club does NOT work as promised. After taking just a momentary look through this system it quickly became clear to me that this is merely yet another cryptocurrency scam designed to part you with your hard-earned cash.
And this is not the first one of its kind I've come across either – in fact over just this past week alone I've exposed several very similar cryptocurrency scams right here on this blog such as the Altcoin Trends system & the Cryptorobo scam. The creators of these are just trying to cash in on the hype surrounding cryptocurrency & sadly they are looking to do that at your expense.
Scam Tactics Galore…
Before I explain how the scam works I just want to highlight a few of the tell-tale signs that I noticed on the website, but honestly, there is so many of them that I almost don't know where to start. The reason I want to highlight these to you is so that hopefully if you come across a similar scam in the future you will be able to spot the signs yourself & save yourself losing money.
So the first thing that raised my suspicion is the bold claim of lots of easy money. I imagine this is what probably initially raised your suspicion too & that's probably why you landed here on this Crypto VIP Club review to see whether or not it's actually legit.
Honestly, it is possible to make money online but there will never ever be a system that can make you the kind of money that the Crypto VIP Club promises on complete autopilot. If there was then everybody would be using it – nobody would be working a job anymore. It's simply not possible… In order to make money, you will always be required to put in at least some degree of effort.
They are just hoping to catch people who are in desperate need of cash & willing to try anything… It's sad but unfortunately, it's true… That's who these guys generally prey on & that's why I go to these lengths to expose them.
But aside from that website features a lot more lies, for example, you're led to believe that the website has been featured in mainstream publications such at CNN, Forbes & the Financial Times but none of these claims are true.
Here is the screenshot from the Crypto VIP Club website:

Notice that none of these buttons actually link to the article in which the website was supposedly featured. That's because it doesn't exist which becomes clear when you run a search on any of those websites as shown below: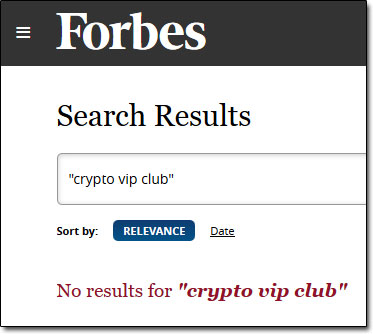 They are just hoping that you will not run the search, this is why it's always important to do your due diligence to double-check the facts (or in this case to check that the facts are actually FAKE).
On top of this, there is much more foolery – fake profit results, fake testimonials & even fake Facebook statuses. If you search the profiles of the people who supposedly gave praise to this system you will see that they either never existed or those that do never said such things as what the Crypto VIP Club claims they did.
What is interesting here though is that the testimonials all talk about something called the Bitcoin Gold Bot. I did my research & this is the exact same system, they simply closed it down & changed the name to Crypto VIP Club. Why did they do that? Simple, to escape all the negative Bitcoin Gold Bot reviews that appeared on the web after people realized it was a scam…

You Might Also Like:
How Does Crypto VIP Club Work?
Well, the first thing that I'll stress here is that the Crypto VIP Club certainly doesn't work as promised, but what I am going to do is show you how the scam operates so that you can understand what's going on.
The shocking thing that you need to know is that this particular program has actually been put together by a broker. That's why in order to get access to the system you are forced to firstly make a deposit through their "recommended broker".
The broker is a binary options broker & this whole thing is a big binary options scam. Basically binary options trading is very bad news & I've exposed a lot of binary scams over the years on this blog. Anyway, many people started wising up to them & over the past year or 2 they began to die down, but now with all the hype surrounding cryptocurrency they are starting to resurface again latching onto that.
You are led to believe that once you sign up & make your deposit with the "recommended broker" (who is actually the broker that created this thing) you can simply push a button & the system will start making profitable trades for you, but that's not how it works.
Basically, this whole thing is just a ploy to make you think that you'll be able to profit so that the broker can get you to deposit. Once you actually try the system out you will find that none of your trades win. Instead of winning, they will all lose – and this is because it is in the brokers interests for you to lose because this is how they make their money.
You see binary options trading is different from normal trading, the brokers do not make money if you win – in fact, they actually lose money because they do not add fees to the trades. Basically, you are just placing a bet with them, if you lose they keep it, if you win you keep it… So they want you to lose.
With this in mind, why do you think they would develop a trading system that supposedly guarantees you would win? The answer is they wouldn't! They have just created this FAKE software so that they can con you into depositing with them.
Once you have made a deposit your money will be pretty much gone for good because the brokers who run these things & operate within the binary options industry are mostly rogues… They are scammers.
So if you think you can merely deposit money & "try this system out" then withdraw it if it doesn't work as promised then think again, that's just what they want you to believe so that they can take your money from you. Let me stress again, they will not let you withdraw.
Is Crypto VIP Club a Scam?
I imagine a lot of the people reading this review will likely just jump straight down here to the conclusion so let me just answer that initial question once again. Yes, the Crypto VIP Club is a huge scam & it has been put together purely so that the creators (and the affiliates promoting it) can earn money at your expense.
The whole thing is just a phoney, and after depositing with the "recommended broker" you will just get access to some stupid software which will see you quickly losing all of your trades. Even if you manage to stop the software before it loses all of your money the broker still won't let you withdraw any of the cash you have remaining in your account because they are in on the scam.
It works in exactly the same way that The Bitcoin Code & The Ethereum Code systems worked – it is just latching onto the hype of cryptocurrency in the hope that people will fall for it so that they can part them with their cash. It is definitely best avoided & I can say for certain that you will not make any money with this system.
So don't be fooled by this system, if you really want to start making money online legitimately then you can check out my free guide here – that will teach you many ways that you can get started. Also if you have any questions or anything to add to this review then feel free to leave a comment below, but hopefully, this review helped prevent you from parting with your cash.
A Better Alternative
The sad truth is that unfortunately most of the programs promising to help you make money online are scams. I can say that confidently after exposing over 500+ of them here on this blog.
But the good news is that even though most of them are indeed scams, there are actually some very good programs in amongst them - some programs that can truly help you to earn money.
And out of all of the legit programs I've seen, the one I would recommend the most to anybody looking to get started online is Commission Academy. In my own opinion, that's the best place to start.
At Commission Academy, you'll be provided with everything you need (including the training & tools) to begin earning real money by promoting products or services for companies like Amazon online.
The best part is that there's literally no limit on the amount you can earn with it & the process is pretty simple which means that it's absolutely perfect for people that don't have much experience.
Some wealthy affiliates even earn as much as 5-figures per month... Or more!

I mean don't get me wrong, that kind of money won't just fall into your lap without doing any work... But the harder you're willing to work at it, the more you stand to earn with it.
So if you're looking to get started but don't know which route you should go down or which program you should join (and don't want to waste money on bogus things that don't actually work), then I'd highly recommend checking out Commission Academy first. You can learn more about it here.