Have you come across the Digital Experts Academy website and wondering if it's a legit way to make money? This review will tell you everything you need to know!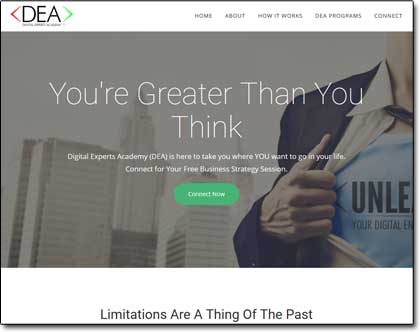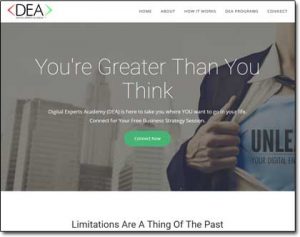 It's hard to trust everything on the internet these days. There's an enormous number of websites that claim you'll be able to earn good money using their platform, but you may want to take a good look at the page before getting involved. It could be the real deal, but it could also turn out to be a scam.
This Digital Experts Academy review will tell you exactly what you need to know about this platform, and if the Digital Experts Academy scam rumours are true. Keep reading if you're planning on using this program to earn money.
What Is Digital Experts Academy?   |   How Does Digital Experts Academy Work?   |   Is Digital Experts Academy a Scam?   |   A Better Alternative
What Is Digital Experts Academy?
I've dug deeper into the program and found out that Digital Experts Academy has two founders. It was created by Stuart Ross, who is a strategist, and Jay Kubassek, who is an author, producer and a digital entrepreneur.
The Foundation
This program is basically built on 3 foundations – Foundation, Umbrella, and Key.
Digital Experts Academy provides you with all the specifics you need to know to earn money online, to recognize the process of online marketing and branding.
The Mentorship
It also has a community where you can ask questions to compatible people and can also find a mentor who will help you achieve exactly what you want to achieve by delivering their expert assistance.
The mentorship connection with people lets you gain practical experience in the fields of your choice, providing Q&A seminars, recommendations, coaching and a lot more.
The exercise comprises of most of the things that you need to know about online marketing, for example, Branding, Amazon, Search Engine Optimization, Social Media Marketing and much more.
The programs you can join are as follows:
DEA Silver
DEA Gold
DEA Platinum
DEA Black
We'll take a closer look at how these programs work in the next section. Keep reading!
How Does Digital Experts Academy Work?
While looking into the program, I've realized that the co-founders of Digital Experts Academy are also owners of the Six Figure Mentors program, which takes a huge sum of money to get involved with the program and pushes people towards promoting their program (similar to how MOBE worked which was recently shut down by the FTC). It will give you the skills you need for your own business, but you will have to pay a handsome amount for their membership programs to be able to earn commissions.
To earn a commission, you'll have to get a membership first. The memberships of Digital Experts Academy are as follows:
DEA Silver – $2,500 (lowered from $3,000 as formerly seen)
DEA Gold – $8,000
DEA Platinum – $11,000
DEA Black – $20,000
Being a part of Six Figure Mentors, you can buy and receive a commission from many other products which bring many more costs to the program.
The Digital Experts Academy Process
Is it worth the cost that you are paying? The program has live events, but do you really want to pay 4 to 5 figures just to attend live events, like conventions? The prices for this program are extravagant especially considering the sole purpose is to earn a commission.
And by the way, you can actually get access to weekly live online marketing events for free through the Wealthy Affiliate program. You can also get all of the training & tools you need to become successful online there too.
With the Digital Experts Academy, you don't actually get to build a real online business for yourself with customers and sales, but instead, you get to sign up with their extremely high priced memberships instead of building your own desired business.
Most of what the program does is that it gets you to buy into the program, so you can get other people to buy into the program too. In short, you're just selling their membership to other people and so the series continues. So, in order to be successful and make money, you will need to recruit a large number of people. You'll have to make a lot of people join the program, not only your acquaintances and your friends. And the hard part is, not everyone you invite would be able to afford the high pricing of Digital Experts Academy's memberships. You will have to invite a large group of people and would still have a limited number of people who will actually sign up for such a thing.
The program shows you unpaid techniques that you can use but they urge you to use the ones that cost a lot, so you can earn money faster (such as paid advertising which could cost thousands more with no guarantee of you actually making a return).
Is Digital Experts Academy a Scam?
I can't call Digital Experts Academy a scam. Technically, it is real, but in my opinion, the memberships cost way too much. A person who wants to start a business doesn't have to spend so much money on memberships and investments online, just to earn a commission. For example, they could get started at Commission Academy which teaches the same stuff & offers the required tools for free…
The truth is that people looking to start an online business often want to set up a platform that involves recruiting people for their own business, sales of their desired products and much more. They do not want to invest in something that is solely paying them to get other people to join their program.
The internet has other programs that are similar to the Digital Experts Academy program, but these do not use the same business model. In my opinion, if you want to start your own business, this is not the right platform for you. Using this program, you won't be making anything or be able to choose what kind of business you want to set up. In fact, you'll just be promoting the program itself to other people to get more people to join the program by signing up for their expensive memberships.
Therefore overall due to the high costs and the fact that it does not allow you to set up and built your own desired business, I won't be recommending the Digital Experts Academy for people looking to start an online business because as far as I'm concerned there are better alternatives available.
Hopefully, this review gave you a good insight into the program & hopefully it's helped you understand how it really works. If you do still happen to have any further questions or comments about it though then don't hesitate to leave them below & I'll get back to you as quickly as possible.
A Better Alternative
The sad truth is that unfortunately most of the programs promising to help you make money online are scams. I can say that confidently after exposing over 500+ of them here on this blog.
But the good news is that even though most of them are indeed scams, there are actually some very good programs in amongst them - some programs that can truly help you to earn money.
And out of all of the legit programs I've seen, the one I would recommend the most to anybody looking to get started online is Commission Academy. In my own opinion, that's the best place to start.
At Commission Academy, you'll be provided with everything you need (including the training & tools) to begin earning real money by promoting products or services for companies like Amazon online.
The best part is that there's literally no limit on the amount you can earn with it & the process is pretty simple which means that it's absolutely perfect for people that don't have much experience.
Some wealthy affiliates even earn as much as 5-figures per month... Or more!

I mean don't get me wrong, that kind of money won't just fall into your lap without doing any work... But the harder you're willing to work at it, the more you stand to earn with it.
So if you're looking to get started but don't know which route you should go down or which program you should join (and don't want to waste money on bogus things that don't actually work), then I'd highly recommend checking out Commission Academy first. You can learn more about it here.