EarnBucks is a new website that's just recently launched & it promises to provide people with an easy way to earn as much as $500 per day online by simply sharing links on social media.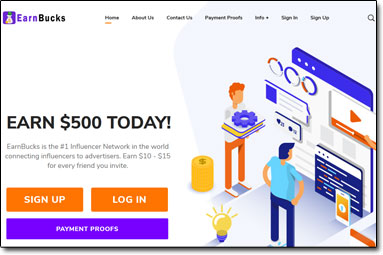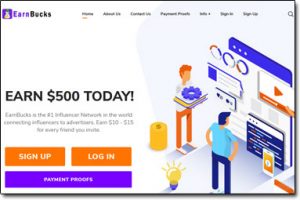 Visitors to EarnBucks are led to believe that all they need to do is sign up, copy their referral link, share it & that they'll then get paid a whopping $10 to $15 for every person that signs up via their link.
But the promised amount of $10 to $15 per referral is a heck of a lot of money especially since all they need to do is create a free account so what's the truth about it?
Is EarnBucks legit or is it just another scam to avoid?
Well, I'm really glad that you decided to do your due diligence & came here to this review of EarnBucks before you signed up because I can immediately tell you that it's certainly not what it seems.
What Is EarnBucks?   |   How Does EarnBucks Work?   |   What To Do If You've Signed Up   |   Can You Withdraw Your Account Balance?   |   Proof It's Not Real   |   Is EarnBucks a Scam?   |   A Better Alternative
What Exactly Is EarnBucks?
EarnBucks is a website that essentially promises to provide social media "influencers" with an easy way to make lots of money online… So basically if you have any sort of following on social media, EarnBucks claims to be able to help you turn that following into profits.
According to their website all you need to do is sign up (for free), copy a referral link that's unique to you & then share it on social media. From there you'll then allegedly be paid $10-$15 for every member that you refer.
So if somebody clicks on your link & then creates a free account just like you did, you'll receive $10-$15… Again, allegedly.
But there's a big issue here, and that lies with where the money is coming from… Because if everybody is simply creating free accounts & EarnBucks & then referring others, then how on earth is EarnBucks making money?
How can they afford to pay everyone a handsome sum of $10-$15 each time they refer somebody new?
Well according to the EarnBucks FAQ, this is how they make money:
Money generated from ad-spend revenue and sponsorship products is used to pay our members. By inviting friends, you are building traffic to our site and increasing ad revenue.
But being an experienced online marketer who knows a thing or two about this sort of stuff, I can tell you with 100% confidence that what they're saying simply isn't true.
Firstly, the EarnBucks website doesn't even contain any advertisements or offers – and even if it did there's simply no way these type of offers would make the company profitable enough to be able to pay out such large amounts for every new referred member.
You see there are actually some legitimate sites out there that pay people in return for completing tasks & referring new members (known as Get-Paid-To sites)… But because the tasks are so easy generally these sites pay out VERY little.
I mean you'd be lucky to earn as much as $10-$15 per month with a legitimate Get-Paid-To site, so the bold promise of being able to $10-$15 per referred member is just ridiculous.
If you were to earn that kind of money from referrals then you'd need to be involved in affiliate marketing which is where you refer people to products or services & get paid commissions from the sales.
If you're interested in that by the way, you can learn more about it over at Wealthy Affiliate.
The other reason I can say so confidently that EarnBucks isn't real is because I've actually exposed this exact same website several times before under various different names like Click2Cash, Rain Money, Click4Kash & Money Genie.
The whole thing is actually just a scam & the people behind it simply keep on changing its name in an attempt to escape the reviews which expose the truth (like this one) to continue tricking people into signing up.
So how exactly does the scam work? And what should you do if you've already signed up? Keep reading to find out…
How Does EarnBucks Work?
EarnBucks promises to pay people money in return for others, but in short, they don't pay anybody anything – they're just using the promise of payments as a trick to make their scam go viral… And unfortunately, it's working.
The reality is that EarnBucks is nothing more than a dangerous data-harvesting scam.
But what does this mean?
Well, basically the people behind EarnBucks are preying on the fact that most people use the exact same credentials to sign up to every single website that they visit online.
This means that most people use the same email/username/password combinations for sites like Facebook, PayPal, their email, etc…
And the scammers behind EarnBucks are basically hoping that you'll also sign up to their website using these same details too because their goal is to then attempt to compromise your online accounts.
So upon signing up to EarnBucks (which I don't recommend doing if you haven't already), the people behind it will try to find any accounts associated with your details & gain access to them for illicit purposes.
And even if they're unsuccessful at doing that you're details are still not "safe" as they'll likely be sold onto shady third-party marketing companies who'll bombard you with spam & potentially more further scams.
What If You've Already Signed Up?
If you've already signed up EarnBucks & you did so using the same credentials that you do indeed use elsewhere then you should definitely go & change those details ASAP to prevent the people behind EarnBucks compromising your accounts.
So as an example if you signed up to EarnBucks using the same details that you use to login to your email account for example, then you should head to your email provider & change your details there ASAP.
Unfortunately though in terms of "removing" your data from EarnBucks, that's not really possible. A legitimate company would more than likely honour your request for your data to be deleted, but EarnBucks is not legitimate… Contacting them will just draw more attention to your data.
This means that basically the best thing to do is to just exit the EarnBucks website & refrain from re-visiting it as ultimately each time you revisit it you'll just be giving them more & more data.
But I Have Money In My Account…
The creators of EarnBucks (and the other associated scams) have gone to extreme lengths to try to make them seem legit, and one of the things they've done is they've set it up in a way so that your account balance increases accordingly with your referrals.
This may make you think that it's actually working & that you're actually earning money but unfortunately, it's not, instead the numbers that are being displayed are just faked & that's why the withdrawal limit is set so ridiculously high.
The people behind EarnBucks know that as soon as you try to request a withdrawal you'll realize it's a scam because it never gets paid, so by setting it so high they're forcing you to refer as many people as possible before you're able to discover it's not legit.
And just in case you're still on the fence & want to keep on trying to make sure you don't actually get paid…
You Might Also Like:
Here's The PROOF It's Not Actually Real
I appreciate that there may be some people reading this EarnBucks review who have found themselves in a desperate situation & may still be contemplating sticking with EarnBucks "just in case" it's real, so I want to hands-down prove to you it's not to save you wasting your time.
I'll show you below how basically the entire website is just full of lies.
Firstly, for example, let's take a look at the fact that EarnBucks calls itself the "#1 influencer network in the world" & claims to have been started in March 2015 as highlighted in the image below:

However a quick search on the "earnbucks.co" domain's age reveals that the website is actually only a mere 1 month & 8 days old, as shown below:

Then there's the so-called "payment proofs" page which shows screenshots from several users who've allegedly received payments from EarnBucks… However, surprise surprise all of the usernames have been blurred out.
Why would a company share payment proofs but blur out the usernames? A screenshot with a blurred out username is not verifiable, therefore it is not proof. This is just another gimmick they've deployed to try to trick you into thinking it's legit.
And then there's also some user testimonials on the EarnBucks homepage as shown below:

However not only has the same image been used for both Devon & Jazmine, but the image that's been used is associated with other scams that I've previously exposed too, as shown below: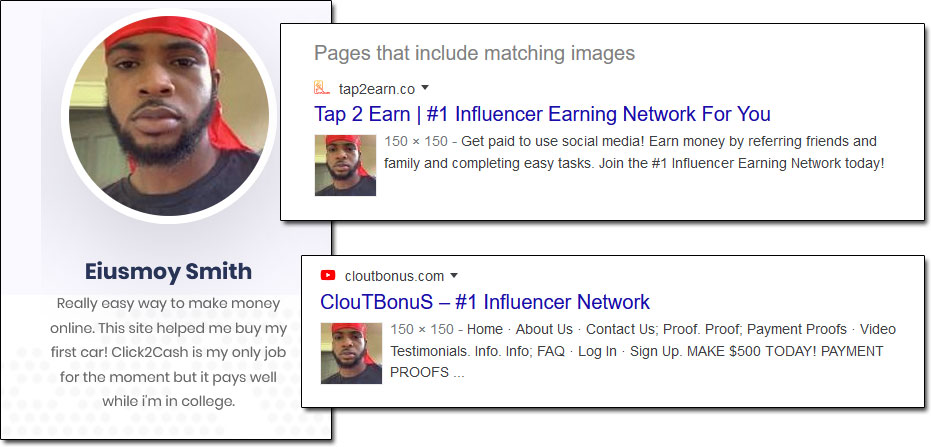 I've reviewed both Tap 2 Earn & Clout Bonus right here on this blog, they too are both scams – and notice how they also call themselves the "#1 influencer network"… There can only be 1 "#1 influencer network".
Which brings me onto…
My Verdict – Is EarnBucks a Scam?
EarnBucks is certainly a scam, hands-down & it's a very dangerous one at that. The entire website has been built upon lies & deceit & its intention is to trick you into handing over your data so that the people behind it can attempt to compromise your accounts.
On top of that though the people behind it are also using the promise of money for inviting friends as a trick to get members to promote the scam for them, meaning people are unwillingly then luring friends/family into the scam too.
It, therefore, comes without saying that if you haven't already signed up to EarnBucks, you should stay away from it – but if you have & you did so using details that you use elsewhere then you should definitely change them ASAP.
Plus if you've already begun promoting the links then you should delete them & it would also be a good idea to then share this review of EarnBucks so that the people you promoted it to can find out the truth & protect themselves.
But there is some good news in that whilst EarnBucks itself may not be legit, there are alternative legitimate ways that you can make good money online.
I myself use a method called affiliate marketing & it is one of my all-time top recommended ways of earning online. It basically involves you promoting third-party products or services (like products from Amazon) and getting paid commissions in return.
One of the best things about it is that there's absolutely no cap on the amount you can earn. The harder you work, the more you stand to make – and some people even earn hundreds of thousands per month with it.
Of course, I'm not saying that you too will earn a huge amount like that as that's definitely quite extraordinary, however, I'm just trying to highlight the true potential of it so that you can see what's possible (and why I recommend it).
But anyway if you'd like to check that out instead & get started with it then you should definitely check out Wealthy Affiliate before you go.
Or alternatively, you can browse these other ways to make money online…
But whatever you decide to do I just sincerely hope that my review of EarnBucks here has given you a good insight into how the whole thing really works & most importantly I hope it has helped you to avoid falling victim to it.
If you still happen to have any further questions or comments then, of course, don't hesitate to leave them below. 🙂
A Better Alternative
The sad truth is that unfortunately most of the programs promising to help you make money online are scams. I can say that confidently after exposing over 500+ of them here on this blog.
But the good news is that even though most of them are indeed scams, there are actually some very good programs in amongst them - some programs that can truly help you to earn money.
And out of all of the legit programs I've seen, the one I would recommend the most to anybody looking to get started online is Commission Academy. In my own opinion, that's the best place to start.
At Commission Academy, you'll be provided with everything you need (including the training & tools) to begin earning real money by promoting products or services for companies like Amazon online.
The best part is that there's literally no limit on the amount you can earn with it & the process is pretty simple which means that it's absolutely perfect for people that don't have much experience.
Some wealthy affiliates even earn as much as 5-figures per month... Or more!


I mean don't get me wrong, that kind of money won't just fall into your lap without doing any work... But the harder you're willing to work at it, the more you stand to earn with it.
So if you're looking to get started but don't know which route you should go down or which program you should join (and don't want to waste money on bogus things that don't actually work), then I'd highly recommend checking out Commission Academy first. You can learn more about it here.