Tap 2 Earn claims to be the #1 influencer network & it promises to provide a way for its visitors to earn lots of money from social media by simply sharing links & inviting their friends…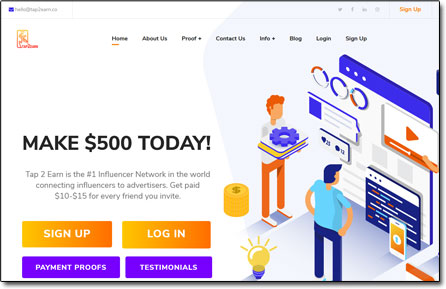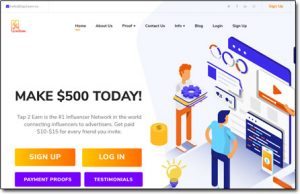 Their website is packed full of payment proofs & testimonials & they claim that you even earn as much as $500 the very same day that you get started.
But is Tap 2 Earn actually legit? Or is it just a scam to avoid?
Well, you'll be glad you did your due diligence & came here to this Tap 2 Earn review before signing up because I can tell you immediately that it's NOT what it seems.
What Is Tap2Earn?   |   How Does It Work?   |   Fake Payment Proof   |   What To Do If You've Signed Up   |   Is Tap2Earn a Scam?   |   A Better Alternative
What Is Tap 2 Earn?
Tap 2 Earn is a brand new website that basically claims to provide a stupidly easy way to make lots of money online by using social media. They claim to connect influencers with advertisers & call themselves the "#1 influencer network in the world"…
Visitors to the Tap 2 Earn website are led to believe that all they need to do is simply sign up, share their referral link & invite friends. They're then told that they'll earn a whopping $10 to $15 for every friend that creates a free account.

But why would Tap 2 Earn pay people to get other people to create free accounts?
And where is the money coming from? How does Tap 2 Earn make money?
Well within their FAQ Tap 2 Earn states the following:
Money generated from ad-spend revenue and sponsorship products is used to pay our members.
However, what I can tell you here right from the off is that that's simply not true. Tap 2 Earn is actually just a scam & none of the members participating will ever get paid – instead, they're just being "used" to draw more people into the scam.
And the reason I can say that with so much confidence is because I've actually seen this scam several times before.
Some of its previous names include:
The people behind it simply keep on changing the name of it in an attempt to escape the negative reviews that surface which out it as a scam (like mine here) so that they can continue tricking more people into signing up.
But how does the scam work? And if you've already signed up how do you protect yourself from getting scammed?
Keep on reading to find out…
How Does Tap 2 Earn Work?
Well, the way Tap 2 Earn claims to work and the way it actually works are 2 very different things entirely… You see Tap 2 Earn claims to be an influencer program through which you're able to earn money by generating referrals, but that's not the case.
The truth is that Tap 2 Earn is actually just what's known as a data-harvesting scam & it's a very dangerous at that.
The whole "paid for referrals" thing is to a trick so that you'll promote their website & lure more people into their scam. They're basically stealing the data of every person that signs up & there are a couple of things they'll likely be doing with it…
Firstly & most dangerously, they could be using the data to attempt to break into your online accounts – such as PayPal accounts, bank accounts & social media accounts etc. This is the most likely scenario.
They'll simply be hoping that the username/email/password combination that you use to sign up to Tap 2 Earn with is the same combination that you use on other websites, and they'll try to find other accounts associated with your details.
Further to that though if they're unsuccessful at breaking into your accounts they'll likely sell your data onto third parties for marketing purposes… So you'll probably begin getting a lot of unsolicited mail, emails & potentially calls which could be promoting further scams.
Some people previously mentioned that after signing up these data-harvesting scams they were then lured into get-rich-quick scams such as the Online Empire scam & the 22 Minutes To Profits scam.
Either way, signing up to Tap 2 Earn is clearly not a good idea.
You Might Also Like:
But What About The Payment Proofs?
In an effort to try & make themselves look legit Tap 2 Earn have created a "payment proofs" page on their website which shows alleged members boasting about how much money they have made through the platform, but it's all fake.
The images of "proof" have been Photoshopped, and the video testimonials contain actors hired from the website Fiverr as shown below: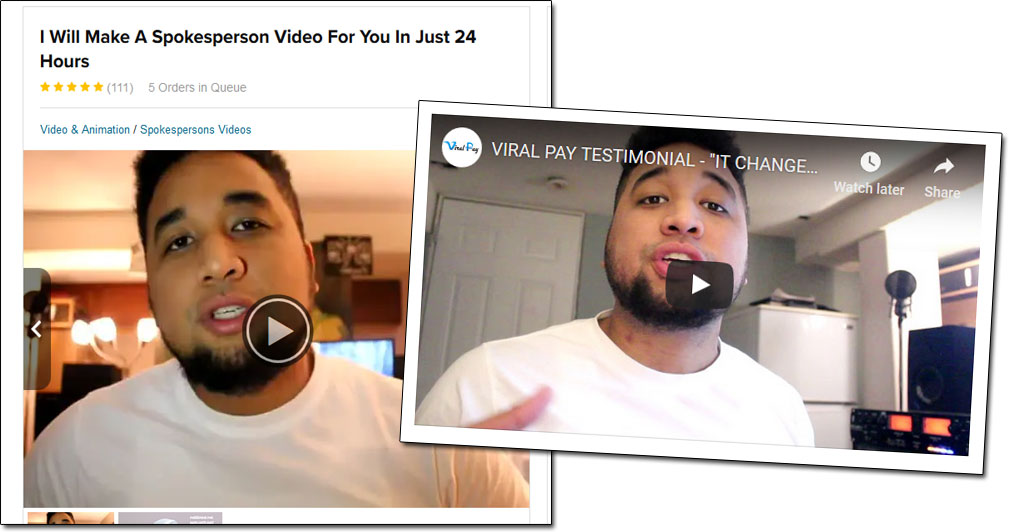 That screenshot was taken from when the scam was named ViralPay however if you look on the Tap 2 Earn video testimonials page you'll see the same testimonial from the same guy, only this time he is named "Austin".
And those aren't the only lies either – the whole website is full of lies.
Take the "About Us" page, for example, it claims that Tap 2 Earn was founded in 2013 by two guys named Henry Chaplin and Davis O'Brien as shown below:

However, as shown below a quick search on the domain name reveals that the website was only launched a little over a month ago:

And what about the Tap 2 Earn support team? Jesse Rodriguez & Kayla Thomas as shown on their website? (and also shown below):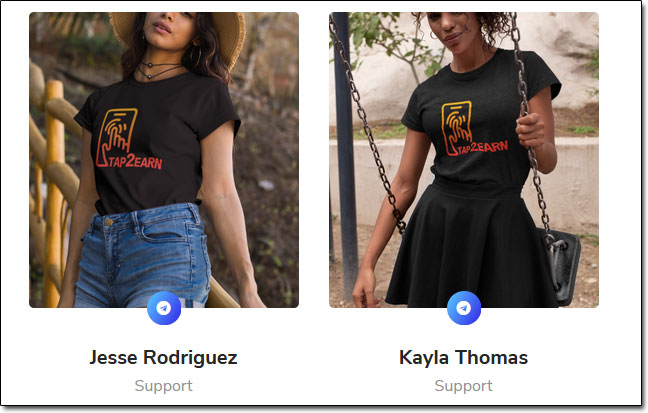 Well surprise surprise they are also fake too. I was able to find that out by running a reverse image search on Google which revealed that those ladies are actually models for a custom t-shirt website.
You upload your logo & your preview is shown on the t-shirt… Which it looks is exactly what the creators of Tap 2 Earn have done.
Here's the proof:

But most importantly…
What If You've Already Signed Up?
If you have signed up using details that you don't use anywhere else then you will likely be fine – you just may find yourself becoming bombarded with spam however whilst annoying, that is not the end of the world.
If though you have indeed signed up using the same username/password or email/password combination that you elsewhere though then you could be in trouble & I would recommend changing your details on ALL of the sites you use them ASAP (except on Tap 2 Earn of course).
I would also strongly recommend that you share this Tap 2 Earn review on social media too in order to alert others of the potential dangers so that they don't end up signing up & falling victim to it… Especially if you've already shared the link.
With that being said though I think it's time for…
Is Tap 2 Earn a Scam?
The evidence here is overwhelming – Tap 2 Earn is definitely a scam website, it is NOT legit. The whole thing is just a trick to get you to hand over your details so that they can attempt to break into any other accounts you have associated with them.
The promise of money by referring others is also just another trick to get you to lure others into the scam without you knowing. The people behind the Tap 2 Earn scam are clearly very cunning & it comes without saying that it should be avoided.
Instead, if you truly want to make good money online I would advise you stick with one of these legitimate methods.
I'll point out here that my personal favourite method (which is the method I actually use myself) is called affiliate marketing. The reason I like it is because it's simple, easy to get started with & the amount you can earn with it is totally uncapped.
You can even generate a full-time income with it & there are places where you can get started with it (or learn more about it) for free such as Commission Academy.
But whatever you do, whether you join Commission Academy or check out these other methods I just sincerely that my review of Tap 2 Earn here has given you a good insight into how the scam really works & I hope it has helped you to dodge it.
If you still happen to have any questions or comments though then, of course, don't hesitate to leave them below. 🙂
A Better Alternative
The sad truth is that unfortunately most of the programs promising to help you make money online are scams. I can say that confidently after exposing over 500+ of them here on this blog.
But the good news is that even though most of them are indeed scams, there are actually some very good programs in amongst them - some programs that can truly help you to earn money.
And out of all of the legit programs I've seen, the one I would recommend the most to anybody looking to get started online is Commission Academy. In my own opinion, that's the best place to start.
At Commission Academy, you'll be provided with everything you need (including the training & tools) to begin earning real money by promoting products or services for companies like Amazon online.
The best part is that there's literally no limit on the amount you can earn with it & the process is pretty simple which means that it's absolutely perfect for people that don't have much experience.
Some wealthy affiliates even earn as much as 5-figures per month... Or more!

I mean don't get me wrong, that kind of money won't just fall into your lap without doing any work... But the harder you're willing to work at it, the more you stand to earn with it.
So if you're looking to get started but don't know which route you should go down or which program you should join (and don't want to waste money on bogus things that don't actually work), then I'd highly recommend checking out Commission Academy first. You can learn more about it here.