Money Chaser claims to be the #1 influencer network & promises that you'll be able to earn lots of money online through its platform by simply signing up & sharing a link on social media to invite your friends…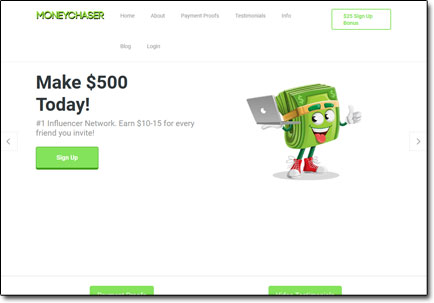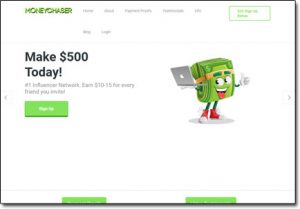 They claim that you'll be able to earn a whopping $10 to $15 for every friend that you invite who creates an account, but does MoneyChaser.co really pay its members or is it just a scam that'll see you wasting your time?
And if it does really work then where is the money coming from if everybody is creating free accounts?
In this honest review of Money Chaser I'll be exposing the REAL truth about how it all works (and why you WON'T want to join)
What Is Money Chaser?   |   How Does Money Chaser Work?   |   The Trickery   |   Payment Proof   |   Is Money Chaser a Scam?   |   A Better Alternative
What Is Money Chaser?
The newly launched Money Chaser website (found over at MoneyChaser.co) makes the bold claim of being the "#1 influencer network" and it promises to provide its visitors with an easy way to make hundreds of dollars per day through social media.
Visitors are led to believe that all they need to do in order to make money is sign up, share a link & invite friends… And they're told that they'll earn between $10 and $15 for every person they get to sign up for a free account (as shown below):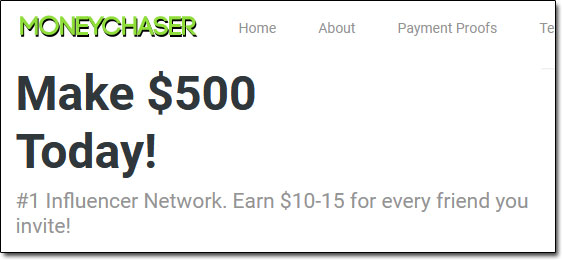 But if everybody is creating free accounts then how can Money Chaser afford to pay their members so much money? Where is the money coming from & how are Money Chaser earning from you?
Or is it just a scam that doesn't actually pay?
Well I'm sorry to break it to you but the Money Chaser is indeed a scam website & it does NOT pay any of its members. The reason I can say that so confidently is because I've actually already exposed this same scam several times before.
The creator of it keeps launching it under different names in an attempt to escape the negative reviews so that they can keep on tricking more people into signing up to it & the true intent of it is actually quite dangerous.
Some of its previous names include Easy Cash Job, CashOG & TheMiniPay…. The name keeps changing but the scam remains the same.
So onto the next questions – what is the scam & how does Money Chaser get money from you? Keep on reading & that's exactly what I'm going to explain below as I go over in finer detail how it all really works…
How Does Money Chaser Work?
In short the Money Chaser website at MoneyChaser.co is NOT a legitimate paying website, it's a scam that's been designed to part you with your data & trick you into getting others to join so that they can get their data too.
They're basically preying on the fact that most people use the exact same email, username & password at every website they join…
So they've created a fake website that promises to pay members for sharing it & they're using it to collect a whole bunch of emails, usernames & passwords… And then they'll attempt to break into any accounts associated with those details.
This could include Facebook accounts, PayPal accounts or even bank accounts etc…
So therefore if you've already signed up to Money Chaser prior to coming across this review & you did so using the same details that you happen to use on other websites then I strongly advise that you go to those websites & change them ASAP.
And of course if you haven't already signed up then I recommend you steer well clear of it.
Admittedly Though It's Convincing…
The scammers behind the Money Chaser scam have clearly gone to a lot of effort to try & make their website seem convincing & I can imagine that as a newcomer to making money online it could be pretty easy to get caught out by it.
They have created a whole system that actually adds "money" into your account & makes it seem like you are really earning when you refer new friends. At a glance it seems like the website is working…
However the problem is that when it comes to making a withdrawal request it will simply get ignored or rejected as they are not really interested in paying their members, they're just tricking them into promoting their scam to others.
And that's why they've set their withdrawal limit ridiculously high. Most legitimate get-paid-to websites pay very small amounts (and aren't really worth your time) but because they pay so little they generally have very low withdrawal limits.
A high withdrawal limit on a website should definitely make you suspicious & you should check for proof of payments before joining… Which brings me onto…
Payment Proof
The people behind the Money Chaser scam have even gone to the extent of creating a fake proof of payments on their website to try & further trick people into signing up but don't fall for it because it's all a con.
None of the proof OR testimonials are real, and I can prove that to you below because one of the guys in the videos is actually a paid actor that's been hired from the website Fiverr:
Here he is shown on the Money Chaser website: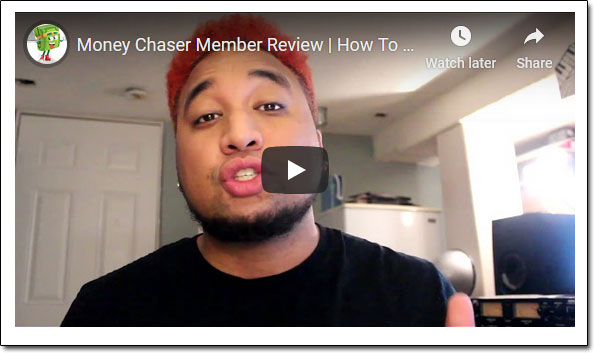 And here's a picture of his Fiverr listing along with his previous feature on the Viral Pay scam website: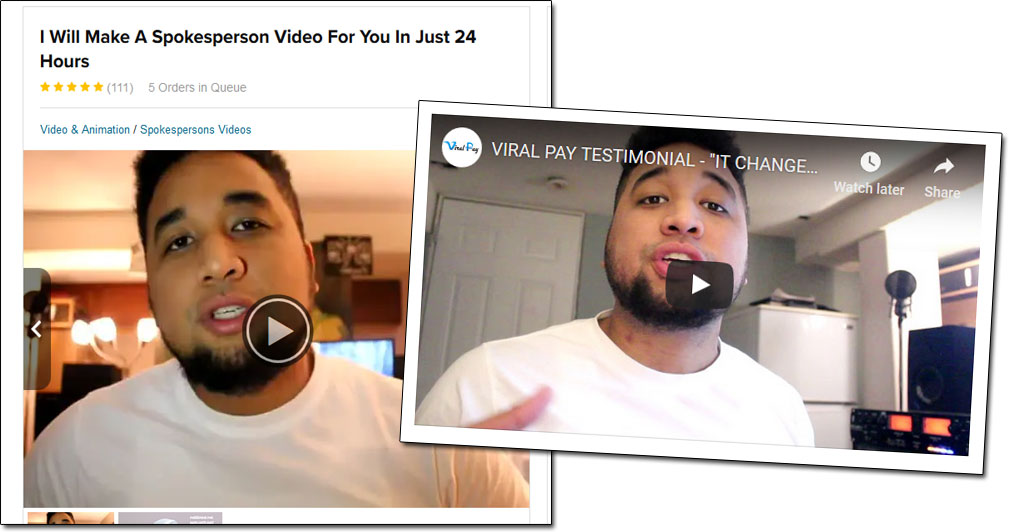 Which brings me onto…
Is MoneyChaser.co a Scam?
There's no doubt about it, the Money Chaser is definitely a scam & it's a very dangerous one at that as it's harvesting user data for illicit purposes & then tricking the users into promoting the scam with the false promise of money.
The Money Chaser website should definitely be avoided & as I mentioned earlier in this review if you have already signed up to it using the same details that you use elsewhere then you should head to those places & change them ASAP.
However if you haven't signed up & you're still looking to earn a legitimate income online then you can feel free to check out these alternatives on my top picks page here. They're all tried & tested.
And I'll tell you here too that my all-time favourite method (which is the same method I make most of my own money online) is something called affiliate marketing, which is where you promote products/services online in return for commissions.
Affiliate marketing is very easy to get started with thanks to programs like Commission Academy & the amount you can earn with it is completely uncapped. The harder you work the more you can earn.
So if you're interested in that then definitely do check out Commission Academy before you leave, but regardless I just sincerely hope that my Money Chaser review here has given you a good insight into how the scam works & hopefully helped you to avoid it.
Feel free to leave any questions or comments below…
A Better Alternative
The sad truth is that unfortunately most of the programs promising to help you make money online are scams. I can say that confidently after exposing over 500+ of them here on this blog.
But the good news is that even though most of them are indeed scams, there are actually some very good programs in amongst them - some programs that can truly help you to earn money.
And out of all of the legit programs I've seen, the one I would recommend the most to anybody looking to get started online is Commission Academy. In my own opinion, that's the best place to start.
At Commission Academy, you'll be provided with everything you need (including the training & tools) to begin earning real money by promoting products or services for companies like Amazon online.
The best part is that there's literally no limit on the amount you can earn with it & the process is pretty simple which means that it's absolutely perfect for people that don't have much experience.
Some wealthy affiliates even earn as much as 5-figures per month... Or more!

I mean don't get me wrong, that kind of money won't just fall into your lap without doing any work... But the harder you're willing to work at it, the more you stand to earn with it.
So if you're looking to get started but don't know which route you should go down or which program you should join (and don't want to waste money on bogus things that don't actually work), then I'd highly recommend checking out Commission Academy first. You can learn more about it here.