At a glance TheMiniPay website (found at TheMiniPay.com) seems to present a great opportunity as it promises to provide you with an easy way to make hundreds of dollars per day online with ease, even if you're totally new to working online.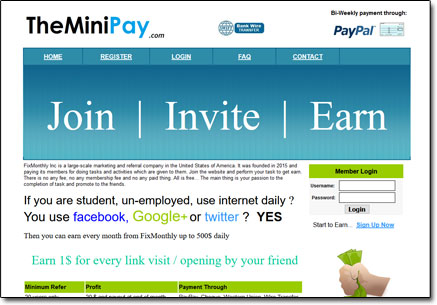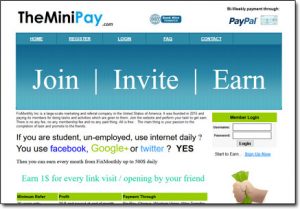 All you have to do according to the founders is sign up & share your link on social media. You're then told you'll be paid for every single person that clicks on your link & creates a free account & that you'll easily make $500+ per day through this method…
But could it really be true? Is TheMiniPay.com legit & can you really earn so much money so easily? Or is the whole thing just a scam that'll ultimately see you wasting your time & regretting that you joined?
Well I'm glad you decided to do your due diligence & came here first before joining because I can tell you right from the off that TheMiniPay.com is NOT what it seems & the truth is that nobody will be getting paid (as you'll soon see in this review).
What Is TheMiniPay?   |   How Does TheMiniPay Work?   |   Is TheMiniPay a Scam?   |   A Better Alternative
What Is TheMiniPay?
TheMiniPay is a website that claims to make earning simple. The founders state that it has been around since 2015 and that all you need to do to earn is simply join, share your link & invite others…
You're told that you'll earn a whopping $1 for every person that clicks on your link & that you'll also get an additional income paid from the profits of anybody that they get to join too.
So as an example if you get your friend Sandra to join, you get $1, then if she gets somebody to join she gets $1 but you also get $0.50 because you referred her.
They lead towards believing that you'll be able to make as much as $500+ per day with this method with ease & that because you'll be leveraging others you'll also be able to build up a passive income too…
But there's 1 important question, which is where is the money coming from?
If everybody is joining for free then how on earth can TheMiniPay.com afford to pay out so much money to all of their members?
In short the truth is that they can't – there is no money, TheMiniPay is actually a scam (and a dangerous one at that).
So if you haven't already joined TheMiniPay then don't, because as you'll soon see below you'll just find yourself wasting your time & not getting paid. Plus you'll also be putting your data at risk which could lead you to getting scammed.
You'll see what I mean below when I show you in greater detail what's really going on…
How Does TheMiniPay Work?
So the entire TheMiniPay website makes you believe that you'll be getting paid for sharing the website & referring others but in reality that's not the case, nobody through TheMiniPay website will actually be getting paid.
Instead TheMiniPay is actually what's known as a data-harvesting scam & they're simply leveraging their visitors (aka you) to promote their scam by pretending to pay them so that they can steal more peoples details.
Here's how it works…
You sign up to TheMiniPay expecting to make money by sharing their website
You share their website & you get others to sign up as well
In the meantime TheMiniPay are collecting all the usernames/emails/passwords
You realize that it is a scam & that you don't get paid & forget about it
Later TheMiniPay scammers will attempt to break into accounts associated with the data they've collected (PayPal/Facebook etc)
It's a fact that most people sign up to multiple websites online using the exact same credentials & that's exactly what the creators of TheMiniPay scam are preying on. They're hoping you sign up to their website with the same details that you use elsewhere.
So if you have already signed up TheMiniPay and you did so using the same details that you use elsewhere then you should definitely go & change your details ASAP to prevent TheMiniPay scammers from getting into your account.
And I know what you might be thinking…
How can I be so sure it's a scam? How do I know they don't pay?
The answer to that is because I've actually already seen & exposed this exact same scam several times before under various different names. The people behind it simply keep changing its name in an attempt to escape the negative reviews so that they can continue conning people out of their hard earned cash.
Some of its previous names include CashOG, SwagPay, CashLoad & Paid4Clout…
It's exactly the same scam, just under a different name – so take my advice & do not join.
Oh and just in case you need more proof that it's 100% a scam, check out the image below:

On the homepage of TheMiniPay website not only do they claim to have been founded in 2015 (which is a lie) but they also refer to themselves as FixMonthly Inc which is another version of this scam I previously exposed.
They've simply forgotten to change the bit of text on their homepage, whoops – now the cat's out of the bag.
And as shown below the website was actually only first seen on August 14, 2019 (8 days ago from writing this review) – not 2015 as they claim: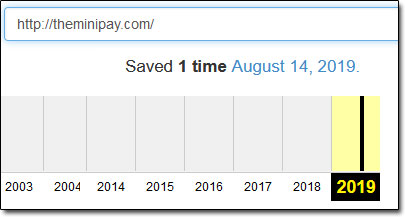 Which brings me onto…
Is TheMiniPay.com a Scam?
Yes there's absolutely no doubt about it, TheMiniPay is definitely a scam & as I mentioned earlier in this review it is a very dangerous scam as its true intention is to break into as many of your accounts as possible.
The people behind it have just invented the idea of paying people, nobody will actually get paid & instead they're just trying to use you to promote their scam so that they can harvest as much data as possible.
It therefore comes without saying that you should definitely avoid TheMiniPay website & instead if you really want to make money online legitimately I suggest you stick with one of my top picks from this page here.
Or alternatively you could check out affiliate marketing which is one of my top ways to make money online (and the same way I personally make most of my own money online).
Affiliate marketing basically involves you connecting people with products or services online & getting paid commissions in return. The great thing is that there's no limit on the amount you can earn & you can even get started with it for free over at Wealthy Affiliate.
Whatever you decide to do though I sincerely hope that my review of TheMiniPay.com here has given you a good insight into how the whole thing really works & hopefully you can now see why you shouldn't join. Feel free to leave any questions or comments below.
A Better Alternative
The sad truth is that unfortunately most of the programs promising to help you make money online are scams. I can say that confidently after exposing over 500+ of them here on this blog.
But the good news is that even though most of them are indeed scams, there are actually some very good programs in amongst them - some programs that can truly help you to earn money.
And out of all of the legit programs I've seen, the one I would recommend the most to anybody looking to get started online is Commission Academy. In my own opinion, that's the best place to start.
At Commission Academy, you'll be provided with everything you need (including the training & tools) to begin earning real money by promoting products or services for companies like Amazon online.
The best part is that there's literally no limit on the amount you can earn with it & the process is pretty simple which means that it's absolutely perfect for people that don't have much experience.
Some wealthy affiliates even earn as much as 5-figures per month... Or more!


I mean don't get me wrong, that kind of money won't just fall into your lap without doing any work... But the harder you're willing to work at it, the more you stand to earn with it.
So if you're looking to get started but don't know which route you should go down or which program you should join (and don't want to waste money on bogus things that don't actually work), then I'd highly recommend checking out Commission Academy first. You can learn more about it here.