High Ticket Siphon is the name of a newly launched app which claims to be able to provide you with an entirely automated way to begin generating high-ticket affiliate commissions online.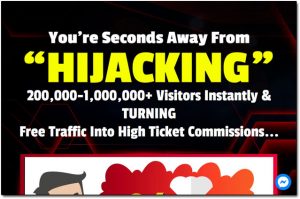 You're led to believe that the app works by "hijacking" traffic from existing sources & that as a result, you can immediately begin getting 200,000 to 1,000,000 visitors sent through to your offers.
But obviously that's a pretty bold claim, right?
After all, if it really worked then why isn't everybody using it? Why are people still working at jobs that they dislike if High Ticket Siphon can really do what it claims?
Is High Ticket Siphon a scam? Or does it actually provide anything useful?
Well, if that's what you've been looking to figure out then you can rest assured that you've landed in exactly the right place because in this High Ticket Siphon review I'm going to be uncovering everything you need to know.
What Is High Ticket Siphon?   |   Who Is Behind It?   |   How Does High Ticket Siphon Work?   |   The Costs   |   Is High Ticket Siphon a Scam?   |   A Better Alternative
What Is High Ticket Siphon?
As I briefly touched on above, High Ticket Siphon essentially portrays itself as being an "app" that can provide people with an easy way to automatically earn high-ticket affiliate commissions online.
And unlike other methods, you're led to believe that the High Ticket Siphon app will enable you to literally begin earning money immediately after you sign up & activate it.
All you need to do is simply sign up, activate it & then the app will begin "hijacking" traffic from existing sources which you can then redirect through to your affiliate offers in order to earn commissions.

Or at least that's what the website promoting it claims.
But, as you've probably already guessed, it doesn't really work that way.
Whilst there is actually some substance to it (as you'll see a little further down in this review), the High Ticket Siphon app won't really see you generating automated buyer traffic as it claims it will.
Instead, it'll just see you wasting lots of money & struggling to get results.
You'll see why as I explain exactly how it all works in just a moment, but first before I do that, let me give you a little insight into the person that's actually behind the whole thing.
Who Is Behind High Ticket Siphon?
High Ticket Siphon has been created by a guy named Brendan Mace & for many of you reading this High Ticket Siphon review, that name alone will be enough for you to run a mile.
The reason I say that, for those of you that aren't familiar with Brendan, is because Brendan Mace has actually created many, many of these types of programs already in the past.
He is renowned for creating programs that promise easy ways to get rich or generate traffic but they never ever end up actually delivering on any of their promises.
Instead, they just leave people to feel disappointed with their purchase ad then sadly, more often than not Brendan makes it very difficult for people to get their money back.
Some of his previous programs that you might have already heard of include the likes of:
Funnily enough, each program claims to contain the "secret" to making easy money online… And his latest program, the High Ticket Siphon is no different whatsoever.
You'll see why below…
How Does High Ticket Siphon Work?
Well, in short, the idea is that the High Ticket Siphon app will search YouTube & find videos related to keywords of your choice that contain broken links in the descriptions.
You're then told that you can purchase the domain names of the broken links & redirect the links through to your affiliate offers in order to begin generating instant commissions.
And in theory, it sounds like a pretty good plan… But unfortunately, in reality, there are a number of problems.
Firstly, there are some problems with the actual app itself in that it doesn't actually work as promised, but on top of that, there are also some problems with the method overall, as well.
I'll explain more about the problems in a moment, but before I do, let me give you a more detailed rundown of how the whole process is supposed to work.
You sign up to High Ticket Siphon
You enter keywords related to the offers you're promoting
The app searches YouTube for videos related to the keywords with broken links in their descriptions
You purchase the domain name of the broken link
You redirect the link to your offers & begin generating commissions from the traffic
As mentioned above, it actually seems like a plausible method – but don't be lured in by it, because it won't really work.
The reason it won't work is that firstly, the app only returns a very limited number of videos for each search you run (because of a limit put in place by YouTube itself).
This, coupled with the fact that the app returns ALL videos for your searches (even the ones with working links) means that it's more difficult than you're led to believe to actually find broken links.
In order to find the broken links, you have to literally click on each link manually & see whether or not it's working. The app doesn't do this bit on your behalf.
And then, even when you do finally find a broken link, more often than not you will still not be able to "hijack" it like you're led to believe because even though the link is broken, more often than not the domains are still active.
This means that you can't purchase them & you can't "redirect the traffic" like the High Ticket Siphon sales page claims you can because somebody still already owns them.
And on the rare chance that you do indeed manage to find a broken link that is on an expired domain, there's still no way of telling whether or not it'll actually get any traffic.
This means that you'll need to risk around $15 for every expired domain in purchase fees in order to "redirect the traffic", and there's no guarantee that you'll actually get any traffic at all in return.
So, do you know what's easier? And more sensible?
…to simply pay for advertising.
After all, why fool around paying money for expired domains that may or may not generate any traffic, when you could just pay for advertising instead & get guaranteed targeted traffic?
It doesn't make sense.
High Ticket Siphon is essentially just a bit of a gimmick. It's something that's designed to sound great & easy in theory, so that Brendan can get you to hand over your cash.
But Brendan isn't actually the first person to release a product related to this method of buying expired domains to get traffic. Another marketer named Jamie Lewis already released a similar product named Repeat Payments in the past.
As you can imagine, that also received a lot of negative reviews too.
You Might Also Like:
What Are The Costs?
To join High Ticket Siphon you'll need to pay a seemingly small fee of around $12.93, but don't be fooled by this low initial cost because it's not the only cost you'll pay.
Instead, once you hand over that initial sum of money, you'll then be forced to go through a long line of 1-click upsells which you're led to believe will provide quicker & greater success.
In short, they won't – and what's more, is that none of those additional upsells are covered by any sort of money-back guarantee. Only the initial purchase itself is protected.
Not good.
And then, of course, on top of that, you will also have to pay money for each expired domain name that you manage to find by using the app in order to stand any chance of getting some traffic.
Each domain will set you back around $15… And realistically, to stand any chance at all of generating any sort of decent amount of traffic, you'd need to purchase literally hundreds of these domains.
So that cost will very quickly add up, and again, there's still no guarantee that you'll actually get any traffic at the end of it.
Is High Ticket Siphon a Scam?
High Ticket Siphon isn't a scam as such, but at the same time, in my opinion, it's not a very good product either & the claims that it makes are extremely misleading.
I mean sure, it's certainly "possible" that you could get lucky & find an expired domain in a video description that does actually generate insane amounts of traffic… But being realistic, it's extremely unlikely.
I mean think about it – if it was so easy, then everybody would be doing it… Including myself, and we're not, because frankly, it's just not that easy.
If you really want to earn good money online then the truth is that you must be prepared to put in the work to make it happen. You can't just "push a button and profit".
Sadly, however, there will always be people like Brendan Mace creating products that are set out to take advantage of the people who think that there are indeed magical shortcuts for achieving success.
But the good news is that if you are indeed actually willing to put in the work required to achieve success then there are plenty of legitimate places where you can get started.
One of my highest recommended places to get started is Commission Academy, but you can also check out my own personal guide to getting started with affiliate marketing right here.
Either way, whatever you decide to do, I just sincerely hope that my honest review of High Ticket Siphon here has given you a good insight into the program & helped you to understand what you can expect from it.
If you do still happen to have any further questions or comments then, of course, don't hesitate to leave them below.
A Better Alternative
The sad truth is that unfortunately most of the programs promising to help you make money online are scams. I can say that confidently after exposing over 500+ of them here on this blog.
But the good news is that even though most of them are indeed scams, there are actually some very good programs in amongst them - some programs that can truly help you to earn money.
And out of all of the legit programs I've seen, the one I would recommend the most to anybody looking to get started online is Commission Academy. In my own opinion, that's the best place to start.
At Commission Academy, you'll be provided with everything you need (including the training & tools) to begin earning real money by promoting products or services for companies like Amazon online.
The best part is that there's literally no limit on the amount you can earn with it & the process is pretty simple which means that it's absolutely perfect for people that don't have much experience.
Some wealthy affiliates even earn as much as 5-figures per month... Or more!


I mean don't get me wrong, that kind of money won't just fall into your lap without doing any work... But the harder you're willing to work at it, the more you stand to earn with it.
So if you're looking to get started but don't know which route you should go down or which program you should join (and don't want to waste money on bogus things that don't actually work), then I'd highly recommend checking out Commission Academy first. You can learn more about it here.