You might have seen the video on the Instant Income Method system website, which looks pretty exciting the way Mack Mills tells how he pays for everything in cash! Mack Mills, an internet marketer, is the creator of the Instant Income Method.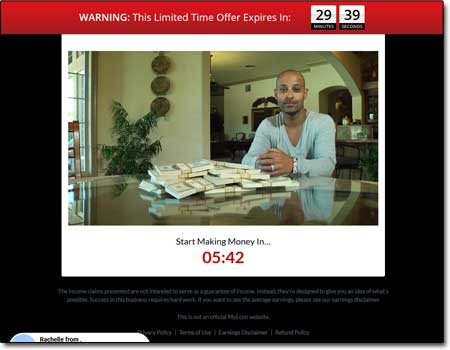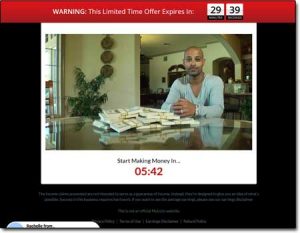 This system promotes a credit repair MLM which is known as My Econ. In the video Mack claims that he had an extremely bad credit score in the past and that he bought everything (even cars) with cash. He claims that after a while he consulted My Econ to improve his credit score and now he has an excellent score with their assistance.
Mack has been the man behind several of the best sales funnels on the internet, so you might be thinking whether this is also a reliable system or just another internet scam that can trick you into buying their products in return for nothing at all.
The name of the system "Instant Income Method" is a little similar to the kind of names scammers use for their systems to attract more people to their pages. You might have also seen some Instant Income Method scam rumours online too, so by the end of this Instant Income Method review, you'll find out if this system is legit or just another way of taking your money.
What Is The Instant Income Method?   |   How Does The Instant Income Method Work?   |   Is Instant Income Method a Scam?   |   A Better Alternative
What Is The Instant Income Method?
Instant Income Method seems like a system or a product, but it is actually just a sales funnel. It promotes an MLM credit repair company known as My Econ.
The Claims
The video on the page might leave you excited about earning money through this process. The start of the video is interesting where they show Mack sitting with a heap of cash on the table in front of him and then goes out in his BMW to buy a Ferrari. He also explains that he bought everything in cash and had a really bad credit score because income does not affect credit score. He says he had an extremely poor credit score before he consulted a credit restoration specialist. They assisted him in getting negative remarks removed from his credit report, which helped his credit score go up. The video has testimonials from people who have used this system and are satisfied with it. The video also shows some stats of the income people have earned by this sales funnel and it also explains different features of My Econ.
The Reality
Most scammers hire "actors", who are people willing to act like they have a lot of money and have earned it very easily through their systems while sitting at home. In this case, Mack is not an actor. Mack has made many sales funnels in the past which have been effective. The Instant Income Method is one of those effective sales funnels which will provide you with a platform to become an affiliate and promote the company in order to earn money by promotion.
Some of Mack's previous sales funnels include the Digital Income Method, the Daily Income Method & the Secret Income Formula.
How Does The Instant Income Method Work?
Mack has not hired actors, like many internet scammers out there, rather he himself has featured in the video to explain to you what the process is about.
The Process
Knowing that the Instant Income Method is promoting My Econ, it is apparent that Mack has joined My Econ as an affiliate. Just like every other one of Mack's sales funnels, the Instant Income Method is promoting another company as an affiliate to earn commission on every sale of the product. When you sign up and join him, you can also become an affiliate and use the sales funnel created by him. One of Mack's previous funnels EZ Money Team was closed down and has now reopened under a scam name which is not related to Mack Mills.
It isn't easy to create effective sales funnels, even for official businesses. Mack is one of the most experienced marketers and if you follow his guidelines, you will be able to make a great deal of money, as shown in his video. Sales funnels are not easy to create. And you'll find a lot of scams on the internet claiming to bring you benefits of affiliate marketing (like the Cash Money Sites scam). You have to look through the internet and find the right system that is reliable and will help you make real money.
The basic process of sales funnels is that one company gives you a product to market. You become an affiliate when you join them and then you market their product on your website, after making a website with a desired domain name. A lot of effort is required for getting more traffic to your page and also getting potential customers for the product you are promoting because not all the visitors of the website tend to buy the product on it. Just like that, Mack is an affiliate, working to promote the company My Econ, and Instant Income Method is a webpage where Mack has setup the video for promoting the company. Another reason for the video is to tell people to follow his process so that they can become an affiliate like himself.
Whenever a person goes through Mack's link to avail services offered by My Econ, for credit repair, Mack gets a commission for it. You can set up your own domain and promote products for companies to get a commission on every purchase through your link, but this process needs time and effort. You also need to be experienced to become successful in this business.
So basically Mack is offering you a "done-for-you" model instead. You basically sign up to My Econ through his Instant Income Method website – then you can pay to use his sales funnel (the Instant Income Method funnel) yourself. So basically you will now be an affiliate of My Econ & then your task is to promote the Instant Income Method website to other people. This time if people sign up to My Econ via your version of the Instant Income Method, you'll earn the commission.
Is Instant Income Method a Scam?
I personally don't think the Instant Income Method is a scam. You might have seen a lot of sales funnels on the internet and many of you might have also encountered many scams that make the same claims. Not everyone can make sales funnels that actually convert but, this particular sales funnel is not a scam. You will have to follow carefully in the steps of Mack Mills to market your own exclusive affiliate link. You also need to be a more experienced marketer to make a profit and benefit from Instant Income Method, so yes it might be a bit more difficult to make money with the whole thing than it seems… But it isn't really a scam.
The only downside though is that in order to make money with this particular program you are going to have to spend quite a bit to get started since you have to sign up to both My Econ and Mack's system… Plus the training isn't all that extensive… You're just primarily encouraged to use paid traffic (which is also expensive). So despite the system being technically legit, you could still stand to lose a lot of money if you don't manage to make any sales.
For that reason, I won't personally be recommending this program to you. Instead, if you're looking for a way to make money I would suggest you try out a proven, legitimate & free program like Commission Academy instead. In my opinion, you'll find more success there because the training is much more in-depth & you have access to a whole community that will help you get on the right path.
So yeah, that's pretty much all I have to say about the Instant Income Method but hopefully, my review here has given you a good insight into how it all really works & hopefully you can see why I've come to the decision not to recommend it. If you do happen to have any further questions or comments though then don't hesitate to leave them below & I'll get back to you as soon as I can.
A Better Alternative
The sad truth is that unfortunately most of the programs promising to help you make money online are scams. I can say that confidently after exposing over 500+ of them here on this blog.
But the good news is that even though most of them are indeed scams, there are actually some very good programs in amongst them - some programs that can truly help you to earn money.
And out of all of the legit programs I've seen, the one I would recommend the most to anybody looking to get started online is Commission Academy. In my own opinion, that's the best place to start.
At Commission Academy, you'll be provided with everything you need (including the training & tools) to begin earning real money by promoting products or services for companies like Amazon online.
The best part is that there's literally no limit on the amount you can earn with it & the process is pretty simple which means that it's absolutely perfect for people that don't have much experience.
Some wealthy affiliates even earn as much as 5-figures per month... Or more!

I mean don't get me wrong, that kind of money won't just fall into your lap without doing any work... But the harder you're willing to work at it, the more you stand to earn with it.
So if you're looking to get started but don't know which route you should go down or which program you should join (and don't want to waste money on bogus things that don't actually work), then I'd highly recommend checking out Commission Academy first. You can learn more about it here.