The Secret Income Formula system is a newly launched Bitcoin orientated money-making program & it's been launched by a "Mr X" (aka Mack Mills). It's pretty interesting though as it claims it can enable you to generate over $3,000 per day in supposedly free Bitcoin.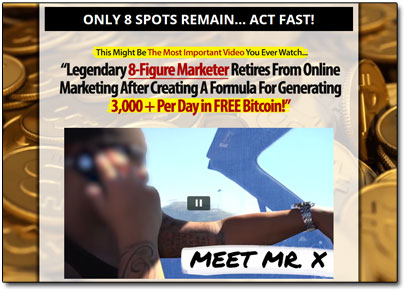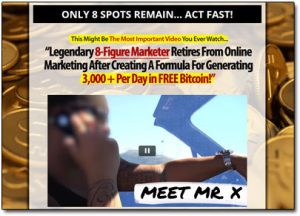 But if you follow my blog then you'll know that when it comes to cryptocurrency there's a lot of dodgy systems about, so what's the deal here with this one?
Is it actually legit or is Secret Income Formula a scam that'll just somehow part you with your cash?
Thankfully you've landed in the right place to find out because I've done the digging & in this review, I'm going to uncovering everything there is that you need to know.
So let's get right into it…
What Is The Secret Income Formula?   |   How Does The Secret Income Formula Work?   |   What Are The Income Streams?   |   Is The Secret Income Formula a Scam?   |   A Better Alternative
What Is The Secret Income Formula?
The Secret Income Formula is a newly launched internet marketing funnel & it's been created by a guy named Mack Mills, who names himself as Mr X in the promotional/sales video.
The chances are that if you've looked at any other online money-making opportunities in the past then you've probably already run across Mack in another video. He's promoted several different companies in the past & when he does promote a company he generally jumps straight to the top of the leaderboards (I've witnessed this first hand).
It's safe to say that he's been pretty darn successful when it comes to online marketing & a lot of his success has come from these sales funnels/systems he creates. You see he's really good at creating easy flowing, easy to understand systems that help people get more signups into various different business opportunities.
Some of his previous systems include the Daily Income Method which promoted a company named MCA & Digital Income Method which promoted a company named Digital Altitude. Both of which were very successful & not only helped himself make more money, but helped others in the companies make more money too.
And though he pretty much "retired" in around 2015/2016 as he mentions in the Secret Income Formula video, he's come back with another system in an attempt to cash in on the seemingly ever increasingly profitable Bitcoin cryptocurrency.
So how does it work I hear you asking? Well, let's take a look…
How Does The Secret Income Formula Work?
Well, the Secret Income Formula system isn't really a system in itself as such, this is another one of Mack's sales funnels & essentially it just pushes you into various different Bitcoin-related opportunities.
The opportunities that it pushes you in to give you the ability to earn money by referring others, so basically once you've signed up to them you'll then "connect" your affiliate/promotional links up to the Secret Income Formula system & then you'll promote this system onto others, earning money when they sign up & invest.
Basically it's just a way to get more signups into these business opportunities, and to get signups into 3 different business opportunities by only promoting 1 sales funnel in an attempt to earn even more money.
I know this might sound a little complex & confusing but it's actually not, as I mentioned earlier Mack's pretty good at laying stuff out in an easy to follow to format & as a result the Secret Income Formula system has only 3 steps.
Those steps are:
System Overview (step 1)
Income Streams (step 2)
Back Office Tour (step 3)
Each of these steps has a video & your next step will be locked until you watch the video entirely – this can be a little bit frustrating if you're eager to get in & start making money but it's good because it makes sure new members get a full understanding of what's going on.
You see I've seen a lot of programs before (the Four Percent Group is a good example) which threw a whole bunch of steps at you and the whole thing was overwhelming because you didn't really know where to start… So whilst the locked steps on the Secret Income Formula can be annoying, overall I think it's a pretty good idea.
The steps are pretty self-explanatory – the first one will explain how it works, the second will ask you to signup to the companies recommended by the SIF system & the third basically gives you an overview of your members area.
You Might Also Like:
What Are The Secret Income Formula Income Streams?
Pretty much every single Bitcoin sales funnel launching recently seems to be promoting either the BitConnect or USI Tech opportunities, which will mean you'll likely be surprised when I tell you that the Secret Income Formula doesn't.
And I'm not gonna lie I'm kinda glad because there was a lot of USI Tech scam rumours floating about & I myself came to the verdict that it (in my opinion) potentially resembled a Ponzi scheme.
The Secret Income Formula system actually promotes iCoin Pro, Mindset 24 Global & Future Money.
I'll be honest though & admit that I haven't really looked into these companies in great detail because up until now with the launch of this system there hasn't been a great deal of attention put on them.
What I will say though is that I write an iCoinPro review & out of all the crypto-based opportunities I've come across it did definitely seen like one of the more legit ones since it actually sells a training program, not just the opportunity to make money like most of the others (aka Ponzi schemes).
But when it comes to Mindset 24 Global & Future Money I don't have much experience of either – however, Mack is generally good at spotting a solid opportunity so I do have faith in his decision to pick them (and I will personally review them ASAP).
The 1 thing to point out though is that all 3 companies run an MLM compensation plan paid via Bitcoin. So this basically means that you will not only be earning from your own efforts when you are recruiting, you'll be earning from the efforts of those below you too – and all funds will be paid in & out in BTC.
The whole network marketing thing can potentially be lucrative but obviously this is where you have to be careful because this is where things can come close to becoming a pyramid scheme so due diligence becomes even more so important.
And on that note…
Is The Secret Income Formula a Scam?
Well, the system is certainly a little bit hyped up, and whilst earning a passive income of $3,000 per day is likely possible as a result of promoting this system I think that for many it will probably be out of reach.
I'm sure though that the funnel will convert really well & I'm sure any marketer with a fair bit of experience will be able to make quite a bit of money by promoting it – however newbies, meh I'm not sure… but at least the potential is definitely there.
What I will say though is that it's certainly not a scam – there is definitely the opportunity to make money & when it comes to BTC there is definitely the opportunity to make lot's of it too.
If you are interested in being a part of the 3 companies that are promoted via this sales funnel (or if you already are part of them) then the Secret Income Formula could be a great tool to increase your earnings – but I personally am not planning on getting involved with these companies as I believe there are better & more sustainable alternatives available.
So overall, yeah it's a pretty good system & I'm sure some folk will do really well by promoting it – but I personally won't be getting involved with it & so I don't feel it would be right for me to recommend it… Anyway, if you happen to have any further questions or comments then feel free to leave them below.
A Better Alternative
The sad truth is that unfortunately most of the programs promising to help you make money online are scams. I can say that confidently after exposing over 500+ of them here on this blog.
But the good news is that even though most of them are indeed scams, there are actually some very good programs in amongst them - some programs that can truly help you to earn money.
And out of all of the legit programs I've seen, the one I would recommend the most to anybody looking to get started online is Commission Academy. In my own opinion, that's the best place to start.
At Commission Academy, you'll be provided with everything you need (including the training & tools) to begin earning real money by promoting products or services for companies like Amazon online.
The best part is that there's literally no limit on the amount you can earn with it & the process is pretty simple which means that it's absolutely perfect for people that don't have much experience.
Some wealthy affiliates even earn as much as 5-figures per month... Or more!

I mean don't get me wrong, that kind of money won't just fall into your lap without doing any work... But the harder you're willing to work at it, the more you stand to earn with it.
So if you're looking to get started but don't know which route you should go down or which program you should join (and don't want to waste money on bogus things that don't actually work), then I'd highly recommend checking out Commission Academy first. You can learn more about it here.