The Lifetime Income Report is something that's been put together by a company named Agora Financial & claiming to be your "exclusive diamond retirement guide" it allegedly provides you with an easy way to build up extra cash whilst protecting yourself from the economy at the same time.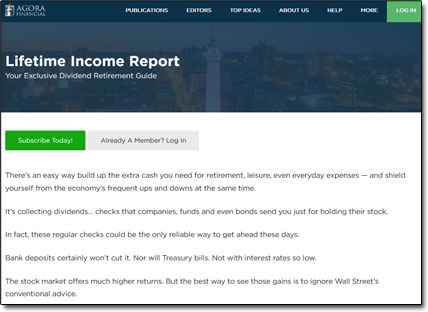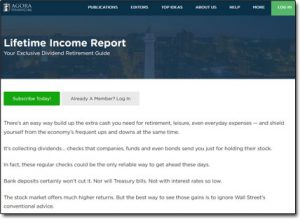 You're led to believe it'll show you how you can collect dividends & get paid regular checks from companies just for holding their stock  – but is it actually legit or is the Lifetime Income Report a scam that's just out to part you with your cash?
When it comes to retirement-focused schemes like this you just can't be too careful & thankfully you've landed in the right place because in this review I'm going to be uncovering everything you need to know, including how it all works & whether or not you can really make money through the Lifetime Income Report.
What Is The Lifetime Income Report?   |   Can You Actually Make Money With It?   |   The Truth   |   Is The Lifetime Income Report a Scam?   |   A Better Alternative
What Is The Lifetime Income Report?
As I briefly touched on above the Lifetime Income Report is something that's been put together by a company named Agora Financial and it's actually an investment newsletter that's sent out monthly & edited by 2 guys named Zach Scheidt & Jody Chudley.
Through the Lifetime Income Report newsletter you're led to believe that you'll be able to learn how to make extra cash from home by collecting dividends by holding stock in various different companies.
And not just any old extra cash either… Oh no, the Lifetime Income Report claims to give you access to "great investments offering the biggest dividend payouts" – so you'd expect to be able to make a LOT of money from this newsletter right?
I would too… But if I was you I wouldn't get my hopes up about it too quickly.
From some of the member reviews I've read online, it seems like you need around $85,000 just to get started with the investments offered through the newsletter (on top of the $99 yearly subscription fee).
And by the way that wasn't a typo – I did indeed say $85,000 just to get started. Take a look at the subscriber's review I found below:

Tony Z, the guy that wrote the review claims that the whole thing is just a scam & that he was pushed towards investing $85,000 to see the returns that were promised to him prior to signing up. I had to remove some of the content of his review (due to harsh language) but he believes that the Lifetime Income Report is just trying to take advantage of people in retirement.
And he's not the only one saying things like this – another reviewer mentioned they were asked to invest a whopping $84,000 as shown below:

So it looks like it's safe to say that you're going to need a LOT of capital to invest upfront if you're going to stand any chance of making the returns promised by the Lifetime Income Report… But if you do, can you actually make money? That's the real question so let's find out…
Can You Actually Make Money With Agora Financial's Lifetime Income Report?
Let's say you decide to go ahead & invest $99 to receive the monthly newsletter – can you really make money with the advice that's sent out by the editors Zach Scheidt & Jody Chudley or is it really just a big scam?
Well, the answer to that is yes if you have the huge capital it seems they require to invest then you could stand a chance to potentially make money. However, you could also stand a chance of losing everything.
I know that's not the best answer in the world, but honestly that's just the nature of investing. If you are going to invest money then you have to be prepared to lose it all & no matter how good "the picks" are your funds will still be at risk.
As far as I can see in my opinion it just seems that Agora Financial is over-delivering on their promises but under-delivering on the value in the newsletter. There's absolutely no mention of the huge amounts of money you'll be advised to invest until AFTER you purchase the newsletter and that's something I don't like.
Not to mention they make the whole thing seem like "free money" which it certainly isn't…
It actually kinda reminds me of their other product Freedom Checks which worked in a very similar way. That also promised to provide its subscribers with life-changing investment information but since launching there's been an overwhelming amount of negative reviews surfacing with many people claiming that too is just another way for Agora Financial to squeeze cash out of them.
I think it all boils down to the good old saying that "if it sounds too good to be true, it probably is"…
Whilst it doesn't exactly say it directly, the Lifetime Income Report makes out as if it's going to provide you with a way to earn lot's of easy money with very little effort & ultimately there's just no such thing.
Yes, you can make money online but the good money isn't going to come as quickly or as easily as the Lifetime Income Report makes out it will. In my opinion, they've just hyped it all up to encourage you to subscribe.
You Might Also Like:
The Truth About The Lifetime Income Report
Agora Financial, the company behind the Lifetime Income Report actually have several other investment & financial related newsletters that they offer out – such as the Ultimate Retirement Loophole for example.
One thing I can say about Agora though is that whilst they might not be so great at sending out quality investment picks (according to reviews), they are VERY good when it comes to marketing their products.
It seems to me like their main goal is just to get as many newsletter subscribers as possible – and sadly it seems like they have their priorities mixed up. In my opinion, it seems like they're putting themselves before the customer… So rather than giving you massive value to draw you in, instead they're just hitting you up with bold promises & hyped up income claims.
The Lifetime Income Report, for example, is actually marketed through something called The Big Book of Income (it's possible that you've already come across it if you're here reading this review).
The Big Book of Income has been put together by Zach Scheidt (one of the Lifetime Income Report editors) and you're led to believe the books entirely free, but in reality it's not – you've got to pay for it…
Well, they claim it's free because you're apparently "just paying for postage", but ultimately to get it you're going to have to pay $4.95 regardless as to whether you opt for the digital or hard copy so as far as I'm concerned that's not free.
And the reason why they force you to pay for it is so that they can get your credit card details, because once you pay for the book you'll be automatically enrolled into a subscription of the Lifetime Income Report… Meaning unless you cancel you'll be charged an additional $99 30 days later.
Bit of a sneaky tactic if you ask me! But like I say Agora are GREAT marketers – they've got tons of these tactics in force & use many different websites to drive people through to their products.
Anyway, the reason I brought The Big Book of Income into it is because it highlights just how hyped up some of their income claims are… I mean take a look at these for example taken directly from their website: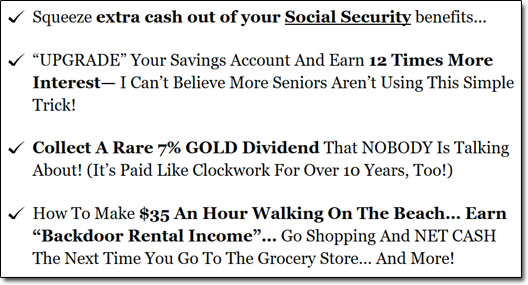 I think you'll agree those are some very bold promises… I mean come on, "earn $35/hour whilst walking on the beach"… That just sounds like a headline taken directly from a typical get-rich-quick scam.
Ultimately though if you download The Big Book of Income it leads you into the Lifetime Income Report.
The whole book is actually just pretty much a sales tool to get you to buy the Lifetime Income Report… As I say Agora Financial are really on top of their marketing game & this is the level they'll go too to get you to buy their stuff.
Not me though – like I said above "if it sounds too good to be true, it probably is"… And I won't be tricked.
Which brings me onto…
Is The Lifetime Income Report a Scam?
Well, it's not a scam, but in my opinion, there is a lot of trickery going on & it seems like all the creators of the Lifetime Income Report are really interested in is getting you to pay the $99 annual fee.
Like I say, the fact you're automatically enrolled into the $99 fee after paying the $4.95 "postage" fee for The Big Book of Income is just ludicrous as far as I'm concerned & I'm sure it'll catch many people out.
Based on those things alone I'm just very sceptical about the whole thing – especially after I seen several people posting online about being asked to invest as much as $85,000. I don't like the sound of it all.
So overall I'm not going to be recommending the Lifetime Income Report because in my opinion there are much better (and safer) ways to make money online without putting money at risk. If you're interested you can check out Wealthy Affiliate which is one of my top recommendations by clicking here.
Hopefully, this review provided you with the insight you were looking for though, and if you do happen to have any further questions or comments about the whole thing don't hesitate to leave them below.
A Better Alternative
The sad truth is that unfortunately most of the programs promising to help you make money online are scams. I can say that confidently after exposing over 500+ of them here on this blog.
But the good news is that even though most of them are indeed scams, there are actually some very good programs in amongst them - some programs that can truly help you to earn money.
And out of all of the legit programs I've seen, the one I would recommend the most to anybody looking to get started online is Commission Academy. In my own opinion, that's the best place to start.
At Commission Academy, you'll be provided with everything you need (including the training & tools) to begin earning real money by promoting products or services for companies like Amazon online.
The best part is that there's literally no limit on the amount you can earn with it & the process is pretty simple which means that it's absolutely perfect for people that don't have much experience.
Some wealthy affiliates even earn as much as 5-figures per month... Or more!


I mean don't get me wrong, that kind of money won't just fall into your lap without doing any work... But the harder you're willing to work at it, the more you stand to earn with it.
So if you're looking to get started but don't know which route you should go down or which program you should join (and don't want to waste money on bogus things that don't actually work), then I'd highly recommend checking out Commission Academy first. You can learn more about it here.