The Max Income System by Shaqir Hussyin claims to be the only 14-step system that'll see you easily earning as much as $10,000 per month from the comfort of your own home even if you're totally brand new to making money online…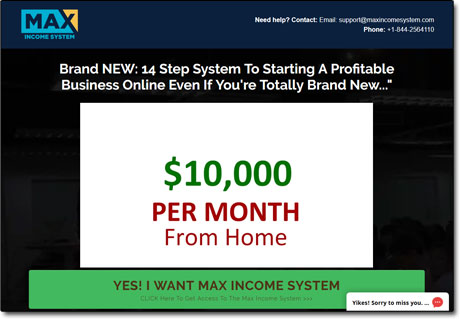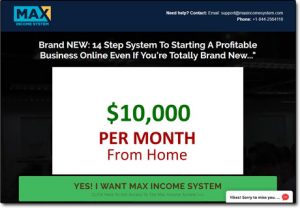 You're led to believe that pretty much everything has already been done for you & that if you sign up you'll begin making money almost right away – but is any of that really true, or is the Max Income System a scam that'll just see you parted with your cash instead?
Well it's good that you've landed here before joining because I've personally taken a look into it myself to see exactly how it all works & in this Max Income System review I'll be uncovering the REAL truth as well as outlining whether or not you can actually make any money with it… So keep on reading to find out everything you need to know.
What Is The Max Income System?   |   How Does The Max Income System Work?   |   The Trick To Get You To Upgrade   |   Can You Actually Make Money?   |   Is The Max Income System a Scam?   |   A Better Alternative
What Is The Max Income System?
At a glance landing on website of the Max Income System could quite easily seem like a dream come true. The reason I say that is because the system promises that regardless of your experience it's allegedly going to enable you to earn thousands of dollars per month & it's also supposedly 100% risk-free too…

On top of that the system's owner Shaqir Hussyin promises that in order to begin making money you just need to complete 14 simple steps.
But there's something that makes me immediately very worried about the whole thing, and that's the fact that in my opinion it shares a MASSIVE resemblance with a program that I came across before named MOBE.
In fact Shaqir Hussyin himself (the creator of the Max Income System) was actually heavily involved with promoting MOBE – but here's the kicker, MOBE was a pyramid scheme that quite recently got shut down by the FTC.
It too promised that users could earn $10,000+ commissions & it too also said that you could get started "risk free"…
Even more coincidentally MOBE's tag-line was "the 21-step system" and the Max Income System's tag-line is "the 14 step system"… So are we just looking at another pyramid scheme like MOBE here?
Let's take a closer look into how it all works & find out for certain what's going on…
How Does The Max Income System Work?
Well funnily enough the truth is that the Max Income System doesn't actually exist, and I know that might sound a little strange but essentially the Max Income System is just a "doorway website" that leads you through into something called Wealth Academy.
Wealth Academy is what's known as a high-ticket training program & it's been created by Shaqir Hussyin – and basically the whole "doorway" thing means that if you buy into the Max Income System then what you'll be left to find out is that you've actually just bought Wealth Academy…
In my opinion that's a dodgy bit of trickery…
It's like Apple claiming to have made a really exciting new phone called the SuperDooperXPhone and then when you buy it you're just left to find out that it's nothing special at all, it's just the same old iPhone…
But let's put the trickery aside because whilst it is indeed pretty bad in itself, there's actually worse stuff going on here too…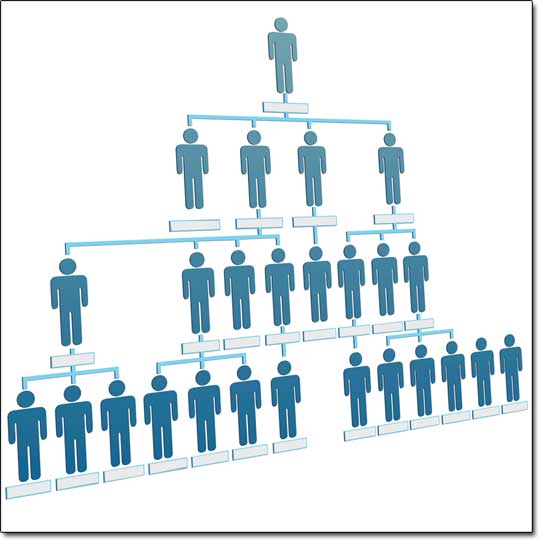 The worse stuff is that in my opinion the Max Income System (or Wealth Academy whatever you wanna call it) is indeed "just another MOBE" in that it's all about spending money, then trying to recruit others & getting them to spend as well.
You're sold into it on the amazing opportunity to learn how to make lots of money from home but in short you'll be left to discover that the way you actually make money is by simply selling the same thing onto others.
However the sad part is that they try not to let you find that out until after you've spent tens of thousands on the whole thing – so that you're left in a situation where you kind of "have to" promote it just to get your money back.
That's why the FTC said MOBE was a scam…
The Process Explained
Okay, so the concept is that you land on a website like the Max Income System which is designed to make you feel like you've come across a great opportunity. It essentially promises easy riches, claims to be "risk-free" & tells you that you can get started for a seemingly small fee…
On top of all that you're even promised a 1-on-1 coach too, so it sounds like a fantastic deal.
However if you were to try it out & sign up (which I 100% don't recommend doing) you'd be soon left to discover the hard way that it's not quite so great as it seems after all. The "14 steps" are basically built purely to get you hyped up about the opportunity even more, and then at the end of them you'll receive a call from your "coach" who'll discuss the next stage.
The next stage after those steps will to be upgrade – and what they don't tell you is that the so-called "coaches" are actually trained salespeople, not internet marketing experts, and their primary job is to push you into upgrading.
They'll promise that if you upgrade you'll make more money & that you'll make money quicker, but that ain't true – it'll just put you deeper into debt.
The initial product they try & push you into purchasing is something called the Wealth Academy Accelerator package & that comes in at a whopping cost of $2,997 – but prices continuing going up as the Wealth Academy Elite product costs an ever whopping-er $19,997.
And by the way, with none of those products do you get ANY guarantee of making money. In fact the truth is in these types of high-ticket programs most people actually end up losing money as opposed to making it.
It's the same story with AWOL Academy, another high-ticket program I looked at.
The Trick They Use To Get You To Upgrade
You might be thinking, "well why on earth would anybody spend $19,997 on something like this", but the truth is the creators of these programs like Shaqir Hussyin employ a very cunning trick known as the pay-to-play trick.
This means that you can only earn on the levels that you are personally positioned at.
So like I mentioned earlier in this review the whole idea with the Wealth Academy is to recruit others into the program – that's how you go about making money with it… But if you have only purchased at the $97 level (the cheapest level) then you can only earn commissions on that level.
If you want the big commissions advertised in the video like the $1,000 or $10,000 commissions then you must purchase those levels – like the Accelerator level or the Elite level. If you don't your commissions will be passed up to the next person above you that's qualified instead.
And the "coaches" will stress on their calls with you that you need to be positioned as high as possible to make money, so they're heavily pushing people into upgrading to these overly expensive levels… Sadly those with limited internet marketing experience often take them up on the offer thinking that they're going to get rich & live the life of their dreams.
The problem then comes when they try and market it to others, because there is limited training available inside of these types of programs & most people are sceptical about joining such a get-rich-quick type platform.
This means rather than making sales like the "coaches" promised they would, these people just find themselves in debt instead… Often then desperately pestering friends or family to join as well in an attempt to recoup their funds, unknowingly suckering them into the scam as well.
You Might Also Like:
But Can You Actually Make Money With It?
I'll be super honest here and tell you that yes, it is indeed possible to make money with the Wealth Academy program but what you must appreciate is that whilst it's possible, for the average person it's VERY unlikely.
Also in my personal opinion, since the program merely involves signing up – going through training & then promoting the exact training to others (and pushing them to spend as much as possible) I kinda feel that it would also be immoral to make money with it too.
As the disclaimer states (quoted below) most people don't make money with it – so you'd be getting people in (and getting them to spend) on the basis that they likely aren't going to earn anything back. That's not cool.
Quote of the disclaimer from the Max Income System website:
The sales figures stated above are my personal sales figures. Please understand my results are not typical, I'm not implying you'll duplicate them (or do anything for that matter). I have the benefit of practicing direct response marketing and advertising since 2009, and have an established following as a result. Although I've trained over 500,000+ subscribers and clients globally. The average person who buys any "how to" information gets little to no results.
So yes, you could possibly make money with it – but the likelihood (due to the limited amount of training available & high costs) is that you won't.
That brings me onto…
Is The Max Income System a Scam?
I can't really call it a scam as such since there is the potential to make money with it, but what I will say is that in my opinion it's very misleading & rather being set out to help newbies like it claims, I personally believe it's set out to help gurus take advantage of newbies instead – by earning commissions at their expense.
The simple truth is that the system is not "done-for-you" and making money with it is nowhere as easy as it's claimed to be. You'll have to learn the ins & outs of online marketing (which via the Max Income System will cost tens of thousands of dollars) and then you'll have to actively promote it in order to earn.
The bottom line is that if you don't get others to sign up to it then you won't make a penny – and the "risk free guarantee" only applies to the initial $97 fee, it doesn't apply to any further products you purchase after that. In my opinion with all that being said there is simply too much risk involved with this thing & the likelihood is that you're going to lose money, not make it.
Instead if you truly want to make good money online then you should avoid hyped-up systems like the Max Income System & instead just go with a free, proven & legitimate training platform like Wealthy Affiliate – as it's there you'll learn how to properly find success.
And I can back Commission Academy up on their legitimacy because I've actually met the owners & I know they're honest people that truly care for yourself. In fact as pictured below I recently met up with them & we literally brainstormed ideas on how to help people as best as possible as you can see below: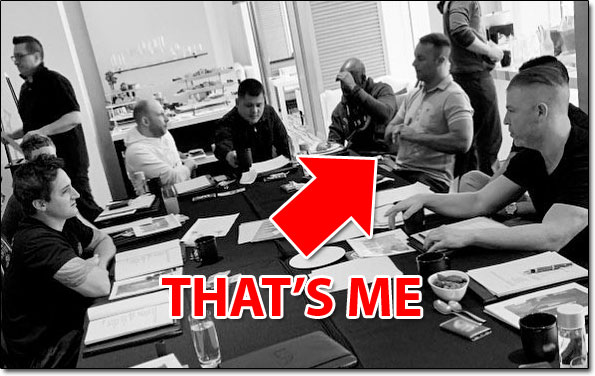 But obviously it's entirely up to you what you decide to do – after all there are actually loads of different legitimate ways to make money online – what I do sincerely hope though regardless as to what route you choose is that my Max Income System review here helped you save some cash. Losing money to a scam or naff system is never fun!
If you do still happen to have any questions about the Max Income System or any comments you'd like to add about it then of course don't hesitate to leave them below & I'll do my best to get back to you as soon as I can.
A Better Alternative
The sad truth is that unfortunately most of the programs promising to help you make money online are scams. I can say that confidently after exposing over 500+ of them here on this blog.
But the good news is that even though most of them are indeed scams, there are actually some very good programs in amongst them - some programs that can truly help you to earn money.
And out of all of the legit programs I've seen, the one I would recommend the most to anybody looking to get started online is Commission Academy. In my own opinion, that's the best place to start.
At Commission Academy, you'll be provided with everything you need (including the training & tools) to begin earning real money by promoting products or services for companies like Amazon online.
The best part is that there's literally no limit on the amount you can earn with it & the process is pretty simple which means that it's absolutely perfect for people that don't have much experience.
Some wealthy affiliates even earn as much as 5-figures per month... Or more!


I mean don't get me wrong, that kind of money won't just fall into your lap without doing any work... But the harder you're willing to work at it, the more you stand to earn with it.
So if you're looking to get started but don't know which route you should go down or which program you should join (and don't want to waste money on bogus things that don't actually work), then I'd highly recommend checking out Commission Academy first. You can learn more about it here.