Quick Pay Survey, alternatively known as Quick Paid Surveys promises to provide you with an easy way to earn money online. You're led to believe that you can sign up for free & begin earning as much as $1 per survey with the ability to cash out as soon as you reach a mere $15…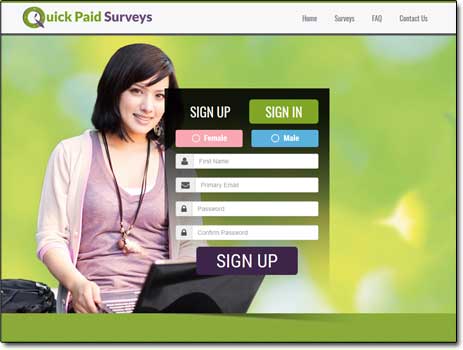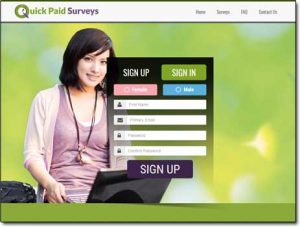 They even promise that you'll earn $3 just for signing up & on top of just completing surveys they say you can get paid just for reading emails too… But is it actually legit or is Quick Pay Survey a scam that'll just see you working for nothing?
Thankfully you've landed in the right place to find out as I've taken a closer look into it & in this Quick Pay Survey review I'm going to be uncovering everything you need to know including whether or not you can really make money through their site.
What Is Quick Pay Survey?   |   How Does Quick Pay Survey Work?   |   Can You Really Make Money With It?   |   The Referral Program   |   Is Quick Pay Survey a Scam?   |   A Better Alternative
What Is Quick Pay Survey?
Quick Pay Survey is (as the name suggests) a paid surveys site, and previously it was found at QuickPaidSurveys.com – however, strangely that website has shut down as shown below & it now resides at QuickPaySurvey.com instead.

I'm not exactly sure why they've decided to switch the domain name of their website, but there are 2 odd things about the move…
Firstly, despite switching the domain they have still kept the same logo on their website which reads "Quick Paid Surveys" rather than "Quick Pay Survey", and secondly they haven't put any notice upon the old domain regarding the move… So I wonder if the previous members of the site even know where it's moved to?

It's possible that the members just went to visit the site one day & found it had disappeared… Potentially along with their earnings.
It's not very professional to say the least & that's why I'm a little bit concerned that it could be a scam. That, and the fact that according to old forum reports Quick Paid Surveys used to charge people $67 USD to join.
The site is now free, but there were many complaints about it when it cost $67. Apparently they promised that you could pay $67 and get a refund if you were not 100% satisfied but from what I've read it seems they were not actually issuing refunds & instead just ignoring the requests.
Like I say it's free now so there's no need to worry about that but the reason I'm telling you about it is that it's just another thing that makes me concerned about the website being legit.
Anyway, let's take a closer look at how it all works & see what's going on…
How Does Quick Pay Survey Work?
Well as I mentioned above Quick Pay Survey is a free to join paid surveys site & through it, you can earn money by completing surveys, offers & reading emails. You can also earn extra money by referring others too.
Signing up only takes a matter of seconds as all you need to enter is your gender, ZIP, name, email & a password then you'll be given instant access to the member's area.
Once you've gotten into the member's area you'll be able to immediately start completing offers & earning money – but there's a couple of things you need to be cautious about.


Firstly, the surveys that you are completing are not actually hosted through the Quick Pay Survey site. Instead, the owner of the site is just redirecting you through to other survey sites such as Global Test Market & Valued Opinions via his affiliate links.
This means that you'll have to sign up with several other third party companies & when you do the creator of the Quick Pay Survey site will be earning money at your expense. I mean there's no cost to you here, but he (or she) doesn't really make it very clear that you're being redirected to third-party sites.
And secondly, something you have to be really careful of is the fact that some of the offers inside of Quick Pay Survey could end up costing you money. This is because quite a lot of them require you to sign up to free trials, which if you forget to cancel could see you getting billed.
Can You Actually Earn Money With Quick Pay Survey?
The answer is yes, you can actually earn money through Quick Pay Survey however you should be aware that you won't be able to earn anything substantial – and your max earnings will likely just be a few extra dollars each month (if you're lucky!).
To be honest, it isn't entirely a problem with just Quick Pay Survey, paid surveys, in general, are renowned for only paying very little. The reason for this is because they're super easy & so many people are willing to fill them in… Why should they people good money when there are so many others willing to do it for less? That's pretty much their general attitude.
In my opinion, paid surveys are a waste of time & I believe there are much better ways to make money online. Even if you were able to complete enough surveys to generate a full-time income (which is pretty much impossible) you wouldn't have a second of your day left to spare.
Quick Pay Survey does run a referral program which acts as a way for you to boost your income, but as you'll soon see below even this won't really help you to earn anything substantial…
You Might Also Like:
Quick Pay Survey Referral Program
In an attempt to help you earn more money the creators of Quick Pay Survey have put together a referral program & through this program, you can earn additional income by referring friends to the site.
Basically, if you decide to participate in the referral program you'll be given a unique link to Quick Pay Survey which will contain your referral code. It's then your job to get others to click this link & sign up via it, because if they do then you'll stand to earn some extra cash.
However for you to actually earn the cash you'll have to get them to begin completing surveys/offers themselves too because you don't actually just get paid for referring people – instead you get paid a percentage of their earnings.
I'll be honest though this isn't really all that great because you only get a very small percentage of their earnings & as I mentioned earlier in this review it's very hard to earn much money through the site so in order to make anything decent you've have to refer thousands of active members.
An easier & more effective way to make money would be to promote a more lucrative program as an affiliate instead. Some programs will pay you commissions of over $100 for getting new members to sign up & if you're interested in learning more about that then you should check out Commission Academy as that's where you'll be able to find out how to do it.
Is Quick Pay Survey a Scam?
It's a little concerning that Quick Pay Survey have changed their domain name without notifying members & that they previously charged fees of $67 to join, but I don't really think it's a scam.
It seems to me that you can indeed actually make money through the Quick Pay Survey site however it looks to be a little unprofessional & for some reason, the people behind it have kept themselves anonymous which isn't a good sign.
On top of that, some of the offers are a little "dodgy" and rather than helping you make money they could end up just costing you money so you have to be very careful with regards to what you do via the site.
Therefore overall I am going to come to the conclusion that whilst it is not necessarily a scam, I still won't be recommending it because I don't really think it will help you make any decent money online. Instead, you'll just be wasting your time & only earning a few dollars at most in return.
Like I mentioned above if you really want to make good money online & still want to have time to spare to do the things you enjoy then you should look for a more lucrative program & one of the best I have come across to date is Commission Academy (which is free to join). In my opinion, you would be much better off joining there instead.
But anyway hopefully my review here has given you a good insight into Quick Pay Survey & hopefully you can now see why it probably won't be too great of a site to join. If you do still happen to have any further questions or comments though then don't hesitate to leave them below & I'll get back to you as soon as I can.
A Better Alternative
The sad truth is that unfortunately most of the programs promising to help you make money online are scams. I can say that confidently after exposing over 500+ of them here on this blog.
But the good news is that even though most of them are indeed scams, there are actually some very good programs in amongst them - some programs that can truly help you to earn money.
And out of all of the legit programs I've seen, the one I would recommend the most to anybody looking to get started online is Commission Academy. In my own opinion, that's the best place to start.
At Commission Academy, you'll be provided with everything you need (including the training & tools) to begin earning real money by promoting products or services for companies like Amazon online.
The best part is that there's literally no limit on the amount you can earn with it & the process is pretty simple which means that it's absolutely perfect for people that don't have much experience.
Some wealthy affiliates even earn as much as 5-figures per month... Or more!

I mean don't get me wrong, that kind of money won't just fall into your lap without doing any work... But the harder you're willing to work at it, the more you stand to earn with it.
So if you're looking to get started but don't know which route you should go down or which program you should join (and don't want to waste money on bogus things that don't actually work), then I'd highly recommend checking out Commission Academy first. You can learn more about it here.