The Secret Affiliate system has been put together by an anonymous guy who claims he's going to give you access to his secret system which has been allegedly enabling him to consistently earn over $937 per day online.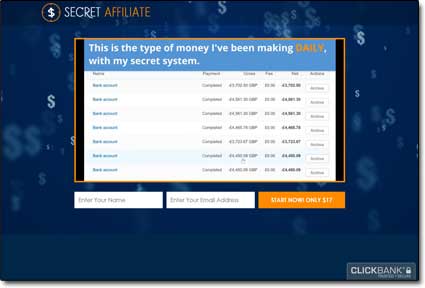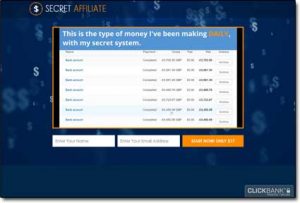 So you're basically led to believe that you'll just be able to sign up, fire the system up & begin making the same kind of money for yourself…
But is it really legit? Or is the Secret Affiliate system a scam that'll just end up robbing you of your hard-earned cash?
Thankfully you've happened to land in exactly the right place to find out as I've taken a closer look into it myself & in this honest review I'll be uncovering the truth about it so you can see for yourself how it really works & whether or not you can make any money with it.
What Is Secret Affiliate?   |   How Does Secret Affiliate Work?   |   The Good News   |   Is Secret Affiliate a Scam?   |   A Better Alternative
What Is Secret Affiliate?
The Secret Affiliate system is allegedly a brand new system which, as the name suggests, contains a secret for making lots of money from affiliate marketing with absolute ease… And the whole thing can supposedly run on autopilot.
Now if you don't know what affiliate marketing is, basically it's where you make money by promoting 3rd party products online. You get a unique link to the products & then if anybody clicks through your link & makes a purchase, you earn a commission.
If that still doesn't make much sense then here's an image I've put together to hopefully give you a better idea of how it works: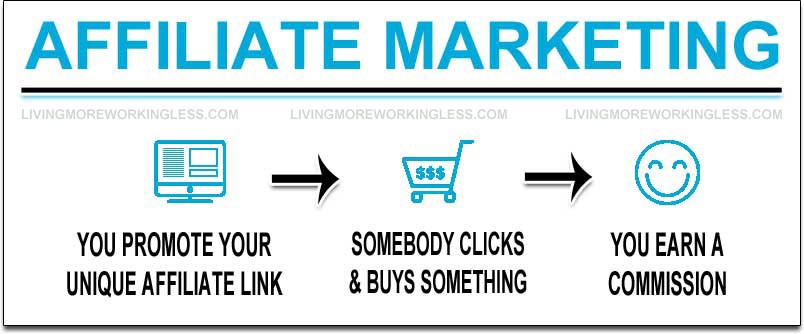 It's actually a pretty simple way to make money online, and I can tell you that affiliate marketing itself is indeed also a VERY good way to make money online. In fact, it's actually the same way I personally make most of my own money online.
But to find proper success with affiliate marketing it takes work… There are NO secrets – though I've seen plenty of scam systems promising otherwise over the years, and they just do that to try & part you with your cash.
Take the Secret Affiliate system, for example, I can tell you right from the off that it too is just another get-rich-quick scam & the reason I can say that so confidently is because I previously exposed it back when it was called My Affiliate Insider.
It promises the world – claims that it will help you achieve easy riches, then after taking your money it just leaves you to find out the hard way that the whole thing is actually bogus & that it doesn't work as promised.
If you really want to make good money with affiliate marketing (and learn more about how it all works) then you need a legitimate, proven platform like Commission Academy – not some overhyped BS like the Secret Affiliate program which will just end up leaving you out of pocket.
I do appreciate though that you still might be pretty hooked on the Secret Affiliate system, after all it does make some pretty bold claims & it could be easy to get drawn into it especially if you're new to making money online… So for that reason rather than just taking my word for it when I say it's a scam keep on reading & I'll show you how it all actually works (or should I say doesn't work).
How Does Secret Affiliate Work?
Okay so like I mentioned in the previous section of this review, affiliate marketing basically consists of you promoting links online – then if anybody clicks those links & makes a purchase, you earn a commission.
Therefore obviously the more exposure you get those links the more chance you have of people clicking them and the more money you stand to make…
That's the "simple" version of how it all works, admittedly there's a bit more to it than that (such as getting targeted clicks) but for the purpose of seeing how the Secret Affiliate system works that basic concept is all you need to know.
So essentially promotion is key… But of course, the promotion also takes quite a bit of work – and that's why most people fail to make good money with affiliate marketing (even though the method itself is pretty easy). They fail to figure out how to promote things effectively…
The Secret Affiliate system, however, claims to have the answer to that. You're led to believe that you'll be getting access to an automated system which does all the promoting for you so that you can just connect up various affiliate programs & then sit back whilst you watch the money start to come rolling in…

But as you can probably guess that's just total nonsense, and after purchasing the Secret Affiliate system (which if you haven't already I DON'T recommend you do) you'll just be left to discover that the hard way.
Instead of getting access to an "automated system" as promised you'll actually just get access to a useless eBook teaching old outdated methods – such as "share your link on classified ad websites" or "private message them to as many people as you can on social media".
Those methods won't see you earning any money at all, instead they'll just see you getting your social media or classified ad accounts banned & that's why you need proper training as the training at Commission Academy if you truly want to succeed. I mean yeah, sure making money with affiliate marketing the right way takes work – but eventually, that hard work pays off & can turn into a passive stream of income.
I mean how would you like an income that you can earn from anywhere in the world? An income than can still keep paying you even if you stopped working for a bit?
I'm sure you'd love it – and that's why the results are absolutely worth the hard work because with affiliate marketing those things are entirely possible – just like I found out when I cracked the code.
But anyway in short systems like the Secret Affiliate system are just overly hyped up "tricks" that have been launched to make their creators rich at the expense of others, rather than actually helping their visitors make money like they claim they will…
You Might Also Like:
There Is Some Good News…
The good news is that if you happen to have already purchased the Secret Affiliate system then it's actually being sold through a third-party merchant named ClickBank & the reason I say this is good news is because ClickBank is generally good at issuing refunds.

So even if you've tried to contact the creators of the Secret Affiliate program for a refund & they've refused it or ignored it, then you should still be able to get your money back providing you contact ClickBank directly.
Also a little word of warning here too – whilst there are some decent quality products sold through ClickBank (and whilst ClickBank themselves ARE legit), there are many, many scams sold through their platform.
This week alone I exposed 2 huge scams named EZ Bay Payday & App Coiner – both of which were sold through ClickBank, so in the future if you do come across anything else being sold via ClickBank I'd advise you to exercise some caution before buying… Basically just be sure to do your due diligence first.
Is Secret Affiliate a Scam?
Scam is a strong word, and I guess it's not really a scam as such because you do get some training in return for your money (even if it is rubbish)… But in my opinion, the whole thing whilst maybe not a scam is indeed built on pure lies & deceit.
You're led to believe you'll be getting access to a super-easy way to make lots of money online & you're led to believe that you can begin making money really quickly but none of those things are true.
Instead, all you're getting access to is some outdated training – and then you'll be pushed into purchasing several additional upsells which are basically just further tricks to part you with more of your hard-earned cash.
It's clear for me to see that the whole thing has just been designed for its creator to get rich at your expense & for that reason there's simply no way I'll be recommending it to you because if you sign up to it you're just going to find yourself disappointed.
Like I said earlier in this review if you really want to make good money with affiliate marketing you need a proven training platform like Wealthy Affiliate – which also provides you with everything you need to get started as well. So take my advice & join there instead.
But to finish I'd just like to say that I hope you found my review here useful & hopefully it gave you the insight into the system that you were looking for. I also hope it saved you some cash too! If you do still have any more questions though then don't hesitate to leave them below & I'll get back to you as soon as I can.
A Better Alternative
The sad truth is that unfortunately most of the programs promising to help you make money online are scams. I can say that confidently after exposing over 500+ of them here on this blog.
But the good news is that even though most of them are indeed scams, there are actually some very good programs in amongst them - some programs that can truly help you to earn money.
And out of all of the legit programs I've seen, the one I would recommend the most to anybody looking to get started online is Commission Academy. In my own opinion, that's the best place to start.
At Commission Academy, you'll be provided with everything you need (including the training & tools) to begin earning real money by promoting products or services for companies like Amazon online.
The best part is that there's literally no limit on the amount you can earn with it & the process is pretty simple which means that it's absolutely perfect for people that don't have much experience.
Some wealthy affiliates even earn as much as 5-figures per month... Or more!

I mean don't get me wrong, that kind of money won't just fall into your lap without doing any work... But the harder you're willing to work at it, the more you stand to earn with it.
So if you're looking to get started but don't know which route you should go down or which program you should join (and don't want to waste money on bogus things that don't actually work), then I'd highly recommend checking out Commission Academy first. You can learn more about it here.