The Six Figure Empire claims to be "the most automated 6-figure income system ever created" and the website promoting it suggests that upon joining it you'll be able to create $1,000 paydays online in your spare time, even if you're brand new…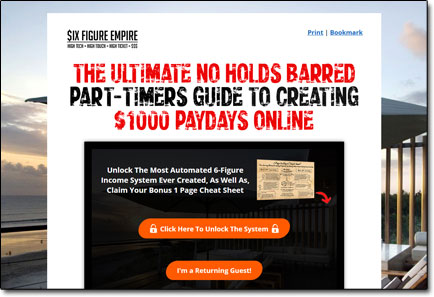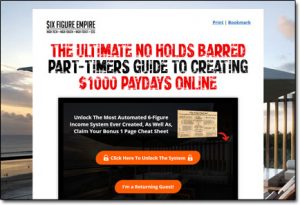 But in order to actually access the so-called "6-figure system" you're required to hand over some of your own cash first which is a HUGE red-flag… So what's the truth about it all? Does it really work as promised & can you actually make any money with it, or is the Six Figure Empire a scam that you should avoid?
Well the good news is that you've landed in the right place to find out as I myself have taken a closer look into it to see exactly how it works & since I'm NOT affiliated with it (unlike most of the other reviewers) you can trust that you'll be getting an honest, unbiased review, as well as the the REAL facts about how it works.
What Is Six Figure Empire?   |   How Does Six Figure Empire Work?   |   Links With The Fearless Momma   |   Can You Make Money With It?   |   Is Six Figure Empire a Scam?   |   A Better Alternative
What Is Six Figure Empire?
At a quick glance the Six Figure Empire program might seem like a dream come true as it essentially portrays itself as being an automated system for making thousands of dollars per day online… So you're basically led to believe that you can simply sign up & then profit on autopilot…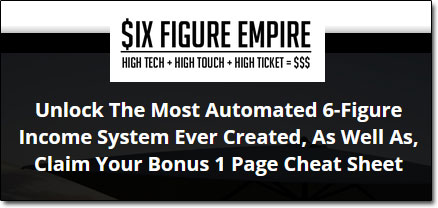 However in reality though that's far from the truth.
The Six Figure Empire is not a "done-for-you" or "automated" system for making money at all, there is no such thing & never will be, and if something claims to be one then it's a good reason to run a mile from it as it's likely trying to scam you.
I mean sure, the internet is great and it certainly provides many legitimate ways to make money but it's not magical & it doesn't provide ways to make good money entirely on autopilot or with little to no work…
Think about it, if it did then everybody would be doing it – nobody would be left working a job & the world would be in crisis.
The truth is that the Six Figure Empire is yet another high-ticket (aka expensive) recruitment scheme, similar to the likes of MOBE & Digital Altitude which were forced to shut down last year by the FTC.
In short this basically means that you sign up to the Six Figure Empire, get pressured into investing a ton of cash into it & then find yourself left to discover that the way you make money with it is by promoting it & getting others to do the same.
Sadly though whilst there is "some" training inside on how to promote it, in my opinion it is lacking & as a result most people who join these types of "systems" simply end up spending more money than they ever actually make.
And on one of their sales pages (as shown below) they actually compare their system alongside robbing a convenience store & selling drugs to kids, which I am honestly just absolutely stunned by: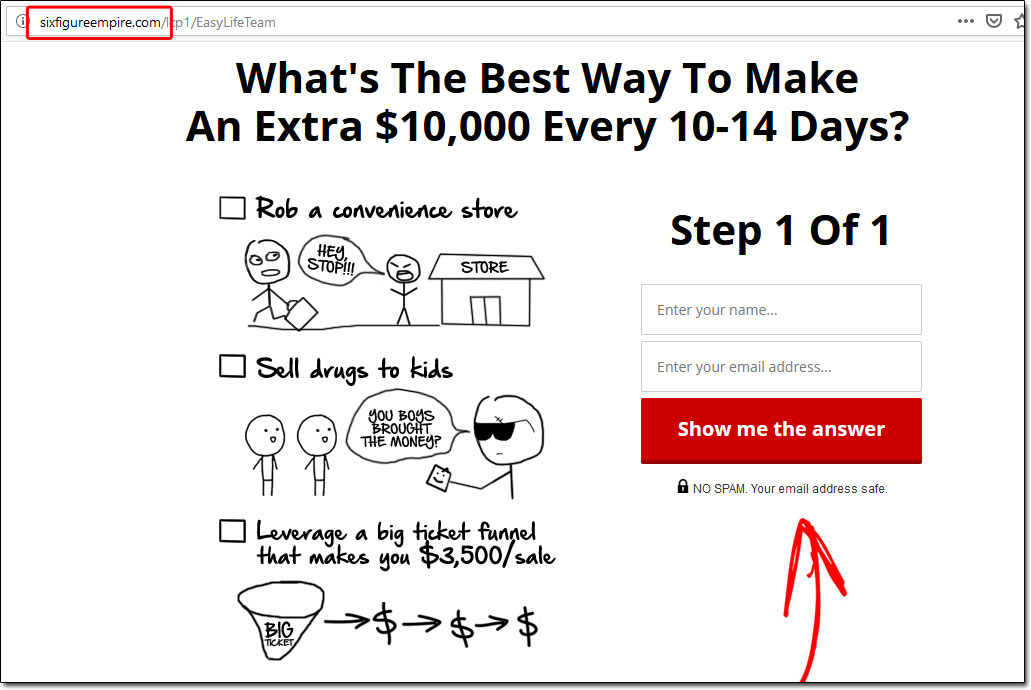 That is just truly shocking stuff – I have certainly come across a lot of dodgy high-ticket affiliate programs in the past but I have never ever come across one that openly puts itself in the same bracket as robbing a convenience store or selling drugs. That's terrible!
However, if after hearing that you're still interested in the finer details on how it all works & whether or not you can actually earn anything by promoting it then keep on reading as that's exactly what I'm going to cover next…
How Does Six Figure Empire Work?
So in short, the Six Figure Empire system is a program that claims to provide people with an easy way to make money online – however after signing up & investing money to find out more, members are left to find out that the way you actually make money with it is by getting others to sign up to it just like they did.
And nothing about that is automated or "done-for-you"…
As an experienced online marketer I can tell you that it would actually take a LOT of work to promote a program like the Six Figure Empire, because due to its over-hyped claims most people who view it would just exit the page right away on the assumption that it's a get-rich-quick scam.
So compared to promoting a legitimate program or product, you would likely have to work twice as hard to promote a program like the Six Figure Empire… And you'd have to spend a LOT of your time convincing people.
But why waste your time doing that when you could just pursue a legitimate way to make money instead?
Instead of signing up to the Six Figure Empire & investing thousands on something that could potentially be shut down overnight, why not just join a free, proven training program like Wealthy Affiliate where you'll learn how (and get the tools) to create your own stand-alone online business promoting something that you're actually interested in?
Makes more sense right? And you can even check out my own free guide on starting a profitable website for free right here.
But in case you're still thinking about pursuing the Six Figure Empire you should also know that the coaches involved with the program aren't really "coaches" at all – they're just sales people who are there to pressure you into upgrading to the higher levels inside of the program.
The reason they've called them coaches is to trick you into getting on the phone with them – because they know that if they said that you were going to get a call from their sales team you probably wouldn't answer… But by calling them coaches you'll likely answer because you think you're actually going to get some help.
Sadly though that's not the case, and once they're on the phone with you they'll do their best to further hype you up & get you to whip out your credit card to spend as much money as possible on the program… All while somebody else in the program is earning at your expense.
Then, once you're done spending you'll be left to simply discover that in order to actually make money with it you'll be required to promote it & get others to hand over their cash just like you did… Which as I mentioned above ain't an easy task.
So basically after spending potentially thousands of dollars on the program, you'll come to realize that the chances of you actually making money with the program (unless you're already an experienced marketer) will be slim to none… Meaning you'll have likely LOST all of your money.
And I've heard of people spending tens of thousands on high-ticket programs like this, so you could potentially see yourself even running into debt as a result.
You Might Also Like:
It Also Has Links With The Fearless Momma Too
The Fearless Momma is another program I reviewed on this blog & chose not to recommend due to its highly misleading claims – and The Fearless Momma just so happens to be owned by No Competition Marketing LLC, the same company behind Six Figure Empire.

In my opinion that is NOT a good sign.
It seems to me that the company behind it is just pumping out websites boasting hyped-up claims & tricking people into handing over their hard earned cash so that they can earn some money at their expense…
Then once the people have handed over their hard earned cash they're being left to discover the hard way that the programs/websites pumped out by No Competition Marketing LLC don't actually deliver on their promises.
As far as I'm concerned that is not good business…
But Can You Actually Make Money With It?
The answer is yes, it is indeed possible to make money with the Six Figure Empire – and as mentioned throughout this review earning money with it is done by recruiting other members into it… So when they buy in, you earn commissions.
However like I also mentioned, very few people who sign up to such high-ticket programs actually manage to find success with them… So essentially you'll be selling something to people that promises to help them earn money but will likely just do the opposite & result in them losing money instead.
Therefore whilst you can technically make money with it, I would hope that you would rather make money by promoting a product that actually gives people solid value & that actually lives up to its promises.
Plus on top of all of that, due to the businesses "questionable" practices there is no-knowing when it could be shut down… So even if you did start making money with then ultimately your income could be cut off at any point, which isn't very cool.
But anyway I think I've probably said enough about it already, I'm sure you get the idea which brings me onto…
Is Six Figure Empire a Scam?
Well technically the people behind it will claim that it's not a scam because it "contains training", however in my opinion there is very little emphasis put on selling the training & most of the emphasis is just put onto selling the money-making opportunity itself which leads me to believing that (in my opinion) it is a scam.
Ultimately they promise you that it provides an automated & easy way to make lots of money online, even if you have no experience at doing so… But as far as I'm concerned that just simply isn't true.
The reality is that the majority of the people who join the Six Figure Empire will LOSE money, not make it.
In my opinion rather than being set out to help newcomers make money online like it claims it has, I believe that the Six Figure Empire system is actually just set out to help ruthless expert marketers to take advantage of the newcomers by tricking them into handing over lots of cash.
So for those reasons it's safe to say that I won't be recommending the Six Figure Empire system & as I previously mentioned in this review if you want to learn how to get started online properly, I suggest you stick with a legitimate & proven platform like Wealthy Affiliate which has been around for many, many years.
Or alternatively check out one of the other recommendations from my top picks page here.
But whatever you decide to do I just sincerely hope that my review of the Six Figure Empire here has given you a good insight into how it all really works & I also more importantly hope that it has helped you to save your hard earned cash.
If you do however still happen to have any further questions or comments about the Six Figure Empire though then don't hesitate to leave them below & as always I'll do my best to respond back to you as quickly as I can.
A Better Alternative
The sad truth is that unfortunately most of the programs promising to help you make money online are scams. I can say that confidently after exposing over 500+ of them here on this blog.
But the good news is that even though most of them are indeed scams, there are actually some very good programs in amongst them - some programs that can truly help you to earn money.
And out of all of the legit programs I've seen, the one I would recommend the most to anybody looking to get started online is Commission Academy. In my own opinion, that's the best place to start.
At Commission Academy, you'll be provided with everything you need (including the training & tools) to begin earning real money by promoting products or services for companies like Amazon online.
The best part is that there's literally no limit on the amount you can earn with it & the process is pretty simple which means that it's absolutely perfect for people that don't have much experience.
Some wealthy affiliates even earn as much as 5-figures per month... Or more!

I mean don't get me wrong, that kind of money won't just fall into your lap without doing any work... But the harder you're willing to work at it, the more you stand to earn with it.
So if you're looking to get started but don't know which route you should go down or which program you should join (and don't want to waste money on bogus things that don't actually work), then I'd highly recommend checking out Commission Academy first. You can learn more about it here.